Edit AI
Streamlined developer task management and collaboration.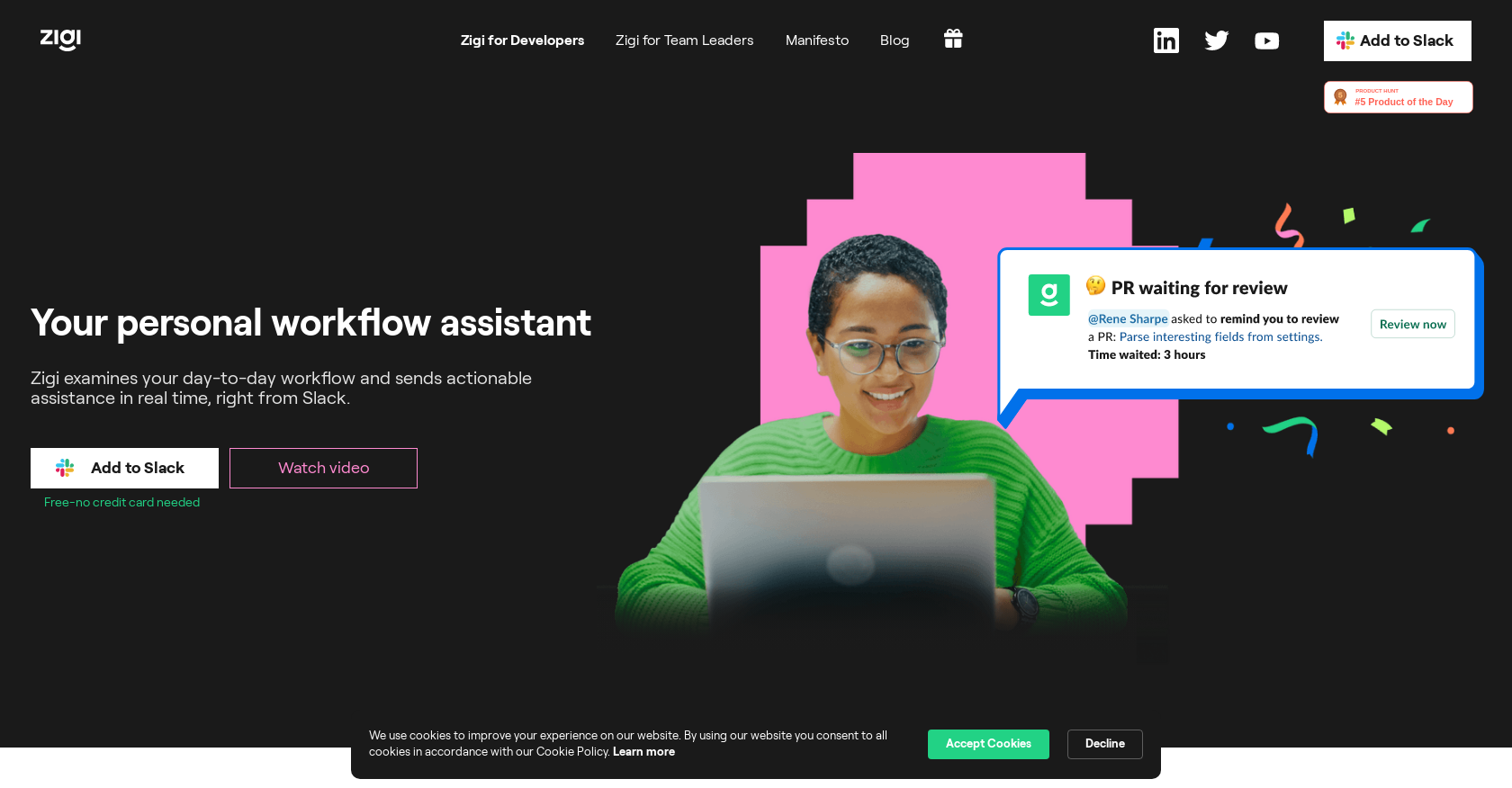 Generated by ChatGPT
Zigi is an AI-powered personal assistant designed for developers to increase workflow efficiency and productivity by automating non-coding tasks. The tool integrates with popular software like Slack, Jira, and Github, and examines daily workflows to identify pertinent actionable items that need attention.
Zigi's main objective is to streamline task management and collaboration, providing a complete overview of all tasks in one place, and presenting relevant information to team members in real-time.
In addition, Zigi allows developers to personalize their settings by customizing notification types and messages' frequency, ensuring that only important information matches their workflow.
Zigi is designed for developers who work in growing R&D departments and require ongoing collaboration with multiple different functions, making it easy for them to prioritize tasks and manage their workflow.
It is also easy to install, with low administrative overhead, and has a satisfactory privacy and security policy. Zigi's utility can be deemed a very useful productivity tool, in particular, for developers working in teams and attempting to balance non-coding tasks while focusing on coding and innovation.
Featured
Zigi was manually vetted by our editorial team and was first featured on March 9th 2023.

Would you recommend Zigi?
Help other people by letting them know if this AI was useful.
Efficient and automated business task assistant.

214

5.0

Boost productivity with virtual assistants.

125

Automated productivity and collaboration platform.

102

5.0

AI assistant for efficient work

81

Automated complex browser workflows.

77

Task management and productivity tracking.

75

NLP and analytics enhance task management.

68

5.0

Automation app automates workflows and web app control.

63

5.0

Task automation and productivity enhancement.

55

5.0

ChatGPT linked with 5k+ apps via no-code platform.

53

Automated platform improves HR/IT productivity.

52

Automated task management for calendar & email.

47

Workplace writing assistant for productivity.

43

Optimized workflow and automated code development.

42

Enhances website UX with intelligent integration.

41

Assists in writing emails and messages.

35

Personalized assistance for enhanced productivity.

35

Workflow optimization and process mining for industries.

35

Automated assistant handles tasks and talks naturally.

35

Insights and personalized interactions for businesses.

33

Spreadsheet optimization with assistants for efficiency.

32

Improved productivity in Shortcuts app

31

Automated assistant for daily task automation.

31

Improved engineering productivity and decision-making.

29

Automated productivity assistant.

29

Automate workflow by outsourcing simple tasks.

28

5.0

Automated news delivery & aggregation service

27

5.0

Automated Android task assistant.

27

1.0

Virtual assistant for improving text and productivity.

26

Managed family chaos through SMS copilot.

25

Automated task integration with custom flexibility.

25

Automated fintech compliance process optimization.

24

API platform for diverse tasks.

24

Versatile chatbot for writing, proofreading, and more.

24

Improved 3D workflow w/ easy env. creation & history.

24

5.0

Automates mundane tasks and enhances productivity.

23

Automated team time management platform.

22

Increased efficiency through online task automation.

20

Scheduling & email assist. with reminders.

21

19

Automation of cron jobs using natural language.

19

Automated business processes via language.

18

1.0

Automated task management for organizations.

16

Automated web browsing task automation

17

Automated mobile chat assistant for tasks and help.

17

Automated business processes for increased productivity.

15

Text processing and workflow optimization.

13

Automated daily writing and translation prompts.

13

Automated business task co-pilot.

12

Improved productivity through efficient task execution.

12

Automated sales team productivity boost.

11

Simulating autonomous agents to solve tasks.

12

1.0

Simplified tasks, streamlined workflow.

11

Automated content and tasks for startups.

11

Automated employee performance review writing.

11

Streamlined task management via text messaging.

11

Insurance automation resulting in improved productivity.

11

1.0

Streamlined development and deployment.

10

5.0

Automated content generation workflow.

10

Automated chatbot for writing and task productivity.

9

Automated conversational employee support platform.

8

Automated CRM with contact sync and personalization.

8

Improved teamwork and productivity in projects.

7

Improved writing productivity assistant.

6

Improved legal efficiency for increased productivity.

5

Improved Interactions and Operations

4

Enhanced team collaboration for productivity.

5

Enrich browsing with automated extension.

5

Applications for various industries

4

Media asset and content management platform.

4

Enhanced productivity through seamless task management

3

Automated browser actions for data collection.

3

Personal task assistant and workflow automation.

3

Task management, scheduling, email streamlined.

2

Automated task customization.

2

Optimized document workflows across functions.

2

Improved task efficiency and increased productivity.

1

Productivity and knowledge assistants

1

Automated workflow and task delegation for productivity.

1

Automated customer support with cognitive capabilities.

1
Pros and Cons
Pros
Streamlines developer task management
Improves collaboration efficiency
Integrates with Slack, Jira, Github
Identifies actionable items
Provides complete task overview
Real-time information updates
Customizable notifications settings
Easy installation
Low administrative overhead
Strong privacy and security policy
Helps prioritize tasks
Automates non-coding tasks
Designed for growing R&D departments
Facilitates team coordination
Improves productivity
Helps balance coding and non-coding tasks
Supports remote and asynchronous collaboration
Checks Jira and Github activity
Correlates tickets and updates statuses
Supports PR process
Delivers daily focus list
Identifies blockers
Supports multi-location teams
Handles workflow tasks from Slack
Fast installation
User-level permissions
Doesn't read or store code
Automatic learning of org workflow
Filters relevant tasks
All-in-one tool for Jira, GitHub, Bitbucket
Adjustable message frequency
Supports individual developers and teams
ISO 27001/27017 & Soc 2 Type 2 certified
GDPR compliant
Aid in workload management
Helpful for remote teams
Free for individual developers
Facilitates asynchronous development
Helps communicate achievements
Doesn't measure performance
Cons
Limited third-party integrations
No standalone application
Dependent on Slack
Limited customization options
Performance not measureable
Doesn't support Bitbucket
No on-premise option
No multi-language support
Automatic workflow learning may miscategorize
No free version for teams
Q&A
What kind of tasks can Zigi automate for developers?
Zigi automates non-coding tasks for developers. It effectively handles task management, collaborates on PRs over different locations and time zones, manages PR-related issues like correlating tickets and updating their statuses, identifies pertinent tasks that require attention, and streamlines them to Slack.
How does Zigi increase workflow efficiency and productivity?
Zigi increases workflow efficiency and productivity by automating developers' non-coding tasks. It identifies essential tasks and presents them in real-time. Moreover, it ensures that developers receive only important notifications that are relevant to their workflow. Zigi streamlines task management, collaboration, and presents all tasks and related information in a convenient and organized manner.
Which software does Zigi integrate with?
Zigi integrates with popular software like Slack, Jira, Github, and Bitbucket. It taps into these platforms to automate non-coding tasks, optimizing workflow and productivity for developers.
Can Zigi help developers manage tasks in real-time?
Yes, Zigi not only helps manage tasks, but it does so in real-time. It analyzes daily workflows to identify important action items, and delivers updates and notifications via Slack. Zigi can maintain, update, and streamline developers' tasks directly and promptly, thus enabling real-time task management.
Can Zigi's notifications be customized?
Yes, Zigi's notifications can be personalized according to user settings. Developers have the freedom to customize the type of notifications they receive and the frequency of these messages. This feature ensures that only important and relevant notifications find their way to the developer, creating a logistics-free work environment.
Is Zigi suitable for developers working in growing R&D departments?
Yes, Zigi is extremely beneficial for developers working in growing R&D departments. The platform is designed for developers whose work requires ongoing collaboration with various functions. It aids in task prioritization and workflow management, regardless of the team size and number of ongoing projects.
What does the installation process of Zigi look like?
The setup and installation process of Zigi is simple and straightforward. It is designed for easy installation with minimal administrative overhead. All that's required is to add Zigi to the Slack workspace. It does not demand admin permissions, thus making the process hassle-free.
Is Zigi a productivity tool for individual developers or for teams?
Zigi is a useful productivity tool for both individual developers and development teams. While it is free for individual developers, there are plans to introduce paid features for power users and teams. Ensuring a harmonious balance between non-coding tasks and focusing on coding and innovation is where Zigi really shines.
Does Zigi have any privacy and security policy?
Yes, Zigi adheres to stringent privacy and security policies. It neither reads nor stores user code and only requires user-level permissions. The platform is ISO 27001/27017 and SOC 2 Type 2 certified, ensuring international standards in information security are adhered to. Moreover, Zigi is fully GDPR compliant.
What kind of tasks does Zigi streamline on slack?
Zigi streamlines several tasks through Slack. These include managing PR updates and actions, automating and monitoring Jira tasks, presenting a daily task list for focus, and facilitating effective collaboration with teams across different locations and timezones.
Can Zigi manage PR related issues?
Yes, Zigi helps manage PR-related issues. It can identify PR tasks and deliver them directly to Slack for action. It also assists in coordinating tickets and updating their statuses.
How does Zigi help in collaboration on PRs from multiple locations?
Yes, Zigi offers full support for the PR process over diverse locations, time zones, and work weeks, facilitating effective collaboration with teams dispersed geographically. With Zigi, developers can easily collaborate on PRs regardless of their location.
Does Zigi support remote teams?
Zigi is ideal for remote teams. It supports asynchronous development across different time zones, sending reminders to different team members at the right times. It effectively bridges the distance and time gap amongst remote teams, ensuring smooth and efficient workflows.
Can Zigi be personalized according to my settings?
Yes, the settings of Zigi can be personalized. It allows developers to adjust the frequency of messages received and customize the type of notifications they receive to match their workflow requirements.
Does Zigi require admin permissions for installation?
No, Zigi does not require admin permissions for installation. Instead, it only needs user-level permissions and utilizes personal tokens based on permission levels. This feature makes it less intrusive and more secure, as it does not request unnecessary access to personal or sensitive information.
How does Zigi correlate tickets and update their statuses?
Zigi automates task management, including ticket correlation and status updates. By linking with your Jira and PR-related issues, it manages tickets and updates their statuses, hence reducing manual efforts and keeping developers focused on their core tasks.
Is Zigi compatible with my current workflow?
Zigi is designed to adapt to any workflow. Once it is connected to your cloud tools, it will learn your organizational workflow automatically. There is no need to manually configure or adapt Zigi to fit your company's workflow.
How does Zigi improve collaborative tasks for developers in teams?
Zigi significantly improves collaborative tasks for developers working in teams. Its real-time task automation optimizes collaborative efficiency by providing timely task updates, facilitating quick actions, and bridging communication gaps among team members. Regardless of the geographical location of team members or the functions they collaborate with, Zigi ensures smooth and efficient team collaboration.
How does Zigi help developers manage their daily routine?
Zigi helps developers manage their daily routine by automating non-coding tasks, providing an overview of all tasks in one place, and presenting actionable items in real-time. Additionally, it also gives developers a daily focus list with tasks and blockers, helping streamline their workflow, and maintain efficiency.
Does Zigi handle only non-coding tasks or can it manage coding tasks as well?
Zigi specifically tackles non-coding tasks. It automates these tasks to allow developers to focus more on coding and innovation. However, it does not manage coding tasks. The primary aim of Zigi is to relieve developers from non-coding tasks, thus granting them more time and mental space for actual coding work.
If you liked Zigi
Help
⌘ + D bookmark this site for future reference
⌘ + ↑/↓ go to top/bottom
⌘ + ←/→ sort chronologically/alphabetically
↑↓←→ navigation
Enter open selected entry in new tab
⇧ + Enter open selected entry in new tab
⇧ + ↑/↓ expand/collapse list
/ focus search
Esc remove focus from search
A-Z go to letter (when A-Z sorting is enabled)
+ submit an entry
? toggle help menu
x
Sign in to continue (100% free)
To prevent spam, some actions require being signed in. It's free and takes a few seconds.
Sign in with Google