Edit AI
Generated lifelike speech and video content.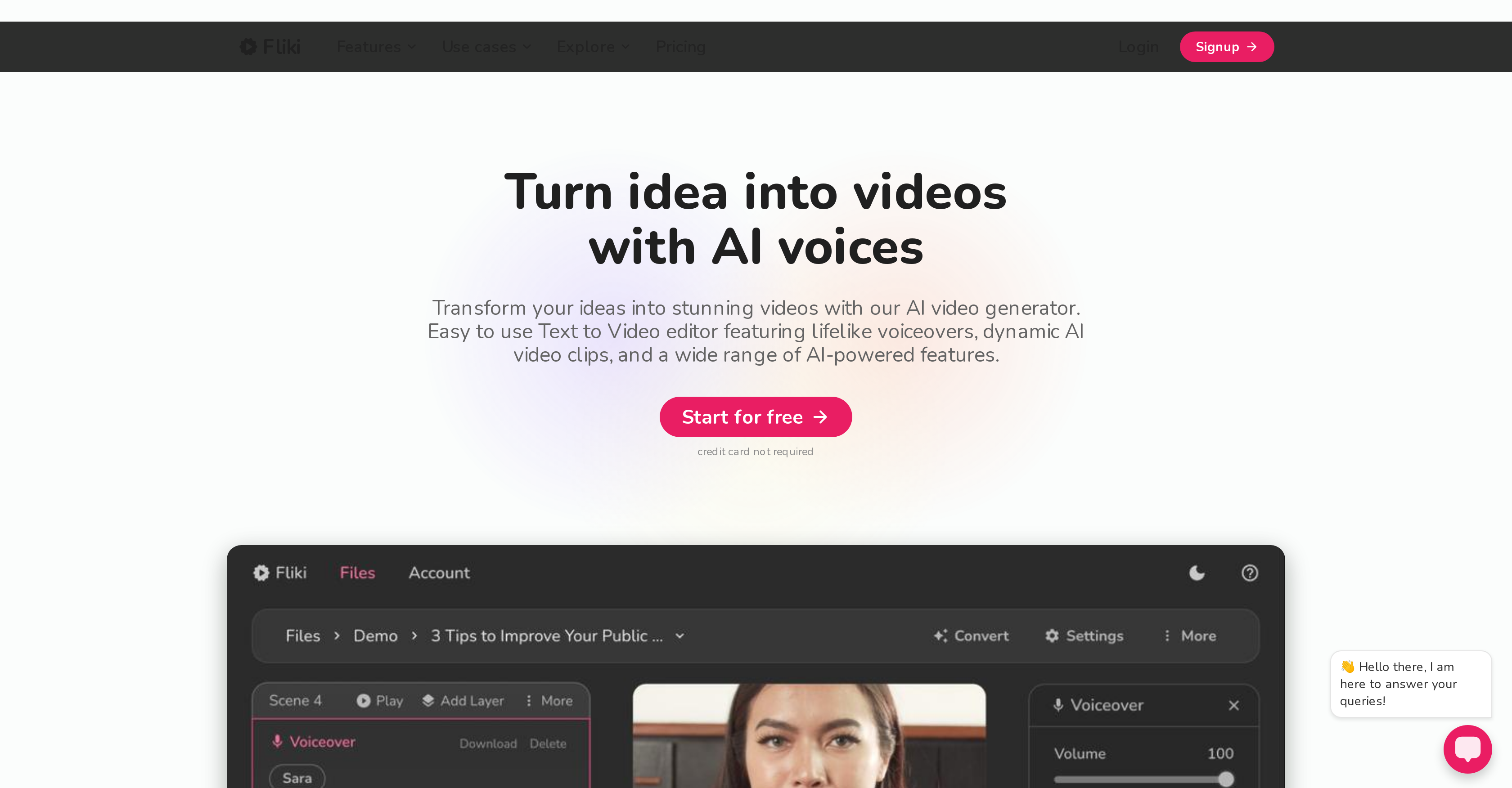 Generated by ChatGPT
Fliki is an AI-powered tool that simplifies and expedites video creation. It offers a text-to-video feature that enables users to transform their ideas into engaging videos in just a few simple steps.
With Fliki's script-based editor, creating videos is as easy as writing an email. The tool also provides a wide range of lifelike AI voices to choose from for voiceovers, eliminating the need for costly voice-over artists and recording equipment.One notable feature of Fliki is its seamless workflow, allowing users to access millions of stock media assets to enhance their video creations.
This feature is especially useful for content creators in need of rich visual content.Fliki supports over 75 languages, offering over 2000 realistic text-to-speech voices across various dialects.
The AI-powered voice generator delivers natural and professional-quality speech, adding a realistic touch to the videos.The tool caters to diverse use cases, including content creation for business and corporate purposes, marketing and social media campaigns, education and e-learning materials, e-commerce product marketing, and localization and translation needs.Fliki's web-based platform eliminates the need for special software or equipment, making it easily accessible for users.
It allows users to export their videos in various formats for further use.Overall, Fliki stands out among other text-to-video and text-to-speech tools for its all-in-one content creation capabilities, its extensive language support, and its user-friendly interface.
Featured
Fliki was manually vetted by our editorial team and was first featured on October 27th 2022.

Would you recommend Fliki?
Help other people by letting them know if this AI was useful.
2,387

1.6

Transform text and images into mesmerizing videos.

690

3.3

Created realistic videos.

428

3.0

Mobile app for easy video creation.

338

1.0

The creation of videos from still images.

327

4.1

System that creates videos from text prompts.

326

1.0

Video creation for content creators and businesses.

276

5.0

Generate videos from text prompts.

274

1.5

267

3.8

Business videos with custom avatars & voiceovers.

222

3.7

Generated video creation from text.

212

4.0

Video creation for workplace learning and communications

209

Creating polished videos without technical expertise.

208

Styled videos without mentioning brand names.

199

Personalized video generator for marketing campaigns.

193

5.0

Multilingual videos with lip-sync & live dubbing.

194

5.0

Automated video creation from written text.

192

Creating visuals to tell stories.

159

3.3

Video creation using advanced technology.

156

Video production with synthetic actors.

148

1.0

Professional-looking video creation for different uses.

144

5.0

Generates videos with different prompts and styles.

130

Text-to-video for diverse content.

124

Video generator with custom music and style options.

112

3.2

Creation of videos from text input.

103

4.0

Produced human-presented videos for diverse goals.

99

3.0

Instant video creation platform for marketing ads.

95

1.0

Personalized marketing videos.

94

5.0

Create videos instantly from prompts.

94

1.0

Creation of engaging videos for various industries.

88

Engaging videos from uploaded photos.

81

Text to vid with auto graphics, music & captions.

80

Generates unique music videos from text prompts online.

71

1.0

Create videos with actors, little expertise.

69

Suggested YouTube content ideas.

67

Voice-to-video creation without coding expertise.

64

3.0

Software for bringing motion into digital worlds.

63

Automated social media video creation.

57

Customizable templates for professional videos.

57

Created captivating videos with recommended footage.

57

Video generation for marketing, sales, and training.

52

Video editing with customizable templates.

49

5.0

Personalized short videos with sounds.

47

1.0

Quick video creation for different purposes.

47

Generated videos for training.

43

Made pro music videos sans editing or prod knowledge.

39

Video generator for content creators.

39

Platform to create high-quality, personalized videos.

36

Auto video creation from written text & media resources.

36

Generate lifelike videos and digital models with Skriva.

33

Create videos from written text input.

32

2.5

Enhanced mobile video editing with advanced technology.

30

5.0

Customized videos with cloned voices and faces.

29

Create videos from text with ease.

26

Video creation & sharing platform

26

5.0

High-quality videos generated with advanced tech.

26

Custom avatars, dynamic voiceovers, compelling videos

25

5.0

Generated video marketing for ecommerce.

25

Custom commercials from imported business details.

25

Customized video creation with effects and avatars.

23

4.7

Teleprompter-guided video recording.

23

Video creation for training & communication

23

5.0

Created social media-ready video advertisements.

22

Creating and hosting a video knowledge base.

20

Auto-generated diverse avatars for video from text.

19

Custom music videos w/ visuals & matching tones.

18

Tailored videos with digital avatars.

18

Generative video content studio.

17

5.0

Generate likey human videos in impossible formats.

16

Your videos, your voice...any language

15

5.0

Enhanced video creation: quality and subtitles.

15

5.0

Personalized e-commerce video marketing.

15

14

Create stunning videos & animations from text prompts.

13

Video production for startups & enterprises

13

Video generation from text prompts

12

Generate pro videos from text using video spokespersons.

11

Generate engaging videos from text content rapidly.

11

Actor-less, affordable high-quality video production.

10

Automated video creation from blog content.

9

Text and image-based video generation.

9

5.0

Video personalization for sales & marketing.

8

Automated video creation for businesses and individuals.

6

Create diverse video edits.

5

Written ideas to captivating videos

3

Automated content creation for social media & platforms.

3

Convert text into customized spoken videos with avatars.

3

Video management solution for business transformations.

2

Scene visuals generated for scripts.

2

Generates stable diffusion model videos from images.

2

Enhanced video editing for polished content creation.

1

Content creators generate videos from text.

1

Personalized videos for efficient communication.

1
If you liked Fliki
Help
⌘ + D bookmark this site for future reference
⌘ + ↑/↓ go to top/bottom
⌘ + ←/→ sort chronologically/alphabetically
↑↓←→ navigation
Enter open selected entry in new tab
⇧ + Enter open selected entry in new tab
⇧ + ↑/↓ expand/collapse list
/ focus search
Esc remove focus from search
A-Z go to letter (when A-Z sorting is enabled)
+ submit an entry
? toggle help menu
x
Sign in to continue (100% free)
To prevent spam, some actions require being signed in. It's free and takes a few seconds.
Sign in with Google