Edit AI
Celebrity fan engagement via direct messaging.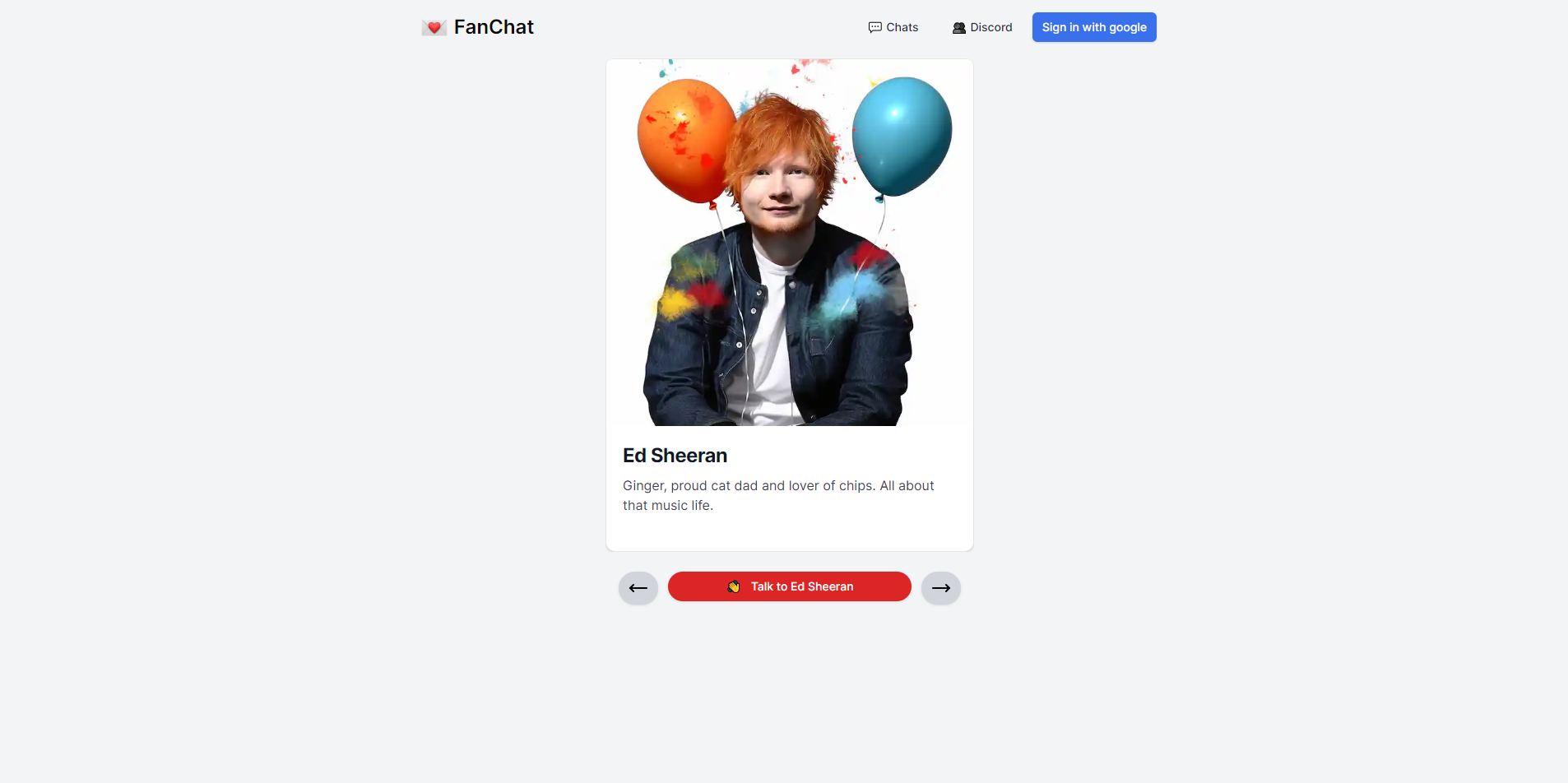 Generated by ChatGPT
FanChat is a tool that enables users to have direct messaging conversations with their favorite celebrities. Upon visiting the platform, users are prompted to sign in using their Google account.
The tool includes a search function that allows users to find and connect with specific celebrities of their choice. The main menu provides access to various features, including the ability to chat with Lady Gaga, a renowned pop artist known for her boundary-pushing music.
Additionally, the platform offers a link to join a Discord server, a popular communication platform for communities. FanChat seeks to facilitate direct interaction between fans and celebrities without intermediaries.
The tool allows fans to engage in personal conversations with their idols, providing an opportunity for a more intimate and meaningful connection. By using a well-known and trusted authentication method like Google sign-in, the platform aims to ensure security and protect user privacy.Through its straightforward search functionality and accessible menu options, FanChat simplifies the process of finding and engaging with celebrities of interest.
This AI-powered tool is designed to enhance the fan experience by enabling direct and private communication with celebrities, creating an environment conducive to meaningful connections.
Featured
FanChat was manually vetted by our editorial team and was first featured on September 23rd 2023.

Would you recommend FanChat?
Help other people by letting them know if this AI was useful.
Chat with your custom or pre-made characters.

55

4.0

Talk to celebs like talking.

53

4.3

Chat with fictional characters on a platform.

34

1.0

Exchange Q&A with historical figures on platform.

26

5.0

Voice chat with celeb avatars for advice or casual chat.

20

Engaging interactive entertainment

20

Virtual celebrity conversation simulation and research

14

3.0

Simulated conversations with historical figures.

13

Platform for personalized Q&A with famous personalities.

12

Synthesizing voices for media & entertainment.

11

Engaging chats with celebrity avatars.

5

4

Celebrity Q&A & Conversations

3

Conversations with famous people

2
If you liked FanChat
Help
⌘ + D bookmark this site for future reference
⌘ + ↑/↓ go to top/bottom
⌘ + ←/→ sort chronologically/alphabetically
↑↓←→ navigation
Enter open selected entry in new tab
⇧ + Enter open selected entry in new tab
⇧ + ↑/↓ expand/collapse list
/ focus search
Esc remove focus from search
A-Z go to letter (when A-Z sorting is enabled)
+ submit an entry
? toggle help menu
x
Sign in to continue (100% free)
To prevent spam, some actions require being signed in. It's free and takes a few seconds.
Sign in with Google