Edit AI
Generated and collaborated website copy.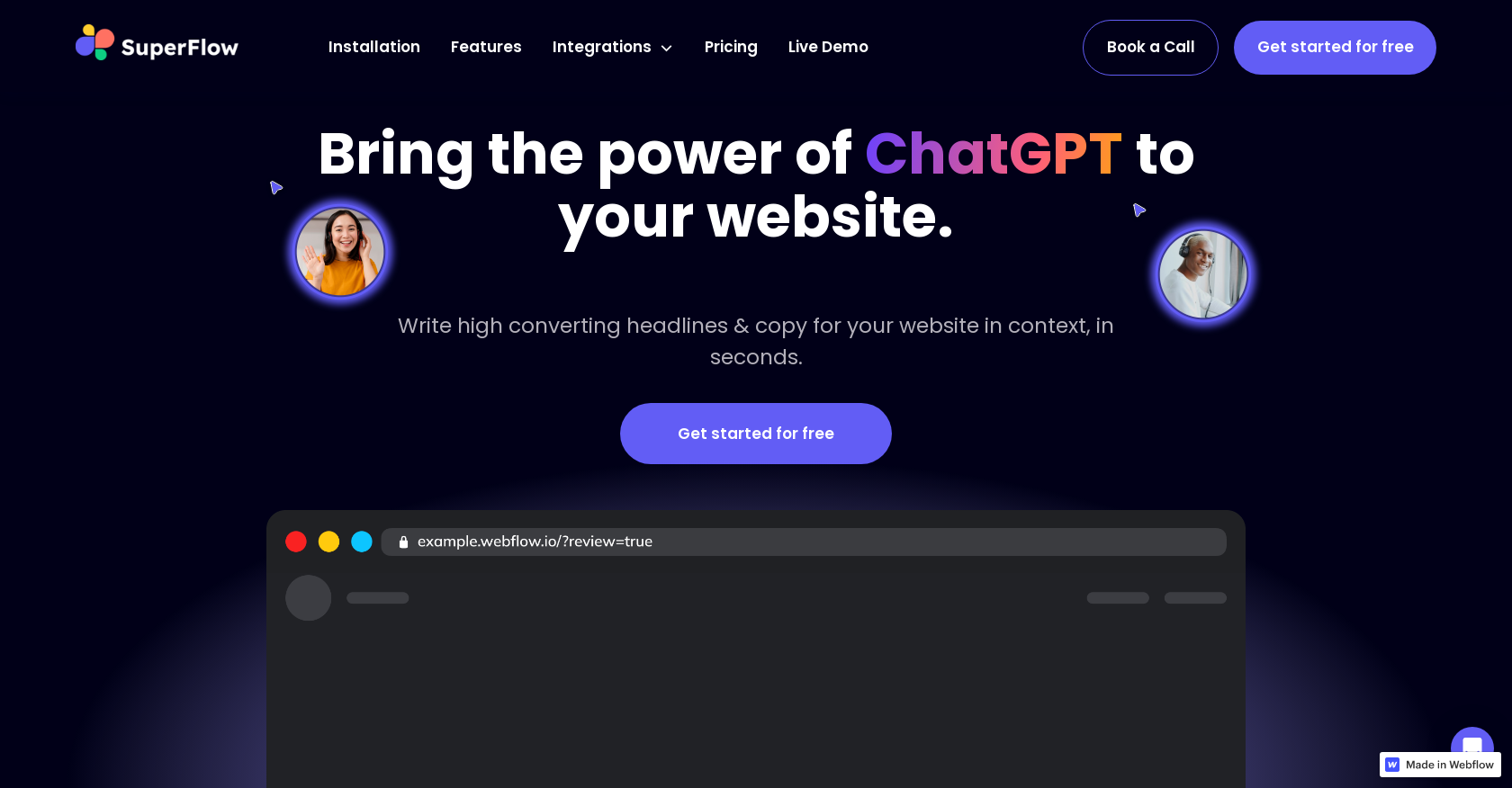 Generated by ChatGPT
Superflow Rewrite is an AI powered tool designed to help web agencies and teams create compelling headlines and product descriptions with minimal effort.
It integrates with ChatGPT, an AI-driven platform that offers users the ability to generate copy in seconds. Superflow Rewrite allows users to annotate live websites, assign tasks, autogenerate copy and collaborate on live products.
It also offers a task manager to help keep everyone on the same page and private annotations for more confidential tasks. The integration with other tools such as Clickup, Webflow, Asana and Slack makes it easy to use and keep track of tasks.
Superflow Rewrite is easy to set up and use with a script that can be added to the website in less than five minutes. It also offers a 14 day free trial and three different plans to choose from depending on your needs.
With Superflow Rewrite you can save time on iterations and build products that your customers love.
Featured
Superflow Rewrite was manually vetted by our editorial team and was first featured on January 24th 2023.

Would you recommend Superflow Rewrite?
Help other people by letting them know if this AI was useful.
63 alternatives to Superflow Rewrite for Website building
Text-to-Website builder with AI, WordPress & Elementor.

995

1.3

Generated design options for no-code website creation.

650

4.3

AI Website Building for Businesses

387

4.0

Revolutionized web design aided by machine learning.

350

Assisted website creation for business owners.

268

3.5

Generate branded copywriting landing pages rapidly.

243

1.0

AI-powered website builder

176

5.0

Visually appealing websites made effortlessly.

137

Efficient creation and management of websites.

131

5.0

Landing page creation without coding for businesses.

116

1.0

Created web apps with machine learning.

111

2.0

Website design without coding & online marketing.

103

3.0

Website generator for small businesses.

87

5.0

Simplified website design solution.

78

5.0

Website copywriting improved by language processing.

73

5.0

Automated workflows and no-code apps.

72

1.0

Website creation with automated content and design.

68

Easy website creation solution.

66

5.0

Automates design generation for website creation.

56

Efficient website creation and resume generation.

53

1.0

Customizable templates for modern landing pages.

53

4.0

Built websites intelligently.

53

Created professional website & store automatically.

52

5.0

Non-tech user website builder.

52

5.0

Built mobile-friendly websites with codeless editor.

51

5.0

Build websites easily without technical knowledge.

49

1.0

Improves website creation process with assistance.

49

Smartly boosted websites w/ copy suggestions.

45

Design and optimize personalized websites.

44

Natural language website generation.

43

1.0

Website builder without coding.

40

Created and designed websites efficiently.

39

Website and UI builder for rapid prototyping.

37

Low-code platform for building generative apps.

37

Effortlessly creates websites with advanced analytics.

36

Website building for non-tech users

34

5.0

Created eCommerce shops visually with automated pages.

33

Natural language-based web page design.

32

Automated website generation and cloud stacking.

31

Website creation made easy with generated templates.

30

Created website copy using automation for designers.

30

Created digital experiences for businesses.

26

Efficient web development with generative tech.

26

Created small business websites powerfully.

24

4.0

Website development solution

23

Easy site creation for SMBs and creatives.

23

5.0

Easy website creation for individuals and startups

21

Website creation & management, optimized effortlessly.

20

1.0

Startup landing page creation made easy.

18

User-friendly web page creation for non-tech users.

16

Easily design websites without coding experience.

13

Create personalized websites & landing pages with ease.

13

1.0

Assisted creation of chat-based website templates.

13

Entrepreneurs' website generator for marketing.

11

Website builder and lead manager, no coding required.

10

Generated web content via conversational dashboard.

7

Website Design-to-Dev Conversion Solution.

5

Website structure and SEO visual sitemap generation.

4

5.0

3

Webstudio accelerates website creation for designers.

2

5.0

Landing pages for diverse industries.

1
Pros and Cons
Pros
Generates compelling headlines
Autogenerates product descriptions
Integrated with ChatGPT
Annotate live websites
Assigns tasks automatically
Collaboration on live products
Built-in task manager
Private annotations feature
Integrates with Clickup
Integrates with Webflow
Integrates with Asana
Integrates with Slack
Easy set up
Fast script addition to website
Offers 14-day free trial
Multiple pricing plans
High converting copy production
Feedback received faster
Efficient task management
Allows media rich annotations
Task progress tracking
Incorporates client feedback
Web agencies can work efficiently
Website connected with app
Creates tasks directly from app
Generates copy with ChatGPT
Flexible annotation options
In-depth feedback
Rich media attachments
Facilitates screen recordings
Task assignment within app
Private comments visible to team
Review mode for websites
Mobile compatible
Allows for website annotations
Facilitates live design reviews
Enables text rewrite
Integrates rich media annotations
Incorporates screen recordings
Integrated client communication
Streamlines collaboration
Freelancer suitable plans
Agency suitable plans
No credit card required trial
Design review features
Efficient setup process
Website script adding function
Live demos available
Unlimited projects in premium plans
Extra storage in premium plans
Webhooks in premium plans
Cons
Limited integration options
Free trial short
Potentially high monthly cost
No open-source availability
May require coding knowledge
Depends on other platforms
Mixed security for annotations
Limited storage options
Task management might be basic
Unknown mobile compatibility
Q&A
What is Superflow Rewrite?
Superflow Rewrite is an AI-powered tool that is designed to assist web teams and agencies in generating compelling headlines and product descriptions with minimal effort. This tool offers a platform to annotate live websites, autogenerate copy, assign tasks, and collaborate on live products.
How does Superflow Rewrite integrate with ChatGPT?
Superflow Rewrite incorporates ChatGPT, a cutting-edge AI-driven platform which enables quick generation of copy. Users can select a text and ask ChatGPT to rewrite it, updating their website with the fresh copy in mere seconds.
What specific features does Superflow Rewrite offer?
Superflow Rewrite offers a variety of features; these include live annotation of websites, autogenerated copy creation, collaboration on live products, and task management. Superflow Rewrite also includes integrations with other tools including Slack, Clickup, and Asana. It allows rich media annotations and provides feedback options including video, text, attachments and screen recording. There are provisions to add private comments as well.
What are the advantages of using Superflow Rewrite over traditional methods?
Compared to traditional methods, Superflow Rewrite provides superior efficiency and effectiveness. It not just reduces the back and forth often associated with drafting copy, it also makes the process faster and easier. The annotation feature allows stakeholders to give direct feedback, and collaboration on live products allows changes to be made in real-time. Additionally, integration with widely used platforms like Slack and Asana keeps all stakeholders aligned.
How does Superflow Rewrite function as a task manager?
Superflow Rewrite serves as a task manager by allowing users to convert comments into tasks and assign them to relevant team members. It enables users to track progress and share updates with all stakeholders, improving project management and team collaboration.
Can I use Superflow Rewrite for confidential tasks?
Yes, Superflow Rewrite enables users to create private annotations that are only visible to team members, thus making it suitable for confidential tasks.
How does Superflow Rewrite integrate with other tools such as Clickup, Webflow, Asana and Slack?
Superflow Rewrite is designed for easy integration with various tools including Clickup, Webflow, Asana, and Slack. These integrations allow users to manage tasks and collaborate on live products straight from Superflow without the need to switch between tools, thereby streamlining their workflow.
How can I install Superflow Rewrite on my website?
Superflow Rewrite can be installed on your website by simply adding a script. The process takes less than five minutes and once finished, it allows review mode to be turned on, annotate live websites, and collaborate on live products straight from the site.
What is the setup process like for Superflow Rewrite?
The setup process for Superflow Rewrite is straightforward. Users just need to select their website and add the Superflow script to it. Once published and shared, they can turn on review mode, annotate live websites, manage tasks, and collaborate with their team directly.
What are the available plans for Superflow Rewrite and how do they differ?
Superflow Rewrite provides three plans: Freelancer, Agency, and Agency Pro. The Freelancer plan includes 3 active projects, 5 collaborators per project, and 10 GB storage. The Agency plan extends the service by offering unlimited projects, 5 collaborators per project, and 100 GB storage, plus two integrations. The Agency Pro plan offers all the features of Agency, with added advantages like 10 collaborators per project, 500 GB storage, unlimited integrations, private comments, and dedicated support.
How does the 14-day free trial work?
Superflow Rewrite offers a 14-day free trial that allows users to test its functionality before making a purchase. This trial offers full access to all its features, giving potential subscribers a comprehensive understanding of the product.
What do I get with a Superflow Rewrite subscription?
With a Superflow Rewrite subscription, users get access to capabilities such as live website annotation, task assignment and management, collaboration on live products, and utilization of AI technology to autogenerate copy. Depending on the tier of subscription, users can also gain benefits like unlimited projects and integrations, private comments, increased storage, and dedicated support.
Can Superflow Rewrite help me improve my product descriptions?
Yes, Superflow Rewrite can certainly help improve product descriptions. With the ability to autogenerate copy using AI technology, it can provide fresh, engaging content aimed at attracting and retaining users' attention.
Does Superflow Rewrite annotate live websites?
Yes, users have the ability to annotate live websites with Superflow Rewrite. These annotations can include text, videos, attachments, and screen recordings, giving comprehensive feedback capabilities.
How efficient is SuperFlow rewrite in generating website copies and headlines?
SuperFlow Rewrite is extremely efficient in generating website copies and headlines. It leverages the capabilities of the AI-powered ChatGPT to deliver high-converting headlines and copy for users' websites in seconds. This reduces the time traditionally spent on these tasks and improves the overall quality of web content.
What is meant by Auto-generate copy in Superflow Rewrite?
Auto-generating copy in Superflow Rewrite means the system uses artificial intelligence, specifically the ChatGPT platform, to write or rewrite text automatically. Users can ask ChatGPT to rewrite a selected text, and it will generate a new version, which they can directly use to update their website's content.
Does Superflow Rewrite offer live collaboration on projects?
Yes, Superflow Rewrite offers live collaboration on projects. It allows users to work together on live products, simultaneously making updates and adjustments in real time. This feature eliminates the delays inherent in traditional methods and makes the overall process much more efficient.
Can I manage my tasks within the Superflow Rewrite platform?
Yes, Superflow Rewrite enables users to manage tasks within its platform. Users can convert comments into tasks, assign them to team members, and track their progress, which simplifies project management and facilitates improved collaboration among teams.
Does Superflow Rewrite support private annotations?
Yes, Superflow Rewrite does support private annotations. This feature allows users to create notes that are only visible to team members, thereby ensuring confidentiality where required.
What type of content can Superflow Rewrite help me generate?
Superflow Rewrite can help users generate a variety of content for their websites, particularly in regard to headlines and product descriptions. Leveraging its AI technology, it can create engaging, high-converting copy that enhances both the appeal and effectiveness of the user's website content.
If you liked Superflow Rewrite
Help
⌘ + D bookmark this site for future reference
⌘ + ↑/↓ go to top/bottom
⌘ + ←/→ sort chronologically/alphabetically
↑↓←→ navigation
Enter open selected entry in new tab
⇧ + Enter open selected entry in new tab
⇧ + ↑/↓ expand/collapse list
/ focus search
Esc remove focus from search
A-Z go to letter (when A-Z sorting is enabled)
+ submit an entry
? toggle help menu
x
Sign in to continue (100% free)
To prevent spam, some actions require being signed in. It's free and takes a few seconds.
Sign in with Google