Edit AI
Assisting with email communication to improve outcomes.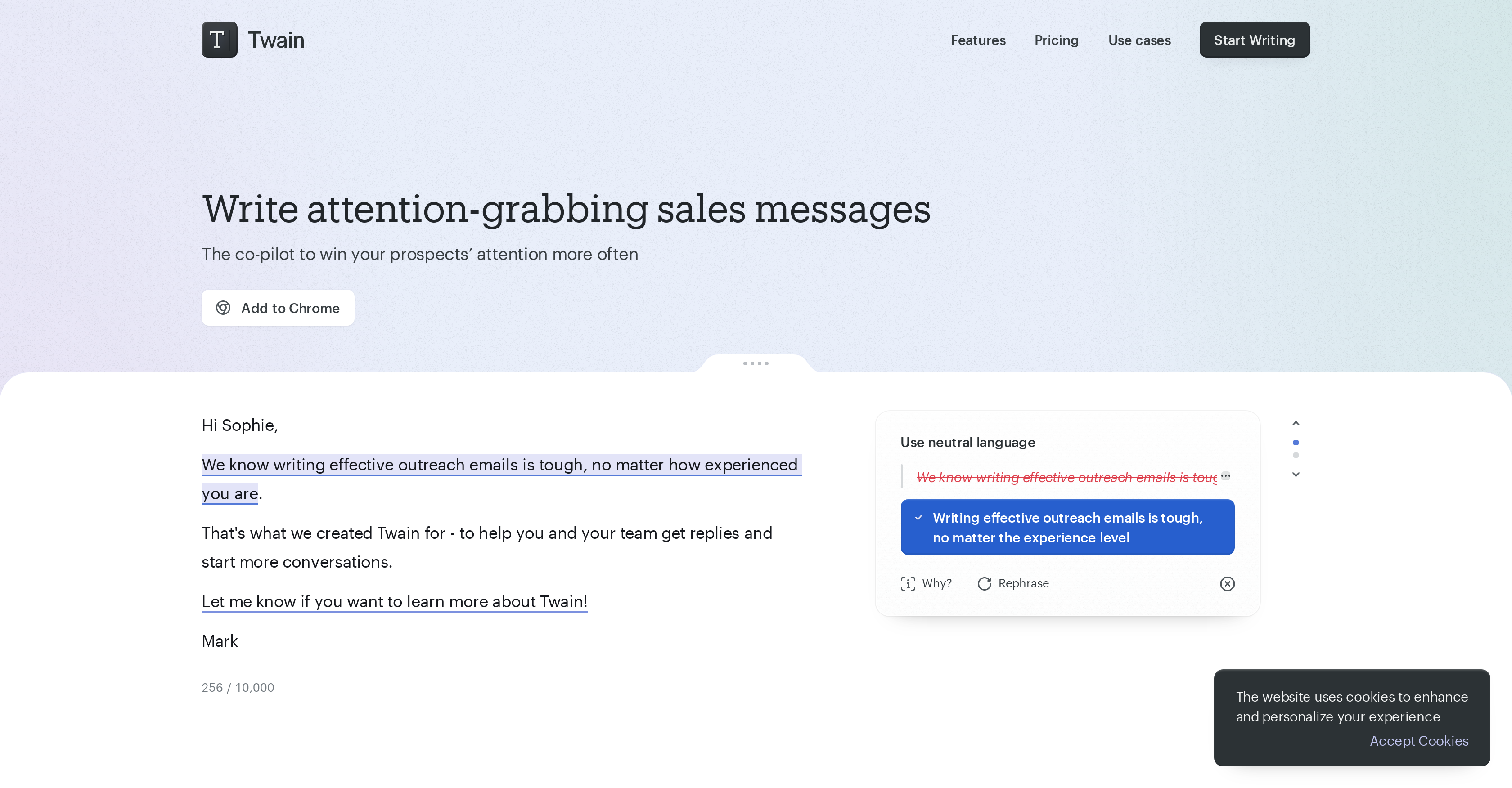 Generated by ChatGPT
Twain is an AI-powered communication assistant for outreach. It helps users write more effective emails and get more responses from the recipients. Twain works by analyzing an outreach message the user inserts into the editor and providing recommendations based on best practices.
It can detect small talk, filler words, conditional statements, and exclamation points, and suggest improvements to make the message more effective. Twain also offers suggestions on how to write a great opener and how to ask a clear question at the end of the email.
It is a free tool designed to help salespeople, recruiters, founders, and anyone else who writes outreach emails. By using Twain, users can improve their communication skills and get better results from their outreach efforts.
Featured
Twain was manually vetted by our editorial team and was first featured on February 8th 2023.

Would you recommend Twain?
Help other people by letting them know if this AI was useful.
64 alternatives to Twain for Email writing
Generation of personalized email and message content.

68

5.0

Fast, professional email composition assistance.

46

Productivity suite that boosts email productivity.

40

Generated personalized email campaigns using data.

37

5.0

Improved email communication & response generation.

36

Automated email management boosting productivity.

31

Automated task optimization for workflows.

24

Writing polished, workplace-appropriate emails.

23

Hyper-personalized email outreach icebreakers.

22

Automatically personalizes and improves business emails.

20

5.0

Boost sales with insights, leads and outreach.

20

Optimizing email content for greater effectiveness.

20

5.0

Streamlined email writing with an assistant.

19

5.0

Email writing assistant extension for Chrome.

18

Email generation assistance software.

18

Autogenerated email and message replies.

16

Assisted email writing with tone & autocomplete.

17

Automated email management and smart inbox organization.

17

Automated email copy generator for marketing.

16

Real-time email writing efficiency advisor.

15

Automated email writing and summarization.

15

Productivity aid for composing emails.

15

Improved multilingual email professionalism.

14

Assistance for writing emails.

14

Managed emails with quick replies.

14

Tailored response messaging assistant.

13

Personalized opening lines for cold email outreach.

13

Automated personalized email generation.

13

Efficient email writing with personalized content.

12

5.0

Customized cold emails for businesses.

12

Automated email writing assistance.

11

Tailored email responses generated.

11

Solution for creating witty responses to spam emails.

10

VoiceType: verbal email composition w/ context analysis.

10

Email drafting on iPhone.

10

Effortless email design and creation

10

5.0

Email response generation with one click.

10

Personalized cold email first lines.

10

Automated email communication improvement assistant.

9

Communication aid with smart templates & tone selector.

9

Email writing acceleration.

9

5.0

Gmail email writing assistant.

9

8

Customized email marketing with CRM intelligence.

8

Automation of email composition and management.

8

Email writing assistance.

8

Automated email composition for busy professionals.

8

Simplified business text generation.

7

Enhanced email management and composition platform.

7

Simplified email management, time-saving solution.

7

Quickly compose emails in any language.

7

1.0

Automated multi-channel team engagement platform.

7

Email writing assistance.

6

Efficiently crafted communications

6

5.0

Generate personalized emails easily.

5

Generated copy and templates for email campaigns.

4

Email response generation with personalized messages.

4

Personalized outbound sales emails optimized.

3

Personalized email response generation made efficient.

3

3

Email composing assistant

2

Email composition and proofreading assistant.

1

Improved email productivity, streamlined communication.

17

5.0
Pros and Cons
Pros
Analyzes outreach messages
Provides actionable recommendations
Detects small talk
Detects filler words
Analyses use of exclamation points
Suggests opener improvements
Guides clear question formulation
Free tool for anyone
Useful for salespeople and recruiters
Improves communication skills
Increases response rate
Supports sales pitch refinement
Accessible in-browser editor
Detects and corrects conditional statements
Designed for multiple user types
Increases effectiveness of emails
Reveals missing email elements
Quick feedback on draft messages
Helps reactivate cold prospects
Improves follow-up communication
Offers writing coaching alternative
Highlights missteps in drafts
Cons
Limited to email communication
No multi-language support
Chrome extension dependent
Limited outreach formats
No API for integration
Lacks customizability
Limited user categories
No mobile version
No offline functionality
No performance metrics
Q&A
What is Twain and how does it help with email communication?
Twain is an AI-powered communication assistant that specializes in outreach. It assists users in writing more effective emails, geared towards garnering more responses from recipients.
How does Twain analyze and improve my outreach messages?
Twain analyzes your outreach messages by detecting key elements such as small talk, exclamation points, filler words, and conditional statements. Then, it provides recommendations for improvements based on established best practices for effective communication.
What aspects of an email can Twain detect and suggest improvements for?
Twain can detect a number of aspects in an email. This includes small talk, conditional statements, filler words, and exclamation points. It provides insightful suggestions on how to improve the effectiveness of these aspects.
Can Twain help me write a great opener for my email?
Yes, Twain provides recommendations on writing great openers for your email. It helps in creating a strong initial impact, an essential part of effective communication.
How does Twain assist in asking a clear question at the end of an email?
Twain helps users form a clear question at the end of their emails. It does this by giving feedback and suggestions designed to make the question more straightforward and less likely to be misunderstood or ignored.
What kind of users can benefit from using Twain?
A variety of users can benefit from using Twain. This includes salespeople, recruiters, and founders, along with any individual writing outreach emails seeking feedback, responses, or potential opportunities.
Is Twain a free tool?
Yes, Twain is a free tool that can be used by anyone to enhance their communication skills and outcomes with outreach emails.
In what ways can Twain improve my communication skills?
Twain can improve your communication skills in various ways. It provides feedback to avoid small talk, exclamation points, and filler words, as well as offering guidance for asking clear questions and writing persuasive openers.
What kind of results can I expect from my outreach efforts after using Twain?
Following Twain's recommendations, users can expect better results with their outreach efforts. Some of these results might include more responses from recipients, better engagement, and improved communication skills.
Can I add Twain to my Chrome browser?
Yes, Twain can be added to your chrome browser for easy and direct access while you write your emails.
How does Twain score my emails?
Twain provides a score for your emails based on its AI-powered analysis. The factors considered during this process revolve around the effectiveness of your email content and its deliverability.
What does an 'insert any outreach message' option do?
The 'insert any outreach message' option allows users to input their drafted outreach emails. Twain then analyzes this text and provides recommendations to improve its effectiveness.
Why does Twain recommend avoiding small talk and filler words in emails?
Twain recommends avoiding small talk and filler words to make communication more direct and effective. These elements can detract from your key message and make your email seem less professional or unclear.
What is the benefit of using Twain as opposed to human coaching?
One of the prime benefits of using Twain over human coaching is the cost and time efficacy. While human coaching can be expensive and slow, Twain provides free, quick, and comprehensible recommendations based on best practices.
Is Twain easy to understand and use?
Yes, Twain is designed to be easy to understand and use. It simplifies the process of enhancing email communication by providing concise, straightforward feedback and recommendations.
Which fields can Twain be used in - sales or recruiting or personal use?
Twain can be beneficial across diverse fields such as sales, recruiting, and even personal use. It offers guidance appropriate to various contexts, meeting a broad range of communication needs.
How do I contact Twain if I have further questions?
You can reach out to Twain with further questions via their website's 'Contact' section, which provides ways to connect with them.
What kind of use-cases does Twain cater to?
Twain caters to a variety of use-cases such as reaching out to potential customers, reactivating cold prospects, following up with a client that needs more persuading, among others.
Can I learn more about the company behind Twain?
Yes, you can learn more about Twain Technology UG, the company behind Twain, on their website. It provides information about their mission, team, and more.
How can I start with Twain and write emails that get answers?
To start with Twain and write emails that get answers, simply paste your email into the editor on Twain's website. In seconds, you'll receive recommendations to improve your email based on outreach best practices.
If you liked Twain
Help
⌘ + D bookmark this site for future reference
⌘ + ↑/↓ go to top/bottom
⌘ + ←/→ sort chronologically/alphabetically
↑↓←→ navigation
Enter open selected entry in new tab
⇧ + Enter open selected entry in new tab
⇧ + ↑/↓ expand/collapse list
/ focus search
Esc remove focus from search
A-Z go to letter (when A-Z sorting is enabled)
+ submit an entry
? toggle help menu
x
Sign in to continue (100% free)
To prevent spam, some actions require being signed in. It's free and takes a few seconds.
Sign in with Google