AI Ghostwriter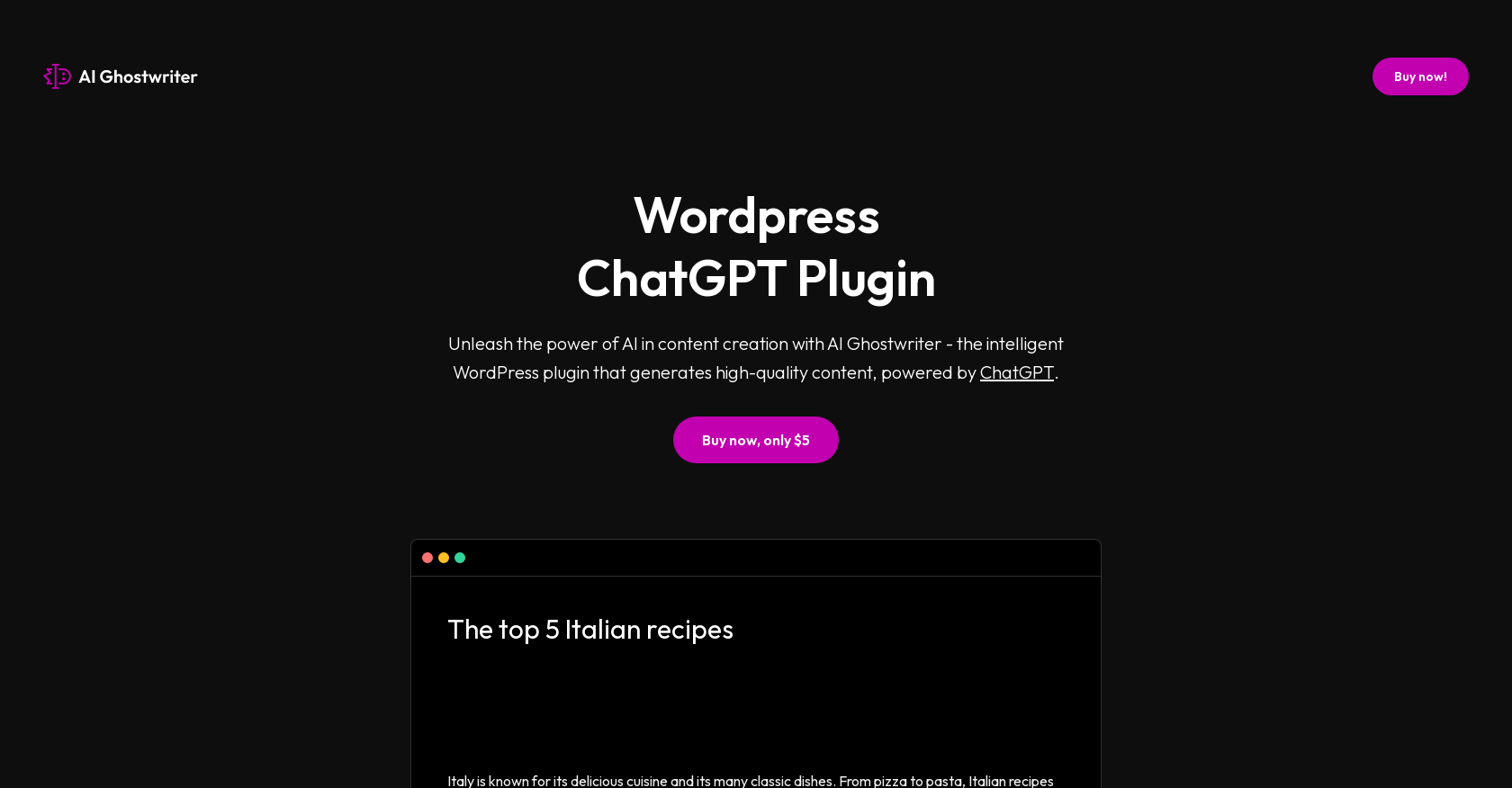 Generated by GPT-3
AI Ghostwriter is an intelligent WordPress plugin that harnesses the power of AI to generate high-quality content. Powered by ChatGPT, this plugin allows users to quickly and easily create content for their WordPress website.
With AI Ghostwriter, users can create content for any topic and the plugin will automatically generate content based on the user's input. AI Ghostwriter is a great tool for content creators, as it provides an automated way to create content without having to invest a lot of time and energy into it.
The plugin also includes a sample of the top five Italian recipes so users can get started right away. Additionally, AI Ghostwriter is an affordable tool, with a one-time purchase price of just $5.
Featured
?
193 alternatives to AI Ghostwriter for Writing
18 Mar 2023

02 Mar 2023

02 Mar 2023

02 Mar 2023

02 Mar 2023

03 Mar 2023

03 Mar 2023

03 Mar 2023

04 Mar 2023

04 Mar 2023

05 Mar 2023

06 Mar 2023

06 Mar 2023

07 Mar 2023

07 Mar 2023

08 Mar 2023

09 Mar 2023

10 Mar 2023

10 Mar 2023

11 Mar 2023

15 Mar 2023

01 Feb 2023

02 Feb 2023

02 Feb 2023

02 Feb 2023

02 Feb 2023

03 Feb 2023

03 Feb 2023

03 Feb 2023

05 Feb 2023

05 Feb 2023

06 Feb 2023

07 Feb 2023

08 Feb 2023

11 Feb 2023

11 Feb 2023

11 Feb 2023

11 Feb 2023

11 Feb 2023

13 Feb 2023

13 Feb 2023

13 Feb 2023

15 Feb 2023

15 Feb 2023

18 Feb 2023

19 Feb 2023

20 Feb 2023

21 Feb 2023

22 Feb 2023

22 Feb 2023

23 Feb 2023

23 Feb 2023

25 Feb 2023

25 Feb 2023

26 Feb 2023

27 Feb 2023

02 Jan 2023

02 Jan 2023

03 Jan 2023

04 Jan 2023

05 Jan 2023

09 Jan 2023

10 Jan 2023

14 Jan 2023

17 Jan 2023

17 Jan 2023

17 Jan 2023

19 Jan 2023

20 Jan 2023

21 Jan 2023

22 Jan 2023

23 Jan 2023

23 Jan 2023

23 Jan 2023

26 Jan 2023

26 Jan 2023

26 Jan 2023

26 Jan 2023

27 Jan 2023

27 Jan 2023

27 Jan 2023

28 Jan 2023

28 Jan 2023

29 Jan 2023

30 Jan 2023

31 Jan 2023

01 Dec 2022

03 Dec 2022

05 Dec 2022

05 Dec 2022

07 Dec 2022

07 Dec 2022

11 Dec 2022

12 Dec 2022

13 Dec 2022

14 Dec 2022

16 Dec 2022

16 Dec 2022

19 Dec 2022

19 Dec 2022

19 Dec 2022

21 Dec 2022

21 Dec 2022

22 Dec 2022

25 Dec 2022

26 Dec 2022

30 Dec 2022

01 Nov 2022

01 Nov 2022

02 Nov 2022

02 Nov 2022

04 Nov 2022

05 Nov 2022

06 Nov 2022

08 Nov 2022

10 Nov 2022

15 Nov 2022

15 Nov 2022

21 Nov 2022

26 Nov 2022

29 Nov 2022

29 Nov 2022

06 Oct 2022

10 Oct 2022

13 Oct 2022

14 Oct 2022

18 Oct 2022

18 Oct 2022

22 Oct 2022

25 Oct 2022

29 Oct 2022

30 Sep 2022

10 Aug 2022

11 Aug 2022

18 Aug 2022

23 Aug 2022

06 Jul 2022

15 Jul 2022

16 Jul 2022

28 Jul 2022

14 Jun 2022

16 Jun 2022

28 Jun 2022

14 May 2022

19 May 2022

06 Apr 2022

26 Apr 2022

27 Apr 2022

06 Jan 2022

08 Jan 2022

09 Jan 2022

20 Jan 2022

21 Jan 2022

24 Jan 2022

30 Jan 2022

24 Feb 2022

28 Feb 2022

09 Mar 2022

22 Mar 2022

13 Jan 2021

17 Jan 2021

19 Jan 2021

24 Jan 2021

05 Feb 2021

12 Feb 2021

02 Mar 2021

10 Mar 2021

16 Mar 2021

24 Mar 2021

28 Mar 2021

30 Mar 2021

15 Apr 2021

27 Apr 2021

19 May 2021

15 Jun 2021

21 Jul 2021

25 Jul 2021

14 Sep 2021

23 Sep 2021

14 Oct 2021

17 Oct 2021

27 Nov 2021

05 Dec 2021

31 Dec 2021

12 Aug 2020

14 Aug 2020

24 Aug 2020

16 Sep 2020

19 Sep 2020

21 Sep 2020

25 Sep 2020

26 Sep 2020

17 Nov 2015