Edit AI
Writing and SEO optimization assistant.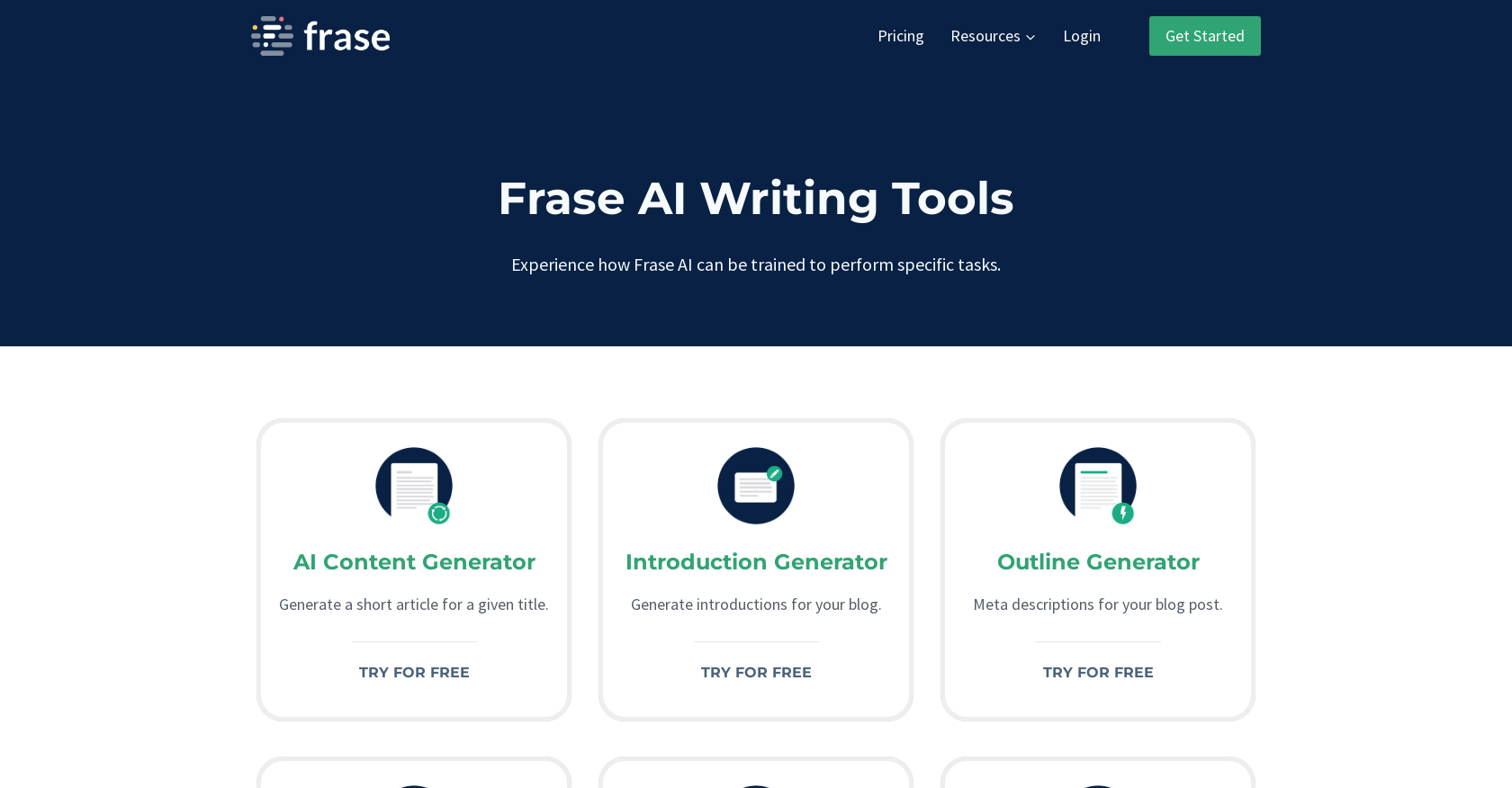 Generated by ChatGPT
Frase AI Writing Tools is a collection of AI-powered tools designed to assist with various aspects of content creation and SEO optimization. With Frase, users can generate short articles, create compelling introductions and meta descriptions for blog posts, rewrite paragraphs or entire articles, generate title ideas for blog posts, and create unique product descriptions and value propositions.
The tools also include a smart editor with an AI paraphraser and sentence rewriter for refining and enhancing written content. Additionally, Frase offers a tool to scrape Google's "People Also Ask" feature and a summary generator for creating original summaries of articles or passages.Frase aims to revolutionize the way SEO and content creation are approached by leveraging artificial intelligence technology.
By utilizing these AI writing tools, users can save time and effort in generating high-quality written content that is optimized for search engines. While the specific capabilities and functionalities of each tool are not described in detail, they are presented as a suite of powerful tools for content creators and marketers.
Frase offers a free trial to let users experience how AI can be trained to perform specific tasks, and it emphasizes that the tools are accessible to everyone without any cost.
Featured
Frase.io was manually vetted by our editorial team and was first featured on October 27th 2022.

Would you recommend Frase.io?
Help other people by letting them know if this AI was useful.
130 alternatives to Frase.io for SEO content
Writing Tool for 1-Click SEO Articles.

887

4.5

Generates high-quality content using copywriting.

427

5.0

One-click Ad, Content and Strategy Generator

304

5.0

Automating content creation and optimizing SEO.

271

Enhanced SEO content creation and optimization.

248

5.0

Content creation and chatbot development platform.

240

#1 AI For E-Commerce Platforms

186

5.0

Generate SEO-friendly blog articles.

185

5.0

Optimized content for better SEO.

177

5.0

Assisted content creation through writing.

152

4.0

Optimized personalized SEO content plugin.

76

5.0

Content optimization for SEO.

66

Generated concepts for startups and SMEs.

55

Generated efficient SEO content.

53

5.0

Automated creation and publishing of SEO blog content.

50

5.0

Blog writing assistant with enhanced capabilities.

47

4.0

Efficient SEO content creation.

42

1.0

Automated SEO content creation for marketers.

38

Autoblogging and SEO content generation

37

5.0

Improved SEO article creation

34

5.0

An Amazon listing optimization solution.

32

Content and SEO assistant.

32

5.0

Optimized content for e-commerce/blogging websites.

31

SEO and content creation aided by advanced algorithms.

30

Optimizes and tests visual assets for marketing.

28

Automated SEO blog writing for online content creation.

27

4.0

Optimized SEO content creation assistance.

26

Optimized bloggers' websites for SEO.

26

Optimized language solution for SEO and marketing.

26

1.0

SEO-optimized content created automatically.

25

Optimized content for various online platforms.

25

5.0

WordPress content creation and optimization for SEO.

25

5.0

No-code SEO optimization and automated content creation.

24

Online platform for analyzing and optimizing websites.

24

Efficient blog post creation.

23

5.0

Generated SEO copy from analyzed content.

22

Generated content by machine.

22

Optimized eCommerce product content generation support.

22

Generated ecommerce content.

20

3.0

High-speed content creation platform.

20

SEO-optimized article generation.

20

SEO-friendly content writing for blogs and articles.

20

Content creation and optimization for marketing and SEO.

19

SEO content generation for blogs and web pages.

19

Content creation and project management solution.

19

Efficient content creation assistant.

18

4.0

Generating SEO-friendly content for marketers.

18

4.0

SEO content with topic recommendations & text rewriting.

18

Aids in creating engaging digital content.

18

High-quality content generator.

18

5.0

Converts YouTube videos to SEO-optimized articles.

18

Automated writing with optimized content.

18

Optimized social media and blog content creation.

17

1.0

Business content, flexible rates, social media plan

17

5.0

Created SEO templates in multiple languages.

17

Automated SEO content creation for businesses.

16

Generated SEO blog posts with GPT tech.

16

Creates SEO-optimized content for marketing agencies.

15

5.0

SEO platform that improves website rankings.

14

14

Efficient creation of SEO-optimized articles.

14

An article writer that generates SEO-friendly content.

14

Automated content and copywriting for marketing.

14

Generating SEO-optimized, long-form content.

14

Brands and niche sites' SEO content generated.

14

Writing assistant for SEO and marketing content.

13

Generated SEO blog posts.

13

1.0

Boosted website traffic through automated blog writing.

13

Creating engaging content and optimizing for SEO.

12

SEO software for content optimization and tracking.

12

SEO-optimized blog content creation.

12

WordGenie aids online content search.

12

Boosted online presence via optimized meta.

11

Optimized text for SEO and business.

11

Generated SEO articles for WordPress.

11

5.0

Optimized SEO & content creation for projects.

11

5.0

Content generation for SEO optimization.

10

Enhanced online presence for webmasters & entrepreneurs.

10

Keyword research and content optimization

10

Bulk SEO article generation for content creation.

10

SEO content created quickly with copywriting assistance.

9

Advanced content generation solution for businesses.

9

Optimized content creation for online creators.

9

Streamlined content collaboration platform for teams.

8

5.0

Generation of content for business & personal use.

7

Automated solutions for writing and interactions.

7

Generated articles, letters, and more content.

7

Assisted content creation and blogging.

7

Writing assistant for improving digital content.

6

Generate branded marketing content.

6

Optimized content creation for Shopify SEO.

6

SEO-friendly content creation at scale.

5

Automated text generation for various applications.

5

Platform for creating high-quality content.

5

5

Generate SEO-ready blogs/articles efficiently.

5

SEO and marketing optimized.

5

High-quality content creation solution for businesses.

4

Cloud SEO platform: writes, optimizes, tracks, aids.

4

SEO content creation automation for marketers.

4

Content gen for optimized writing & SEO.

4

Effortlessly generate SEO articles

4

Generated SEO articles for bloggers & creators.

3

Website development and growth assistance.

3

SEO-optimized content generation for diverse purposes.

3

Generated content for small businesses' SEO.

3

SEO-optimized blogging platform.

3

SEO content, blogs, articles, and writing generated.

3

Assisted SEO content creation for business teams.

2

Assisted content creation & optimization for businesses.

2

Generate affordable high-quality articles.

2

SEO and lead generation content creation.

2

Content creation and SEO optimized with assistance.

2

Affordable SEO content created.

2

SEO-optimized content creation for blogs & articles

1

Content creation with SEO and video editing.

1

SEO content writing assistant for blogs and articles

1

Content generated with technology.

1

Enhanced SEO content creation via keyword planning.

5.0

Automates SEO blogs with images.

16
If you liked Frase.io
People also searched
Help
⌘ + D bookmark this site for future reference
⌘ + ↑/↓ go to top/bottom
⌘ + ←/→ sort chronologically/alphabetically
↑↓←→ navigation
Enter open selected entry in new tab
⇧ + Enter open selected entry in new tab
⇧ + ↑/↓ expand/collapse list
/ focus search
Esc remove focus from search
A-Z go to letter (when A-Z sorting is enabled)
+ submit an entry
? toggle help menu
x
Sign in to continue (100% free)
To prevent spam, some actions require being signed in. It's free and takes a few seconds.
Sign in with Google