Edit AI
Conversational search engine with answers.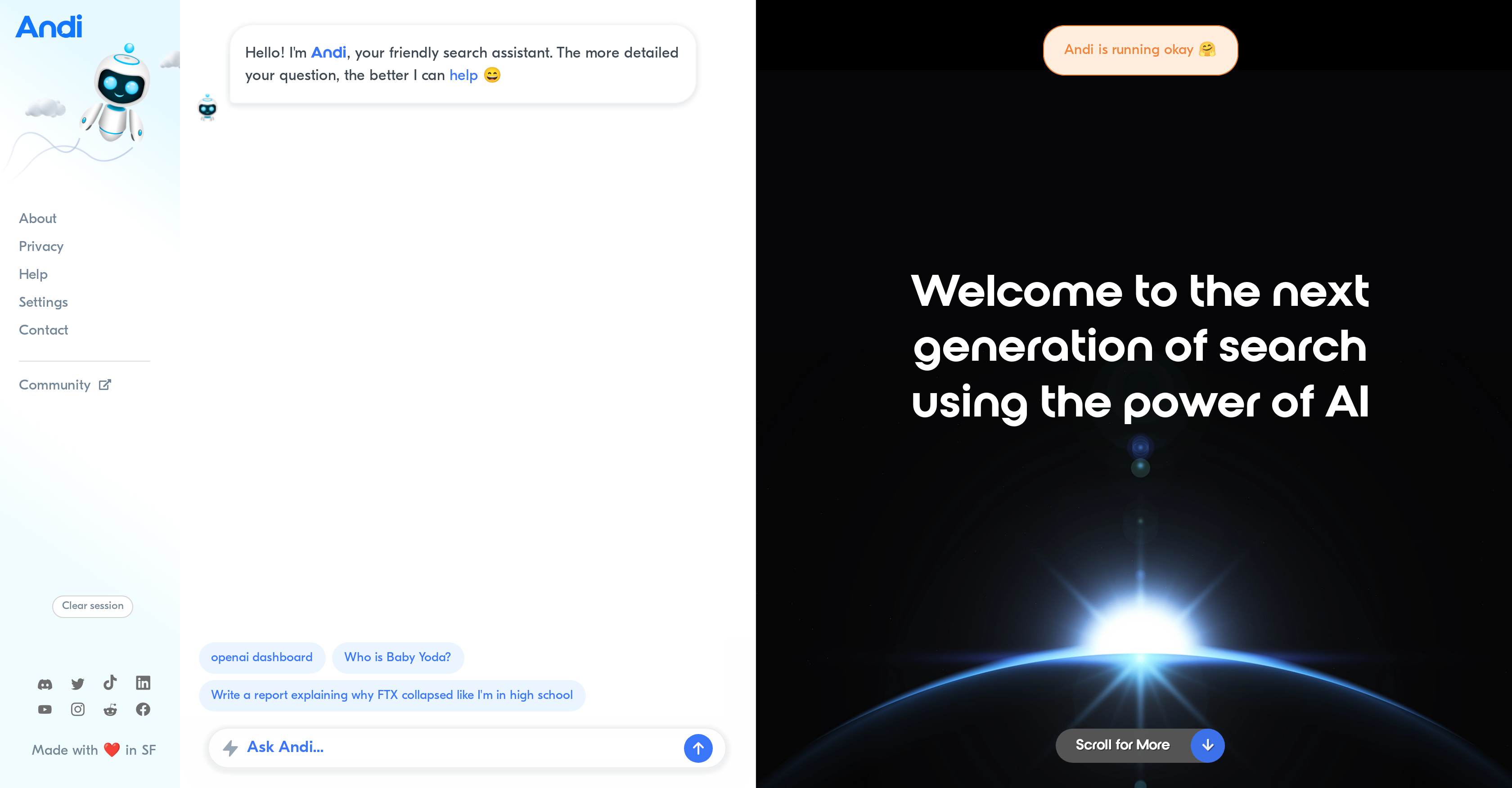 Generated by ChatGPT
Andi is a search engine powered by generative AI, designed to provide answers to questions rather than just links. It is designed to be like chatting with a 'smart friend' and provides users with a personalized search experience.
It has a friendly chatbot interface where users can type in their queries and get answers in a conversational style. It also offers a range of features like commands guide, setting as default search, and release status.
Andi strives to provide users with the most efficient and effective search experience, and has been created with love by the Andi team.
Featured
Andisearch was manually vetted by our editorial team and was first featured on December 24th 2022.

Would you recommend Andisearch?
Help other people by letting them know if this AI was useful.
258 alternatives to Andisearch for Chatting
Chatbot for charming chat.

209

3.0

Converse with anime-style chatbots using custom prompts.

127

2.5

Creation and interaction with intelligent chatbots.

89

4.0

Uncensored conversations platform.

75

4.5

Answer engine for complex questions.

74

4.6

Improve interviewing and communication practices.

51

5.0

Emotional support companion

49

5.0

Automated chatbot for email interactions and tasks.

44

Efficient query response assistant.

40

Versatile chatbot for tasks and information retrieval.

37

Efficient Q&A and chat with menubar app.

36

Image gen, doc conversation, internet search assistant.

36

5.0

Q&A chatbot that emails, summarizes, explains, writes.

34

Personalized mental health companion for growth.

34

1.0

Website chatbot creation and management

32

4.0

29

28

Online chatbot with instant responses to queries.

27

4.5

Online language model comparison and fine-tuning.

25

Boosted productivity with personal assistant.

24

Chatbot offers support and reminders.

24

5.0

Customer support conversational assistant.

22

Interactive chatbot simulating personal conversations.

21

Question-answering chatbot.

21

5.0

Improved speech communication.

18

Enhanced chat experience with language processing.

18

Chatbot made for service, personalized tips.

16

Engaging conversational chatbot.

15

Casual conversation chatbot from Scotland.

15

Enhanced communication for WhatsApp users.

15

Secure macOS chat app with personalized conversations.

15

Enhanced writing and conversational aid.

15

Secure work chat and document handling.

14

3.0

Personalized ChatGPT's integration for text data.

13

Hindi chatbot for Bollywood fan engagement.

13

1.0

Practice conversations with digital personas.

13

Interactive streaming with character conversations.

13

5.0

Intelligent chatbot for seamless communication.

12

Humorous Q&A virtual assistant.

12

Emotional voice chatbot for interactive conversations

12

Improved chatbot for personalized experience.

11

App sends messages to anyone.

11

5.0

Chat generation with chatbots.

11

Text-based personal assistant.

10

10

Fast language model adaptation.

10

Android chatbot with voice & natural language interface.

10

Offline language learning with chat interface.

10

4.5

Safe Chatbot Offers Candid Advice

10

User-friendly chatbot provides Q&A assistance.

10

Virtual celebrity interactions & engaging conversations.

9

Mental health coaching and therapy via WhatsApp.

9

9

Real-time conversation & learning companion

9

Virtual assistant for natural language interactions

9

Chatbot shares insightful info on topics via Twitter.

8

Browse using search and Q&A by Open.

8

Custom chat rooms to brainstorm with experts.

8

Social network for creators w/ chat & image generation.

8

Voice assistant for multiple tasks.

8

Chatbot improving messaging and content creation.

7

Q&A and content generator.

7

5.0

Generated text and conversation from automated chatbot.

7

Chatbot generates stories, jokes, and weather data.

7

An app that enhances communication and automation.

6

Chatbot to communicate in Discord.

6

Personalized virtual chat companion.

6

Virtual friends for personalized chat support

6

Personalized virtual conversation companions.

5

Adaptive chatbot for learning and travel planning.

5

Facilitates Q&A or conversations.

4

Customizable, engaging conversational interactions.

4

5.0

Emotionally supportive chatbot

3

Q&A chatbot for natural language processing.

3

Chatbot extension for browser conversations and tasks.

3

Android chatbot quickly answers questions.

2

Privacy-focused chatbot for brainstorming & learning.

2

Stream Deck plugin: Q&A and text processing.

1

Improved user interactions with tech through chatbot.

1

Customizable chatbot with plugins.

1

Customer Support Chat Solved.

1

Creating virtual assistants for personalized tasks.

1

ChatGPT conversation archiver & organizer.

1

Conversational assistant for Q&A and tasks

22

5.0

Chat with realistic chatbots for adults.

1

5.0
Pros and Cons
Pros
Conversational search style
Provides direct answers
Personalized search experience
Friendly chatbot interface
Commands guide feature
Option to set as default search
Real-time release status
Efficient and effective searching
Detailed question handling
Smart search assistant
Continuously improving with usage
Cons
No voice search
Lacks multi-language support
No image/video search
Limited personalization options
Lacks advanced search features
Inability to track queries
Excessive chat-based UI
No mobile app version
Lacks integration with browsers
No offline functionality
Q&A
What is Andisearch?
Andisearch is a next-generation search engine powered by generative AI. Instead of delivering links like traditional search engines, Andisearch offers answers to users' questions. It's designed in such a way that using it feels similar to chatting with a 'smart friend'. The product is affectionately known as Andi.
How does the AI chatbot Andi work?
The AI Chatbot Andi works by processing user queries in a conversational style. The use of artificial intelligence allows Andi to understand and respond to questions in a manner similar to a human conversation. The user inputs their query and Andi delivers a response in a way that is both intuitive and engaging.
What's unique about Andi compared to other search engines?
Unlike traditional search engines that generate a list of links, Andi offers direct answers to your queries, making it feel like chatting with a smart friend. Its responses are powered by a generative AI, which provides a more personalized search experience.
How does Andi provide answers?
Andi provides answers using a generative AI model. When a user poses a query, the model generates an appropriate, relevant, and accurate response. This is different from traditional search engines that usually provide a list of websites related to the query instead of a direct answer.
What's the experience like chatting with Andi?
Chatting with Andi is like talking to a knowledgeable friend. You simply type in your queries, and Andi responds in a conversational style. The ability of Andi to understand and respond to complex queries makes the interaction natural and efficient.
What kind of features does Andi offer?
Andi offers a range of features, such as a commands guide, an option to set Andi as your default search tool, and a function to check the chatbot's release status.
How can I use Andi's commands guide?
Andi offers a comprehensive commands guide. It provides commands that optimize the user's query experience for better results. To use this feature, just visit the commands guide section on the website.
Is it possible to set Andi as my default search tool?
Yes, setting Andi as your default search engine is possible. You can do this by following the instructions given under the 'set as default search' section on the website.
How do I check Andi's release status?
You can check Andi's release status by visiting the 'release status' section on their website, which provides the latest information on the chatbot's updates.
What improvements do each of Andi's release updates bring?
IDK
How efficient is Andi as a search engine?
Andi is designed to efficiently provide answers to users' questions. Rather than just delivering a list of links, Andi goes the extra mile to provide relevant and appropriate answers, increasing its efficiency as a search engine.
What kind of team is behind the creation of Andi?
The Andi team, characterized by their commitment and creativity, is behind the AI chatbot Andi. Their belief in providing efficient and effective search experience led to the creation of Andi.
What role does generative AI play in Andi's functioning?
Generative AI is the core of Andi's functioning. This powerful technological tool enables Andi to generate relevant and personalized responses to users' queries, instead of merely providing links to potentially useful web pages.
Are all questions answerable by Andi?
While Andi strives to provide accurate responses to all types of queries, like any AI-based system, there may be limitations due to the vastness and complexity of human language and information.
Can I chat with Andi like how I chat with a friend?
Yes, chatting with Andi is designed to be as seamless and intuitive as having a conversation with a friend. Andi was built with the intention of providing responses in a conversational style to enhance the user experience.
How personalized is the search experience on Andi?
The search experience with Andi is highly personalized. The generative AI allows Andi to generate responses specific to user queries, providing a unique, intelligent, and individualized search experience.
Why do I need to enable JavaScript to run Andi?
Enabling JavaScript is essential for running Andi as it provides a dynamic and interactive experience. JavaScript is essential for the functionality of many features on the web, including Andi.
What kind of questions does Andi handle the best?
Andi is designed to handle a variety of questions. It generally excels at detailed questions where the AI can leverage its generative model for a rich, comprehensive response. The more detailed the question, the better Andi can assist.
How secure is my privacy while using Andi?
Andi ensures users' privacy by adhering to robust policies. Detailed information about this can be found in the 'Privacy' section on their website.
What's the philosophy behind the creation of Andi?
The philosophy behind Andi's creation lies in the intent to provide users with an efficient, effective, and more personalized search experience. It was built with love by the Andi team and strives to be more than just a search engine - it's designed to feel like having a conversation with a 'smart friend'.
If you liked Andisearch
Help
⌘ + D bookmark this site for future reference
⌘ + ↑/↓ go to top/bottom
⌘ + ←/→ sort chronologically/alphabetically
↑↓←→ navigation
Enter open selected entry in new tab
⇧ + Enter open selected entry in new tab
⇧ + ↑/↓ expand/collapse list
/ focus search
Esc remove focus from search
A-Z go to letter (when A-Z sorting is enabled)
+ submit an entry
? toggle help menu
x
Sign in to continue (100% free)
To prevent spam, some actions require being signed in. It's free and takes a few seconds.
Sign in with Google