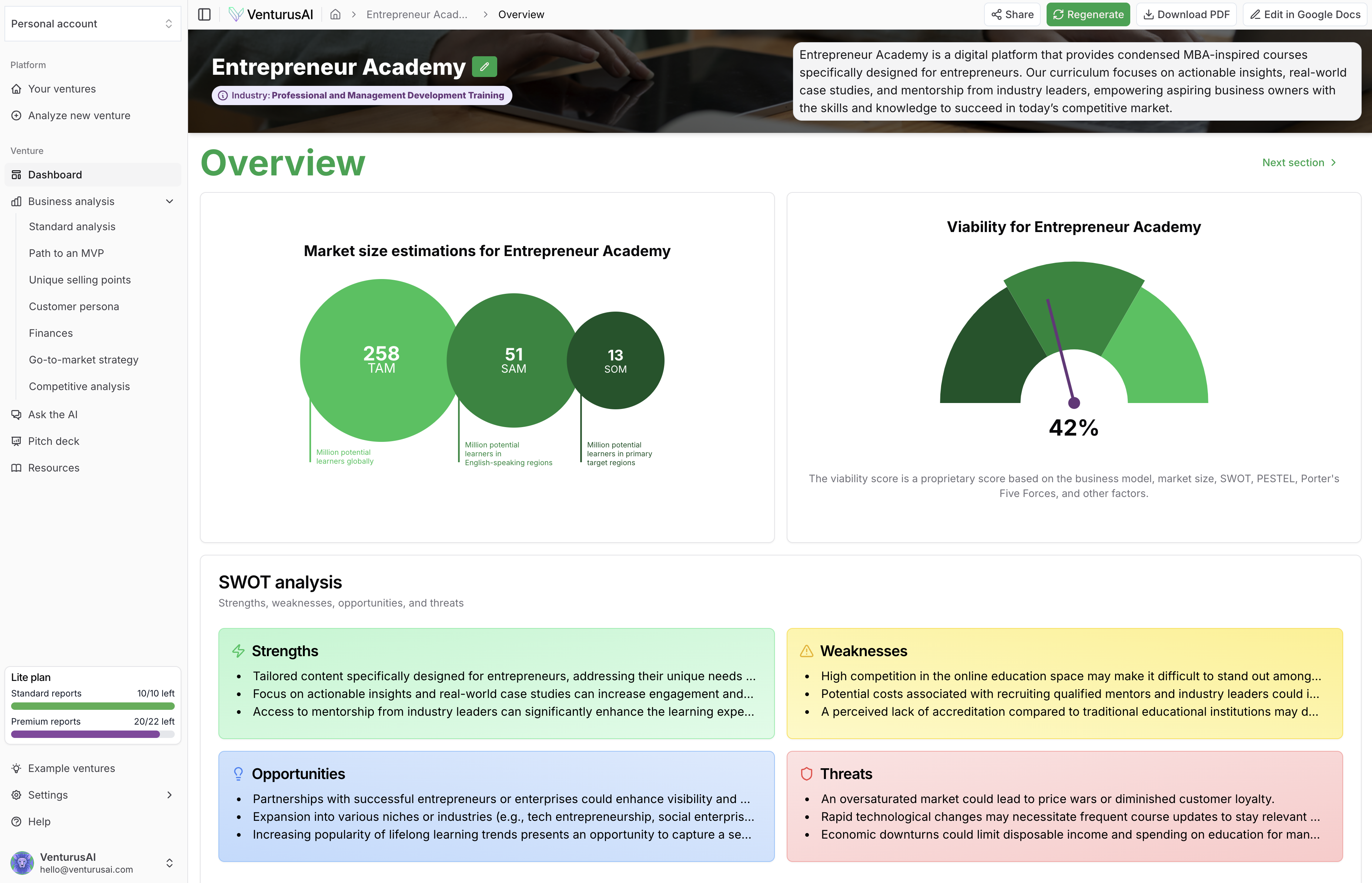 Generated by GPT-3
VenturusAI is an AI-powered tool that analyzes business ideas and generates reports. The tool uses GPT-3 technology to provide results and feedback on how to make business ideas successful.
Users can create reports by filling in a prompt and clicking on an icon. Previously generated reports are available for viewing on the Reports page. Reports can also be made public and shared by copying their URLs.
Users can also share their experience, report any issues, or request new features using the feedback button. Additionally, VenturusAI emphasizes privacy and uses cookies to enhance browsing experience, serve personalized ads or content, and analyze traffic.
Necessary cookies provide basic functionalities of the site, such as secure login and consent preferences. Functional cookies help perform certain features, such as sharing content on social media and collecting feedback.
Analytical cookies help to understand how visitors interact with the website by providing information on metrics such as the number of visitors, bounce rate, and traffic source.
Performance cookies provide insights to understand and analyze the website's key performance indexes, delivering a better user experience. Advertisement cookies provide customized ads based on previously visited pages and analyze ad campaign effectiveness.
VenturusAI is not affiliated with OpenAI or GPT-3 and does not represent or endorse their accuracy or reliability. The information provided is for general informational purposes only, and the website and its affiliates will not be liable for any losses or damages arising from its use.
Featured
?
12 alternatives to VenturusAI for Startup ideas
04 Mar 2023

08 Mar 2023

20 Feb 2023

10 Jan 2023

25 Nov 2022

21 Oct 2022

11 Sep 2022

15 Sep 2022

16 Sep 2022

17 Jul 2022

26 Apr 2022

20 Mar 2022