Edit AI
Automated writing assistant and editor.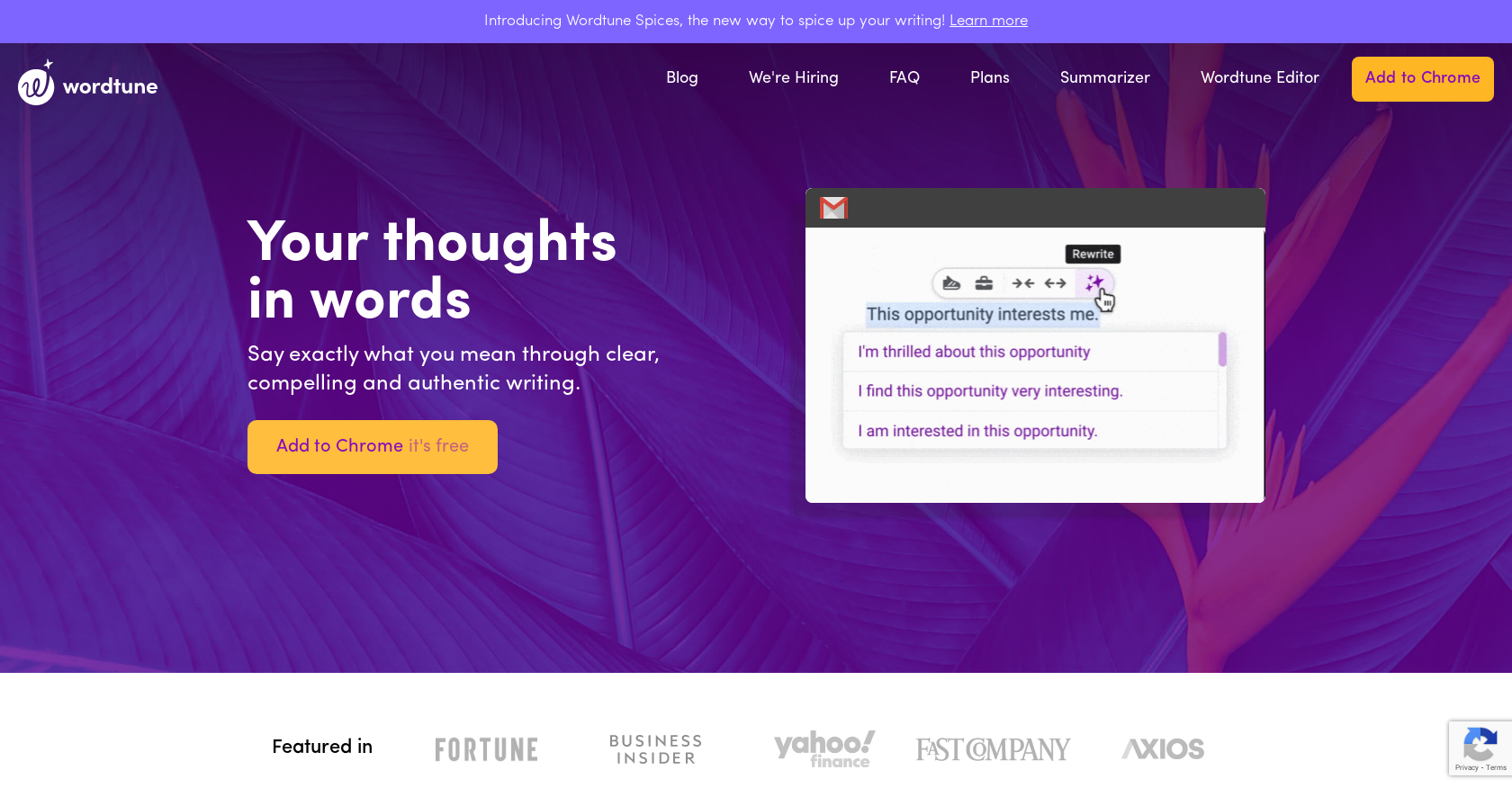 Generated by ChatGPT
Wordtune is an AI-powered writing assistant and editor that helps users improve their writing. The tool offers a suite of AI-driven features to enhance the writing process, such as rewriting, rephrasing, and suggestions to instantly improve writing.
Wordtune also provides users with a summarizer, an editor, and Wordtune spices to add personality to writing. The tool integrates with Chrome and can be accessed from desktop.
Wordtune has been praised by users for its ability to generate suggestions and alternatives to sentences, helping users improve their writing and express their thoughts more clearly.
Furthermore, the tool eliminates the need for users to second-guess their writing and boosts their confidence with the help of AI-driven features. Wordtune is an invaluable tool for writers and content creators of all kinds.
Featured
Wordtune was manually vetted by our editorial team and was first featured on November 29th 2022.

Would you recommend Wordtune?
Help other people by letting them know if this AI was useful.
18 alternatives to Wordtune for Text rewriting
Pros and Cons
Pros
Rewriting and rephrasing features
Instant writing improvement suggestions
Built-in summarizer and editor
Wordtune Spices for personality
Integrates with Chrome
Desktop accessibility
Generates sentence alternatives
Boosts user confidence
Used by various content creators
Can be used by non-native English speakers
Adaptable for casual and formal tones
Helps stick to word limits
Facilitates sentence expansion for depth
Compatible with popular platforms like Google Docs, LinkedIn, Facebook
Availability of Wordtune for Teams and Microsoft Word
Inbuilt word finder for right word usage
Sentence comparison feature with trusted sources
Alternatives for clear vivid messaging
Multiple phrase options for learning purposes
Recommended for sales related copywriting
Helpful in drafting school essays and assignments
Improves both vocabulary and sentence structure
Facilitates fast drafting
Cons
Chrome-only integration
Limited to desktop
No mobile app
Lack of multilingual support
Requires internet connection
May limit writing style
Lacks offline usability
Potentially expensive premium plans
Q&A
What is Wordtune?
Wordtune is an AI-powered writing assistant and editor. It helps users to enhance their writing by offering features such as rewriting, rephrasing, and generating suggestions to instantly improve their writing.
What are the main features of Wordtune?
Wordtune offers a number of powerful features. These include rewriting, in which the tool suggests alternative ways to phrase sentences, rephrasing for clarity and conciseness, as well as offering a summarizer and an editor. Wordtune also features 'WordTune Spices', which are suggestions to add personality and charisma to users' writing.
How does Wordtune improve my writing?
Wordtune drastically improves users' writing through its AI-driven features. It provides rewrites and rephrases, helps with root sentence structure, and even offers suggestions for improving clarity and conciseness. Furthermore, with 'Wordtune Spices', users have an easy way to add personality and character to their writing.
How does the Wordtune editor work?
Wordtune Editor integrates seamlessly with writing platforms such as Google Docs or Gmail. It appears as a tool on the side of the writing interface and provides real-time suggestions for sentence improvements and rewrites. Users can choose from various suggestions to make their writing more effective and engaging.
Can Wordtune help add personality to my writing?
Yes, Wordtune helps add personality to your writing through its 'Wordtune Spices' feature. This tool suggests unique ways to alter sentence structure and word choice, adding a layer of personality that fits the context and voice of the user's writing.
Where can I access Wordtune from?
Users can access Wordtune from their desktop. It integrates seamlessly with Chrome, making it accessible from any webpage where text is written. Furthermore, the tool has its own editor that users can directly use for writing and editing text.
Does Wordtune offer a text summary feature?
Yes, in addition to providing writing clarifications and enhancements, Wordtune offers a summarizer feature, which can be extremely useful in helping users create brief recaps or abstracts of existing large blocks of text.
How does Wordtune integrate with Chrome?
Wordtune integrates with the Chrome browser as an extension. Users just need to add Wordtune to Chrome by downloading the extension from the Chrome web store. Once activated, Wordtune features will be available on any text fields users encounter while browsing on chrome.
Can Wordtune generate sentence alternatives?
Absolutely, one of the key features of Wordtune is its ability to generate sentence alternatives and suggestions. It provides multiple ways to rephrase the same idea, giving users an array of options to express their thoughts more clearly and effectively.
What are Wordtune spices?
'Wordtune Spices' is a unique feature offered by the AI that adds personality to your writing. It allows you to spice up your text to make it more engaging, contextually enriching, and tailored to your personal style or the intended audience's preferences.
Is Wordtune useful for content creators?
Wordtune is indeed useful for content creators. By enhancing readability, offering rewrites, and helping with sentence structure, Wordtune helps creators produce higher-quality content. Furthermore, its ability to generate sentence alternatives and add personality to writing makes it an invaluable tool for all kinds of content creators.
Is there a difference between Wordtune for Teams and the regular Wordtune?
IDK
Does Wordtune work on mobile devices?
IDK
Can Wordtune help with blog writing?
Yes, Wordtune can definitely assist with blog writing. It's designed to improve any form of written content, including blog posts. Its features such as rephrasing, rewriting and providing suggestions, along with tools like the editor and summarizer, can be extremely helpful in creating and editing blog content.
What are the benefits of premium plans of Wordtune?
IDK
Is there a Wordtune tool for Microsoft Word?
Yes, there is indeed a dedicated Wordtune tool for Microsoft Word. This feature allows users to utilize Wordtune's comprehensive AI writing assistance directly in their MS Word interface, enhancing convenience and boosting their writing productivity.
Does Wordtune assist in crafting emails?
Yes, Wordtune can certainly assist in crafting emails. Its AI-driven writing assistance features function very much in email platforms, such as Gmail and Outlook. Users can benefit from rewrites, rephrases, and diverse writing suggestions to articulate their thoughts clearly in professional or personal correspondences.
How does Wordtune help with avoiding plagiarism?
IDK
What kind of jobs are available at Wordtune?
For job opportunities at Wordtune, individuals can visit the 'We're Hiring' link on their website, which will take them to AI21's career page. The available positions and application details will be listed there.
How to contact Wordtune for support or inquiries?
For any support or inquiries, users can contact Wordtune directly through the 'Contact Us' link on their website or email them at
[email protected]
. They also have social media platforms like Twitter and Facebook where users can direct their queries or concerns.
If you liked Wordtune
Help
⌘ + D bookmark this site for future reference
⌘ + ↑/↓ go to top/bottom
⌘ + ←/→ sort chronologically/alphabetically
↑↓←→ navigation
Enter open selected entry in new tab
⇧ + Enter open selected entry in new tab
⇧ + ↑/↓ expand/collapse list
/ focus search
Esc remove focus from search
A-Z go to letter (when A-Z sorting is enabled)
+ submit an entry
? toggle help menu
x
Sign in to continue (100% free)
To prevent spam, some actions require being signed in. It's free and takes a few seconds.
Sign in with Google