Edit AI
Erotic messaging & image sharing with ML.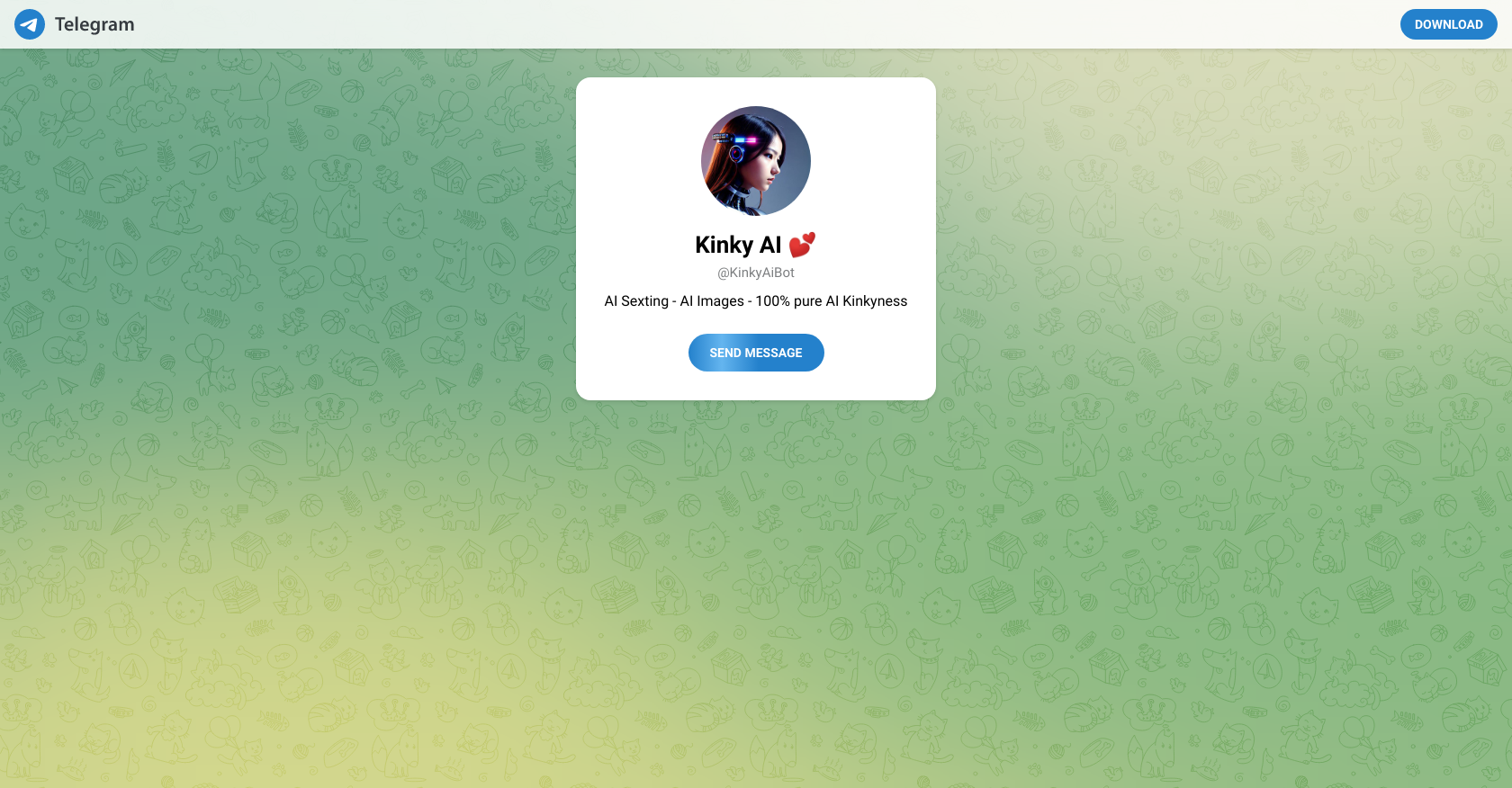 Generated by ChatGPT
KinkyAiBot is an AI tool that provides AI Sexting and AI Images services to users. The tool is available via Telegram and can be accessed by downloading the Telegram app from the official website.
The tool claims to offer "100% pure AI kinkyness," and its primary functionality is sexting and sharing AI-generated images. Users can reach KinkyAiBot by accessing the Telegram app and sending a message to the bot.
The tool operates on Telegram, meaning that users need to have a Telegram account to utilize its services fully. In summary, KinkyAiBot is a tool that enables users to engage in AI-generated erotic messaging and image sharing.
The tool's features are available via the Telegram app, and users must download the app to access the services. KinkyAiBot is marketed as a tool that provides "100% pure AI kinkyness," although there is no information available on how the tool generates its content or how effective it is.
Featured
Kinky AI was manually vetted by our editorial team and was first featured on June 17th 2023.

Would you recommend Kinky AI?
Help other people by letting them know if this AI was useful.
253 alternatives to Kinky AI for Chatting
Chatbot for charming chat.

208

3.0

Converse with anime-style chatbots using custom prompts.

127

2.5

Creation and interaction with intelligent chatbots.

89

4.0

Uncensored conversations platform.

75

4.5

Answer engine for complex questions.

74

4.6

Conversational search engine with answers.

70

4.0

Improve interviewing and communication practices.

50

5.0

Emotional support companion

49

5.0

Automated chatbot for email interactions and tasks.

44

Efficient query response assistant.

40

Versatile chatbot for tasks and information retrieval.

37

Efficient Q&A and chat with menubar app.

36

Q&A chatbot that emails, summarizes, explains, writes.

34

Personalized mental health companion for growth.

34

1.0

Image gen, doc conversation, internet search assistant.

33

5.0

Website chatbot creation and management

32

4.0

29

28

Online chatbot with instant responses to queries.

27

4.5

Online language model comparison and fine-tuning.

25

Boosted productivity with personal assistant.

24

Chatbot offers support and reminders.

24

5.0

Customer support conversational assistant.

22

Interactive chatbot simulating personal conversations.

21

Question-answering chatbot.

21

5.0

Improved speech communication.

18

Enhanced chat experience with language processing.

18

Chatbot made for service, personalized tips.

16

Engaging conversational chatbot.

15

Casual conversation chatbot from Scotland.

15

Enhanced communication for WhatsApp users.

15

Secure macOS chat app with personalized conversations.

15

Enhanced writing and conversational aid.

14

Hindi chatbot for Bollywood fan engagement.

13

1.0

Interactive streaming with character conversations.

13

5.0

Secure work chat and document handling.

13

3.0

Humorous Q&A virtual assistant.

12

Personalized ChatGPT's integration for text data.

12

Practice conversations with digital personas.

12

Intelligent chatbot for seamless communication.

11

Emotional voice chatbot for interactive conversations

11

Chat generation with chatbots.

11

Improved chatbot for personalized experience.

10

App sends messages to anyone.

10

5.0

Android chatbot with voice & natural language interface.

10

Offline language learning with chat interface.

10

4.5

Safe Chatbot Offers Candid Advice

10

Text-based personal assistant.

9

9

Mental health coaching and therapy via WhatsApp.

9

Real-time conversation & learning companion

9

User-friendly chatbot provides Q&A assistance.

9

Chatbot shares insightful info on topics via Twitter.

8

Virtual celebrity interactions & engaging conversations.

8

8

Virtual assistant for natural language interactions

8

Browse using search and Q&A by Open.

7

Custom chat rooms to brainstorm with experts.

7

Social network for creators w/ chat & image generation.

7

Generated text and conversation from automated chatbot.

7

Voice assistant for multiple tasks.

7

Chatbot improving messaging and content creation.

6

Q&A and content generator.

6

5.0

Personalized virtual chat companion.

6

Chatbot generates stories, jokes, and weather data.

6

Virtual friends for personalized chat support

6

An app that enhances communication and automation.

5

Personalized virtual conversation companions.

5

Adaptive chatbot for learning and travel planning.

5

Facilitates Q&A or conversations.

4

Customizable, engaging conversational interactions.

4

5.0

Emotionally supportive chatbot

3

Q&A chatbot for natural language processing.

3

Chatbot extension for browser conversations and tasks.

3

Android chatbot quickly answers questions.

2

Privacy-focused chatbot for brainstorming & learning.

2

Stream Deck plugin: Q&A and text processing.

1

Improved user interactions with tech through chatbot.

1

Customizable chatbot with plugins.

1

Customer Support Chat Solved.

1

Creating virtual assistants for personalized tasks.

1

ChatGPT conversation archiver & organizer.

1

Conversational assistant for Q&A and tasks

3
Pros and Cons
Pros
Available on Telegram
Accessible via message
No extra downloads required
Use with existing Telegram account
Instant interaction
Private chatbot conversation
Mobile-friendly
Cons
Only available on Telegram
Requires Telegram account
No explanation of content generation
Effectiveness unknown
Potentially explicit content
Not available on broader platforms
High privacy risk
No user control over content
No standalone application
Q&A
What is KinkyAiBot?
KinkyAiBot is an AI tool that provides sexting and image services leveraging AI capabilities. It operates primarily within the Telegram app, offering erotic messaging and AI-generated image sharing. It is advertised to deliver '100% pure AI kinkyness'.
How do I access KinkyAiBot's services?
To access KinkyAiBot's services, you will need to download the Telegram app and have an active account. Once on Telegram, users can send a message to KinkyAiBot to begin utilizing its services.
Is KinkyAiBot available outside of the Telegram app?
KinkyAiBot operates primarily on the Telegram app, suggesting that it may not be available outside the Telegram app.
What type of services do KinkyAiBot provide?
KinkyAiBot provides services involving AI-generated sexting and image sharing. These services are offered through the Telegram app.
Is there a cost to use KinkyAiBot?
IDK
Does KinkyAiBot cater to all sexual orientations and preferences?
IDK
How does KinkyAiBot generate its content?
Specific information about how KinkyAiBot generates its content is not explicitly provided on their website.
How effective is KinkyAiBot at generating kinky messages and images?
The effectiveness of KinkyAiBot in generating kinky messages and images is not explicitly stated on their website.
Is KinkyAiBot a tool or a chatbot?
KinkyAiBot is described as an 'AI tool', suggesting it has more complex functionalities and features beyond simple chatbot interactions.
Are there any privacy concerns with using KinkyAiBot?
Specific privacy concerns regarding the use of KinkyAiBot are not mentioned on their website.
Does KinkyAiBot share my data?
Clear information regarding KinkyAiBot's data sharing practices is not provided on their website.
Do I need to download Telegram to use KinkyAiBot?
Yes, to use KinkyAiBot, you need to download the Telegram app.
Is KinkyAiBot suitable for all age groups?
The suitability of KinkyAiBot for all age groups is not addressed on their website. Given its explicit erotic content, it is likely intended for adults only.
Is there a limit to the number of messages or images I can receive from KinkyAiBot?
No information on the message or image limit from KinkyAiBot is provided on their website.
Does KinkyAiBot offer any other features besides sexting and image sharing?
Based on the available information, KinkyAiBot seems to focus on two primary features: sexting and image sharing. No other features are mentioned on their website.
Does KinkyAiBot provide images or just text?
KinkyAiBot provides both AI-generated sexting messages and image sharing.
Can I request specific scenarios or themes from KinkyAiBot?
It's unclear based on the provided information if users can request specific scenarios or themes from KinkyAiBot.
Are there customer reviews about the effectiveness of KinkyAiBot?
There is no available information about customer reviews documenting the effectiveness of KinkyAiBot.
Can I report inappropriate or unsatisfactory content from KinkyAiBot?
The process for reporting inappropriate or unsatisfactory content from KinkyAiBot is not detailed on their website.
Is KinkyAiBot a safe tool to use?
There is no explicit information available on their website regarding the safety of using KinkyAiBot.
Help
⌘ + D bookmark this site for future reference
⌘ + ↑/↓ go to top/bottom
⌘ + ←/→ sort chronologically/alphabetically
↑↓←→ navigation
Enter open selected entry in new tab
⇧ + Enter open selected entry in new tab
⇧ + ↑/↓ expand/collapse list
/ focus search
Esc remove focus from search
A-Z go to letter (when A-Z sorting is enabled)
+ submit an entry
? toggle help menu
x
Sign in to continue (100% free)
To prevent spam, some actions require being signed in. It's free and takes a few seconds.
Sign in with Google