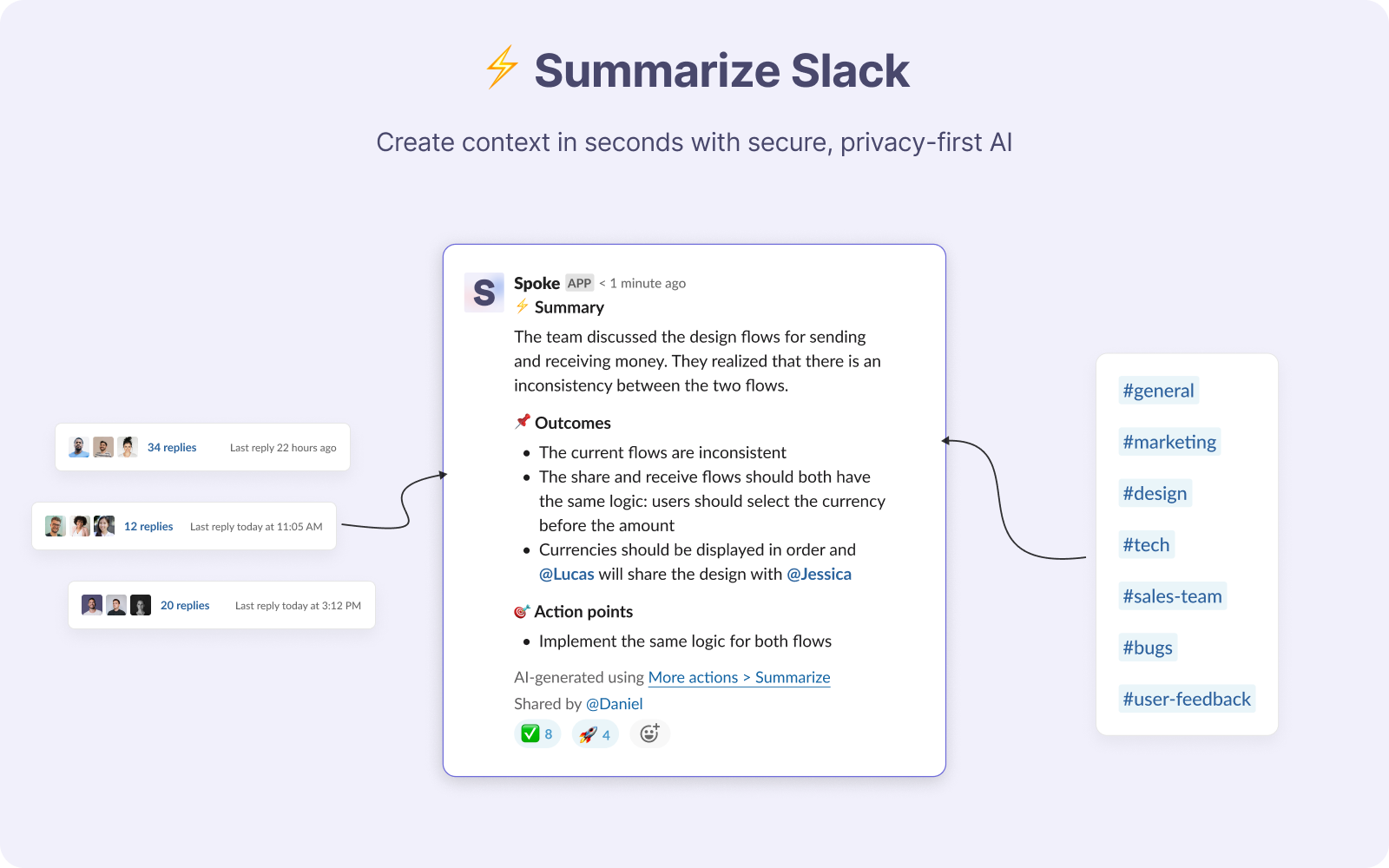 Generated by ChatGPT
Summarize Slack with powerful, privacy-first AI. Understand what's happening across long threads and busy channels in seconds. Create AI-Digests of your favorite channels, share with your team and protect focus time.
Featured
Spoke.ai was manually vetted by our editorial team and was first featured on April 6th 2023.

Would you recommend Spoke.ai?
Help other people by letting them know if this AI was useful.
3 alternatives to Spoke.ai for Slack summaries
Pros and Cons
Pros
Summarizes Slack discussions automatically
Secure and easy to use
Customizable to individual preferences
Ability to share thread summaries
Can schedule thread summaries
Highlights who you are waiting on
Facilitates nudging for responses
Addition to Slack for ease
Performance optimized using analytical cookies
Saves time and effort
Keeps everyone in the loop
Understand key conversation outcomes
Focuses on important points
Privacy and data security
Ethical use of technology
Post-meeting follow-up feature
Free to use
Suitable for various companies
Notification feature for unread messages
Allows consent for cookies
Helps reduce Slack noise
Ease of installation
Helps you stay informed
Helps users stay up-to-date
Cons
Reliant on Slack
Limited customization
No follow-up feature
Requires consent for cookies
No offline mode
Performance depending on cookies
Absence of direct API
No multi-platform support
Analytics data not transparent
Limited third-party integration
Q&A
What is Spoke.ai?
Spoke.ai is an AI-powered tool specializing in summarizing Slack discussions automatically. It's designed to save you time and keep everyone in the loop by providing an overview of vital points from lengthy Slack threads.
What does Spoke.ai do?
Spoke.ai provides succinct summaries of long Slack discussions, reducing the amount of time needed to catch up on important conversations. Additionally, it offers an understanding of who you're waiting on for a response, enabling you to prod them for an answer, ensuring nothing is overlooked.
How does Spoke.ai work with Slack?
Spoke.ai seamlessly integrates with Slack by providing an option to add it directly to your Slack workspace. It automates the summarization of long Slack threads and even provides features to share and schedule these summaries, making it more convenient for the team.
How can I add Spoke.ai to my Slack account?
To add Spoke.ai to your Slack account, you usually would find an 'Add to Slack' button on the Spoke.ai website. Simply clicking on that should redirect you to a secure Slack authentication page where you can authorize Spoke.ai to integrate with your workspace.
How does Spoke.ai summarize Slack discussions?
Spoke.ai uses its AI algorithms to parse through lengthy Slack discussions and distill them down to the most essential points, creating an easy-to-understand summary of the thread. This process is automated, reducing the need for manual reading and allowing users to quickly catch up on the key outcomes of the discussion.
Can I customize Spoke.ai according to my preferences?
Yes, Spoke.ai can be customized according to individual preferences. The extent of customization available and the specific settings that can be adjusted have not been explicitly detailed but the mention of customizability suggests that users will have some control over how they interact with the tool.
Does Spoke.ai notify users when they are waiting on someone?
Yes, Spoke.ai has a feature that lets users understand who they are waiting on and nudges them for a response. This feature ensures that necessary follow-ups are completed and nothing falls through the cracks due to missed or delayed responses.
What kind of security measures does Spoke.ai have?
Spoke.ai values its users' privacy and is committed to the ethical use of technology. Specific security measures have not been outlined, however, they claim a strong commitment to protecting the users' privacy which suggests they have robust security protocols in place.
Can I share or schedule thread summaries using Spoke.ai?
Yes, Spoke.ai allows users to share and schedule thread summaries. This feature aids in keeping team members in the loop without requiring them to comb through entire threads. By scheduling summaries, team members can receive summaries at convenient times.
Why is Spoke.ai useful for my team?
Spoke.ai is useful for teams because it reduces the time and effort required to stay updated on important discussions. By automating the process of summarizing Slack threads, it enables team members to focus on key outcomes and maintain effective communication with less effort and more efficiency.
How does analytics cookies improve Spoke.ai's performance?
Analytics cookies help Spoke.ai to understand how the tool is being used and how the website is being interacted with. This information helps in analyzing and optimizing the tool's performance, thus being able to offer a better user experience.
Is Spoke.ai a paid tool?
IDK
What companies use Spoke.ai?
Spoke.ai is loved by teams at various companies, however, specific company names have not been provided.
What are the main features of Spoke.ai?
The main features of Spoke.ai include automatic summarization of Slack discussions, customized user preferences, sharing and scheduling of thread summaries, tracking of response waiting times, and easy addition to the Slack workspace.
Does Spoke.ai help to track the key outcomes of discussions?
Yes, Spoke.ai helps track the key outcomes of discussions by summarizing long, noisy Slack discussions automatically. In doing so, it allows team members to focus on the main points of discussions, ensuring that key outcomes are not missed.
How does Spoke.ai handle privacy?
Spoke.ai emphasizes heavily on user privacy. They have a strong commitment to the ethical use of technology and protecting user privacy, which suggests they have protocols in place to safeguard user data. However, specifics about their privacy handling are not provided in the information available.
Does Spoke.ai work with other chat platforms apart from Slack?
IDK
How often does Spoke.ai summarize a Slack discussion?
IDK
Can multiple people use Spoke.ai within the same company?
Yes, multiple people can use Spoke.ai within the same company. Spoke.ai is designed to integrate with Slack workspaces, which are typically shared by many users within a company. Therefore, it's safe to infer multiple users in the same company can use it.
Do I need any special permissions to use Spoke.ai on my Slack workspace?
IDK
If you liked Spoke.ai
Help
⌘ + D bookmark this site for future reference
⌘ + ↑/↓ go to top/bottom
⌘ + ←/→ sort chronologically/alphabetically
↑↓←→ navigation
Enter open selected entry in new tab
⇧ + Enter open selected entry in new tab
⇧ + ↑/↓ expand/collapse list
/ focus search
Esc remove focus from search
A-Z go to letter (when A-Z sorting is enabled)
+ submit an entry
? toggle help menu
x
Sign in to continue (100% free)
To prevent spam, some actions require being signed in. It's free and takes a few seconds.
Sign in with Google