Edit AI
Generate custom flashcards & quizzes for college study.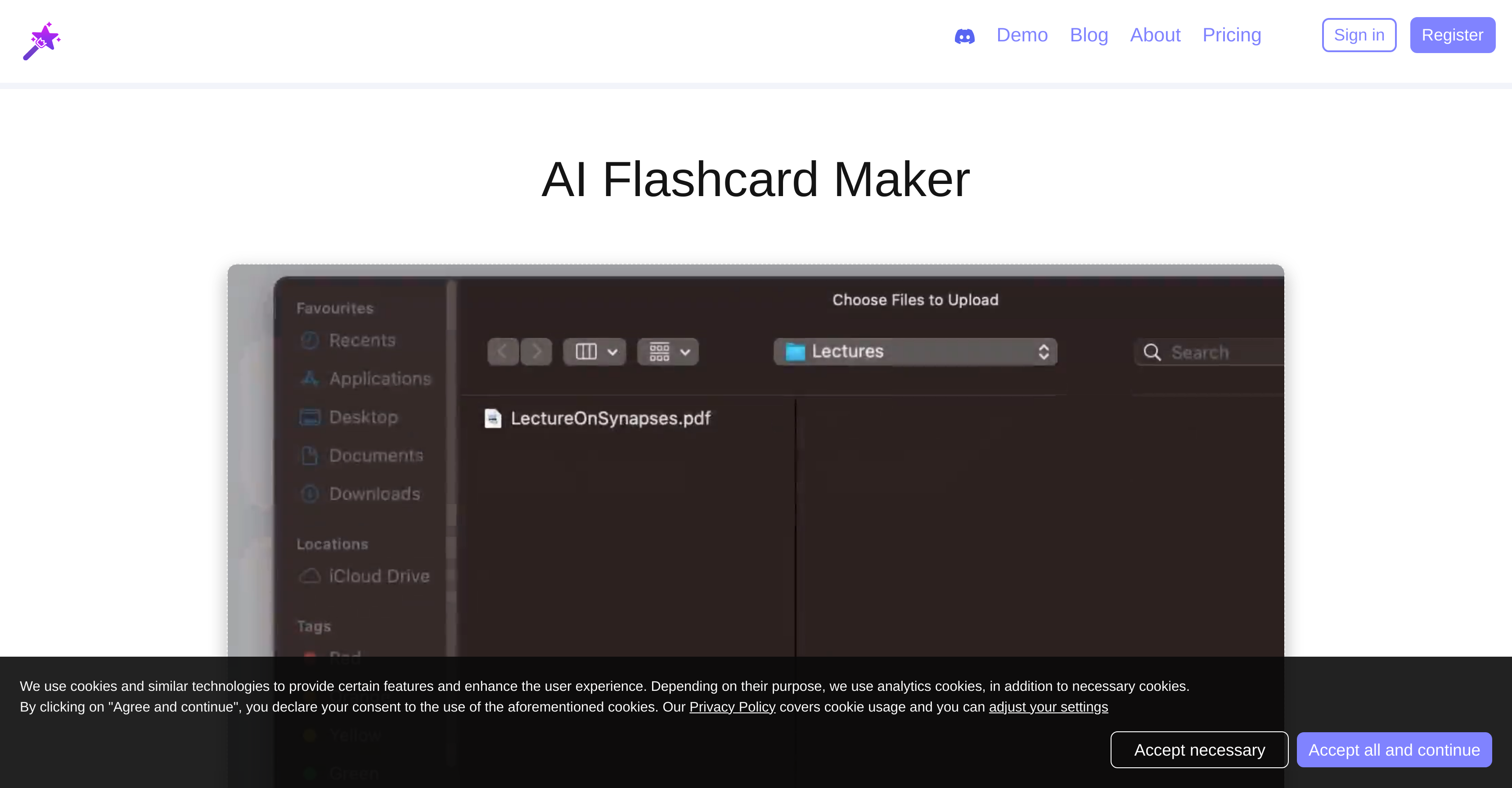 Generated by ChatGPT
StudyWand is an AI-powered tool designed to help students study effectively for their college exams. It automatically turns study notes and lectures into quizzes, making studying more enjoyable and increasing memory retention.
The tool has an easy registration process where users can create an account by email and agree to the terms of service. StudyWand uses cookies and similar technologies to enhance the user experience, including analytics cookies and necessary cookies that enable users to navigate and use the basic functions.
The tool generates AI-specific flashcards that help to tailor learning and fit specific student needs. The flashcards are automatically generated from uploaded lecture slides, video transcripts, audio clips, and textbook PDFs, making the process quick and easy.
StudyWand also includes features such as practicing with nine card types, watching demonstrations of the AI-generated answers, and exploring all nine AI question types.
The application also has a free learn mode and a scheduled flashcard feature. StudyWand adapts to the student's lectures and shows the best flashcards to increase memory retention, powered by data from the last three years.
The AI behind StudyWand is inspired by the psychology of learning, memory associations, and overcoming impasses. It is GDPR compliant, collecting minimal personally identifiable information (PII), except for learning records.
StudyWand is an award-winning tool recognized for its AI-quiz generator and data-driven approach. The app helps students structure their day-to-day routine and provides advice on how to improve studying effectively.
The application also has a feature that visualizes the learning path on the map, allowing students to identify knowledge gaps and tailor their learning outcome.
Featured
Studywand was manually vetted by our editorial team and was first featured on May 13th 2023.

Would you recommend Studywand?
Help other people by letting them know if this AI was useful.
12 alternatives to Studywand for Flashcards
Generates flashcards from course or web notes.

125

5.0

Retention helper for web-based learning.

46

5.0

Created flashcards and discussed with community.

42

2.0

Simplified flashcards aid student learning.

41

5.0

Flashcard app for 10th graders.

37

Flashcard-based learning and note organization

37

Automates flashcard creation from slides.

30

Simplified online content for teachers.

24

Efficient personalized studying with flashcards

8

5.0

Automated flashcard creation and optimized study plans.

4

2.0

Personalized flashcards for studying.

3

5.0
Pros and Cons
Pros
Generates custom flashcards
Quizzes from study notes
Easy registration process
Uses cookies for UX
Converts lecture slides to flashcards
Supports PDFs, video transcripts, and audios
Nine flashcard types
Free learn mode
Scheduled flashcard feature
Adapts to student's lectures
Uses learning psychology
GDPR compliant
Minimal PII collection
Award-winning tool
Provides study advice
Visualizes learning path
Helps find knowledge gaps
Tailors learning outcome
Automatic study planning
Search slides for answers
Allows adding own flashcards
Works with any type of notes
Supports studying on the go
Includes study scheduling
Maximises learning curve
Motivation-boost feature
Designed for quick studying
Does manual planning and estimates
Data-driven approach
Shows best flashcards
Pair novel examples with memory
Helps in overcoming learning impasses
Structure day-to-day routine
Improves test scores
Complies with active retrieval
Cons
Unclear data handling
Limited study materials formats
Dependent on quality of input
Requires internet access
Not suitable for non-university students
Relies heavily on visual learning
Limited personalisation
Requires manual upload of materials
No offline mode
Single learner oriented
Q&A
What is StudyWand?
StudyWand is an AI-powered study tool designed to assist students in their college exam preparations. This technology automatically transforms study notes and lectures into custom quizzes to enhance memory retention and make studying more engaging. It supports different types of study material including lecture slides, video transcripts, audio clips, and textbook PDFs. The tool also offers features like nine card types, AI-generated answer demonstrations and nine AI question types.
How does StudyWand generate custom quizzes from my notes?
StudyWand leverages AI technology to transform your notes into quizzes. It uses automatic flashcards generated from your uploaded study materials including your notes, lecture slides, video transcripts, audio clips, and textbook PDFs. The tool can determine the most accurate and valuable flashcards based on your materials by identifying key points and converting that information into quiz format.
Does StudyWand work with different forms of material such as video transcripts or audio clips?
Yes, StudyWand can work with various forms of study material including video transcripts and audio clips. The user can upload their lecture slides, video transcripts, audio clips, and textbook PDFs, and the AI tool will transform these materials into detailed and precise flashcards, regardless of their original format.
Can StudyWand schedule flashcards for me?
Yes, StudyWand has a feature that schedules flashcards for you. It quickly gets you to studying as soon as you launch the tool, presenting you with a scheduled flashcard. This is part of its strategy to make studying faster, more effective and convenient for students.
What are the nine question types that StudyWand can generate?
While the specific nine question types are not mentioned, StudyWand's AI technology has the ability to create nine different types of questions from a user's study materials. This allows students to systematically understand their subject matter from multiple angles, enhancing memory retention and learning depth.
How does StudyWand help students identify their knowledge gaps?
StudyWand assists students in identifying their knowledge gaps through its tailored learning maps. This feature visualizes the student's learning path, enabling them to visibly identify areas they need to improve on. It also provides links between various concepts and subjects, unlocking lecture-specific maps that reveal potential knowledge gaps.
Which learning theories is the AI of StudyWand based on?
The AI behind StudyWand is grounded in the psychology of learning, overcoming impasse, and memory associations. It uses data from the last three years to predict and provide the best flashcards in order to maximize a student's memory retention and overall study efficacy.
How does StudyWand comply with GDPR?
StudyWand complies with GDPR by collecting minimal personally identifiable information (PII). The AI-powered tool only collects learning records for each user, keeping the data collection process within the bounds of GDPR compliance.
Why did StudyWand win awards?
StudyWand won awards due to its innovative use of artificial intelligence in creating a quiz generator tool. The application's data-driven approach and effectiveness in improving students' studying habits, memory retention and understanding of complex academic concepts have been recognized and rewarded.
How does the learning path visualization feature of StudyWand work?
StudyWand's learning path visualization feature works by converting each student's academic progress into a visual format. As the student learns with flashcards and navigates through different concepts, the tool unlocks lecture-specific maps, which represent the learning path. This allows students to visually explore and identify their weaknesses and strengths, helping them enhance their learning outcomes.
Why does StudyWand require me to enable cookies?
StudyWand requires you to enable cookies to improve and personalize your user experience. Cookies allow the platform to remember your preferences, enable automatic study planning, and better interact with their tailored services.
What kind of cookies does StudyWand use?
StudyWand uses two types of cookies: necessary cookies and analytics cookies. Necessary cookies enable users to navigate and use the platform's basic functions and to store preferences. Analytics cookies, on the other hand, help StudyWand to understand how visitors interact with their service to improve the overall user experience.
Can I register for StudyWand using my email?
Yes, you can register for StudyWand using your email. The registration process is simple where users just need to provide their email, set a password, mention their university name, and agree to abide by the terms of service to create an account.
How does the learning record feature work on StudyWand?
The learning record feature on StudyWand works by collecting and keeping track of the student's learning activities. Based on this data, the AI introduces a personalized study sequence for the student, adjusting the study flashcards to match the student's learning speed and needs. The more the tool is used by the student, the more accurate the learning record will be in personalizing the study experience.
About the adaptability of StudyWand, how does it adjust to my lectures?
StudyWand adapts to your lectures by analyzing and transforming the contents into AI-generated flashcards. Using data from the last three years, the tool determines the best flashcards that will help improve your memory retention. This approach ensures that every flashcard you interact with is tailored to your specific study needs, increasing StudyWand's effectiveness in helping students prepare for exams.
Can I practise with different types of flashcards on StudyWand?
Yes, StudyWand allows users to practise with different types of flashcards. The platform generates AI-specific flashcards that are designed to cater to a student's unique learning needs based on the learning material the student uploads. This diversity in flashcard types allows for a more comprehensive, targeted approach to studying.
How does StudyWand make studying more enjoyable?
StudyWand makes studying more enjoyable by turning the process into an interactive experience. Instead of passively reading through notes or textbooks, students get to engage with study material through quizzes and flashcards, providing a more active, enjoyable method of studying. With features like schedule flashcard and free learn mode, students can maintain a healthy balance between studying and relaxing.
What happens when I upload a textbook PDF to StudyWand?
When you upload a textbook PDF to StudyWand, the application's AI technology automatically searches the textbook for relevant information and generates accurate flashcards. It extracts key information and transforms it into individual flashcards or quiz questions so that you can study in a more focused, effective manner.
How does StudyWand assist me in achieving better grades?
StudyWand assists students in achieving better grades by turning their study notes and course materials into engaging and easy-to-understand flashcards and quizzes. It encourages active learning and effective memory retention techniques. By tailoring the learning experience to the individual and providing a visual learning path, StudyWand greatly increases a student's understanding of their study material and therefore, their ability to perform better in exams.
How does StudyWand use data to increase my memory retention?
StudyWand uses data from your learning records and the last three years of data to increase your memory retention. It uses this information to determine the best flashcards to present to you, tailoring the learning experience to your specific needs and, thus, increasing your ability to recall information.
If you liked Studywand
Help
⌘ + D bookmark this site for future reference
⌘ + ↑/↓ go to top/bottom
⌘ + ←/→ sort chronologically/alphabetically
↑↓←→ navigation
Enter open selected entry in new tab
⇧ + Enter open selected entry in new tab
⇧ + ↑/↓ expand/collapse list
/ focus search
Esc remove focus from search
A-Z go to letter (when A-Z sorting is enabled)
+ submit an entry
? toggle help menu
x
Sign in to continue (100% free)
To prevent spam, some actions require being signed in. It's free and takes a few seconds.
Sign in with Google