Edit AI
Generated game creator for prototyping.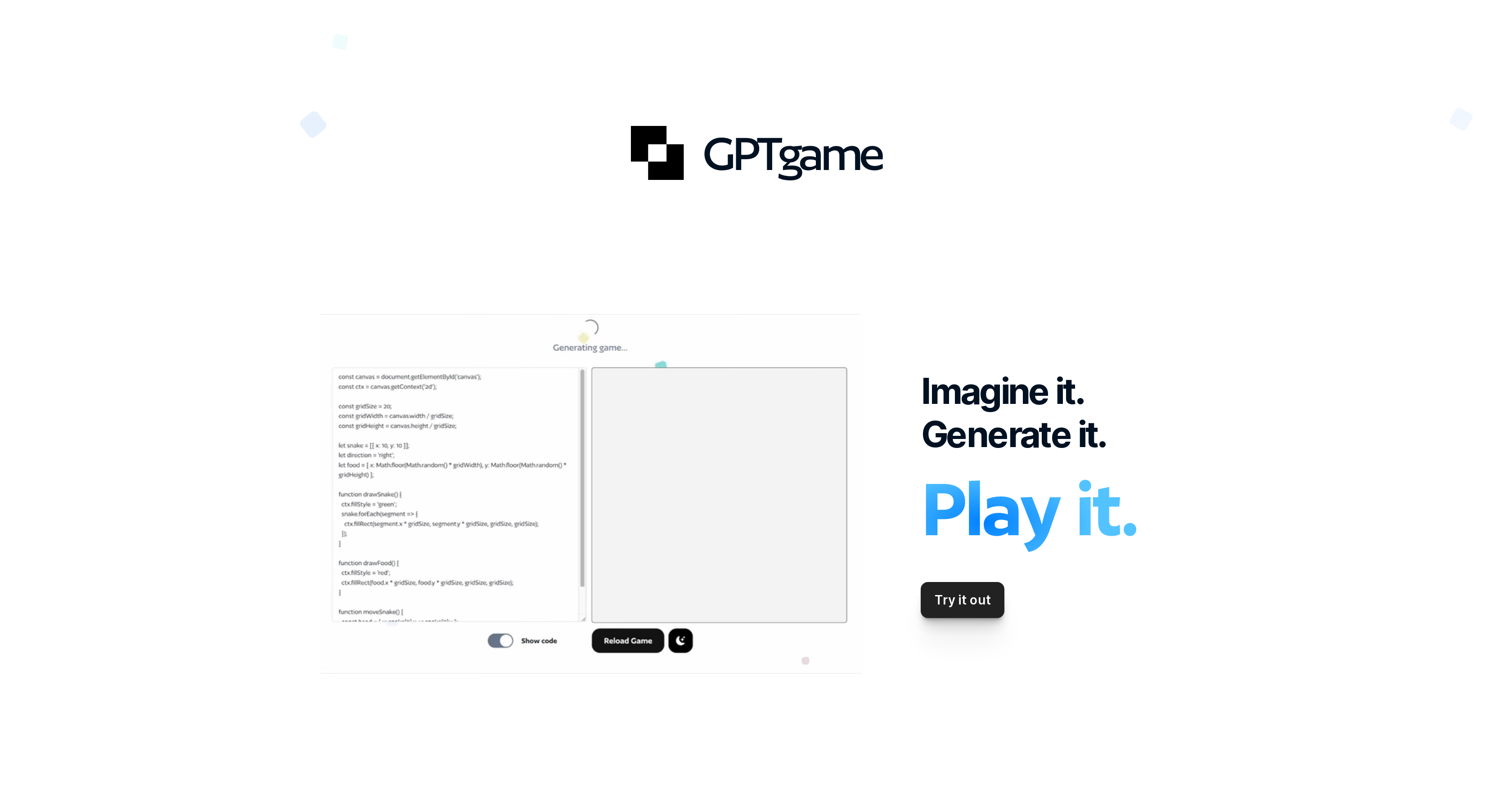 Generated by ChatGPT
GPTGame is an AI tool that generates simple and entertaining JavaScript games by leveraging the GPT-3.5 algorithm. This tool allows developers and non-technical users to easily create games using predefined templates such as Snake, Pong, and Breakout by providing specific features, and play them instantly.
GPTGame is designed to enable users to unleash the power of GPT-3.5 to produce fun and intuitive game experiences with AI.For instance, users can describe a game they want to create via specific features, such as "Pong with 3 balls" or "Snake with AI enemies." After describing the game, GPTGame instantly generates the game, which can then be played by the user.
By doing this, users can focus on the game's features, designs, and objectives without worrying about code writing or game development complexities.GPTGame simplifies the process of game prototyping by enabling anyone, even those with little or no coding knowledge, to create custom games using AI.
Its simplicity and ease of use make it an ideal tool for game enthusiasts, educators, and developers looking to experiment and prototype game concepts quickly.
GPTGame is a reliable AI tool that streamlines game development processes and offers possibilities to unleash new creative and entertaining solutions in the game development industry.
Featured
GPTGame was manually vetted by our editorial team and was first featured on March 29th 2023.

Would you recommend GPTGame?
Help other people by letting them know if this AI was useful.
3 alternatives to GPTGame for Game creation
Pros and Cons
Pros
Generates JavaScript games
Suitable for non-technical users
Predefined game templates
Instant game creation
No coding knowledge required
Ideal for game prototyping
Automated game feature addition
Ability to customize games
Enables quick game experimentation
User-friendly interface
Supports numerous game concepts
Streamlines game development
Enables creative game solutions
Good for industry educators
Integrates GPT-3.5 algorithm
Reduces game development complexities
Interactive game development
Instant playability of games
Supports unique game descriptions
Cons
Limited to JavaScript games
No advanced game features
Reliant on predefined templates
No multi-player support
Only generates simple games
No graphics customization
No explicit coding instruction
Lack of complex gameplay options
No option for error debugging
Q&A
What is GPTGame?
GPTGame is an AI tool designed for game creation and prototyping. Leveraging the GPT-3.5 algorithm, it generates simple and entertaining JavaScript games, enabling users to describe and create their preferred games using predefined templates such as Snake, Pong, and Breakout.
How does GPTGame use the GPT-3.5 algorithm to create games?
GPTGame uses the GPT-3.5 algorithm to interpret user descriptions and translate them into actual game features. These AI-generated features include game rules, object behaviors, and the overall setup of any provided game idea.
Can I use GPTGame even if I have no coding knowledge?
Absolutely. Given its user-friendly setup and AI-powered capabilities, GPTGame is accessible to anyone, regardless of their coding knowledge or experience. The tool enables users to describe their game concept verbally and AI takes care of the implementation.
What kind of games can be created using GPTGame?
With GPTGame, users can create a variety of games based on their preference. There's no restriction on the type of game that can be created, provided it can be expressed within the capabilities of the underlying technology and JavaScript. Predefined templates for classic games like Snake, Pong, and Breakout are available for manipulation.
What are the predefined templates available in GPTGame?
The predefined templates available in GPTGame include Snake, Pong, and Breakout. These templates serve as a starting point for game development, allowing users to describe additional features they want to incorporate into the games.
Can I modify the predefined templates in GPTGame?
Yes, you can modify the predefined templates in GPTGame. By describing the specific features you want, you add new game rules or behaviors that adjust the base template according to your design.
How can I describe a game that I want to generate in GPTGame?
In GPTGame, you describe a game you want to generate by providing specific features or behaviors, such as 'Pong with 3 balls' or 'Snake with AI enemies.' These descriptions inform the AI about the desired game rules and character, which are then implemented in the resulting game.
How quickly does GPTGame generate a game after I describe it?
Immediately. After receiving a specific game description, GPTGame uses AI to instantly turn the concept into a playable JavaScript game.
How does GPTGame simplify game prototyping?
GPTGame simplifies game prototyping by doing all the heavy coding work behind the scenes. After you give your description of the desired game, the given details are instantly translated into a functioning game, eliminating the need for manual coding or complex software engineering.
Is GPTGame suitable for educators and game enthusiasts?
Yes, GPTGame is suitable for both educators and game enthusiasts. Its simple interface allows educators to incorporate game creation into their curriculum, while game enthusiasts can quickly translate their game ideas into playable prototypes.
What are some specific game features I can describe in GPTGame?
Examples of specific game features you can describe in GPTGame include the number of game objects (like 'Pong with 3 balls') or the behaviour of game objects (like 'Snake with AI enemies').
How does GPTGame handle game development complexities?
GPTGame streamlines game development complexities by automating the coding process. Instead of manual code writing, the AI takes care of implementing the game based on descriptions provided by the users.
Can GPTGame generate a game of Snake with AI enemies?
Yes, GPTGame can generate a game of Snake with AI enemies. By specifying these game features during the description process, GPTGame's AI would implement the requested features in the game.
Does GPTGame allow for the development of custom games?
Yes, GPTGame facilitates the development of custom games. Through detailed descriptions, users can create new game rules and behaviors, leading to unique, customized gaming experiences.
Can I play the game immediately after GPTGame generates it?
Yes, the games generated by GPTGame are instantly playable. This provides immediate feedback and allows for quick iterations in the design and prototyping process.
How intuitive is GPTGame?
GPTGame is designed to be intuitive. It simplifies the game creation process by interpreting user descriptions and turning them into fully-functional games. This makes it easy for non-technical users to create games without needing to learn complex coding skills.
Can I use GPTGame to prototype game concepts quickly?
Yes, GPTGame allows rapid prototyping of game concepts. By processing user descriptions into playable games instantaneously, GPTGame minimizes the time taken from concept to playable prototype.
What are some creative solutions GPTGame offers in the game development industry?
GPTGame brings forth creative solutions like the quick conversion of verbal game descriptions into playable games, enabling non-technical users to design and prototype games. It bridges the gap between game ideas and actual game implementation, opening up endless possibilities for creative game design even without technical know-how.
How reliable is GPTGame as an AI tool?
GPTGame is highly reliable as an AI tool. It efficiently translates user-descriptions into full-fledged games using its powerful GPT-3.5 algorithm, ensuring accuracy and consistency in the creation process.
What makes GPTGame an ideal tool for game developers?
GPTGame is ideal for game developers because it allows them to easily create and test game concepts. It saves time by cutting out the coding process, allowing more focus on design and creative aspects. Further, its instant feedback makes it a powerful tool for prototyping and iterative design.
If you liked GPTGame
People also searched
Help
⌘ + D bookmark this site for future reference
⌘ + ↑/↓ go to top/bottom
⌘ + ←/→ sort chronologically/alphabetically
↑↓←→ navigation
Enter open selected entry in new tab
⇧ + Enter open selected entry in new tab
⇧ + ↑/↓ expand/collapse list
/ focus search
Esc remove focus from search
A-Z go to letter (when A-Z sorting is enabled)
+ submit an entry
? toggle help menu
x
Sign in to continue (100% free)
To prevent spam, some actions require being signed in. It's free and takes a few seconds.
Sign in with Google