Edit AI
By
Revolutionizes reading with book summaries.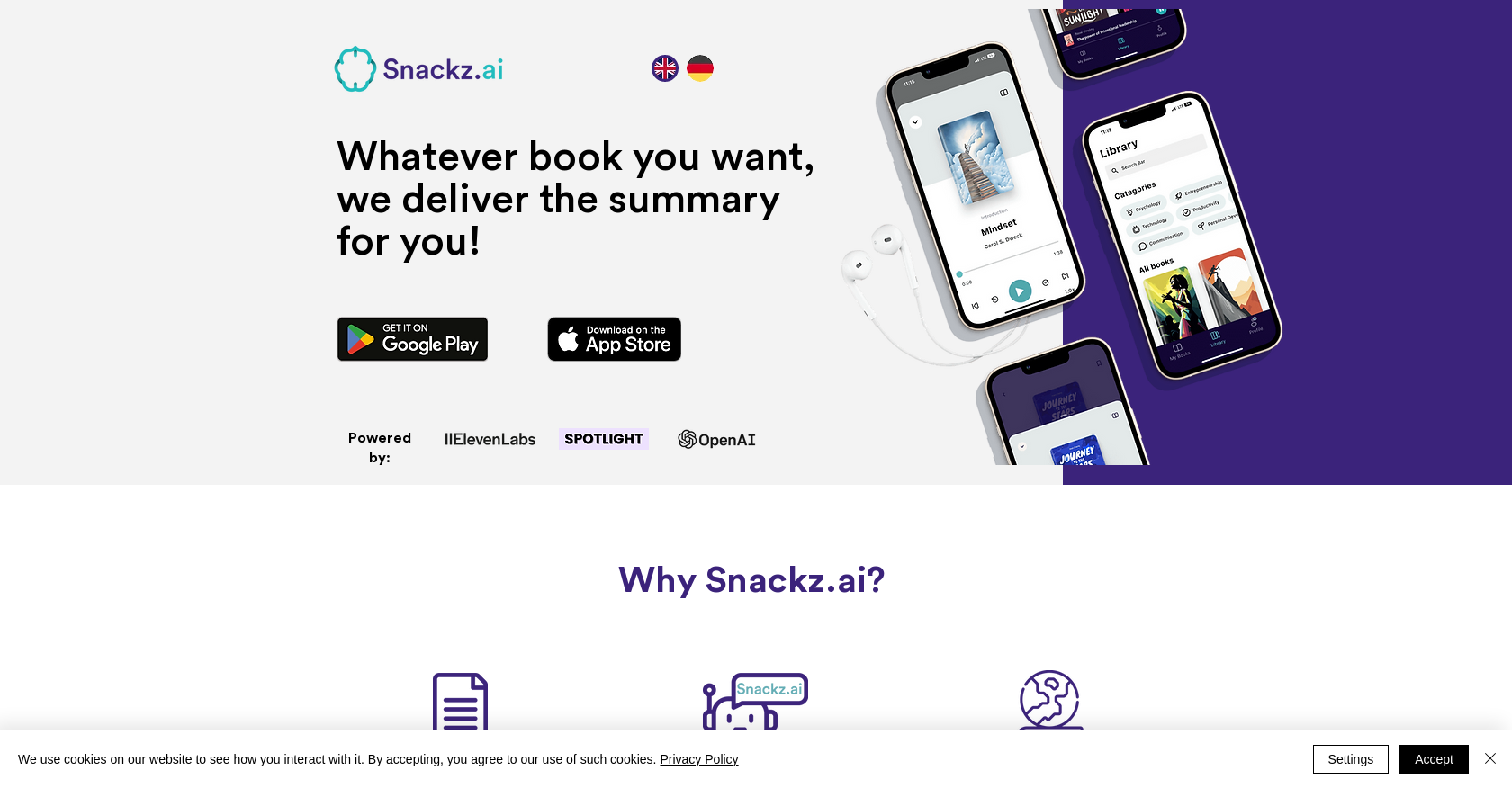 Generated by ChatGPT
Snackz.ai is a fully AI-powered book summary app that aims to revolutionize the way people read and access knowledge. With Snackz.ai, users can save time and dive into a world of knowledge by exploring book summaries generated using AI technology.
The app boasts high-quality summaries that are based on the actual content of the books, rather than being superficial or based solely on AI-generated information.Snackz.ai takes pride in being the first fully AI-powered book summary app, prioritizing an AI-first approach to deliver summaries and keeping the cost for education low.
The platform's mission is to make knowledge from books accessible to everyone worldwide, maximizing potential, boosting knowledge, elevating learning, enriching habits, and promoting a fulfilling life.The app offers a wide range of book summaries covering various topics, including psychology, entrepreneurship, career and success, society and culture, technology, productivity, mindfulness and happiness, economics, communication, personal development, and management and leadership.With the Author and Publisher Partner Program, Snackz.ai welcomes partnerships to expand its collection of book summaries.
Interested authors and publishers can contact them to collaborate.Overall, Snackz.ai offers an innovative solution for those seeking to gain insights and knowledge from books efficiently and conveniently.
Featured
SnackzAI was manually vetted by our editorial team and was first featured on September 8th 2023.

Would you recommend SnackzAI?
Help other people by letting them know if this AI was useful.
5 alternatives to SnackzAI for Book summaries
If you liked SnackzAI
Help
⌘ + D bookmark this site for future reference
⌘ + ↑/↓ go to top/bottom
⌘ + ←/→ sort chronologically/alphabetically
↑↓←→ navigation
Enter open selected entry in new tab
⇧ + Enter open selected entry in new tab
⇧ + ↑/↓ expand/collapse list
/ focus search
Esc remove focus from search
A-Z go to letter (when A-Z sorting is enabled)
+ submit an entry
? toggle help menu
x
Sign in to continue (100% free)
To prevent spam, some actions require being signed in. It's free and takes a few seconds.
Sign in with Google