Edit AI
Create captivating captions for social media images.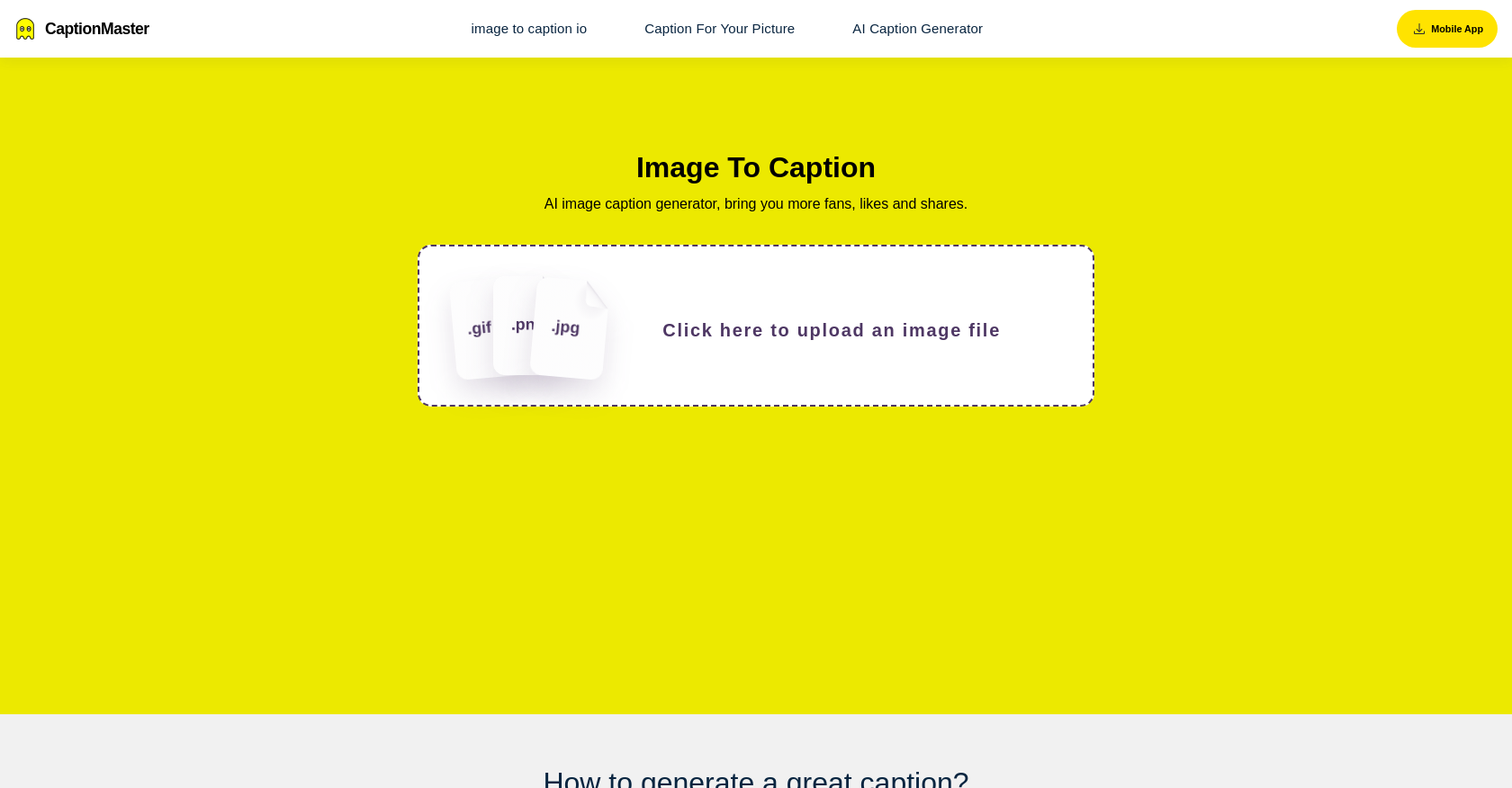 Generated by ChatGPT
The Image To Caption tool is an AI Caption Generator that allows users to generate captions for images. The tool aims to help users create captivating captions for their images, with the goal of increasing their chances of gaining more fans, likes, and shares.
To use the tool, users can upload an image file and select various options to generate the caption. They can choose the language in which the caption will be generated and select the platform for which the caption is intended.
Once the options are selected, the user can click a button to generate the caption and copy it if desired.The tool also provides a list of frequently asked questions related to captions for Instagram and other topics.
Additionally, the tool offers different language options for users to navigate the platform.Please note that the description does not mention exact numbers, as they may be subject to change.
The focus is on providing an objective overview of the tool and its main features, avoiding marketing speak and unnecessary details.
Featured
CaptionMaster was manually vetted by our editorial team and was first featured on October 9th 2023.

Would you recommend CaptionMaster?
Help other people by letting them know if this AI was useful.
10 alternatives to CaptionMaster for Image captions
If you liked CaptionMaster
Help
⌘ + D bookmark this site for future reference
⌘ + ↑/↓ go to top/bottom
⌘ + ←/→ sort chronologically/alphabetically
↑↓←→ navigation
Enter open selected entry in new tab
⇧ + Enter open selected entry in new tab
⇧ + ↑/↓ expand/collapse list
/ focus search
Esc remove focus from search
A-Z go to letter (when A-Z sorting is enabled)
+ submit an entry
? toggle help menu
x
Sign in to continue (100% free)
To prevent spam, some actions require being signed in. It's free and takes a few seconds.
Sign in with Google