Edit AI
Personalized Christmas audio messages by Elves.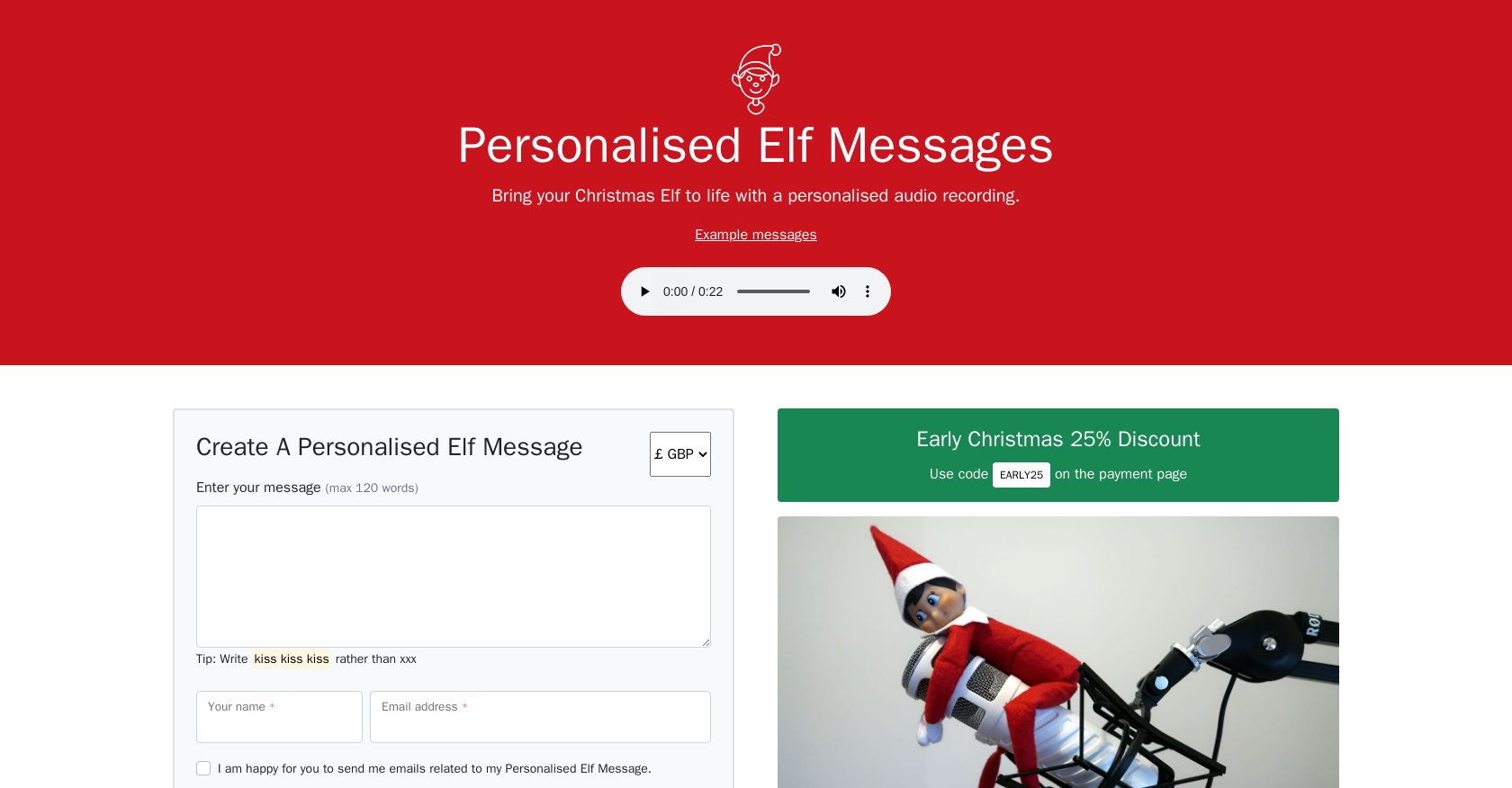 Generated by ChatGPT
Personalised Elf Messages is a tool that enables users to create custom audio messages from a Christmas Elf. It allows users to personalise their message with their own words, name and email address.
The audio messages are then recorded by Elves at the North Pole and sent to the user's inbox. The messages can include references to family members, achievements and other personalised details, making the audio message more special and unique.
The messages have a maximum of 120 words and can include a family joke or a mention of a present they would like for Christmas. The tool also provides tips for writing a great message and examples of Elf Messages to help users get creative.
The cost of creating a message is £2.97, with a 25% discount for early Christmas orders.
Featured
ElfMessages was manually vetted by our editorial team and was first featured on December 9th 2022.

Would you recommend ElfMessages?
Help other people by letting them know if this AI was useful.
65 alternatives to ElfMessages for Text to speech
Listen to articles, PDFs, emails, etc. in your podcast player or browser.

690

3.7

Voiceovers for videos, gaming, audiobooks & more.

211

2.3

Text transformed into customizable spoken output.

177

5.0

Customizable voiceover production service. (OK

177

5.0

Affordable solution for speech synthesis.

131

4.1

Created realistic audio content using synthetic voices.

129

3.7

Generate multilingual natural-sounding audio files.

96

3.0

Generates natural-sounding speech audio online.

91

5.0

Generated audio from written text in multiple languages.

74

4.5

Generating spoken content in multiple languages/accents.

61

Extracts video highlights from long-form content.

53

900+ voices. 142+ languages. Audio shareable.

51

3.0

Lifelike audio with human-like synthetic voices

49

5.0

Customizable online voice generator.

47

5.0

Edited human-like audio for content creation.

46

Build voice & chat bots with rap skills.

45

4.0

Creation of voiceovers for digital media.

36

Convert texts to natural sounding speech and vice versa.

34

5.0

Turn rambles into perfect speech

33

5.0

Creates voiceovers from text.

32

1.0

Audio clip generation of celebrity/cartoon voices.

31

4.0

Text-to-speech for reading and comprehension support.

29

4.0

Synthetic voice generator with API and audio editing.

26

5.0

Converts text to audio files with customization options.

26

Generated lifelike speech for multilingual content.

25

Automated social media and content creation.

24

1.0

Multi-lingual voiceovers w/ customization.

23

Transcribed spoken language analyzed for meaning.

21

Text-to-speech with lifelike voices across applications.

20

Text-to-speech software with highly realistic voices.

20

3.0

Voice & media wallet chat platform for payments.

19

5.0

Text-to-voice for ads, games, learning & publishing.

18

Conversion of text to high-quality audio files.

18

1.0

Content creators and educators can generate voices.

17

Improving Twitch streamers' speech output platform.

16

1.0

Platform for custom audio creation with text-to-speech.

16

Converts speech to text and analyzes emotions.

15

Multilingual voiceover solution.

14

Text-to-speech audio generation for customized projects.

13

2.0

Apps can recognize and generate voice.

13

Unique lifelike digital voice creation for businesses.

12

5.0

Turned text into cross-platform synthetic voices.

10

Content to speech for accessibility.

9

Created multilingual content & natural voice-overs.

9

Customized voice donations for online streamers.

9

Emotive voices for video/podcast text-to-speech.

8

Automated audio production for digital content.

7

Content creation and accessibility solution.

7

3.0

Written text to natural speech conversion.

6

Text transformed to realistic voiceovers.

6

Converts written messages to speech via chatbot.

6

Record audio with realistic voices online.

6

Text to speech solution for spoken applications.

6

Text-to-audio generation.

5

Voice-overs generated from text

5

5.0

Spoken language to text conversion virtual assistant.

5

Generates voiceovers and narrations.

5

Audio content created via Text-to-Speech.

4

Audio content from text and videos.

4

Text transformed into captivating audio.

3

Multilingual text-to-speech synthesis.

3

Diverse audio production.

1

5.0

Text-to-speech conversion for documents and web pages

2

Generate video voiceovers.

1

Generate multilingual audio voices.

1
Pros and Cons
Pros
Personalized audio messages
120 word maximum
Family inclusion
Inclusion of achievements
User guidance provided
Early order discount
Realistic elf recordings
Cost effective
Unique elf voice
Quick delivery via email
Tips for writing included
Audio sample availability
Celebration of special events
Reference to desired gifts
Embed family jokes
Cons
Limited to 120 words
Costs £2.97 per message
Not instant delivery
No editing after submission
Cannot preview before submission
Can't re-use same messages
Only in English
No mobile app
No bulk discount
Only Christmas theme messages
Q&A
What is ElfMessages?
ElfMessages is a tool that allows users to generate personalized Christmas audio messages recorded by Elves at the North Pole.
How can I personalize an ElfMessage?
To personalize an ElfMessage, users need to input their message, name, and email address on the website. The message can include personalized details such as references to family members, achievements and a mention of a present desired for Christmas.
Are there any character limits for the messages?
Yes, the characters for the messages are limited to a maximum of 120 words.
Can I mention a family member or an event in my message?
Yes, users are encouraged to mention family members or recent events in their message to make it more personal and unique.
Where will my message be recorded?
Your message will be recorded at the North Pole by the Elves assigned to handle recording.
How much does it cost to create an ElfMessage?
Creating an ElfMessage costs £2.97.
Is there a discount for early Christmas orders?
Yes, there is a 25% discount available for early Christmas orders.
How can I apply the 25% early Christmas discount?
To apply the 25% early Christmas discount, users need to use the code 'EARLY25' on the payment page.
What are some tips for writing a great message?
Some tips for writing a great ElfMessage include writing the message from the perspective of an Elf, using the child's name, mentioning real places or recent events, and mentioning a present the child wants for Christmas.
Do you provide examples of ElfMessages to spark creativity?
Yes, examples of ElfMessages are provided on the website to inspire creativity.
How can I input my own details for the message?
Your own details can be inputted in the designated fields on the website when creating the message.
What is the payment process for ElfMessages?
The payment process for ElfMessages involves inputting the message details, then you will be redirected to the payment page post sending your message where the small recording fee can be paid.
Will I be notified when my message is recorded and sent?
Upon successful recording and sending of the message, the personalised Elf Message will be sent to the provided email address.
Who will be recording my personalised ElfMessage?
A personal Elf assigned by ElfMessages will record your personalised audio message.
How will I receive my ElfMessage?
You will receive your personalised ElfMessage in your inbox.
Can I share or save my ElfMessage after receiving it?
Yes, once the ElfMessage is received, users can play it repeatedly, share or save it.
Do the Elves know about specific present requests for Christmas?
Yes, Elves have knowledge about specific present requests for Christmas that can be mentioned in the ElfMessage.
Can the ElfMessages include a family joke?
Yes, a family joke can be included in the ElfMessages to make it more personalised.
Why do I need to input my email address?
Your email address is required to ensure that the recording can be sent directly to you after it's completed.
How personal can my ElfMessage be?
The ElfMessage can be deeply personal. It can include the user's name, references to family members or recent events, a desired Christmas gift, and even family jokes.
If you liked ElfMessages
Help
⌘ + D bookmark this site for future reference
⌘ + ↑/↓ go to top/bottom
⌘ + ←/→ sort chronologically/alphabetically
↑↓←→ navigation
Enter open selected entry in new tab
⇧ + Enter open selected entry in new tab
⇧ + ↑/↓ expand/collapse list
/ focus search
Esc remove focus from search
A-Z go to letter (when A-Z sorting is enabled)
+ submit an entry
? toggle help menu
x
Sign in to continue (100% free)
To prevent spam, some actions require being signed in. It's free and takes a few seconds.
Sign in with Google