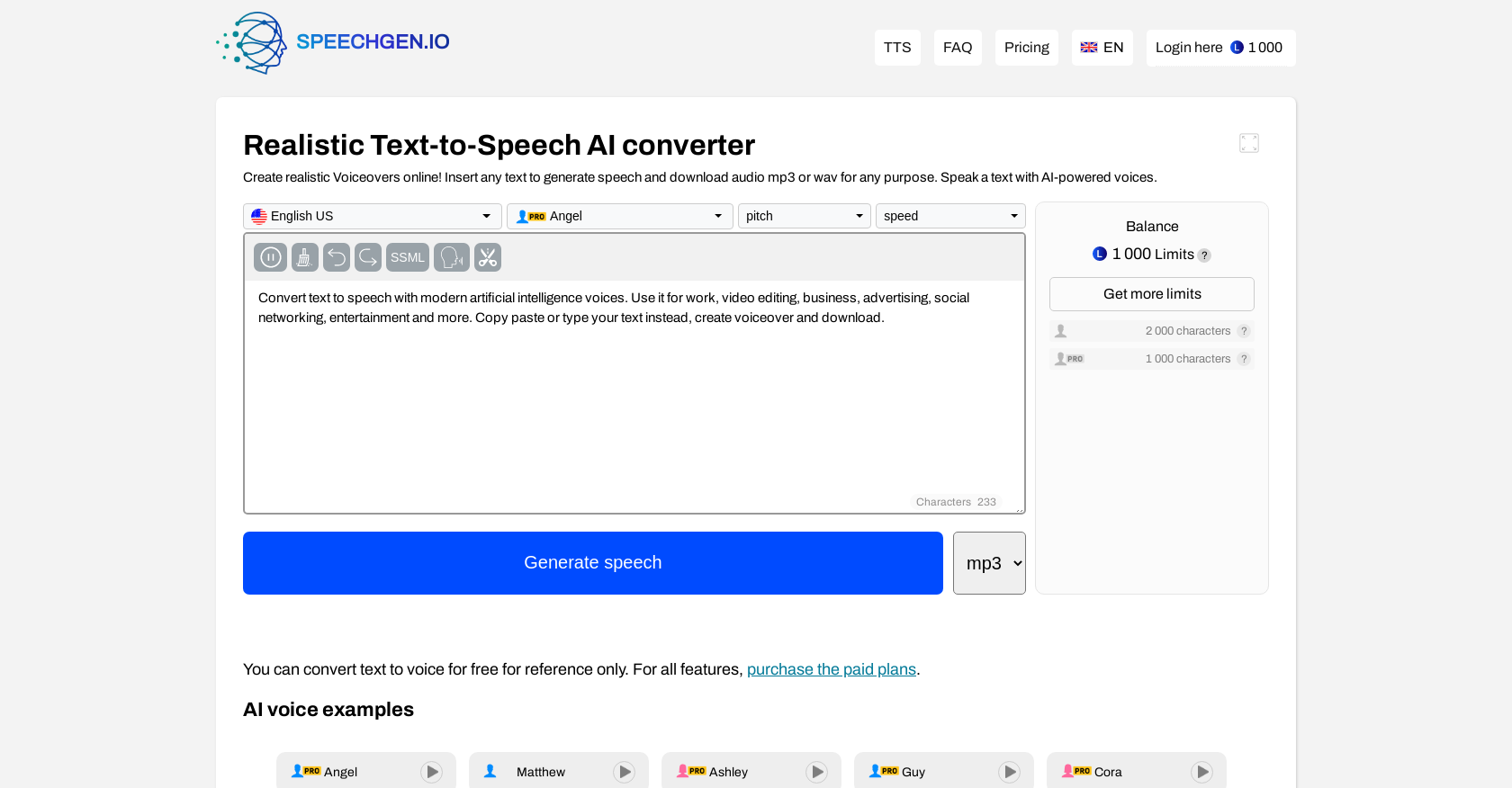 Generated by GPT-3
SpeechGen.io is an AI-powered text-to-speech converter that generates realistic voiceovers online. It enables users to insert text, generate speech and download audio in mp3/wav format for any purpose.
With SpeechGen, users have access to over 270 natural-sounding voices in multiple languages and dialects, along with customizable voice settings. Features include a multi-voice editor for creating dialogue with AI voices, downloadable TTS, support for long texts up to 2 million characters, commercial use, SSML support, saving money, and compatibility with editing programs.
It also includes a cloud system for saving and sharing files and audio links. SpeechGen.io provides powerful support to help users with any questions about text-to-speech.
Featured
?
49 alternatives to SpeechGen for Text to speech
02 Mar 2023

03 Mar 2023

08 Feb 2023

08 Feb 2023

22 Feb 2023

05 Jan 2023

15 Jan 2023

17 Jan 2023

22 Jan 2023

05 Dec 2022

13 Dec 2022

28 Dec 2022

06 Oct 2022

11 Aug 2022

01 Jul 2022

03 Jul 2022

19 Jul 2022

06 Jun 2022

06 Jun 2022

21 Jun 2022

01 May 2022

01 Apr 2022

03 Apr 2022

18 Apr 2022

18 Jan 2022

25 Jan 2022

08 Feb 2022

02 Apr 2021

03 Apr 2021

14 Jun 2021

23 Jun 2021

24 Jun 2021

26 Jul 2021

28 Aug 2021

19 Oct 2021

09 Nov 2021

21 Dec 2021

30 Jan 2020

06 Feb 2020

27 Feb 2020

30 Apr 2020

08 May 2020

20 Oct 2020

21 Dec 2020

27 Mar 2019

21 May 2019

10 Sep 2019

30 Oct 2018

03 Mar 2017