Edit AI
Build voice & chat bots with rap skills.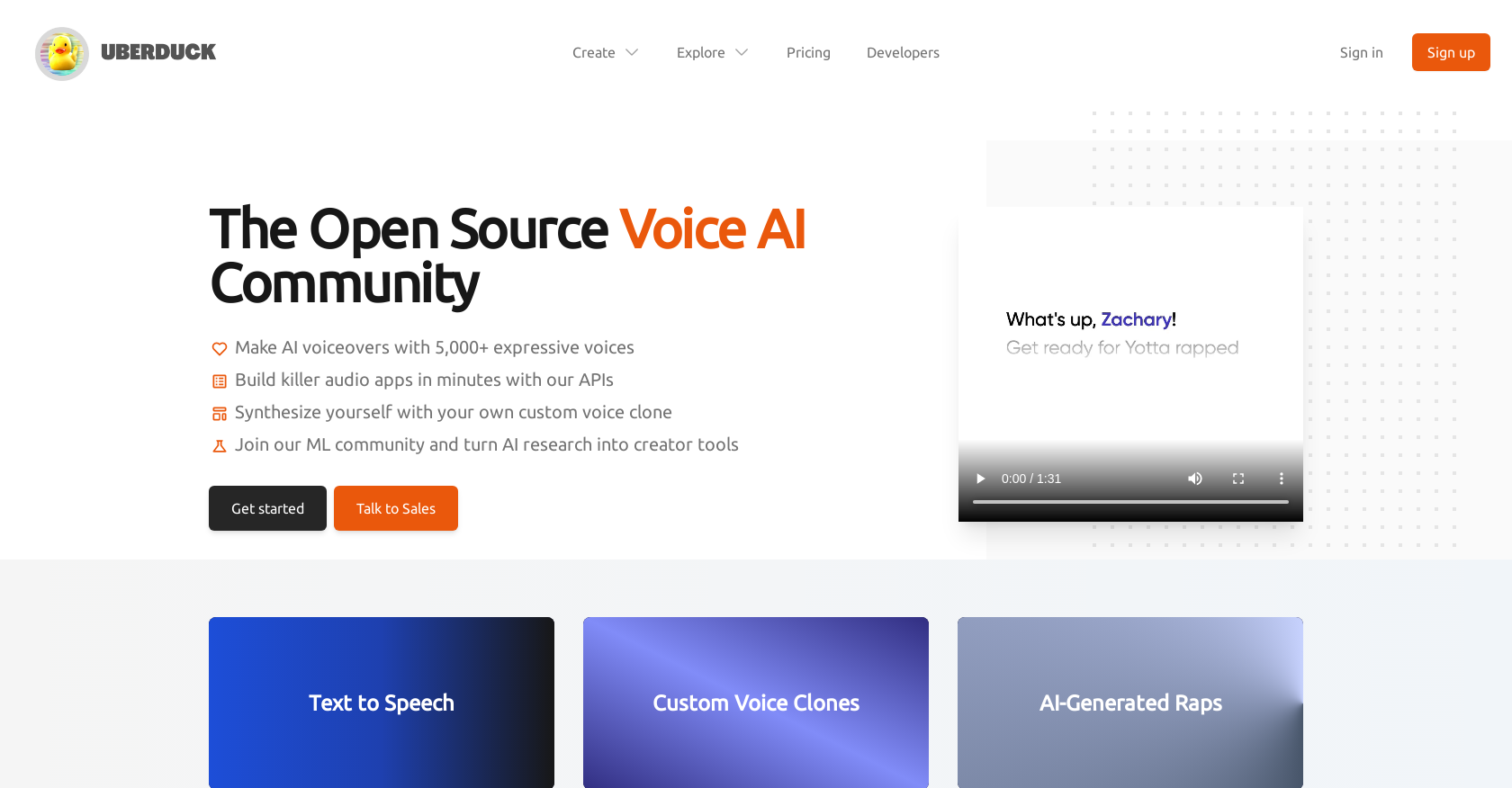 Generated by ChatGPT
Uberduck is a voice automation and text-to-speech platform offering a range of services and tools for developers to create interactive voice and chat bots.
It offers 5,000+ expressive voices to create AI voiceovers and APIs to help build audio apps in minutes. With its Custom Voice Clones, users can create their own custom voice clone using a few minutes of audio.
Furthermore, the platform also offers AI-Generated Raps, which is a unique service to generate rap music with lyric videos customized to each individual user.
Uberduck also offers API Documentation, a blog, and a Discord community for users to join. Finally, the platform is also working on Uberbots, an upcoming platform for interactive voice and chat bots, for which users can join the waitlist to be among the first to hear about its beta release.
Featured
Uberduck was manually vetted by our editorial team and was first featured on November 26th 2022.

Would you recommend Uberduck?
Help other people by letting them know if this AI was useful.
65 alternatives to Uberduck for Text to speech
Listen to articles, PDFs, emails, etc. in your podcast player or browser.

691

3.7

Voiceovers for videos, gaming, audiobooks & more.

211

2.3

Text transformed into customizable spoken output.

180

5.0

Customizable voiceover production service. (OK

177

5.0

Affordable solution for speech synthesis.

136

4.1

Created realistic audio content using synthetic voices.

129

3.7

Generate multilingual natural-sounding audio files.

96

3.0

Generates natural-sounding speech audio online.

92

5.0

Generated audio from written text in multiple languages.

75

4.5

Generating spoken content in multiple languages/accents.

61

Extracts video highlights from long-form content.

53

900+ voices. 142+ languages. Audio shareable.

51

3.0

Lifelike audio with human-like synthetic voices

50

5.0

Customizable online voice generator.

47

5.0

Edited human-like audio for content creation.

46

Creation of voiceovers for digital media.

36

Turn rambles into perfect speech

34

5.0

Convert texts to natural sounding speech and vice versa.

34

5.0

Creates voiceovers from text.

32

1.0

Audio clip generation of celebrity/cartoon voices.

31

4.0

Text-to-speech for reading and comprehension support.

29

4.0

Synthetic voice generator with API and audio editing.

26

5.0

Converts text to audio files with customization options.

26

Generated lifelike speech for multilingual content.

25

Automated social media and content creation.

24

1.0

Multi-lingual voiceovers w/ customization.

23

Transcribed spoken language analyzed for meaning.

21

Text-to-speech with lifelike voices across applications.

20

Text-to-speech software with highly realistic voices.

20

3.0

Voice & media wallet chat platform for payments.

19

5.0

Text-to-voice for ads, games, learning & publishing.

18

Conversion of text to high-quality audio files.

18

1.0

Content creators and educators can generate voices.

17

Improving Twitch streamers' speech output platform.

16

1.0

Platform for custom audio creation with text-to-speech.

16

Converts speech to text and analyzes emotions.

15

Multilingual voiceover solution.

14

Text-to-speech audio generation for customized projects.

13

2.0

Apps can recognize and generate voice.

13

Unique lifelike digital voice creation for businesses.

12

5.0

Turned text into cross-platform synthetic voices.

10

Content to speech for accessibility.

9

Created multilingual content & natural voice-overs.

9

Customized voice donations for online streamers.

9

Emotive voices for video/podcast text-to-speech.

8

Text to speech solution for spoken applications.

7

Content creation and accessibility solution.

7

3.0

Automated audio production for digital content.

7

Converts written messages to speech via chatbot.

6

Record audio with realistic voices online.

6

Text transformed to realistic voiceovers.

6

Written text to natural speech conversion.

6

Voice-overs generated from text

5

5.0

Text-to-audio generation.

5

Spoken language to text conversion virtual assistant.

5

Generates voiceovers and narrations.

5

Personalized Christmas audio messages by Elves.

4

Audio content created via Text-to-Speech.

4

Audio content from text and videos.

4

Text transformed into captivating audio.

3

Multilingual text-to-speech synthesis.

3

Diverse audio production.

1

5.0

Text-to-speech conversion for documents and web pages

2

Generate video voiceovers.

1

Generate multilingual audio voices.

1
Pros and Cons
Pros
5,000+ expressive voices
APIs for audio apps
Creates custom voice clones
Detailed API Documentation
Supportive Discord community
Upcoming Uberbots platform
Customizable lyric videos
Short turn-around time
Used for personalized media
Option to join waitlist
Blog for further reading
Can Add TTS to Discord
Interactive voice and chat bots
Platform for content creators
Cons
Limited voice customization
No multi-language support mention
Not targeting business-user-friendly features
No offline capabilities
No data privacy policy clarity
Upcoming features not yet released
Custom voices require user audio
Rap generation may be niche
May have high learning curve
Limited API tooling mentioned
Q&A
What is Uberduck?
Uberduck is a voice automation and text-to-speech platform. This platform provides various services and tools that allow developers to build interactive voice and chat bots. It offers over 5,000 expressive voices for users to create AI voiceovers. Additionally, Uberduck provides APIs to construct audio applications in a matter of minutes. Among its eminent features are Custom Voice Clones and AI-Generated Raps. Further, it facilitates a community space with its blog and Discord group, and is also in the process of creating a new platform, Uberbots, intended for voice and chat bots.
How does Uberduck's Text-to-speech technology work?
Though specific technical details are not explicitly mentioned, Uberduck's text-to-speech technology can be assumed to operate on advanced machine learning algorithms and natural language processing techniques. These make it possible to convert written text into spoken words and create lifelike speech with over 5,000 expressive voices.
What are the voice & chat bot capabilities offered by Uberduck?
Uberduck brings a wide variety of capabilities for building voice and chat bots. This includes the availability of a large number of expressive voices for creating AI voiceovers. It also allows users to create their own custom voice clones. In addition, it provides APIs which can be used by developers to construct audio applications. Its upcoming platform, Uberbots, will further enhance its voice and chat bot capabilities.
How many expressive voices does Uberduck provide for AI voiceovers?
Uberduck provides over 5,000 expressive voices for AI voiceovers.
How can I create a custom voice clone in Uberduck?
On Uberduck, users can create their own custom voice clone using a few minutes of audio. The specific procedure isn't explicitly mentioned on its website.
What exactly is the AI-Generated Raps service in Uberduck?
AI-Generated Raps is a unique service provided by Uberduck. This service creates rap music with lyric videos that can be customized for each individual user. Again, detail on its direct operational mechanism isn't provided.
Does Uberduck provide APIs for building audio applications?
Yes, Uberduck provides APIs. These tools can help developers in building audio applications quickly and effectively.
How do I join the Uberduck Discord community?
To join the Uberduck Discord community, there's a specific section on their website titled, 'Join Our Discord'. The exact process isn't detailed, but typically involves following a provided link to their Discord group.
What are Uberbots and when can I expect the beta release?
Uberbots is an upcoming platform by Uberduck designed for interactive voice and chat bots. Users can join a waitlist to be notified about the beta release; however, a specific timeline isn't provided.
Is Uberduck's services free or paid? If paid, where can I see the pricing details?
The website does not provide immediate clarity on whether Uberduck's services are free or paid. However, having reference to pricing details implies some services might be charged. Pricing details can be viewed by following the 'Pricing' link on their website.
As a developer, where can I find Uberduck's API documentation?
Uberduck's API documentation can be found on their website. There is a designated 'API Documentation' section which, when navigated to, will provide all the required details.
Is there a way to add Uberduck's Text-To-Speech feature to my Discord?
Yes, there is an option to add Uberduck's Text-To-Speech feature to Discord. This is typically achieved by following the 'Add TTS to Discord' link provided on the website.
What platforms is Uberduck available on?
Uberduck's reach extends beyond its own website. It has a presence on several social media platforms including Discord, TikTok, Instagram, Twitter, GitHub, and YouTube.
Is there any case study or success story using Uberduck?
Yes, Uberduck shares a case study involving their collaboration with Yotta. In this project, Uberduck aided Yotta in creating 150,000 professionally produced rap songs with unique lyric videos for their users, which led to a significant boost in Yotta's new checking accounts.
In context of the Custom Voice Clones feature, how does Uberduck handle my speech data?
The website does not explicitly state how Uberduck handles users' speech data in the context of its Custom Voice Clones feature.
Are there any expected upcoming features or services on Uberduck?
Yes, an expected upcoming feature of Uberduck is 'Uberbots'. This is being built as a platform for interactive voice and chat bots.
Why should I join the Uberduck's discord community?
Being a part of Uberduck's Discord community can offer several benefits like staying updated with their latest features and services, being part of their ML community, and potentially aiding in turning AI research into creator tools.
How is Uberduck aiding to the AI research and ML community?
While specific details are unclear, Uberduck does mention inviting its users to join their ML community. This suggests that they are involved in and supportive of AI research and the ML community.
What is the Open Source Voice AI Community in Uberduck?
The Open Source Voice AI Community by Uberduck appears to be a collaborative space where users can create AI voiceovers, build audio applications using their provided APIs, and engage with their ML community while working with AI research.
What kind of customer support does Uberduck offer?
The exact nature of customer support Uberduck offers isn't explicitly outlined, but they do provide a 'Talk to Sales' option on their website, which might serve as a contact point for user queries and service support.
If you liked Uberduck
People also searched
Help
⌘ + D bookmark this site for future reference
⌘ + ↑/↓ go to top/bottom
⌘ + ←/→ sort chronologically/alphabetically
↑↓←→ navigation
Enter open selected entry in new tab
⇧ + Enter open selected entry in new tab
⇧ + ↑/↓ expand/collapse list
/ focus search
Esc remove focus from search
A-Z go to letter (when A-Z sorting is enabled)
+ submit an entry
? toggle help menu
x
Sign in to continue (100% free)
To prevent spam, some actions require being signed in. It's free and takes a few seconds.
Sign in with Google