Edit AI
Create engaging presentations without design skills.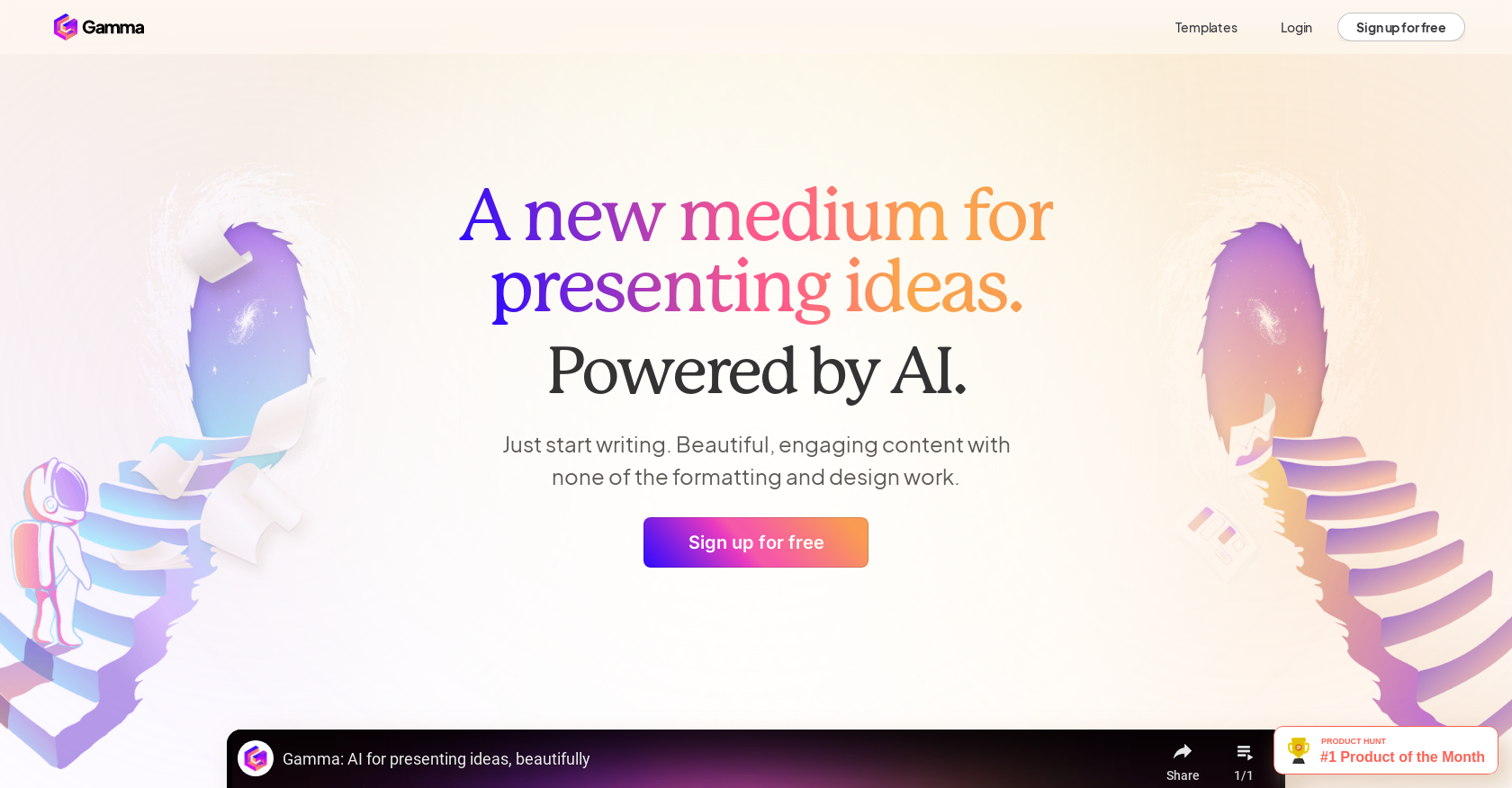 Generated by ChatGPT
Gamma is a web-based tool that enables users to create and present content with minimal formatting and design work. Powered by AI, Gamma allows users to write and develop ideas, creating a polished and engaging medium for presenting those ideas.
In just a few clicks, users can choose from customizable templates that align with their brand and editing options that require no coding. With Gamma, creating slides for presentations becomes faster, simpler, and more efficient than using traditional software.Gamma is designed to engage audiences on any device by bringing ideas to life with visual and interactive content.
Users can embed a variety of media formats including GIFs, videos, websites, and charts, making it easier to understand complex ideas. Gamma also enables collaboration and feedback with features like quick reactions, comments, and publishing and analytics tools.
Gamma memos can be presented while retaining the ability to stand alone, replacing more traditional and cumbersome slide decks. Gamma helps users to break down walls of text into bite-sized pieces, making it easier to understand and remember ideas.
Finally, Gamma enables users to measure engagement using built-in analytics, allowing them to refine and improve their presentations for better results.Overall, Gamma is an AI-powered tool that simplifies the process of creating and presenting engaging content, making it an excellent resource for individuals and organizations seeking to present ideas in a more polished and compelling way.
Featured
Gamma was manually vetted by our editorial team and was first featured on March 28th 2023.

Would you recommend Gamma?
Help other people by letting them know if this AI was useful.
Pros and Cons
Pros
Web-based tool
Minimal formatting effort
Customizable templates
No coding required
Efficient process
Works on any device
Embed various media formats
Collaboration and feedback features
Quick reactions
Commenting feature
Publishing tools
Built-in analytics
Transforms text into bite-sized pieces
Optimizes engagement measuring
One-click templates
On-brand design
No template lock-in
Ability to re-style entire deck
Flexible templates
Nested cards
Publishing and analytics
Concise and visual content
Interactive content
Share across different devices
Bite-sized content for comprehension
Adaptable design tools
Narrations and recodings
Gamma memos can stand alone
More visual than a doc
More interactive than a video
Cons
No offline capability
No mentioned security features
Limited device compatibility
Lack of integration with other tools
No version control for edits
Requires strong Internet connection
Depends on existing templates
No accessibility information provided
Collaboration features may be limited
Analytics possibly lacking depth
Q&A
What is Gamma?
Gamma is an AI-powered web application facilitating the creation and presentation of engaging and polished content. Users design their ideas into presentations with minimal effort. Gamma requires no design skills, and offers customizable templates, no-code editing options, and supports a variety of media formats including GIFs, videos, charts, and websites. It promotes collaboration with commenting capabilities, quick reactions, and even has analytics tools for tracking engagement.
How does Gamma help create presentations?
Gamma streamlines the process of creating presentations through a combination of AI technology, ready-made customizable templates, no-code editing, and support for diverse media formats. Gamma's AI aids in automating the first draft, enabling users to convert thoughts to a workable template in under a minute. The one-click templates coupled with no-code editing allow users to create polished and brand-aligned content conveniently.
Does Gamma require any specific design skills?
No, Gamma does not demand specific design skills. The platform equips users with a suite of user-friendly tools including one-click templates and no-code editing to help create engaging presentations without any design knowledge. It's an intuitive application that guides users through the process of creating an effective, visually pleasing presentation.
What makes Gamma different from other presentation tools?
Gamma differentiates itself from other presentation tools through a combination of traits: its AI-powered design, interactive content support, built-in analytics, and effective collaboration tools. Gamma also enables the use of various media forms such as GIFs, videos, charts, and websites. Its AI helps in maintaining flow by creating the first draft, thus allowing a more seamless presentation construction. Additionally, Gamma supports real-time feedback and collaboration.
How does Gamma's AI work in crafting slides?
Gamma's AI powers its template generator, thereby automating the creation of first drafts. The AI analyses the user's notes and transmutes them into an initial layout in less than a minute. This facilitates a smooth, efficient start to the presentation design process and eases the stress of initiating a presentation from scratch.
Can I customize templates in Gamma?
Yes, Gamma offers customizable templates for easy content creation. These one-click templates can be restyled according to personal preferences, eliminating the problem of template lock-in. The design automatically aligns with your brand, ensuring a consistent aesthetic across all presentations.
How can I use media formats like GIFs, videos, websites, or charts in Gamma?
Users can effortlessly integrate varied media formats such as GIFs, videos, charts, and websites into their Gamma presentations. Media can be dragged onto a card to make presentations more engaging and to visually communicate complex ideas. This ability to embed anything takes presentations beyond text and standard clipart, making them more interactive.
Can I collaborate with team members in real time using Gamma?
Yes, Gamma provides collaboration tools enabling users to interact and provide feedback in real time. It supports comment sections for discussion, quick reactions for instant feedback, and a publishing platform for sharing content with collaborators or larger audiences. These features make the collaborative aspects straightforward, unlike many traditional tools.
How does Gamma help in effectively presenting complex ideas?
Gamma aids in the effective presentation of complex ideas through its interactive content format and support for diverse media elements such as GIFs, videos, charts, and websites. These features allow users to present detailed components in a more engaging, memorable manner. Ideas can be broken down into bite-sized, interactive combinations of words, visuals, and media embeds, aiding in comprehension.
Is it possible to measure audience engagement using Gamma?
Yes, Gamma includes built-in analytics tools, enabling users to measure audience engagement and therefore obtain insights into how their presentations are performing. This data can be analyzed to refine and improve presentations for better audience reception and engagement.
What are the available editing options in Gamma?
Gamma provides a number of editing options for crafting presentations. These primarily include customizable templates and no-code editing tools, allowing for easy and rapid adjustments to design and content without the need for coding skills. Users can re-style their entire deck with a single click and work faster with flexible templates.
Is Gamma a web-based tool?
Yes, Gamma is a web-based tool which means it can be used on any device with internet access. It doesn't require any downloads or installations and ensures that your work is accessible from any location.
Can I use Gamma on any device?
Yes, Gamma can be used on any device including laptops, tablets, or phones. The user-friendly interface renders correctly across all these devices, ensuring users have a consistent experience no matter their device or location.
How does Gamma break down walls of text into bite-sized pieces?
Gamma promotes comprehension by breaking large walls of text into bite-sized, interactive pieces. This division into smaller units of information helps audiences to consume and remember the information more effectively. In addition, Gamma supports rich media content like visual aids and videos to reinforce key ideas and make them unforgettable.
What are Gamma's publishing and analytics tools?
Gamma includes both publishing and analytics features as part of its toolset. The publishing tool allows users to share their content online with peers or a larger audience. The integrated analytics tools enable users to measure engagement, gain insight into their presentation effectiveness, and subsequently fine-tune their content for better results.
How can Gamma replace more traditional and cumbersome slide decks?
Gammas's intuitive design, collaboration features, and ability to break down ideas into interactive, bite-sized pieces make it a more effective and efficient alternative to traditional slide decks. Gamma's memos serve as standalone presentations while also being built to be presented in real time. This dual functionality eliminates the need to create separate documents for different contexts.
What are quick reactions in Gamma?
Quick reactions in Gamma are a feature that allows for instant feedback on presentations. This facilitates communication and collaboration between team members or with the audience. Quick reactions make understanding and responding to audience sentiment straightforward and efficient.
What is the pricing for Gamma?
IDK
What is the process of signing up for a Gamma account?
IDK
What are the unique features of Gamma?
Gamma's unique features include AI-powered draft initiation, customizable templates, no-code editing options, diverse media support, and real-time collaboration and commenting capabilities. Additionally, Gamma offers built-in analytics tools to measure audience engagement, quick reactions for instant feedback, and website-embed capabilities. These elements combined produce a presentation tool that's both effective and user-friendly, and an enhancement on traditional presentation software.
If you liked Gamma
Help
⌘ + D bookmark this site for future reference
⌘ + ↑/↓ go to top/bottom
⌘ + ←/→ sort chronologically/alphabetically
↑↓←→ navigation
Enter open selected entry in new tab
⇧ + Enter open selected entry in new tab
⇧ + ↑/↓ expand/collapse list
/ focus search
Esc remove focus from search
A-Z go to letter (when A-Z sorting is enabled)
+ submit an entry
? toggle help menu
x
Sign in to continue (100% free)
To prevent spam, some actions require being signed in. It's free and takes a few seconds.
Sign in with Google