Edit AI
By

Creates visually appealing presentations efficiently.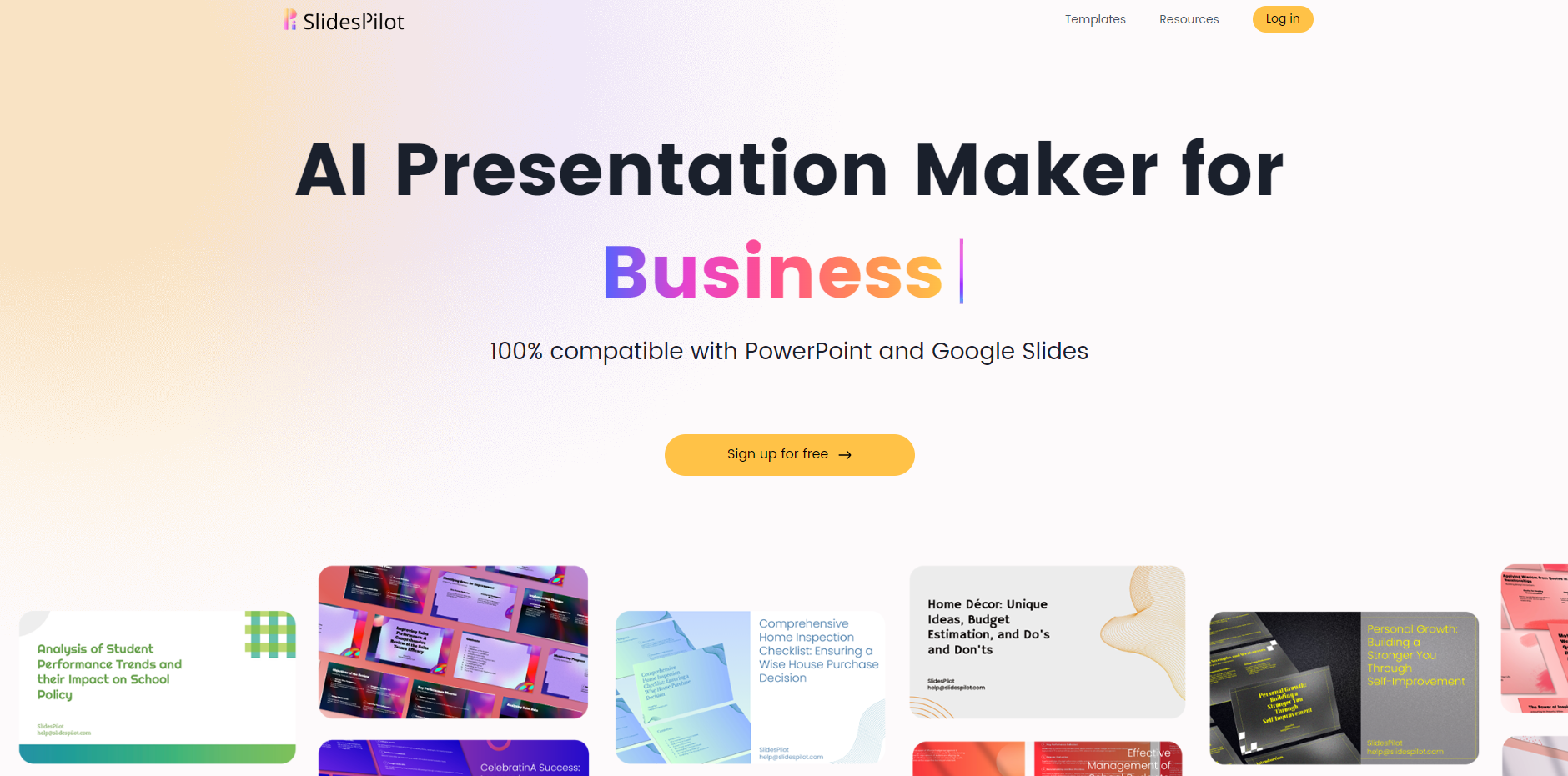 Generated by ChatGPT
SlidesPilot is an AI tool that generates professionally-designed presentation slides. It eliminates the need for tedious brainstorming, hours spent formatting slides, and endless searching for information.
With SlidesPilot, users can input their topic or text and receive a well-structured presentation in seconds.
SlidesPilot can also transform your PDF and Word files into presentation slides with the power of AI. Elevate your content creation experience and bring your documents to life in just a few clicks.
The tool offers a wide range of templates for various purposes, including organizing lessons, workshops, or business presentations. These templates are pre-built and designed by professionals, allowing users to capture their audience's attention effectively.
SlidesPilot is user-friendly and compatible with both PowerPoint and Google Slides. It can be seamlessly integrated with Google Docs and MS Office, making it accessible and familiar to users.
The tool is used by educators, business executives, and individuals across different industries and languages.
In summary, SlidesPilot is a reliable and efficient AI tool that simplifies the process of creating visually appealing and well-structured presentations. Whether used for teaching, work, or general purposes, SlidesPilot offers a wide range of templates that can further enhance the presentation experience.
Featured
SlidesPilot was manually vetted by our editorial team and was first featured on October 6th 2023.

Would you recommend SlidesPilot?
Help other people by letting them know if this AI was useful.
Fast presentation slides creation from text.

2,017

3.0

Generated business presentation content.

1,120

5.0

Create presentations from plain text.

254

2.7

Create engaging presentations without design skills.

246

4.4

Aid for creating professional-grade presentations.

227

3.0

Engaged audience through professional presentations.

217

4.0

Generated bespoke presentations with advanced tech.

216

1.7

Aiding in market research and consulting slide creation.

210

2.0

Automated creation of professional presentation slides.

171

4.0

Professional slide deck creation.

159

4.0

Engaging presentations created effortlessly.

155

4.0

Slide generation for startup presentations.

146

5.0

Customizable presentations generated efficiently.

141

4.5

"Custom templates & media for presentations."

112

Automated PowerPoint template creation and optimization.

94

Simple presentation design without design skills.

79

3.5

Generated presentations using GPT-3 & DALL·E 2.

78

5.0

Fast presentation generation with customizable design.

70

Professional slide and video generation.

68

5.0

Creation of visually appealing data presentations.

62

Automated slide creation for efficient presentations.

54

Create and customize pro presentation slides quickly.

50

Real-time collaboration for creating presentations.

49

Generate slide decks instantly with prompts.

45

3.0

Quickly creates customizable presentation templates.

45

4.0

Collaborative presentation creation with templates.

41

Quick interactive presentations with a platform.

41

Generated presentation slides.

40

3.5

Streamlined presentation & analysis content creation.

13

Generating professional slide decks with minimal input.

12

1.0

11

Effortlessly create dynamic virtual presentations.

10

Enhanced presentation creation with guidance.

9

Advanced presentation design.

6

Captivating presentation slide design

5

Attractive presentations from diverse content.

5

1.0

Improves PowerPoint slide design.

4
If you liked SlidesPilot
Help
⌘ + D bookmark this site for future reference
⌘ + ↑/↓ go to top/bottom
⌘ + ←/→ sort chronologically/alphabetically
↑↓←→ navigation
Enter open selected entry in new tab
⇧ + Enter open selected entry in new tab
⇧ + ↑/↓ expand/collapse list
/ focus search
Esc remove focus from search
A-Z go to letter (when A-Z sorting is enabled)
+ submit an entry
? toggle help menu
x
Sign in to continue (100% free)
To prevent spam, some actions require being signed in. It's free and takes a few seconds.
Sign in with Google