Edit AI
Extracts video highlights from long-form content.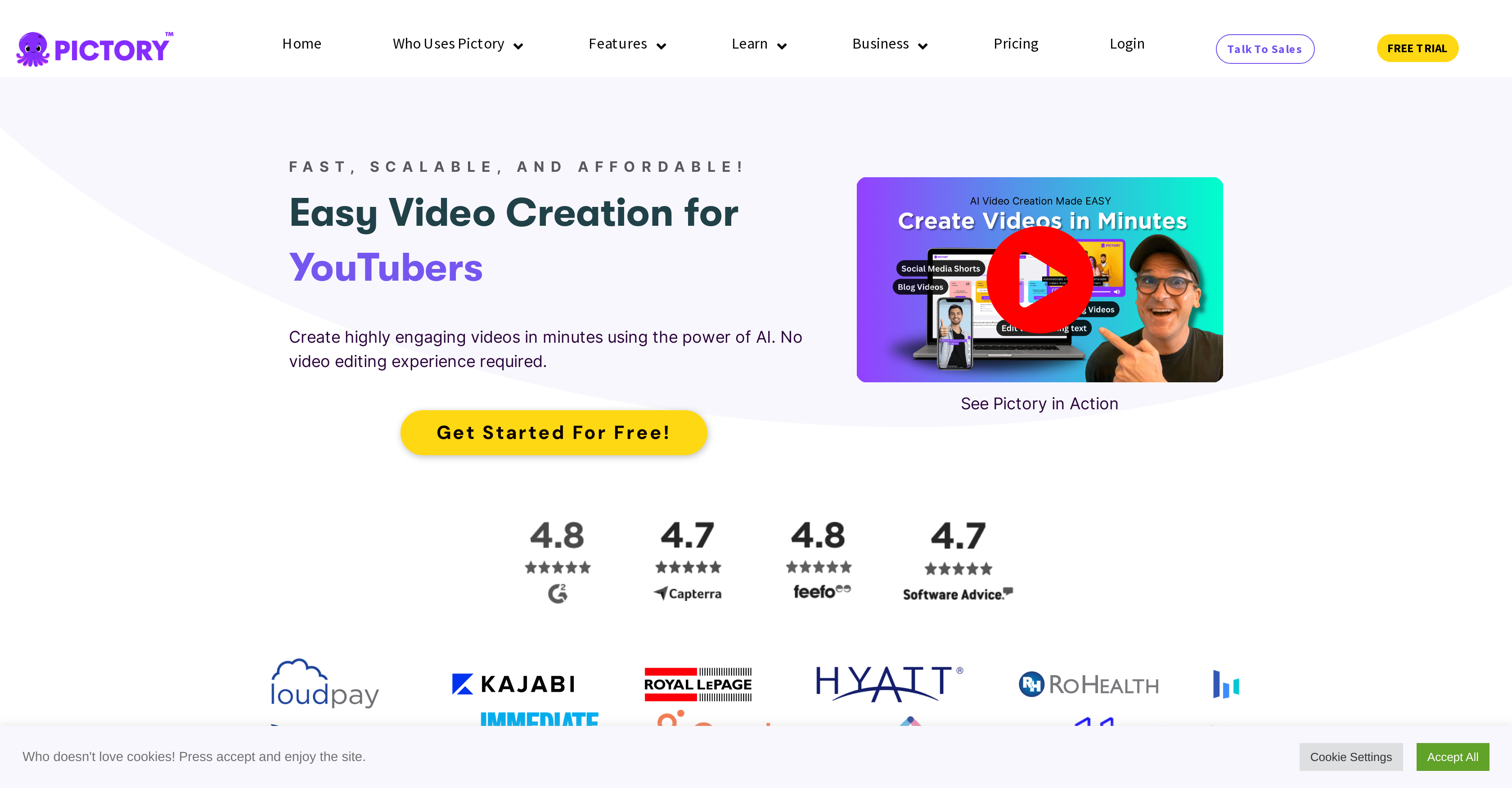 Generated by ChatGPT
Pictory is an AI-powered video creation tool that enables users to create professional quality videos without any technical skills or software downloads.
Its easy-to-use interface allows users to quickly create videos from long form content such as Zoom, Teams and Webinar recordings. It is perfect for quickly creating short and sharable branded video snippets for social media.
Pictory uses AI to automatically extract 'golden nuggets' from recordings and create high-conversion Video Sales Letters complete with stock footage.
It also offers features such as text-to-video conversion, video summarization, auto captioning, and auto transcription. It is used by YouTube Creators, Marketers, Social Media Managers, Agencies, Bloggers, Course Creators, Coaches and Vidnami users, and has saved users hours of production time compared to Adobe.
Featured
Pictory was manually vetted by our editorial team and was first featured on December 29th 2022.

Would you recommend Pictory?
Help other people by letting them know if this AI was useful.
65 alternatives to Pictory for Text to speech
Listen to articles, PDFs, emails, etc. in your podcast player or browser.

691

3.7

Voiceovers for videos, gaming, audiobooks & more.

211

2.3

Text transformed into customizable spoken output.

180

5.0

Customizable voiceover production service. (OK

177

5.0

Affordable solution for speech synthesis.

136

4.1

Created realistic audio content using synthetic voices.

129

3.7

Generate multilingual natural-sounding audio files.

96

3.0

Generates natural-sounding speech audio online.

92

5.0

Generated audio from written text in multiple languages.

75

4.5

Generating spoken content in multiple languages/accents.

61

900+ voices. 142+ languages. Audio shareable.

51

3.0

Lifelike audio with human-like synthetic voices

50

5.0

Customizable online voice generator.

47

5.0

Edited human-like audio for content creation.

46

Build voice & chat bots with rap skills.

45

4.0

Creation of voiceovers for digital media.

36

Turn rambles into perfect speech

34

5.0

Convert texts to natural sounding speech and vice versa.

34

5.0

Creates voiceovers from text.

32

1.0

Audio clip generation of celebrity/cartoon voices.

31

4.0

Text-to-speech for reading and comprehension support.

29

4.0

Synthetic voice generator with API and audio editing.

26

5.0

Converts text to audio files with customization options.

26

Generated lifelike speech for multilingual content.

25

Automated social media and content creation.

24

1.0

Multi-lingual voiceovers w/ customization.

23

Transcribed spoken language analyzed for meaning.

21

Text-to-speech with lifelike voices across applications.

20

Text-to-speech software with highly realistic voices.

20

3.0

Voice & media wallet chat platform for payments.

19

5.0

Text-to-voice for ads, games, learning & publishing.

18

Conversion of text to high-quality audio files.

18

1.0

Content creators and educators can generate voices.

17

Improving Twitch streamers' speech output platform.

16

1.0

Platform for custom audio creation with text-to-speech.

16

Converts speech to text and analyzes emotions.

15

Multilingual voiceover solution.

14

Text-to-speech audio generation for customized projects.

13

2.0

Apps can recognize and generate voice.

13

Unique lifelike digital voice creation for businesses.

12

5.0

Turned text into cross-platform synthetic voices.

10

Content to speech for accessibility.

9

Created multilingual content & natural voice-overs.

9

Customized voice donations for online streamers.

9

Emotive voices for video/podcast text-to-speech.

8

Text to speech solution for spoken applications.

7

Content creation and accessibility solution.

7

3.0

Automated audio production for digital content.

7

Converts written messages to speech via chatbot.

6

Record audio with realistic voices online.

6

Text transformed to realistic voiceovers.

6

Written text to natural speech conversion.

6

Voice-overs generated from text

5

5.0

Text-to-audio generation.

5

Spoken language to text conversion virtual assistant.

5

Generates voiceovers and narrations.

5

Personalized Christmas audio messages by Elves.

4

Audio content created via Text-to-Speech.

4

Audio content from text and videos.

4

Text transformed into captivating audio.

3

Multilingual text-to-speech synthesis.

3

Diverse audio production.

1

5.0

Text-to-speech conversion for documents and web pages

2

Generate video voiceovers.

1

Generate multilingual audio voices.

1
Pros and Cons
Pros
Extracts video highlights
Quick video creation
No technical skills required
No software download required
Creates videos from long-form content
Automatically pulls 'golden nuggets'
High-conversion Video Sales Letters
Offers stock footage
Text-to-video conversion
Video summarization
Auto captioning
Auto transcription
Saves production time
Used by different professionals
Can handle Zoom, Teams, Webinar recordings
Create short sharable video snippets
Creates branded video snippets
Suitable for social media
Creates videos from scripts
Turns blog posts to videos
Increase search engine rankings
Increases content reach
Does not require credit card for trial
Partnerships with major brands
Useful for video marketers
Helpful for online marketers
Converts blog articles into videos
Can create a lot of video clips from long-form content
Especially useful for creating teaching videos
Efficient and fast
Script to Video feature
Auto Summarize Long Videos feature
Auto Caption Videos feature
Cons
No offline mode
No free version
Lack of language options
Limited stock footage
Limited video editing tools
No support for Linux
No smartphone app
Limited graphics options
Doesn't support all file types
Lack of advanced features
Q&A
What is Pictory?
Pictory is an AI-powered video creation tool that enables users to generate professional quality videos without the need for technical skills or software downloads. Its capabilities include automatically extracting highlights from long-form content, creating wrapped video snippets, and converting text into videos.
How does Pictory extract video highlights from long-form content?
Pictory uses advanced AI to automatically find 'golden nuggets' in long-form content. The AI can extract significant clips from recordings of Zoom, Teams, and Webinars. This feature is ideal for creating sharable content for social media platforms by repurposing recorded content.
How can I use Pictory to convert text into videos?
Pictory provides a unique feature that allows users to convert text into videos. By simply uploading the desired text or ideas, Pictory's AI technologies find suitable graphics and videos to match the context. This feature is particularly praised for saving hours that could be spent producing a short video.
Can Pictory create video sales letters?
Yes, Pictory can indeed create high-conversion Video Sales Letters. Its advanced AI creates these sales videos using stock footage, music, and voiceovers within minutes. This simplifies the process by creating appealing Video Sales Letters automatically.
Does Pictory offer auto captioning and transcription?
Pictory does offer auto captioning and auto transcription features. It automatically generates captions for the videos which is instrumental as a majority of social media videos are watched on mute. The accurate transcription service helps in better understanding and usage of the video content.
What video creation capabilities does Pictory offer?
Pictory offers a comprehensive suite of video creation capabilities. These include creating video highlights, making short branded video snippets, transforming scripts into sales videos, and transforming blog posts into engaging videos. Furthermore, Pictory provides auto-captioning, auto-transcription, and video summarization services.
Can Pictory be used to create social media content?
With Pictory, users can create short and sharable branded video snippets that are perfect for social media. It can transform long Zoom, Teams or Webinar recordings, scripts, or even blog posts, into video content suitable for sharing across various platforms.
How does Pictory save production time compared to Adobe?
Pictory dramatically reduces production time by eliminating the need for technical skills or specialized software. It uses AI to automate time-consuming tasks like extracting key points from recordings, transcribing audio, and finding fitting graphics. This can save hours compared to the conventional video editing process in Adobe.
Who typically uses Pictory?
Pictory is used by a range of digital content creators and marketers. This includes YouTube creators, marketers, social media managers, agencies, bloggers, course creators, coaches, and even Vidnami users. Its ease of use makes it suitable for various roles that require video content creation.
Does Pictory require any technical skills or software downloads?
No, Pictory doesn't require any technical skills or software downloads. Its easy-to-use interface allows users to quickly create professional-quality videos right from their browser. Its AI-powered systems handle all of the complexity, making video creation accessible to anyone.
What is the video summarization feature in Pictory?
The video summarization feature in Pictory allows users to generate short and impactful summaries of long videos. The AI identifies key points and extracts 'golden nuggets' to create a concise video summary. This is useful for repurposing long-form content into shorter, more sharable videos.
Can Pictory transform blog posts into videos?
Pictory's AI has the ability to convert text from blog posts into engaging videos. This feature allows users to repurpose their existing textual content and increase its reach and impact through video, a popular and highly consumable type of media.
How does Pictory's AI technology contribute to video creation?
Pictory's AI technology significantly simplifies the video creation process by automating time-consuming tasks. It automatically finds fitting graphics and videos based on uploaded text, transcribes audio for captions, and extracts key points from long-form content to create video summaries.
How can Pictory help Youtube creators?
Youtube creators can use Pictory to extract short video clips from their long-form content, create text-to-video content, and convert their scripts into high-conversion sales videos. The auto-captioning feature ensures their videos are accessible to a wider audience and the AI speeds up their video production process.
How can Pictory assist social media managers?
Social media managers can use Pictory to convert long-form content into short, branded and sharable video snippets ideal for social media feeds. The AI can automatically extract highlights for easy sharing across platforms. The text-to-video and blog-to-video features allow them to turn written content into engaging video posts.
How can coaches and course creators benefit from using Pictory?
With Pictory, coaches and course creators can quickly and effectively produce video content for their programs. They can transform their text-based content or course material into engaging videos, extract key points from recorded sessions, and even create video sales letters to help market their courses.
What kind of video content can marketers generate with Pictory?
Marketers can use Pictory to create a wide variety of video content including product showcases, customer testimonials, promotional clips, and more. Features like script to video, blog post to video and video summarization empower marketers to create captivating content that can drive engagement, increase reach and improve conversion rates.
How can Pictory be integrated into an agency's workflow?
Agencies can incorporate Pictory into their workflow to speed up their video content creation process. Whether it's creating client videos from scripts, extracting highlights from webinars or large-scale recorded content, or creating video summaries, Pictory's AI capabilities can help agencies deliver high-quality videos faster.
What types of videos can Bloggers create using Pictory?
Bloggers can use Pictory to extend their reach beyond written content by transforming their blog posts into engaging videos. They can even create video highlights or summaries of their posts. By converting textual content into video, bloggers can connect with a wider audience that prefers visual content.
Why is Pictory considered a Vidnami alternative?
Pictory is considered a Vidnami alternative as it offers similar features and more. Both tools can create videos from text, provide stock footage and music, and offer auto-captioning. However, Pictory also offers video summarization, can turn scripts into sales videos, and is praised for its ease of use and the quality of the produced videos.
If you liked Pictory
People also searched
Help
⌘ + D bookmark this site for future reference
⌘ + ↑/↓ go to top/bottom
⌘ + ←/→ sort chronologically/alphabetically
↑↓←→ navigation
Enter open selected entry in new tab
⇧ + Enter open selected entry in new tab
⇧ + ↑/↓ expand/collapse list
/ focus search
Esc remove focus from search
A-Z go to letter (when A-Z sorting is enabled)
+ submit an entry
? toggle help menu
x
Sign in to continue (100% free)
To prevent spam, some actions require being signed in. It's free and takes a few seconds.
Sign in with Google