Edit AI
Generated personal journal prompts via GPT-3 model.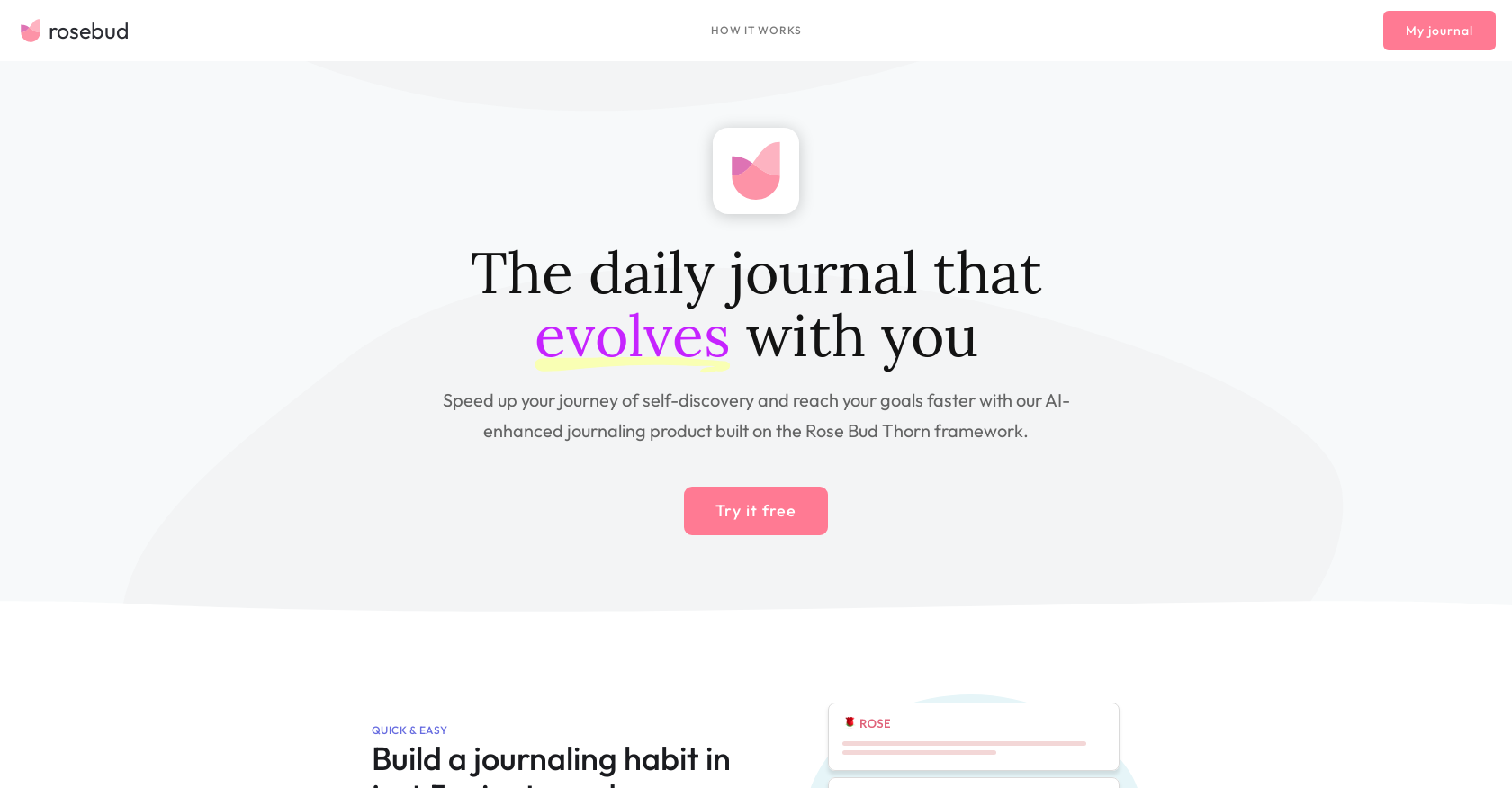 Generated by ChatGPT
Rosebud is an AI-powered journaling app that helps you self-reflect and create your personalized path to fulfillment.
It supports multi-device sync and secure cloud backups for your entries. With a free version and a premium plan at $4.99/month, Rosebud puts unlimited personalized prompts, entry history, and advanced interactive AI within your reach.
Key Features:
1. Multi-Device Accessibility & Cloud Backup: Use Rosebud across multiple devices and keep your journals secure with cloud backup.
2. Bookmarking: Save intriguing prompts for future journaling.
3. Personalized Prompts: A unified stream presents diverse personalized journaling prompts.
4. Weekly Reflection: A summarization of key insights from your week's journal entries, formatted for easy sharing.
5. Voice Journaling (Premium): Speak directly to Rosebud and have it accurately transcribe your entries.
6. Interactive Journaling Mode: Engage in a more conversational journaling experience with Rosebud, including feedback and guidance.
7. Enlighten Me: Tap the light bulb for guidance and inspiration when you're stuck on a question.
Use Cases:
1. Self-Exploration: Enrich your journey of self-exploration and uncover your unique wisdom with our AI-powered journal.
2. Build Habits: Build a journaling habit in just 5 minutes a day with Rosebud's quick and easy prompts.
3. Set Goals: Manifest your goals with Rosebud's automatic vision board creation based on your journal entries.
4. Gain Insight: Gain insight into your life with weekly summaries reflecting patterns in your thoughts, emotions and behaviors.
5. Secure Storage: Securely store your personal reflections with Rosebud's cloud-based encryption.
Featured
Rosebud Journal was manually vetted by our editorial team and was first featured on June 14th 2023.

Would you recommend Rosebud Journal?
Help other people by letting them know if this AI was useful.
13 alternatives to Rosebud Journal for Journaling
Self-care app detects patterns & insights in journaling.

160

Promotes growth via journaling and trigger detection.

96

1.0

Track, analyze and optimize workflows through a journal.

85

Customized mental health journaling for coaching.

58

5.0

Get personal feedback on your journal.

34

3.0

Customizable life tracker diary.

32

5.0

Personalized digital diary with growth tracking.

20

Access product info on mobile.

10

Self-reflect for personal growth.

10

Personal growth journal with insightful recommendations.

5

Wellness journal with generated insights and feedback.

2

Streamlined thought organization & journaling.

2
Pros and Cons
Pros
Rose Bud Thorn framework
Provides personalized prompts
Suggests follow-up questions
Automatic vision board creation
Weekly summaries for reflections
Stores journals privately in browser
Safe and secure
Requires only 5 minutes
Speeds up self-discovery
Helps manifest desired life
Suggests goals based on answers
Promotes quick and easy journaling
Free trial available
Cons
Limited to Rose Bud Thorn framework
Algorithm may misinterpret answers
Private database limited to browser
Lacks multi-device synchronization
Prompts may not be diverse
No offline version available
Potential lack of goal accuracy
No collaborative journaling support
Uses only GPT-3 model
Summaries only available weekly
Q&A
What is Rosebud?
Rosebud is a GPT-3 powered daily journaling tool that helps users reflect on their day and manifest the life they want. It uses an AI-enhanced system to offer personalized journal prompts and goal suggestions based on individual entries.
How does Rosebud utilize the GPT-3 model?
Rosebud utilizes the OpenAI's GPT-3 model to generate personalized prompts for users based on their entries. These AI-powered prompts are designed to facilitate deeper self-reflection and understanding.
What is the Rose Bud Thorn framework?
The Rose Bud Thorn framework is a popular way for daily reflection, focusing on the positive (Rose), possibilities (Bud) and negatives (Thorns) of a user's day. Rosebud is built on this framework and uses it in its AI-generated prompts.
How does Rosebud enhance the journaling experience?
Rosebud enhances the journaling experience by analyzing users' journal entries and providing tailored prompts to help them dig deeper into their thoughts and emotions with minimal effort. It also suggests goals related to users' responses and builds an automatic vision board for them. Users receive weekly summaries to gain insights into their thought patterns and emotions.
How does Rosebud generate personalized prompts?
Rosebud generates personalized prompts by using AI to analyze the user's responses to three questions asked every evening. The AI then generates follow-up questions unique to each user, designed to foster deeper introspection.
What are the three questions that Rosebud asks users every evening?
The exact three questions asked everyday by Rosebud aren't specified, but they are based on the Rose Bud Thorn framework. These general daily questions revolve around the high points, potential areas for growth, and the challenges faced by the user during their day.
How does Rosebud AI suggest follow-up questions?
Rosebud AI suggests follow-up questions by analyzing the responses to the initial three questions asked. These suggestions are tailored specifically to the user's responses, to help explore their thoughts and moments from their day further.
In what ways does Rosebud help users manifest their best life?
Rosebud helps users manifest their best life by suggesting goals based on the user's answers in their journal entries. It also generates an automatic vision board for life goals. Over time, Rosebud's AI observes and reflects patterns, emotions, and behaviors to provide valuable insights through weekly summaries.
What is Rosebud's vision board feature?
Rosebud's vision board feature automatically generates a collection of goals for the user, based on the responses to their daily journal prompts. These goals are meant to help users live their best life.
What does Rosebud's weekly summaries offer?
Rosebud's weekly summaries offer insights into the user's life by analyzing their journal entries and reflecting back patterns in their thoughts, emotions, and behaviors. This allows the user to gain deeper understanding and self-awareness.
How does Rosebud identify patterns in thoughts, emotions, and behaviors?
Rosebud identifies patterns in thoughts, emotions, and behaviors by using AI to analyze a user's journal entries. The AI scans user's entries looking for recurring themes or patterns, which are then reflected back to the user in their weekly summaries.
What measures does Rosebud take to ensure the safety and security of users' journal entries?
Rosebud ensures the safety and security of users' journal entries through private storage. Each journal is stored separately in a browser database, and only the individual user can access their stored entries.
Where is the Rosebud journal stored?
The Rosebud journal is stored privately on a user's own browser database.
How much time is needed to make use of Rosebud daily?
To make use of Rosebud daily, a user needs approximately 5 minutes for reflection time.
What makes Rosebud quick and easy?
Rosebud is considered quick and easy due its design of requiring just 5 minutes of daily reflection time and its AI-powered personalized prompts. This allows users to benefit from self-reflection without dedicating an excessive amount of time or energy.
Does Rosebud have a free trial?
Yes, Rosebud does offer a free trial, as mentioned in their call-to-action button on their website.
How is Rosebud different from other journaling tools?
Rosebud is different from other journaling tools due to its AI integration. It uses the GPT-3 model to generate personalized prompts based on users' entries, suggests goals, and creates weekly summaries around individual patterns in thoughts, emotions, and behaviors.
How is AI incorporated into Rosebud's functionality?
AI is incorporated into Rosebud's functionality by providing personalized prompts for the user's journal based on their daily entries. It also suggests goals and builds automatic vision boards aimed at personal growth, based on an analysis of the user's inputs.
What type of goals does Rosebud AI suggest?
The type of goals Rosebud AI suggests are highly personalized, generated based on the responses in the user's daily journal entries.
Can I track the progress of my goals in Rosebud?
Yes, Rosebud allows users to track the goals that resonate with them. However, the exact method of tracking is not specified on their website.
If you liked Rosebud Journal
People also searched
Help
⌘ + D bookmark this site for future reference
⌘ + ↑/↓ go to top/bottom
⌘ + ←/→ sort chronologically/alphabetically
↑↓←→ navigation
Enter open selected entry in new tab
⇧ + Enter open selected entry in new tab
⇧ + ↑/↓ expand/collapse list
/ focus search
Esc remove focus from search
A-Z go to letter (when A-Z sorting is enabled)
+ submit an entry
? toggle help menu
x
Sign in to continue (100% free)
To prevent spam, some actions require being signed in. It's free and takes a few seconds.
Sign in with Google