Edit AI
By

Turn your screenshot chaos into gold.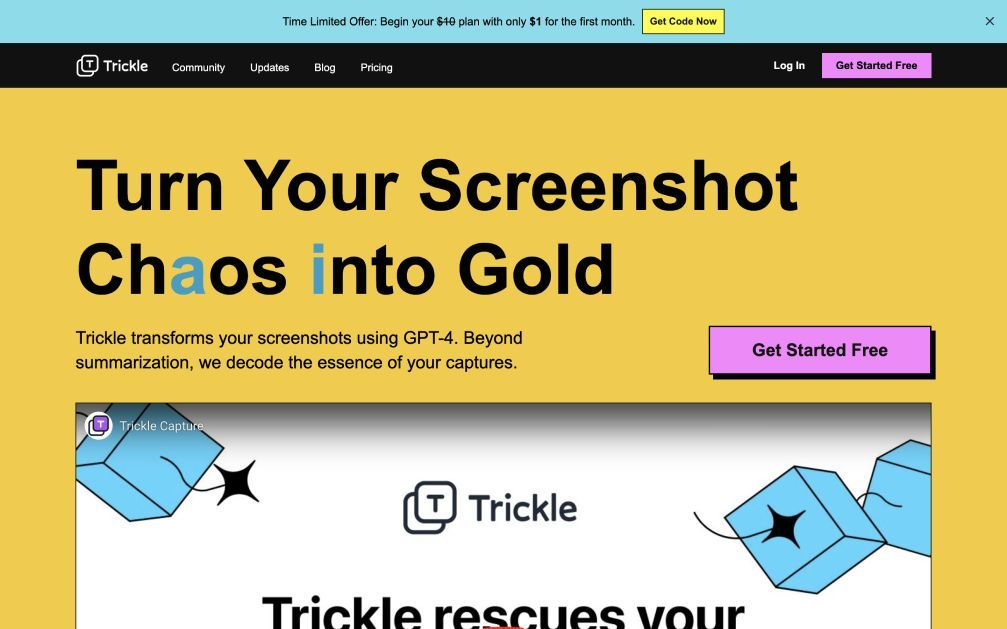 Generated by ChatGPT
Trickle is for people who frequently capture screenshots for later use and struggle with managing and finding them from the depths of buried folders.
With Trickle, you can intuitively manage your screenshots as they pile up. You can also extract insights from these images using the reasoning capabilities of GPT-4, turning your screenshots into "visual memos" that are both readable and searchable.
Featured
Trickle was manually vetted by our editorial team and was first featured on June 14th 2023.

Would you recommend Trickle?
Help other people by letting them know if this AI was useful.
Pros and Cons
Pros
Unified collaboration hub
Tailored workspace views
Database for organization-wide collaboration
Customizable task views
List and board views
Visualize workflows
Prioritize works
Real-time collaboration tool
Group chat function
Conversation expansion into pages
Infuses GPT-4 into workflows
Creativity stimulating
Ideal for diverse teams
Streamlines team communication
Eliminates application shuffling
Free plan available
Task tracking progress
Focused conversations
Smarter, faster work
Seamless docs and notes integration
Workflows visualization
Kanban boards for tasks
Workflow templates creation
Feedback loop acceleration
Reduces communication noise
GPT-4 integration for workflows
Helps in decision making
User-friendly interfaces
Facilitates better decision making
Efficient note taking
Tracks personal growth
Long-form content organization
In-app cooperation and communication
Flexible to individual workflows
Inspires new ideas
Cons
Not mobile-friendly
Unclear advanced features
Limited visualization options
No Gantt chart view
Limited customization options
Free plan limitations
No built-in time tracking
Not suitable for large teams
Complicated for beginners
Integration limitations
If you liked Trickle
Help
⌘ + D bookmark this site for future reference
⌘ + ↑/↓ go to top/bottom
⌘ + ←/→ sort chronologically/alphabetically
↑↓←→ navigation
Enter open selected entry in new tab
⇧ + Enter open selected entry in new tab
⇧ + ↑/↓ expand/collapse list
/ focus search
Esc remove focus from search
A-Z go to letter (when A-Z sorting is enabled)
+ submit an entry
? toggle help menu
x
Sign in to continue (100% free)
To prevent spam, some actions require being signed in. It's free and takes a few seconds.
Sign in with Google