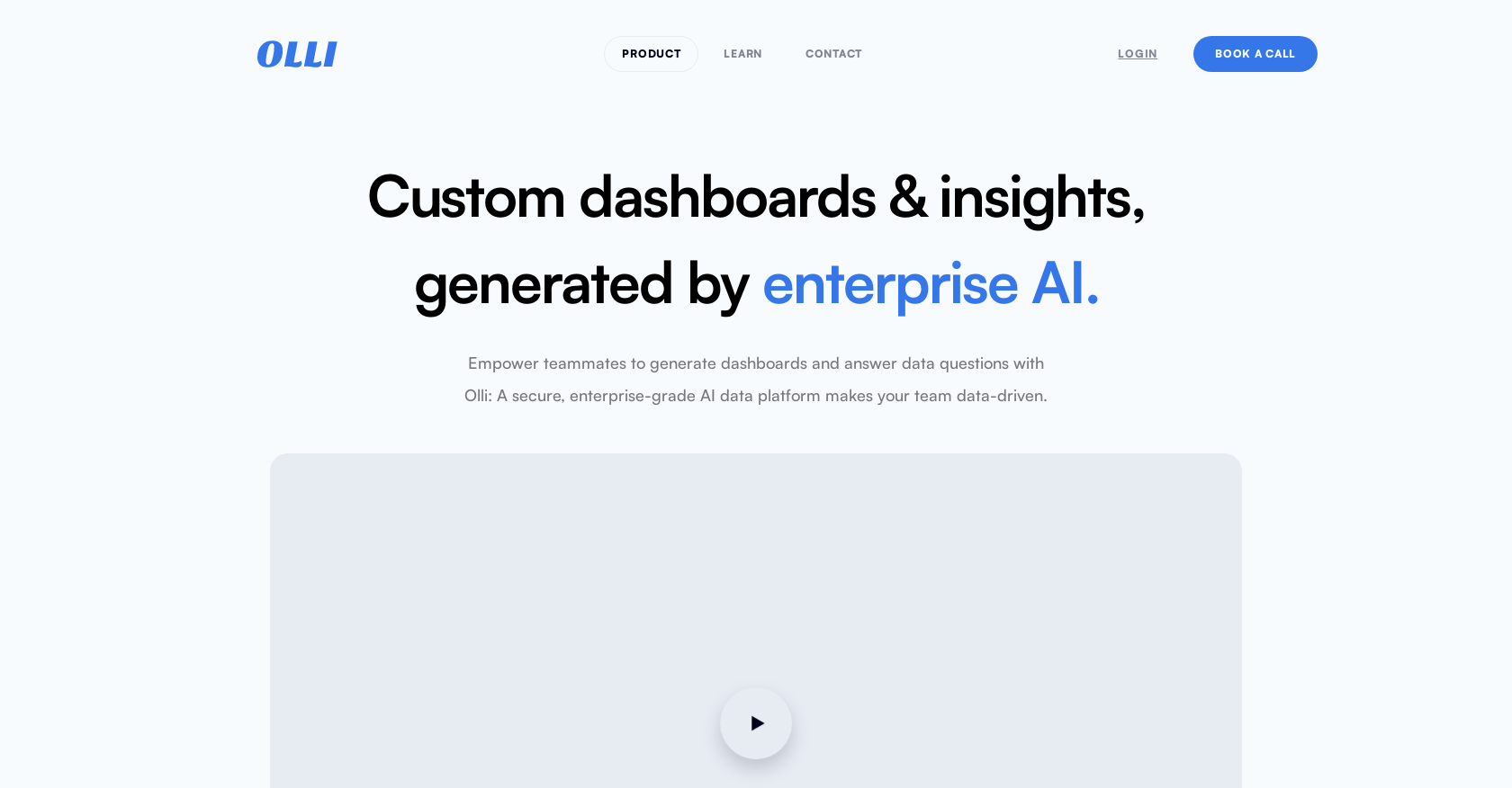 Generated by GPT-3
Olli is an enterprise-grade AI platform that generates custom dashboards and insights to enable non-technical users to utilize data stacks for faster and data-driven decision-making.
It offers a flexible and secure architecture deployed on the user's infrastructure that provides control over data access. Users can get answers to their data queries quickly without waiting or delays.
Olli also auto-generates specific insights for each user role, ensuring that every team in the business receives unique insights required for their tasks.
Olli generates charts that can be exported to tools quickly.Olli's data and AI capabilities are delivered on an infrastructure that guarantees enterprise-grade security that users can trust.
It operates a private network, and users can securely control their data access. With Olli's AI platform, businesses can make better use of their data for diverse needs, and team members can generate dashboards and find answers to data queries without necessarily needing extensive technical knowledge.
Featured
?
06 Mar 2023

13 Mar 2023

16 Mar 2023

16 Mar 2023

16 Mar 2023

06 Feb 2023

09 Feb 2023

09 Feb 2023

09 Feb 2023

20 Feb 2023

26 Feb 2023

02 Jan 2023

13 Jan 2023

13 Jan 2023

17 Jan 2023

19 Jan 2023

21 Jan 2023

02 Dec 2022

08 Dec 2022

20 Dec 2022

30 Dec 2022

03 Nov 2022

09 Nov 2022

09 Nov 2022

18 Nov 2022

18 Nov 2022

28 Nov 2022

02 Oct 2022

13 Oct 2022

25 Oct 2022

07 Sep 2022

30 Aug 2022

03 Jul 2022

15 May 2022

19 Jan 2022

22 Jan 2022

14 Feb 2022

14 Feb 2022

25 Feb 2022

22 Mar 2022

23 Mar 2022

16 Jan 2021

04 Feb 2021

15 Jun 2021

18 Jun 2021

21 Jun 2021

11 Aug 2021

24 Jan 2020

03 Feb 2020

19 Feb 2020

11 Apr 2019