Edit AI
Transforms casual photos into professional headshots.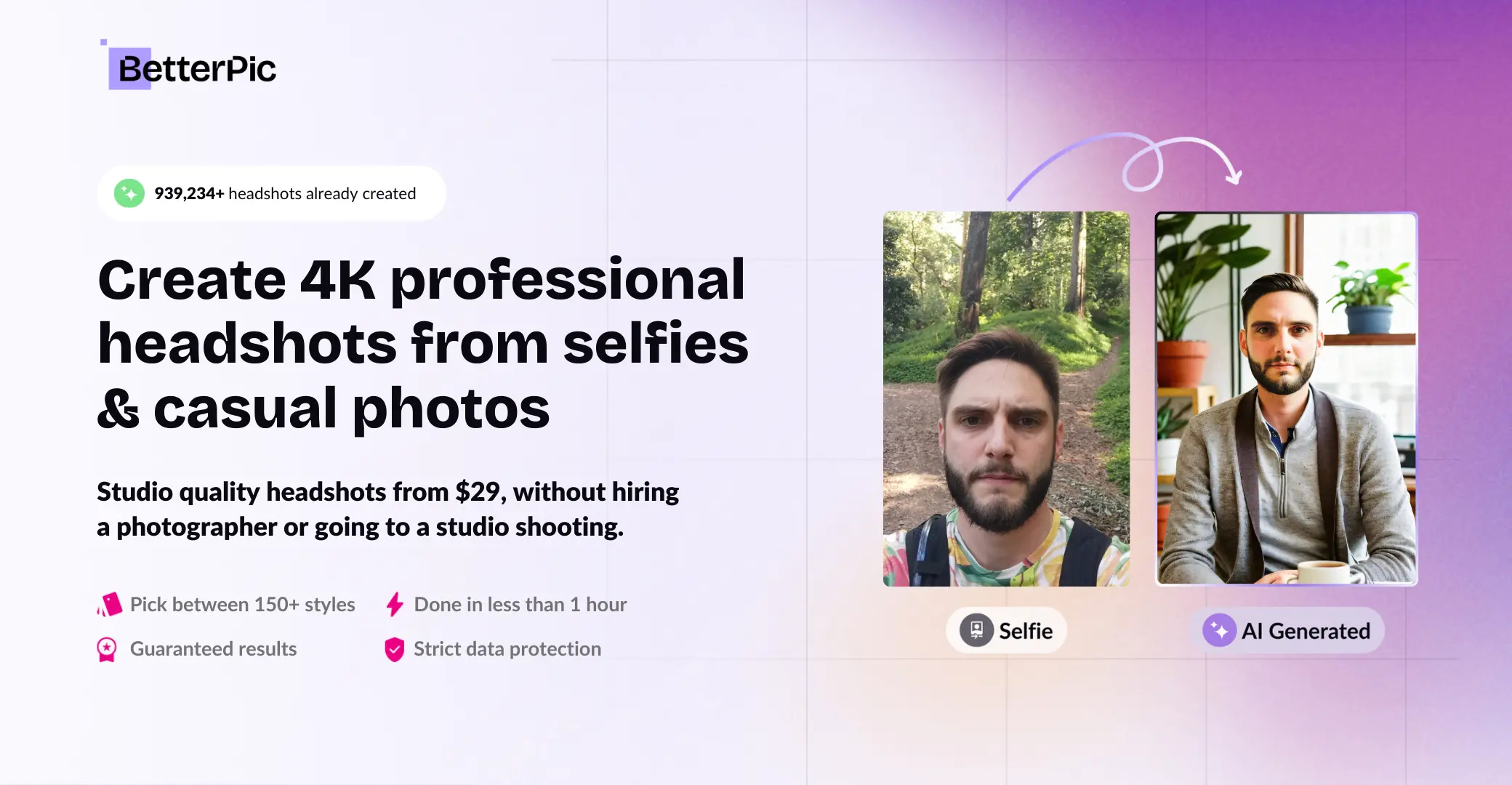 Generated by ChatGPT
BetterPic is an AI-powered tool designed to transform casual photos into stunning headshots and portraits. It revolutionizes the way you get professional headshots, blending quality and convenience with AI technology.
Ready in less than two hours, upload a few casual photos and receive stunning, realistic corporate headshots.
Choose from a wide range of backdrops and styles to match your style and/or brand.
Backed by leading AI research and a full commercial license, these headshots are ideal for both individuals and teams.
With a focus on data privacy and a money-back guarantee, BetterPic offers an affordable, fast, and reliable solution for upgrading your professional image.
🪄 10% off with the code: AIFORTHAT10
(limited to one use per customer)
Featured
BetterPic | AI Headshots was manually vetted by our editorial team and was first featured on July 5th 2023.

Would you recommend BetterPic | AI Headshots?
Help other people by letting them know if this AI was useful.
19 alternatives to BetterPic | AI Headshots for Professional avatars
Pros and Cons
Pros
Transforms casual photos into headshots
Quick turnaround time
Various backdrops and styles
Data privacy priority
Money-back guarantee
Full commercial license
Customizable results
Multiple pricing plans
Operates worldwide
Suitable for individuals and teams
Reliable solution
Seamless, secure experience
High-quality end results
Effortless user experience
Multiple package options
High-resolution images
Data is securely stored
Accepts multiple image file types
Authenticated payments
Efficient customer support
Data deletion option
Consistent aesthetics for teams
Cons
Requires 20-25 images
Processing time up to 24h
512x512px in basic package
Limited backgrounds in basic package
Expensive for full HD images
Doesn't support AVIF and GIF formats
High prices for larger teams
No clothing selection in basic package
Limited styles in basic package
Q&A
What is BetterPic?
BetterPic is a tool powered by AI algorithms designed to transform casual photographs into professional-grade headshots and portraits. The service blends quality, convenience, and technology to provide realistic corporate headshots. BetterPic is used by individuals and organizations aiming to elevate their professional representation online.
How does BetterPic transform casual photos into professional headshots?
BetterPic uses leading AI research to transform casual photos into professional headshots. Users upload casual photos, and the AI works to produce high-quality, realistic headshots. The AI can adjust the backdrop and style according to the user's preference.
How long does it take for BetterPic to generate my professional headshot?
BetterPic offers a swift turnaround with its AI-generated images. The process to generate a professional headshot end-to-end, from uploading casual photographs to receiving the AI-transformed images, is typically completed within two to twenty-four hours.
What features does BetterPic offer?
BetterPic offers several features, including ease of use, fast turnaround times, full commercial license and total ownership of the generated photos, data protection, high-quality results, and customization of styles and background. Users can upload 20-25 casual photos, and BetterPic's AI will transform these images into professional headshots. The results are ready in just 2 to 24 hours.
What are the data privacy measures BetterPic has in place?
Data privacy is a top priority for BetterPic. The provided photographs are securely stored on the servers of trusted, highly secure third-party partners located in the USA and Europe. Users have the option to delete data permanently from BetterPic's servers.
Can I customize the styles and backgrounds in BetterPic?
Yes, BetterPic allows for great flexibility and personalization in the generation of the headshots. Users can choose from a broad range of unique styles and backdrops during the creation of their headshots. User satisfaction data indicates that between 40-80% of the created images are loved by the users.
How many pictures do I need to provide for BetterPic to create my headshot?
BetterPic requires 20-25 casual photos to create a professional headshot. It is recommended to include 10 close-up shots, 3 side profiles, 5 chest-up photos, and 3 full body shots with varied facial expressions, settings, backdrops, and angles.
Are there different pricing plans for BetterPic?
Yes, BetterPic provides three pricing plans: Basic, Pro, and Expert. The Basic plan costs $38.99 and offers 50 AI-Generated Headshots, one choice of background and clothing, a full commercial license, and normal priority in the processing queue. The Pro plan costs $56.99 and upgrades the Basic plan with 150 AI-Generated Headshots and five choices of backgrounds and clothing. The Expert plan, priced at $105.99, provides 400 AI-Generated Headshots and 16 choices of backgrounds and clothing. All plans come with a model ready for upcoming features.
Can BetterPic be used for team or corporate needs?
Yes, BetterPic also caters to teams. The TEAMS pricing option is tailored for companies or large corporations aiming to refresh their brand image and extend a unique advantage to their workforce, providing a solution for creating consistent, cohesive visuals for the entire team.
Is there a money-back guarantee on BetterPic?
Yes, BetterPic offers a refund for purchases made within the last 14 days if the AI model has not yet been trained using the provided photos.
What is the process of creating a profile on BetterPic?
Creating a profile on BetterPic is a straightforward process. Users need to sign up with their email or Google account. After signing up, users select their favorite styles, and then upload their photographs. Once the photos are uploaded, the AI starts its work on transforming these photos into professional headshots.
Can I use BetterPic to generate a photo with specific backdrops and clothing styles?
Yes, BetterPic provides a variety of backdrops and clothing styles to choose from. Users can mix and match from the range offered to create a unique one-of-a-kind AI-generated headshot that captures their essence.
Can the generated headshots from BetterPic be used commercially?
Yes, the photos generated by BetterPic can be used commercially. All users are granted full commercial license for their photos, allowing them to showcase their pictures on their social media, website, business cards, and more.
How secure is my data on BetterPic?
All data provided to BetterPic is securely stored on servers and cloud services of trusted, highly secure third-party partners, most of whom are located in the USA and Europe. Data privacy is one of BetterPic's top priorities.
Can I request a refund if I'm not satisfied with BetterPic's service?
Refunds are available for purchases made within the last 14 days, provided that the AI has not been trained with your photos. If the model has been trained using your photos or the 14-day period has elapsed, refunds cannot be granted.
What image file types can I upload to BetterPic?
Users can upload PNG, JPG, HEIC, and WebP files to BetterPic. The platform does not support AVIF and GIF formats.
Who owns the pictures created on BetterPic?
The users own the pictures created on BetterPic. Full commercial license and ownership are provided to the users. The photos are only used to train the AI model.
How real or natural do the BetterPic generated headshots look?
BetterPic aims to produce realistic and natural-looking headshots. User satisfaction data suggests that the majority of users, ranging from 85% to 95%, are happy with the headshots they receive.
How safe is my payment information on BetterPic?
BetterPic ensures that all payment information is safe. The platform relies on Stripe for processing payments so your credit card details are never stored by BetterPic and are always secure on the website.
Who do I contact if I need support from BetterPic?
If users need support from BetterPic, they are advised to first explore the website and review the FAQ section as it addresses most user queries. If their concerns remain unresolved, users can get in touch with BetterPic at
[email protected]
, and someone will get back to them as soon as possible.
If you liked BetterPic | AI Headshots
Help
⌘ + D bookmark this site for future reference
⌘ + ↑/↓ go to top/bottom
⌘ + ←/→ sort chronologically/alphabetically
↑↓←→ navigation
Enter open selected entry in new tab
⇧ + Enter open selected entry in new tab
⇧ + ↑/↓ expand/collapse list
/ focus search
Esc remove focus from search
A-Z go to letter (when A-Z sorting is enabled)
+ submit an entry
? toggle help menu
x
Sign in to continue (100% free)
To prevent spam, some actions require being signed in. It's free and takes a few seconds.
Sign in with Google