Edit AI
Profile image generator with styles.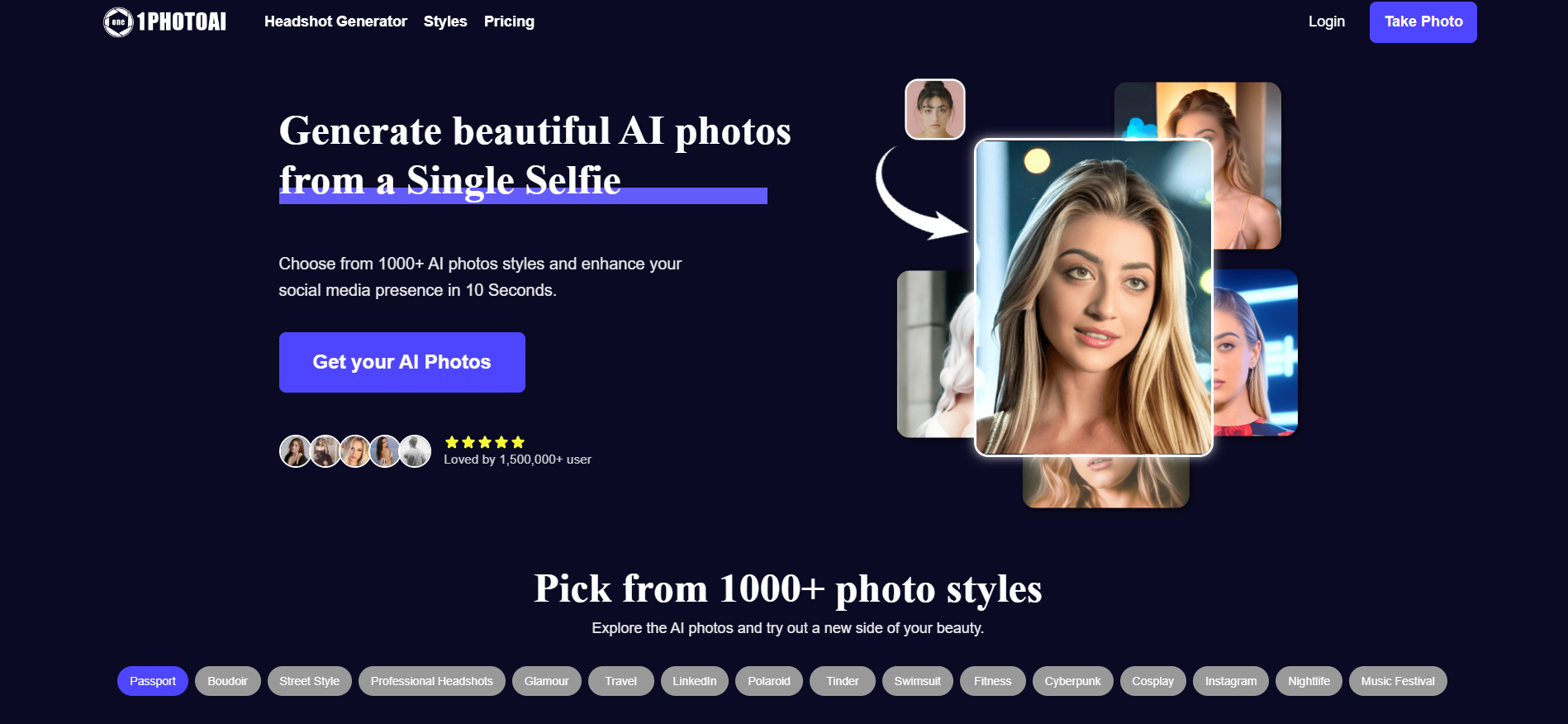 Generated by ChatGPT
1PhotoAI is an AI tool that generates professional-quality headshot photos in just 10 seconds. It offers a wide range of photo styles to choose from, including passport, boudoir, street style, professional headshots, glamour, travel, LinkedIn, polaroid, Tinder, swimsuit, fitness, cyberpunk, cosplay, Instagram, nightlife, music festival, and more.
With over 1000 styles available, users can explore different looks and enhance their social media presence with unique and eye-catching avatars.The tool has been praised by over 1,500,000 users who have found it to be a convenient and efficient solution for obtaining great profile photos.
Users have appreciated how the AI technology can make them appear warm, approachable, and lively, transforming their self-image. Additionally, 1PhotoAI has been popular among content creators, as it allows them to quickly create avatars that capture their personality and stand out from the crowd.The tool caters to the needs of busy individuals who don't have time for traditional photoshoots, such as busy moms.
It provides them with the ability to experiment with different looks and easily refresh their social media presence with new avatars, all from the comfort of their own home.Overall, 1PhotoAI offers a convenient and user-friendly way to generate high-quality headshot photos with a variety of styles, helping individuals enhance their professional network profiles, create unique social media avatars, and even generate anime images.
Featured
1PhotoAI was manually vetted by our editorial team and was first featured on September 18th 2023.

Would you recommend 1PhotoAI?
Help other people by letting them know if this AI was useful.
109 alternatives to 1PhotoAI for Avatars
Help
⌘ + D bookmark this site for future reference
⌘ + ↑/↓ go to top/bottom
⌘ + ←/→ sort chronologically/alphabetically
↑↓←→ navigation
Enter open selected entry in new tab
⇧ + Enter open selected entry in new tab
⇧ + ↑/↓ expand/collapse list
/ focus search
Esc remove focus from search
A-Z go to letter (when A-Z sorting is enabled)
+ submit an entry
? toggle help menu
x
Sign in to continue (100% free)
To prevent spam, some actions require being signed in. It's free and takes a few seconds.
Sign in with Google