Edit AI
Insight-gathering interview platform.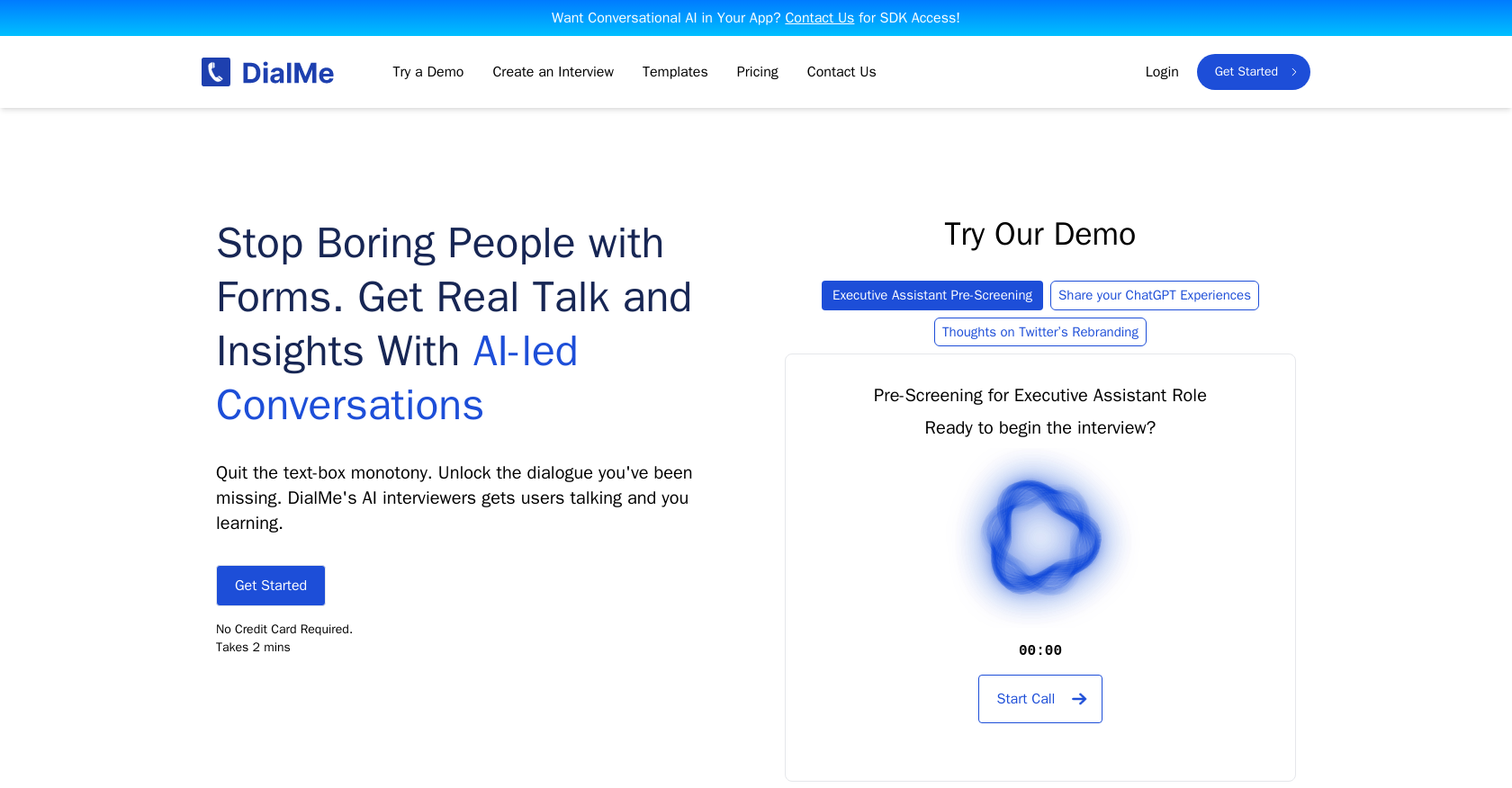 Generated by ChatGPT
DialMe is an AI-powered platform designed to automate interviews and save time. With DialMe's Free Plan, users can create interviews and get started right away.
The platform offers 30 Lifetime Minutes for insightful interviews and a Basic Dashboard for a quick overview of interviews. Users can leverage ready-to-use templates to kickstart their interviews.
DialMe also provides upgrade options to Basic, Pro, or Enterprise plans for more interviews and advanced insights.How does DialMe work? First, users can build an Interview Guide using pre-designed templates or starting from scratch.
The AI Interviewer will use the guide as a reference during the call. Users can then share the interview link with participants, allowing them to participate at their convenience.
After the interviews are conducted, users can review transcripts and insights gathered by the AI agents. This data enables users to better understand their interviewees and make more informed decisions.DialMe offers a range of templates for various purposes, including HR candidate pre-screening, employee feedback, exit interviews, product feature feedback, product roadmap validation, pricing strategy, target audience identification, competitive analysis, content feedback, and automated source interviews.DialMe aims to streamline the interview process and provide valuable insights without the tedium of traditional forms.
Users can sign up for DialMe without needing to provide credit card information, and a demo is available for users who want to try the platform before committing.
DialMe is suitable for a wide range of users, including HR teams, hiring managers, recruiters, product managers, developers, UX designers, market researchers, content creators, journalists, and marketing teams.
Featured
DialMe was manually vetted by our editorial team and was first featured on October 20th 2023.

Would you recommend DialMe?
Help other people by letting them know if this AI was useful.
If you liked DialMe
People also searched
Help
⌘ + D bookmark this site for future reference
⌘ + ↑/↓ go to top/bottom
⌘ + ←/→ sort chronologically/alphabetically
↑↓←→ navigation
Enter open selected entry in new tab
⇧ + Enter open selected entry in new tab
⇧ + ↑/↓ expand/collapse list
/ focus search
Esc remove focus from search
A-Z go to letter (when A-Z sorting is enabled)
+ submit an entry
? toggle help menu
x
Sign in to continue (100% free)
To prevent spam, some actions require being signed in. It's free and takes a few seconds.
Sign in with Google