Edit AI
Essay editing and enhancing.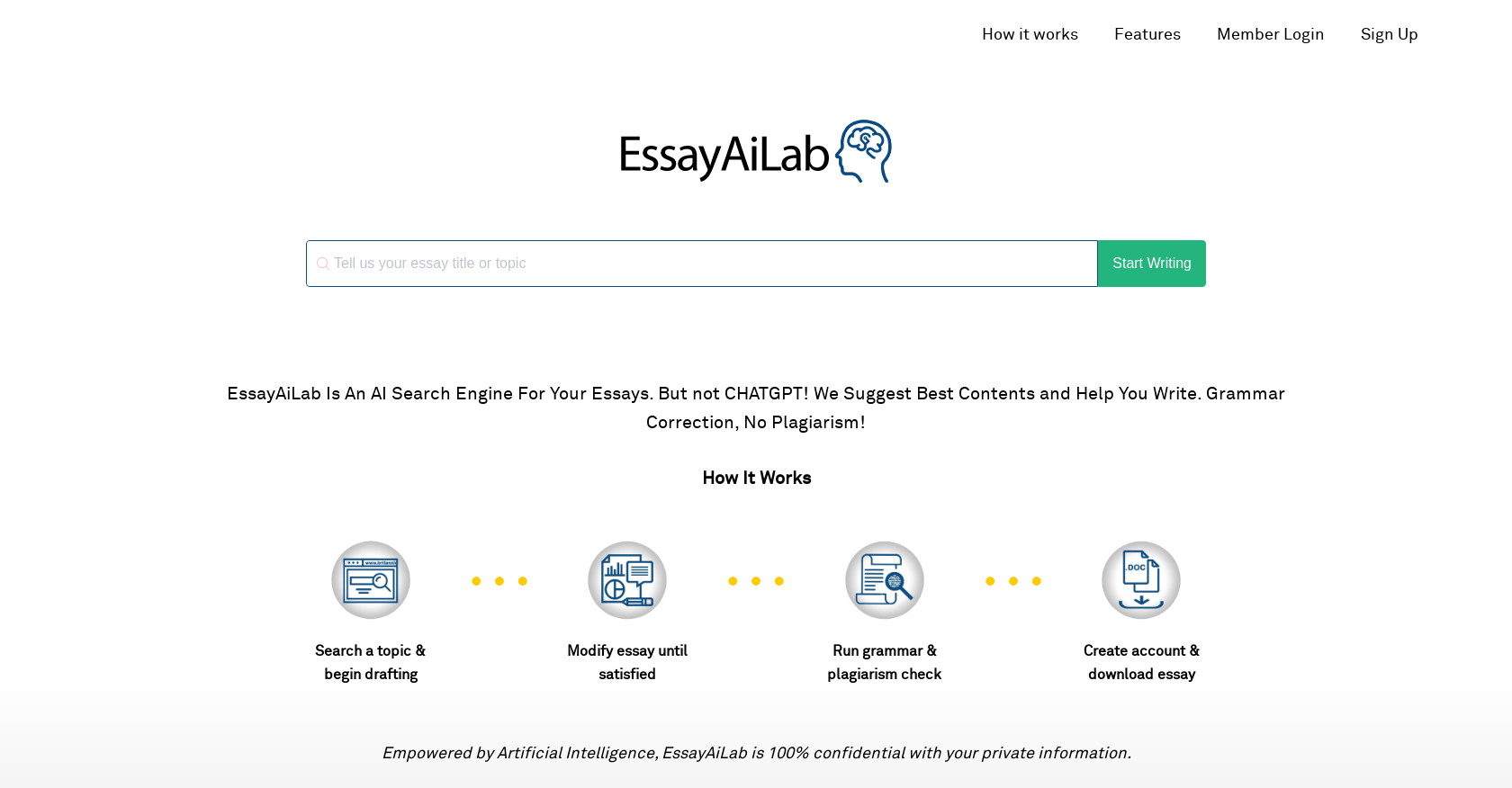 Generated by ChatGPT
EssayAiLab is a helpful AI search engine for essays, designed to assist with the writing process. Unlike ChatGPT, this tool does not engage in chat-based conversations.
It offers a range of features to aid in creating high-quality essays without plagiarism. By entering a topic, users can start drafting their essay based on the suggested content provided by EssayAiLab.
The tool allows for easy modification of the essay until the user is satisfied with the final version. With an emphasis on maintaining privacy, EssayAiLab ensures all personal information remains confidential.
One of the primary functions of EssayAiLab is its vast search database, which draws information from millions of credible websites to provide the most relevant content based on the search topic.
Additionally, to assist users in completing their sentences effectively, the tool offers an automated writing suggestion feature. EssayAiLab's sensitive plagiarism checker helps avoid any concerns regarding Turnitin.com, as it paraphrases the content to ensure uniqueness.
Users can also generate standardized MLA and APA citations effortlessly by clicking a button. Grammar mistakes are effortlessly caught and corrected by EssayAiLab's top-notch grammar checker, allowing users to polish their essays before submission.
The tool grants users unlimited access to essay help and downloads, facilitating their writing process and providing valuable resources. For further details, users can access the Terms & Conditions, Privacy Policy, and Contact Us sections of the platform.
In summary, EssayAiLab is an AI-powered tool that supports users in generating high-quality essays by providing relevant content suggestions, grammar corrections, plagiarism checks, citation generation, and unlimited access to essay resources.
Featured
EssayAiLab was manually vetted by our editorial team and was first featured on November 18th 2023.

Would you recommend EssayAiLab?
Help other people by letting them know if this AI was useful.
18 alternatives to EssayAiLab for Essay writing
Automated essay support for academic writing.

240

3.7

Effortless student essay support and writing aid.

223

4.4

Generate and edit your essays

147

4.7

Improves students' essay writing.

85

4.5

Top-quality essay generation.

76

Automated essay writing assistant.

54

5.0

Essay gen via neural net from millions of articles.

48

3.0

High-quality essays w/ editing & academic standards.

30

3.0

Automated thesis and outline generator for essays.

28

Generates essays through algorithms.

28

Assisted writing for academic papers.

23

Improved academic writing assistant.

19

Automated essay writing and formatting

18

5.0

Tailored, plagiarism-free essays generator.

10

Essay writer with real citations.

8

Essay writing with no errors.

6

3

Academic writing and essay generation support.

1
If you liked EssayAiLab
Help
⌘ + D bookmark this site for future reference
⌘ + ↑/↓ go to top/bottom
⌘ + ←/→ sort chronologically/alphabetically
↑↓←→ navigation
Enter open selected entry in new tab
⇧ + Enter open selected entry in new tab
⇧ + ↑/↓ expand/collapse list
/ focus search
Esc remove focus from search
A-Z go to letter (when A-Z sorting is enabled)
+ submit an entry
? toggle help menu
x
Sign in to continue (100% free)
To prevent spam, some actions require being signed in. It's free and takes a few seconds.
Sign in with Google