Edit AI
Improves students' essay writing.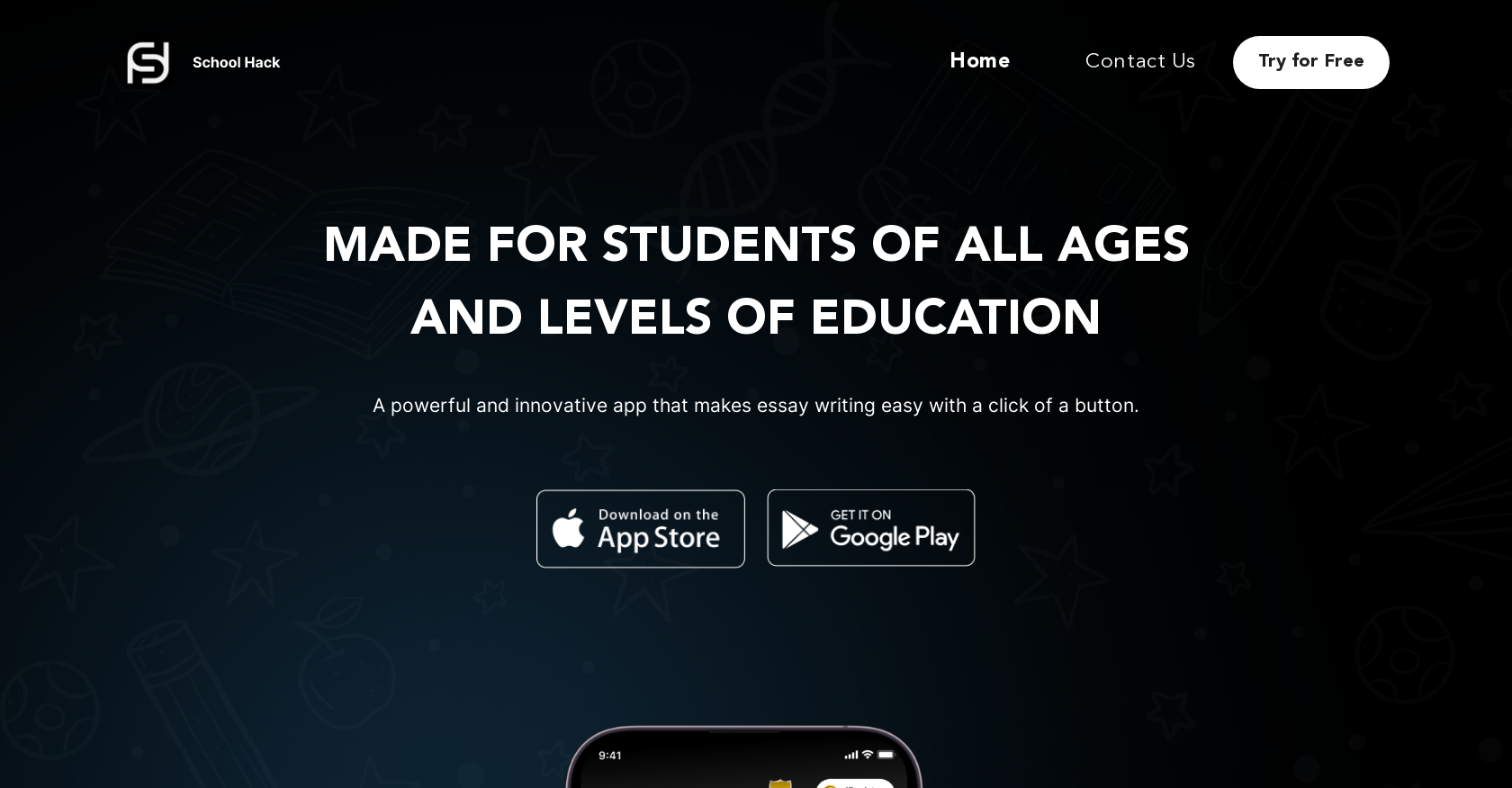 Generated by ChatGPT
School Hack is an AI-powered educational app designed to help students of all ages and levels of education improve their essay writing and research skills.
The app is built using create-react-app and is powered by OpenAI's GPT-3, one of the most advanced natural language processing APIs. The app's key features include a chatbot powered by GPT-3 that allows students to ask general queries and receive quick responses, a paraphrase API that helps students rephrase their writing to avoid plagiarism, and a plagiarism detection tool that allows them to check their work for copied content.School Hack's essay writing feature is a chat GPT-3 powered API that can generate an essay on any topic in just three steps, which students can use as reference material.
The app can also email essays in various file formats, making it easy for students to edit and share their work. Students can use the app's paraphrase feature to rephrase their writing and make it more original.
The app's chatbot feature allows students to ask any general query they would like to ask and receive results within seconds.School Hack covers every curriculum on earth from secondary school level up to university, including college express.
It's a powerful and innovative app that helps students save time on their assignments and produce original work without the risk of plagiarism. Additionally, the app has several other innovative features like Ask Anything, AI DocuChat, Smart Media, and AI note recorder.
Overall, School Hack is an all-in-one educational app that helps students improve their writing skills, saves time, and provides a convenient tool for academic research.
Featured
SchoolHack was manually vetted by our editorial team and was first featured on May 3rd 2023.

Would you recommend SchoolHack?
Help other people by letting them know if this AI was useful.
18 alternatives to SchoolHack for Essay writing
Automated essay support for academic writing.

240

3.7

Effortless student essay support and writing aid.

223

4.4

Generate and edit your essays

147

4.7

Top-quality essay generation.

76

Automated essay writing assistant.

54

5.0

Essay gen via neural net from millions of articles.

48

3.0

High-quality essays w/ editing & academic standards.

30

3.0

Automated thesis and outline generator for essays.

28

Generates essays through algorithms.

28

Assisted writing for academic papers.

23

Improved academic writing assistant.

19

Automated essay writing and formatting

18

5.0

Tailored, plagiarism-free essays generator.

10

Essay writer with real citations.

8

Essay writing with no errors.

6

3

Essay editing and enhancing.

1

Academic writing and essay generation support.

1
If you liked SchoolHack
Help
⌘ + D bookmark this site for future reference
⌘ + ↑/↓ go to top/bottom
⌘ + ←/→ sort chronologically/alphabetically
↑↓←→ navigation
Enter open selected entry in new tab
⇧ + Enter open selected entry in new tab
⇧ + ↑/↓ expand/collapse list
/ focus search
Esc remove focus from search
A-Z go to letter (when A-Z sorting is enabled)
+ submit an entry
? toggle help menu
x
Sign in to continue (100% free)
To prevent spam, some actions require being signed in. It's free and takes a few seconds.
Sign in with Google