Edit AI
Authenticity detection for human & machine text.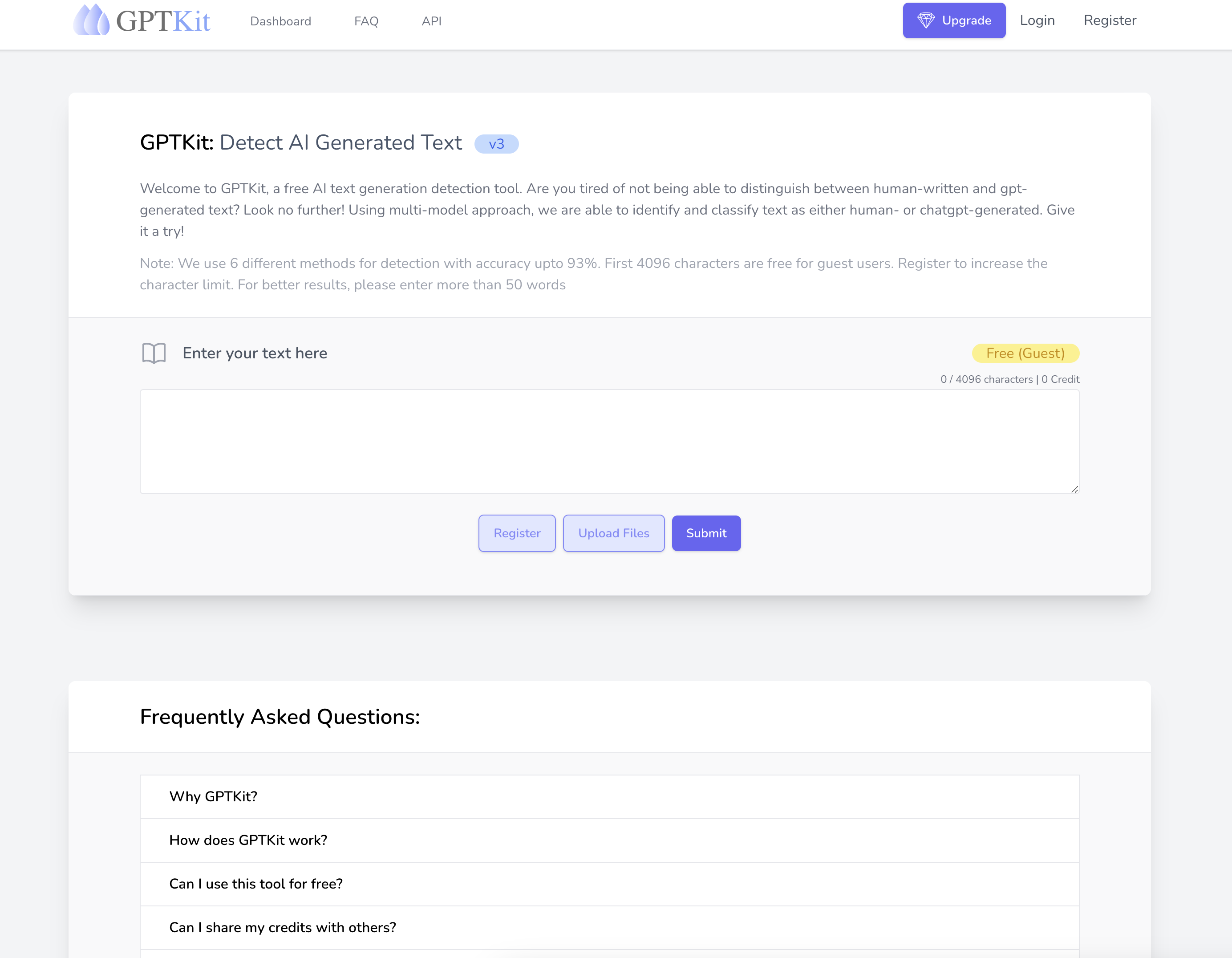 Generated by ChatGPT
GPTKit is an AI-generated text detector tool that accurately identifies human-written and machine-generated text. It utilizes a multi-model approach that analyzes the submitted text using 6 different AI-based content detection techniques.
The results, including a report on the authenticity and reality of the content analyzed, are then displayed to help users achieve good and accurate results.
The first 1024 characters in every request are free, and users can get up to 25 credits for free. GPTKit also provides an option to sign up for a free account to get additional 200 credits.
Additionally, users can create a team and share their credits across all members. The tool is suitable for content writers, employees, freelancers, students, and anyone interested in testing their content for AI-generated text.
Currently, the tool supports the English language, and it has an accuracy of approximately 93%, as determined through testing with a dataset of 100K+ responses from both humans and ChatGPT.
The content is temporarily stored for processing purposes, and once the detection process is complete, the content is immediately removed from the GPTKit servers.
Featured
GPTKit was manually vetted by our editorial team and was first featured on March 19th 2023.

Would you recommend GPTKit?
Help other people by letting them know if this AI was useful.
Pros and Cons
Pros
Multi-model approach
Uses 6 detection techniques
Provides reports on authenticity
First 1024 characters free
Free 25 credits
Additional 200 credits with sign-up
Allows team creation for credit sharing
Temporary data storage for privacy
93% accuracy
Tested with 100k+ dataset
Targeted towards various user groups
Currently supports English language
Free educational institution credits
Managed rate limits for registered users
Cons
Only supports English language
93% accuracy
Limited free credits
Content stored temporarily
Text detection per 1024 characters
Expensive running costs
Limited to 6 detection methods
Requires account for more credits
Report generation slows processing
Unclear description for non-tech users
If you liked GPTKit
Help
⌘ + D bookmark this site for future reference
⌘ + ↑/↓ go to top/bottom
⌘ + ←/→ sort chronologically/alphabetically
↑↓←→ navigation
Enter open selected entry in new tab
⇧ + Enter open selected entry in new tab
⇧ + ↑/↓ expand/collapse list
/ focus search
Esc remove focus from search
A-Z go to letter (when A-Z sorting is enabled)
+ submit an entry
? toggle help menu
x
Sign in to continue (100% free)
To prevent spam, some actions require being signed in. It's free and takes a few seconds.
Sign in with Google