Edit AI
Automated LinkedIn growth and engagement solution.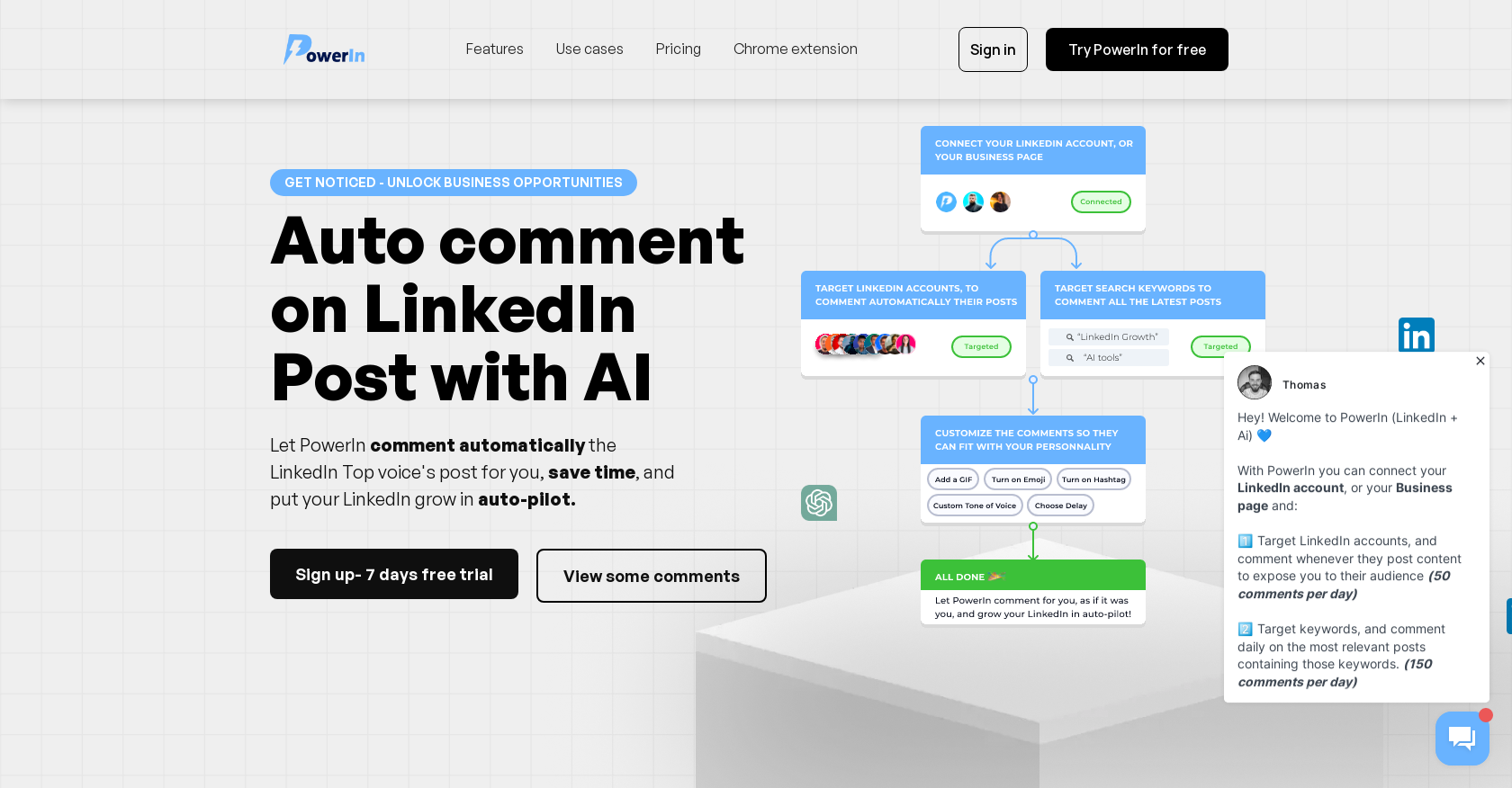 Generated by ChatGPT
PowerIn is an AI-powered tool designed to automate and enhance user activity on LinkedIn, specifically by generating automatic comments using ChatGPT. Its purpose is to assist individuals and brands in boosting their online presence and achieving their business goals through increased visibility, sales, and subscribers.
With PowerIn, users can leverage the tool's capabilities to automatically comment on LinkedIn Top voice's posts, saving time and putting their LinkedIn growth on autopilot.The generated comments aim to create engagement, thereby increasing visibility and attracting more curiosity from viewers.
The tool allows users to seamlessly get started by choosing to target either specific LinkedIn accounts or keywords for automatic commenting on posts.
PowerIn offers language support for comments, ensuring they are generated in the same language as the post. It prioritizes user safety by guaranteeing secure automation of LinkedIn without the risk of account restrictions.The tool also boasts the ability to create AI-generated comments that appear human-like and target competitors' publications.
It utilizes the GPT 3.5 turbo API to analyze posts and deliver consistent and qualitative responses. PowerIn caters to a wide range of users, including both individuals and brands seeking to expand their reach and achieve business outcomes on LinkedIn.
It offers flexible subscription plans without any minimum contract period and accepts various payment methods for convenience.PowerIn's mobile-responsive design enables access and usage on multiple devices, and it supports multiple languages to accommodate diverse user preferences.
The tool provides a free trial period, allowing users to explore its features and functionality before committing to a subscription. PowerIn also offers data export functionality, ensuring users can access and export their data even after canceling their subscription.
The tool does not impose any setup or implementation fees, making it accessible to users right from the start.
Featured
PowerIn was manually vetted by our editorial team and was first featured on November 1st 2023.

Would you recommend PowerIn?
Help other people by letting them know if this AI was useful.
If you liked PowerIn
People also searched
Help
⌘ + D bookmark this site for future reference
⌘ + ↑/↓ go to top/bottom
⌘ + ←/→ sort chronologically/alphabetically
↑↓←→ navigation
Enter open selected entry in new tab
⇧ + Enter open selected entry in new tab
⇧ + ↑/↓ expand/collapse list
/ focus search
Esc remove focus from search
A-Z go to letter (when A-Z sorting is enabled)
+ submit an entry
? toggle help menu
x
Sign in to continue (100% free)
To prevent spam, some actions require being signed in. It's free and takes a few seconds.
Sign in with Google