Edit AI
Optimized language model for seamless deployment.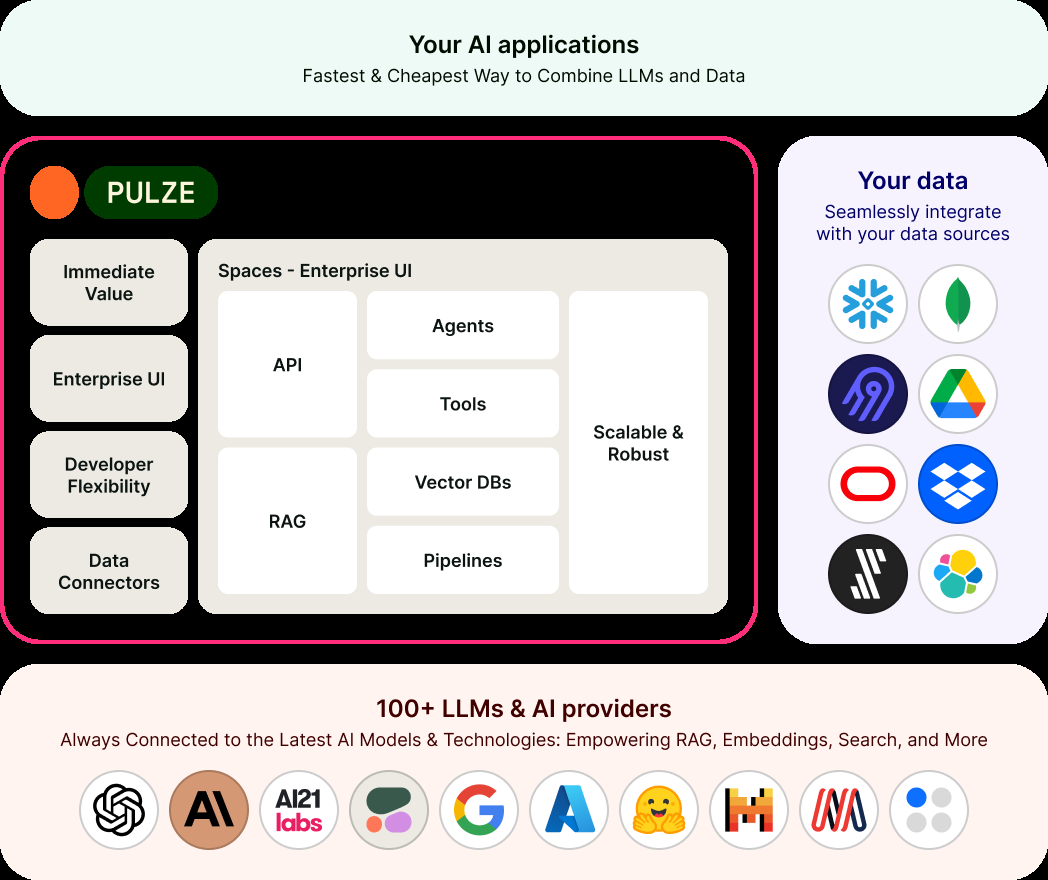 Generated by ChatGPT
Pulze.ai is an AI tool that simplifies and enhances interactions with large language models (LLMs) through advanced routing and optimization tools. It allows users to easily integrate multiple best-in-class LLMs into their products using a single API.
With Pulze.ai, users can avoid being locked into a specific LLM vendor and stay up-to-date with new LLM releases, seamlessly integrating them into their applications.The tool provides a range of features for users to upload, build, and deploy LLM-powered applications.
Users can upload existing data sources and leverage existing logs to create data sources. They can fine-tune open source LLMs on their data, optimize results, and customize prompts for their applications.
Pulze.ai offers one-click deployment and automatic routing of requests to the best LLM based on user preferences.Pulze.ai also provides real-time monitoring of usage, cost, latency, and quality, allowing users to track and benchmark LLM results.
The tool offers cost control tools to manage budget and cost targets dynamically. It ensures enterprise-grade security and compliance by managing data privacy and security at scale.For product managers, Pulze.ai facilitates faster release of LLM-powered features without dedicating additional resources or impacting roadmaps.
For product developers, the tool optimizes code for efficiency and works seamlessly within existing code-bases. It offers a benchmarking toolkit for quicker iterations and MVP experiments and provides log monitoring, real-time tracking, regression testing, and version control for LLM development.With Pulze.ai, users can tailor AI experiences through customizable prompts, enabling personalized AI experiences beyond closed-source LLMs.
The tool integrates with Grafana Cloud for easy setup of LLM observability.
Featured
Pulze was manually vetted by our editorial team and was first featured on November 18th 2023.

Would you recommend Pulze?
Help other people by letting them know if this AI was useful.
128 alternatives to Pulze for Apps
Custom apps created without coding skills.

315

Generate digital products from natural language inputs.

59

5.0

Automation solution for non-coders.

38

Platform for creating custom business applications.

38

Profitable ideas transformed into products. (0)

30

Saves time generating UI mockups.

25

5.0

Design and code generation for FlutterFlow apps.

24

3.0

Build and deploy serverless functions for applications.

20

Simplified data analysis and app development.

18

Codeless mobile app development.

17

Embed in processes, chatbots, search, automation & data.

15

Marketplace for personal/professional usage.

14

Customized apps generate subscription-based revenue.

9

4.0

Innovation at the speed of thought

7

Customizable completion generation for developers.

6

Optimized Node.js serverless functions.

5

Simplified app development for non-tech users

5

Accelerates development of smart apps and chatbots

4

Safe and fast worldwide mobile money transfers.

1

Fast backend platform for efficient app development.

1

Low-latency execution of ML models worldwide.

1