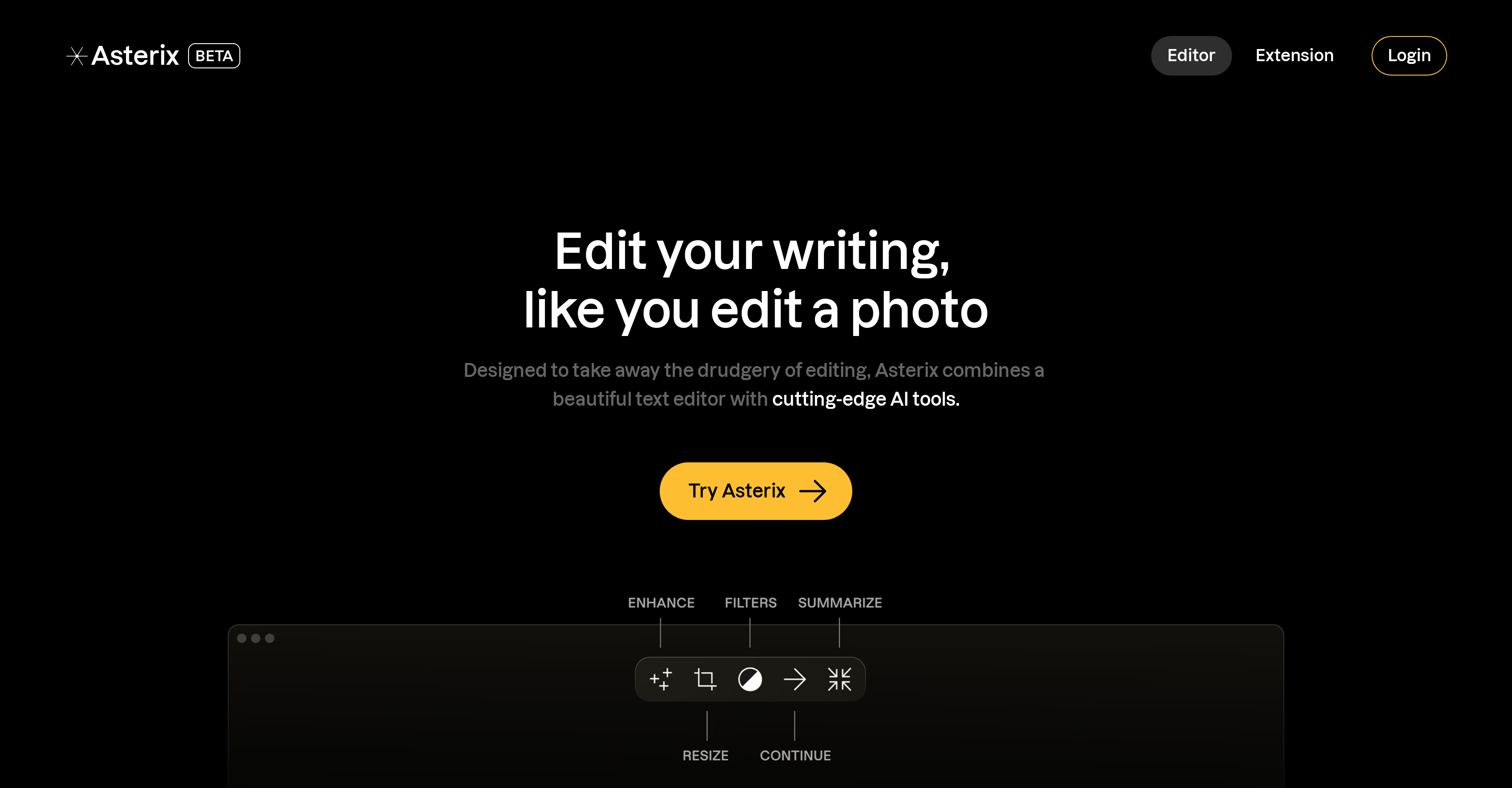 Generated by GPT-3
Asterix Writer is a writing tool that combines a beautiful text editor with advanced AI tools to help users edit their writing effortlessly. One of the main features of this tool is the ability to turn fragmented bullet points into elegant paragraphs.
Additionally, users can resize and summarize their writing through automatic formatting, making the editing process hassle-free. Asterix Writer also allows users to easily apply filters to their writing, changing the tone from casual to formal, for example.Designed to enhance the writing process, Asterix Writer is constantly evolving and expanding to include extensions for platforms such as Gmail, Slack, Scrivener, among others.
Its objective is to provide users with an efficient and user-friendly editing experience.The features provided by this tool include automatic summarization, text reduction or enlargement, and applying different custom filters.
The tool aims to take away the tediousness associated with editing and improve the writing experience for users. Its features are designed to assist in creating clear and flawless writing without sacrificing the writer's personal writing style.
Overall, Asterix Writer's features and AI tools make it a vital resource for anyone seeking to improve their writing experience.
Featured
?
16 alternatives to Asterix Writer for Text rewriting
03 Mar 2023

06 Feb 2023

21 Feb 2023

01 Jan 2023

20 Jan 2023

21 Dec 2022

01 Nov 2022

02 Aug 2022

08 Mar 2022

13 Jan 2021

28 Aug 2021

09 Sep 2021

09 Sep 2021

03 Feb 2020

01 May 2020

08 Dec 2020