Humata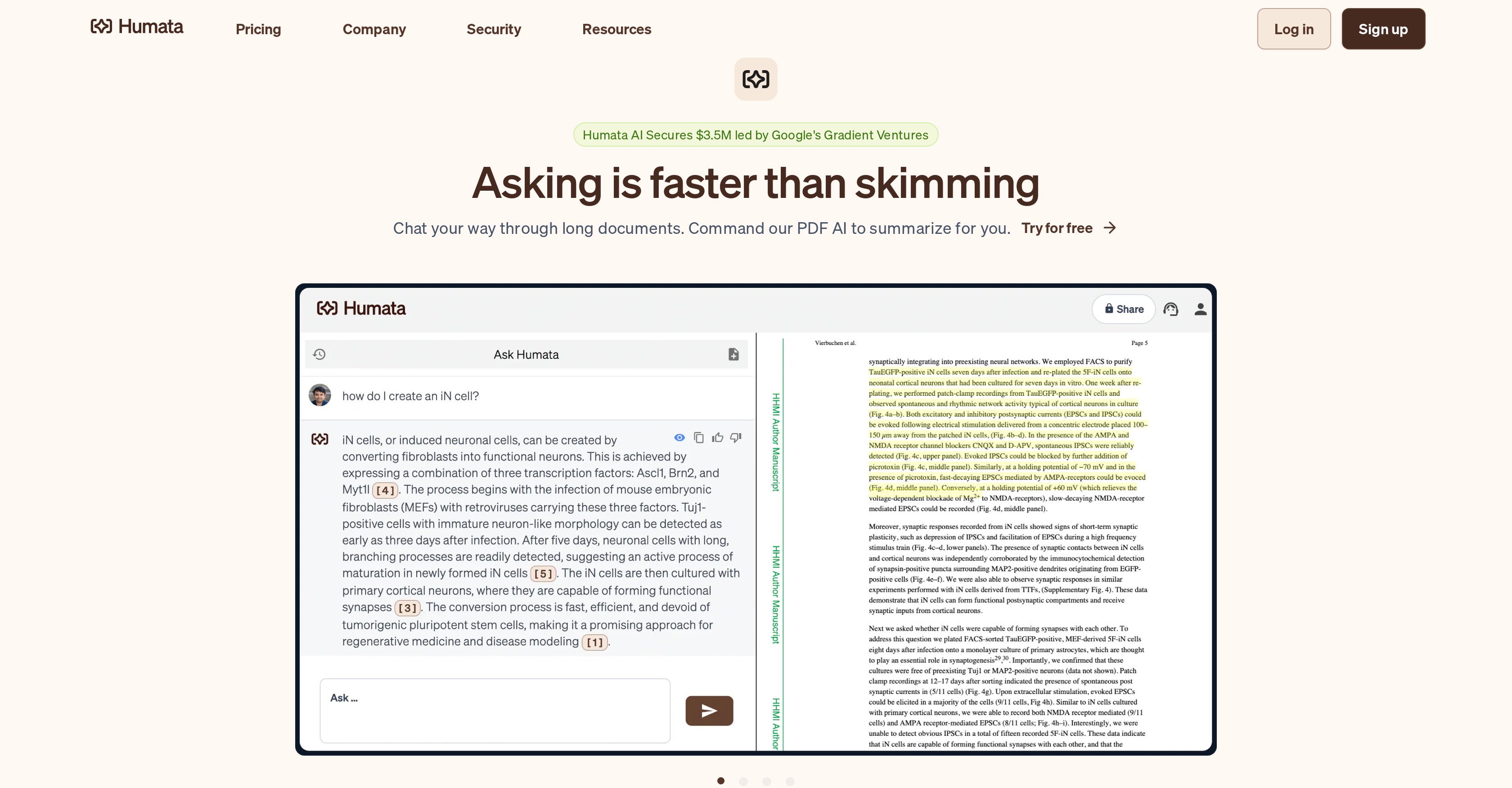 Generated by GPT-3
Humata is an AI-powered chatbot designed to help you get the most out of your files. With Humata, you can ask questions about your data and get instant answers powered by AI.
This makes researching and understanding complex documents 100 times faster. It can learn, summarize, synthesize and extract valuable data from your files, as well as create reports and analyze legal documents quickly.
Humata also provides instant Q&A capabilities, allowing you to answer hard questions related to your file quickly. Finally, it can automatically create new writing based on your file, helping you write papers 10 times faster.
Humata is available for free, or for $4.99/month for premium users.
Featured
?
78 alternatives to Humata for Q&A
01 Mar 2023

02 Mar 2023

02 Mar 2023

04 Mar 2023

05 Mar 2023

06 Mar 2023

06 Mar 2023

07 Mar 2023

07 Mar 2023

09 Mar 2023

09 Mar 2023

10 Mar 2023

12 Mar 2023

12 Mar 2023

16 Mar 2023

01 Feb 2023

01 Feb 2023

02 Feb 2023

05 Feb 2023

06 Feb 2023

14 Feb 2023

17 Feb 2023

18 Feb 2023

20 Feb 2023

20 Feb 2023

20 Feb 2023

21 Feb 2023

23 Feb 2023

25 Feb 2023

25 Feb 2023

02 Jan 2023

02 Jan 2023

04 Jan 2023

04 Jan 2023

05 Jan 2023

07 Jan 2023

07 Jan 2023

08 Jan 2023

09 Jan 2023

15 Jan 2023

17 Jan 2023

18 Jan 2023

20 Jan 2023

23 Jan 2023

23 Jan 2023

24 Jan 2023

24 Jan 2023

24 Jan 2023

24 Jan 2023

26 Jan 2023

28 Jan 2023

30 Jan 2023

31 Jan 2023

31 Jan 2023

06 Dec 2022

12 Dec 2022

14 Dec 2022

18 Dec 2022

21 Dec 2022

28 Dec 2022

28 Dec 2022

28 Dec 2022

29 Dec 2022

30 Dec 2022

19 Nov 2022

21 Nov 2022

23 Nov 2022

28 Nov 2022

13 Sep 2022

23 Sep 2022

09 Jul 2022

15 Jul 2022

05 May 2022

21 May 2022

25 Jan 2022

09 Feb 2021

06 Nov 2021

31 Mar 2018