Edit AI
By

Multilingual video/audio translation and lip-sync.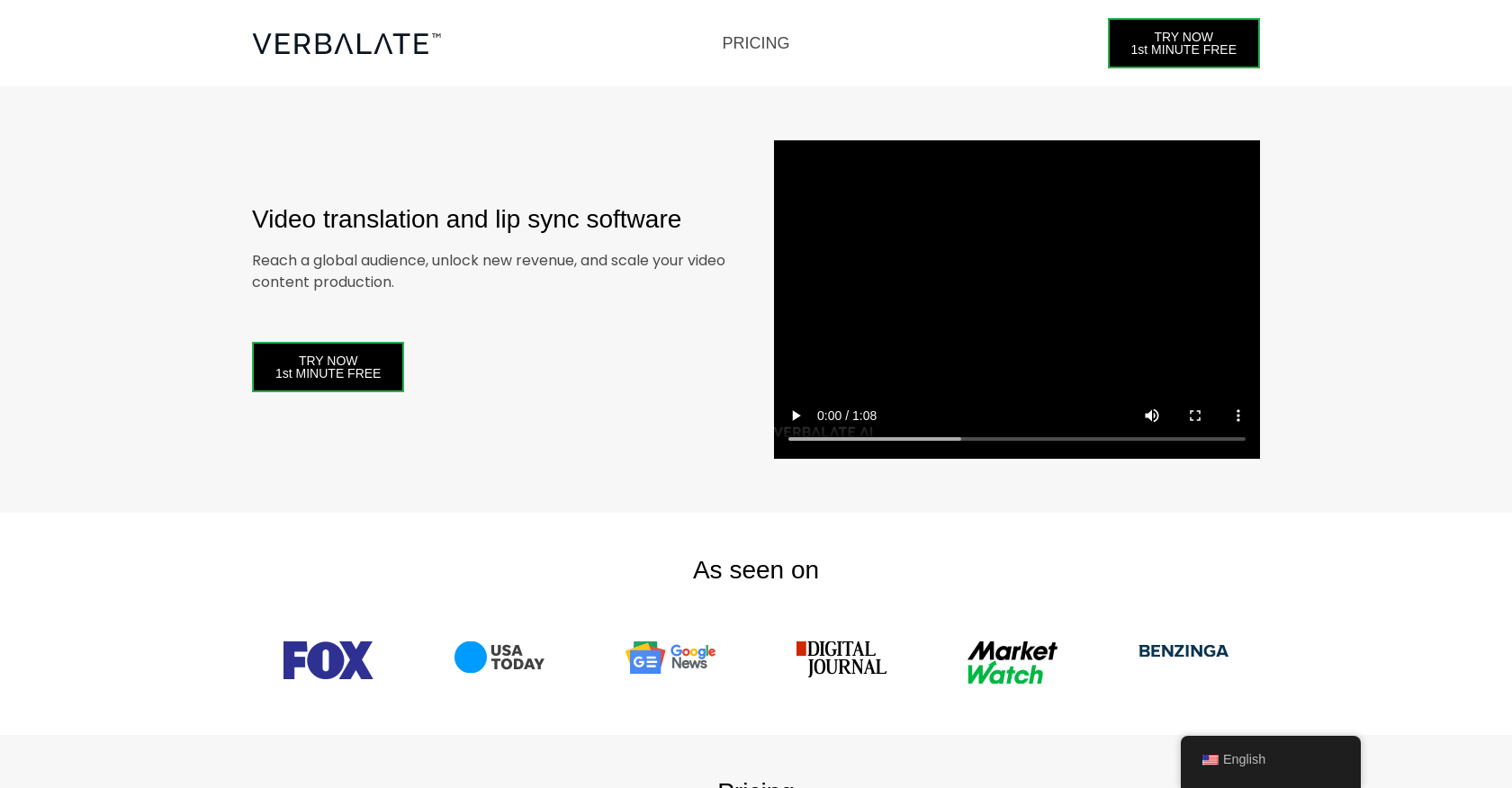 Generated by ChatGPT
Verbalate™ Video & Audio Translation, Voice Clone & Lip Sync Software is a tool designed to help users reach a global audience, generate new revenue, and scale their video and audio content production.
This software provides universal audio/video translation and lip-sync capabilities. It supports multiple languages, allowing users to create multi-language audio tracks and videos.Verbalate™ offers three pricing tiers: Starter, Creator, and Producer.
Each tier has a specific allocation of minutes for translation, with additional minutes available for purchase at different rates. Pricing varies depending on whether the user chooses a monthly or yearly plan.
Unused minutes will expire at the end of the billing cycle, but they will carry over for users on the annual plan until the contract concludes.For the best results, users are advised to follow specific guidelines, such as using a microphone for clear audio, keeping their face in full view of the camera, and limiting head movements.
Verbalate™ also provides a free YouTube channel growth guide.The tool emphasizes ethical AI practices, committing to uphold intellectual property rights and preventing any detrimental exploitation.
Users are encouraged to report any instances of misuse to the Verbalate™ team.Overall, Verbalate™ Video & Audio Translation, Voice Clone & Lip Sync Software is a valuable tool for content creators looking to expand their audience and monetize their video and audio content globally.
Featured
Verbalate was manually vetted by our editorial team and was first featured on September 24th 2023.

Would you recommend Verbalate?
Help other people by letting them know if this AI was useful.
Rapidly dub YouTube videos.

246

5.0

Creation and management of multilingual video content.

102

5.0

Translated business videos in multiple languages.

22

5.0

Produces human-like voiceovers for localized videos.

20

Create human-like translations and dubs for videos.

12

Multilingual video dubbing and translation

3

Multilingual video subtitle translation for all sectors.

1
If you liked Verbalate
People also searched
Help
⌘ + D bookmark this site for future reference
⌘ + ↑/↓ go to top/bottom
⌘ + ←/→ sort chronologically/alphabetically
↑↓←→ navigation
Enter open selected entry in new tab
⇧ + Enter open selected entry in new tab
⇧ + ↑/↓ expand/collapse list
/ focus search
Esc remove focus from search
A-Z go to letter (when A-Z sorting is enabled)
+ submit an entry
? toggle help menu
x
Sign in to continue (100% free)
To prevent spam, some actions require being signed in. It's free and takes a few seconds.
Sign in with Google