Edit AI
Collaborative platform for programming teams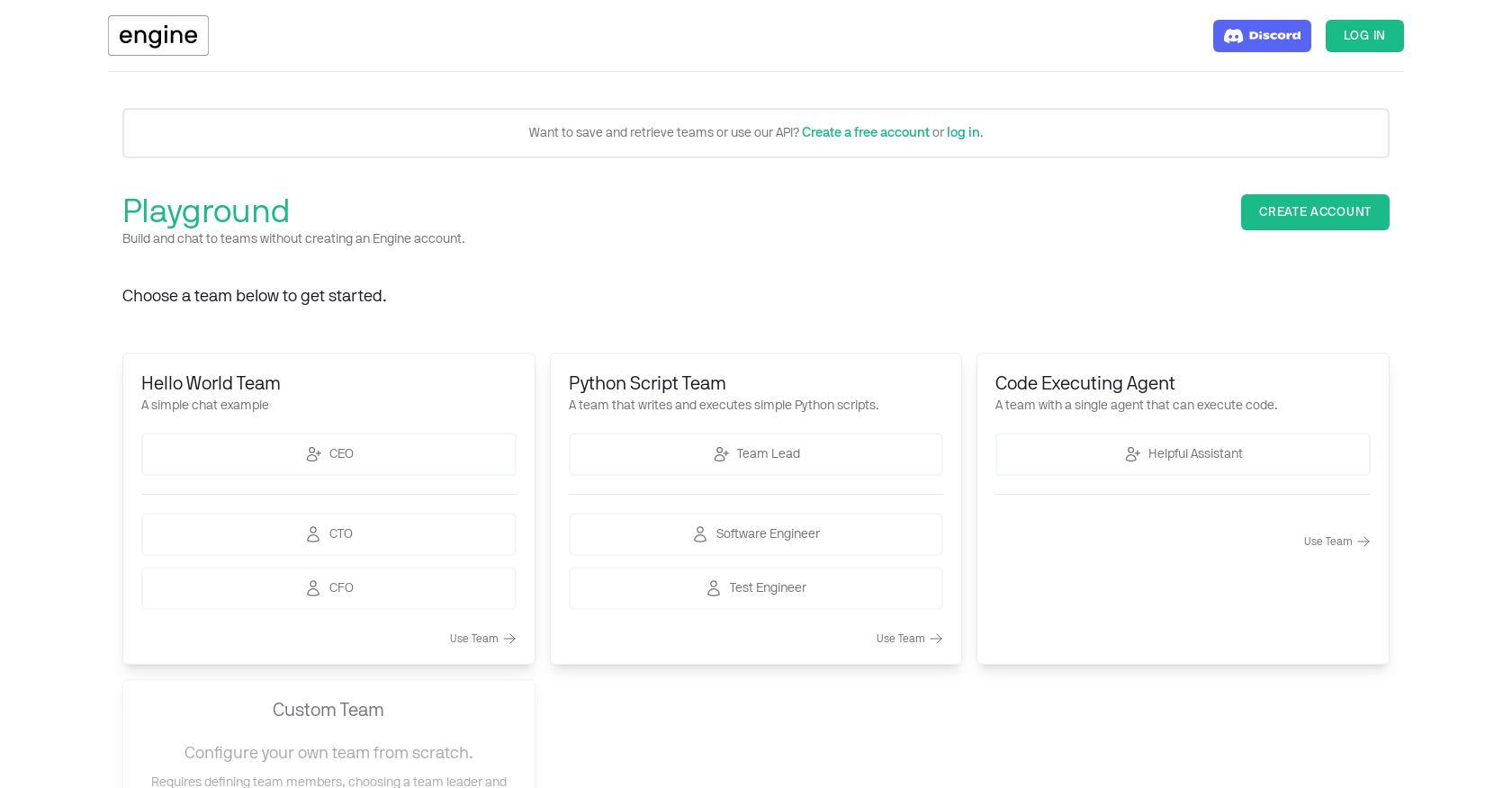 Generated by ChatGPT
Playground by EngineLabs is a tool that allows users to build and chat with teams without requiring an Engine account. It offers various team options, including the "Hello World" team for a simple chat example, the "Python Script" team for writing and executing simple Python scripts, and the "Code Executing Agent" team with a single agent capable of executing code.
Additionally, users have the option to configure their own team from scratch by defining team members, selecting a team leader, and writing prompts.Playground is designed to enable collaboration and experimentation without the need for extensive setup or technical knowledge.
It allows users to create and interact with teams, making it suitable for individuals or small groups working on programming projects or other team-oriented tasks.
The tool is provided by ERA Technologies Ltd, which also offers documentation and a blog for additional resources and support. Users can access further information and communicate with the EngineLabs community through their Discord server.
Privacy and terms of service policies are also available for reference.Overall, Playground provides a user-friendly platform for team building and collaboration, with options for both predefined teams and custom configurations.
Featured
EngineLabs was manually vetted by our editorial team and was first featured on November 1st 2023.

Would you recommend EngineLabs?
Help other people by letting them know if this AI was useful.
28 alternatives to EngineLabs for Agents
Intelligent CLI and Autonomous AI Agents

99

4.4

Managed web-based goal and task system.

98

Fine-Tuner offers NLP model fine-tuning.

70

5.0

Browser agent attaining preset goals autonomously.

44

5.0

Deployed independent agents creation.

36

Autonomous agents created and managed.

29

4.0

Intelligent agents for application development.

28

Experimentation and learning for building AGI.

25

24/7 personalized assistance and learning from agents

12

Digital Employees Marketplace - Business Task Execution

3
If you liked EngineLabs
People also searched
Help
⌘ + D bookmark this site for future reference
⌘ + ↑/↓ go to top/bottom
⌘ + ←/→ sort chronologically/alphabetically
↑↓←→ navigation
Enter open selected entry in new tab
⇧ + Enter open selected entry in new tab
⇧ + ↑/↓ expand/collapse list
/ focus search
Esc remove focus from search
A-Z go to letter (when A-Z sorting is enabled)
+ submit an entry
? toggle help menu
x
Sign in to continue (100% free)
To prevent spam, some actions require being signed in. It's free and takes a few seconds.
Sign in with Google