Edit AI
By
Automated meeting minutes and research reports creation.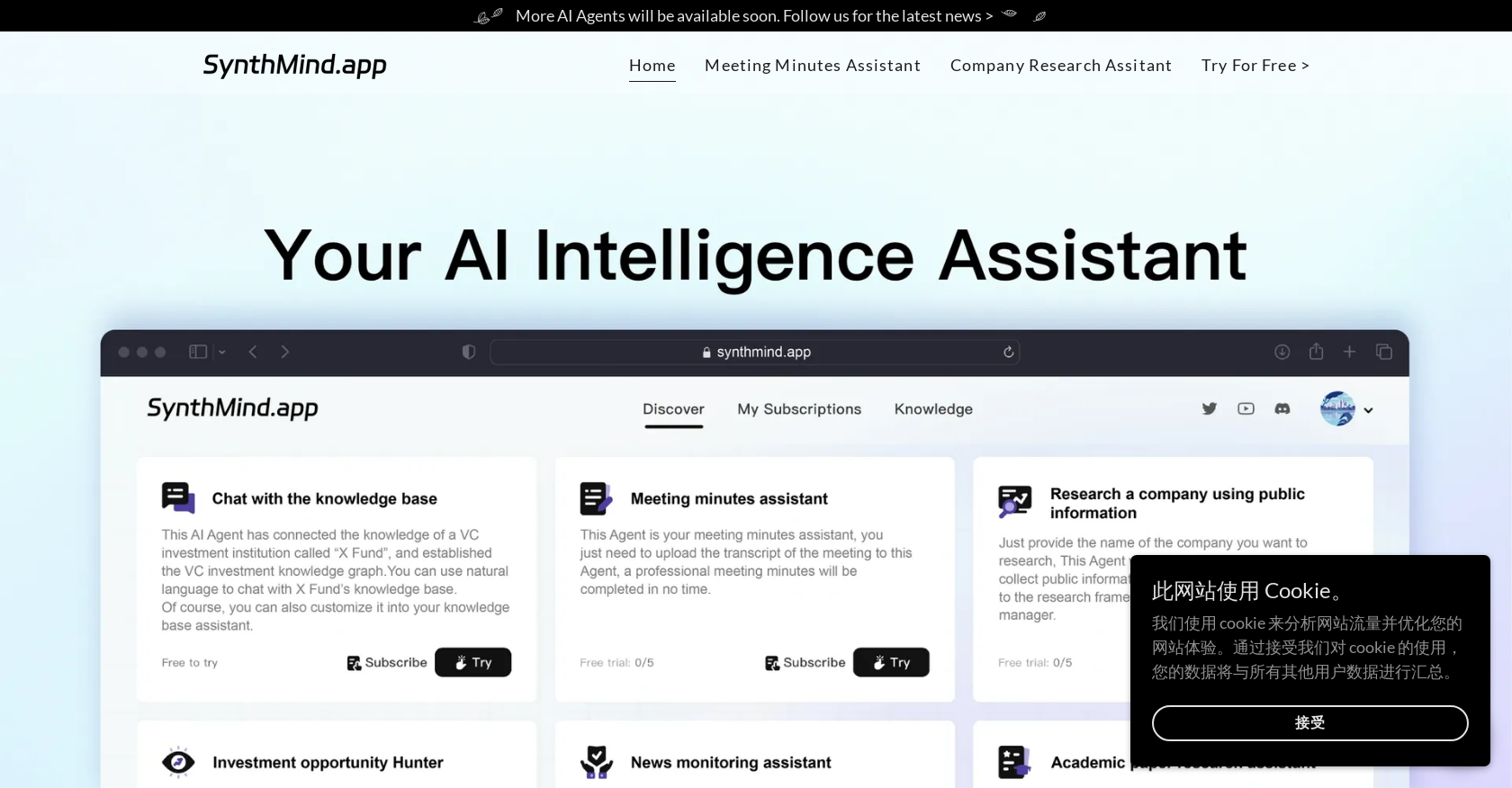 Generated by ChatGPT
SynthMind AI is an intelligence assistant tool that provides AI Agents to make work tasks easier and more productive. This tool currently offers Meeting Minutes Assistant and Company Research Assistant, with the promise of more AI Agents becoming available in the future.
The Meeting Minutes Assistant allows users to upload meeting transcripts, which are then automatically processed to generate professional meeting minutes in a short period of time.
On the other hand, the Company Research Assistant enables users to enter a company name and receive an automated search and collection of information, resulting in a professional research report.
SynthMind AI Agents are designed using LLM capabilities and customized thinking and working methods based on different work scenarios. This customization allows users to complete specific tasks efficiently, thereby enabling them to focus on more significant matters.
The tool takes data security seriously, as user data is stored on encrypted cloud servers, with users having full control and the ability to permanently delete data.
Furthermore, SynthMind.app assures that data will not be shared or disclosed to anyone.For those interested in trying out the tool, a free trial is available for each Agent, and users can subscribe to an Agent after the trial period.
Subscription options include monthly and annual plans, with an annual subscription receiving a 17% discount. Users have the flexibility to cancel or renew their subscription at any time.
Additionally, users have the option to customize the Agent's preset structure through Agent Designing after subscribing to better align with their specific requirements.
Featured
SynthMind was manually vetted by our editorial team and was first featured on November 3rd 2023.

Would you recommend SynthMind?
Help other people by letting them know if this AI was useful.
28 alternatives to SynthMind for Agents
Intelligent CLI and Autonomous AI Agents

99

4.4

Managed web-based goal and task system.

98

Fine-Tuner offers NLP model fine-tuning.

70

5.0

Browser agent attaining preset goals autonomously.

44

5.0

Deployed independent agents creation.

36

Autonomous agents created and managed.

29

4.0

Intelligent agents for application development.

28

Experimentation and learning for building AGI.

25

24/7 personalized assistance and learning from agents

12

Collaborative platform for programming teams

8

Digital Employees Marketplace - Business Task Execution

3
If you liked SynthMind
People also searched
Help
⌘ + D bookmark this site for future reference
⌘ + ↑/↓ go to top/bottom
⌘ + ←/→ sort chronologically/alphabetically
↑↓←→ navigation
Enter open selected entry in new tab
⇧ + Enter open selected entry in new tab
⇧ + ↑/↓ expand/collapse list
/ focus search
Esc remove focus from search
A-Z go to letter (when A-Z sorting is enabled)
+ submit an entry
? toggle help menu
x
Sign in to continue (100% free)
To prevent spam, some actions require being signed in. It's free and takes a few seconds.
Sign in with Google