Edit AI
Intelligent CLI and Autonomous AI Agents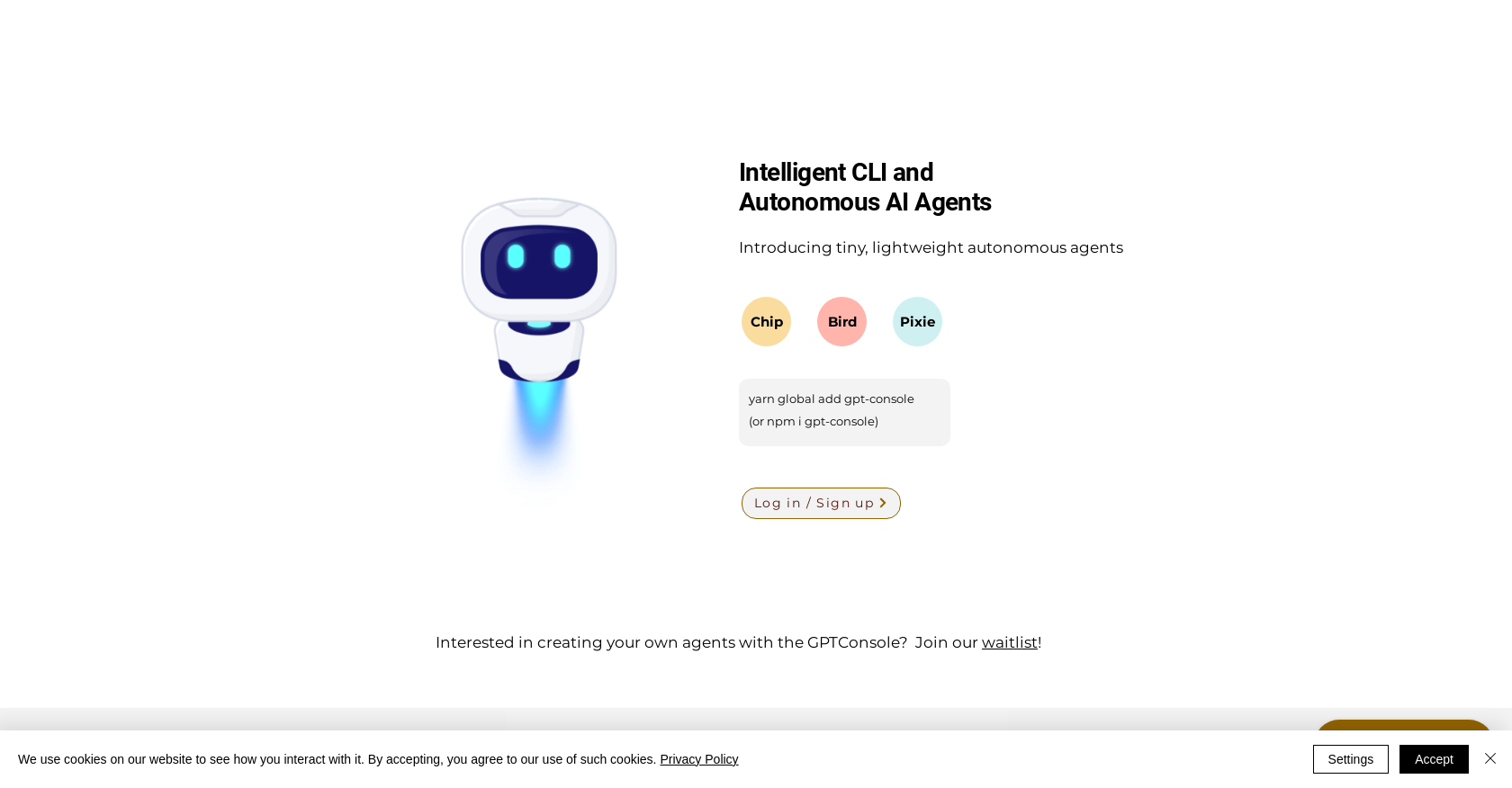 Generated by ChatGPT
GPTConsole is a tool designed to assist developers in generating web/mobile applications and enabling web automation through prompts. It provides an NPM package that developers can install on their local machines.
The tool offers an Intelligent CLI and Autonomous AI Agents, which are lightweight and easy to use. Developers can conveniently install the GPTConsole package using the global add command in Yarn or by using the npm i command.
By logging in or signing up, they can access the platform's features. GPTConsole also provides a blog and documentation for users who want to explore its capabilities further.
Additionally, a Pixie Demo and a Bird Demo are available on YouTube, showcasing the tool's functionality and potential use cases. For those interested in creating their own agents with GPTConsole, there is an option to join the waitlist.
Users can reach out to the GPTConsole team via email or connect on Twitter, Discord, and YouTube. Overall, GPTConsole serves as a valuable resource for developers seeking to streamline the development process of web/mobile applications and execute web automation tasks efficiently.
Featured
GPTConsole was manually vetted by our editorial team and was first featured on September 12th 2023.

Would you recommend GPTConsole?
Help other people by letting them know if this AI was useful.
18 alternatives to GPTConsole for Agents
If you liked GPTConsole
Help
⌘ + D bookmark this site for future reference
⌘ + ↑/↓ go to top/bottom
⌘ + ←/→ sort chronologically/alphabetically
↑↓←→ navigation
Enter open selected entry in new tab
⇧ + Enter open selected entry in new tab
⇧ + ↑/↓ expand/collapse list
/ focus search
Esc remove focus from search
A-Z go to letter (when A-Z sorting is enabled)
+ submit an entry
? toggle help menu
x
Sign in to continue (100% free)
To prevent spam, some actions require being signed in. It's free and takes a few seconds.
Sign in with Google