Edit AI
Enhanced conversations for business communication.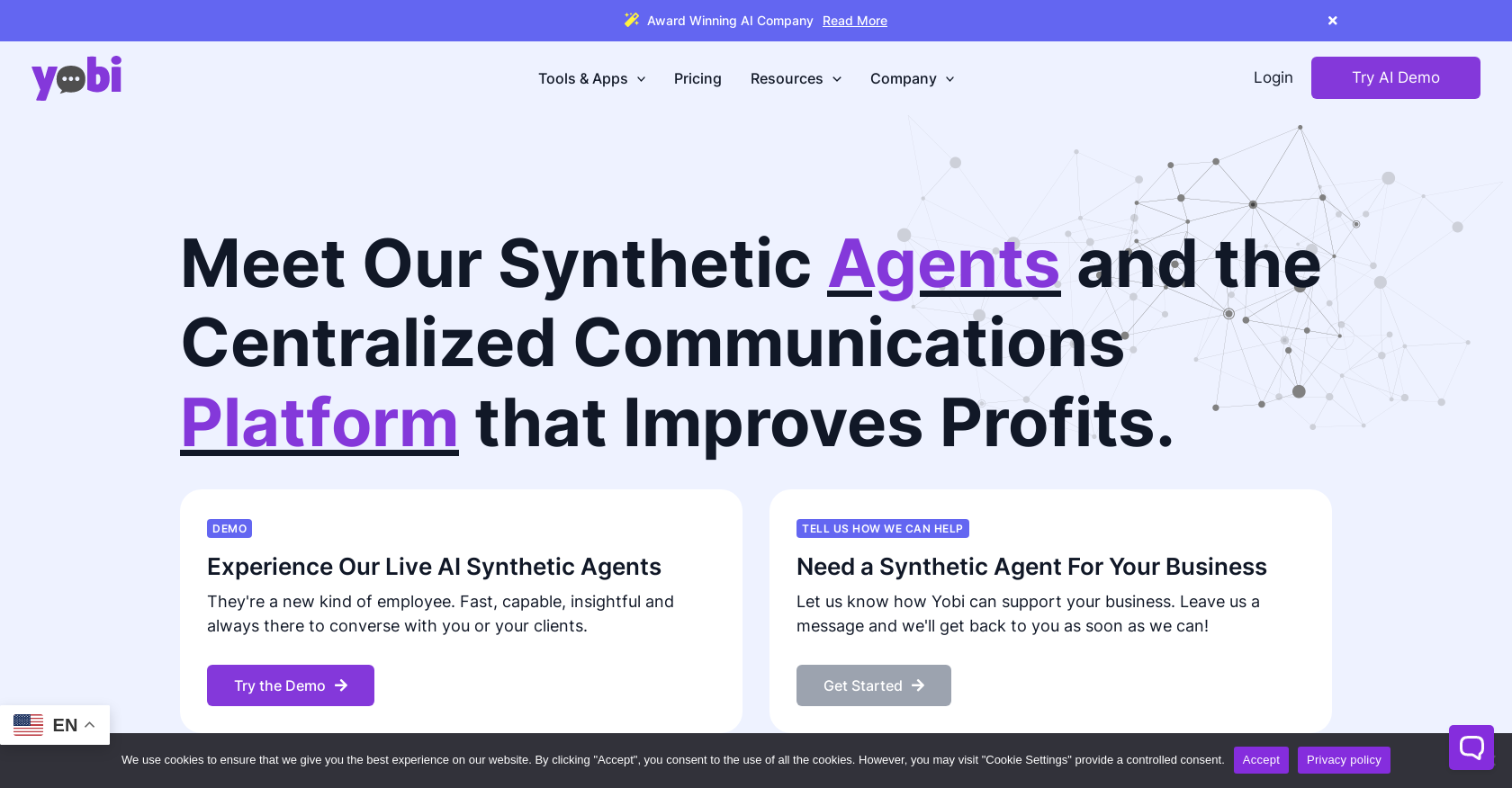 Generated by ChatGPT
Yobi Synthetic Intelligence is an AI-powered communications tool that aims to enhance business communications. It offers an advanced AI Conversation app that unifies conversations from various channels into one inbox.
With Yobi, users can send and receive text messages through their Yobi phone numbers, make and receive calls from their business phone numbers, and receive and respond to messages from social media platforms like Facebook, Twitter, Instagram, and more.One of the key features of Yobi is its AI & Analytics capabilities, enabling users to leverage AI technology for better conversations.
This includes AI Translation, which provides on-the-fly translation, removing language barriers during communication. Yobi also offers AI Sentiment Analysis, AI Transcription, and AI Text Reformulation features designed to improve the understanding and effectiveness of conversations.Additionally, Yobi provides seamless integration with popular business tools such as Hubspot, Salesforce, Slack, and Zoom, allowing users to receive instant notifications, share calendar links, and interact with customers effectively.Yobi Synthetic Intelligence is developed by an award-winning AI company, focused on unlocking the power of AI for businesses.
With its range of AI-enhanced communication features and integrations with various platforms, Yobi aims to streamline business communications and enhance customer interactions.
Featured
Yobi was manually vetted by our editorial team and was first featured on October 8th 2023.

Would you recommend Yobi?
Help other people by letting them know if this AI was useful.
28 alternatives to Yobi for Agents
Intelligent CLI and Autonomous AI Agents

99

4.4

Managed web-based goal and task system.

98

Fine-Tuner offers NLP model fine-tuning.

70

5.0

Browser agent attaining preset goals autonomously.

44

5.0

Deployed independent agents creation.

36

Autonomous agents created and managed.

29

4.0

Intelligent agents for application development.

28

Experimentation and learning for building AGI.

25

24/7 personalized assistance and learning from agents

12

Collaborative platform for programming teams

8

Digital Employees Marketplace - Business Task Execution

3
If you liked Yobi
People also searched
Help
⌘ + D bookmark this site for future reference
⌘ + ↑/↓ go to top/bottom
⌘ + ←/→ sort chronologically/alphabetically
↑↓←→ navigation
Enter open selected entry in new tab
⇧ + Enter open selected entry in new tab
⇧ + ↑/↓ expand/collapse list
/ focus search
Esc remove focus from search
A-Z go to letter (when A-Z sorting is enabled)
+ submit an entry
? toggle help menu
x
Sign in to continue (100% free)
To prevent spam, some actions require being signed in. It's free and takes a few seconds.
Sign in with Google