Edit AI
Fast personalized assistant for Mac users.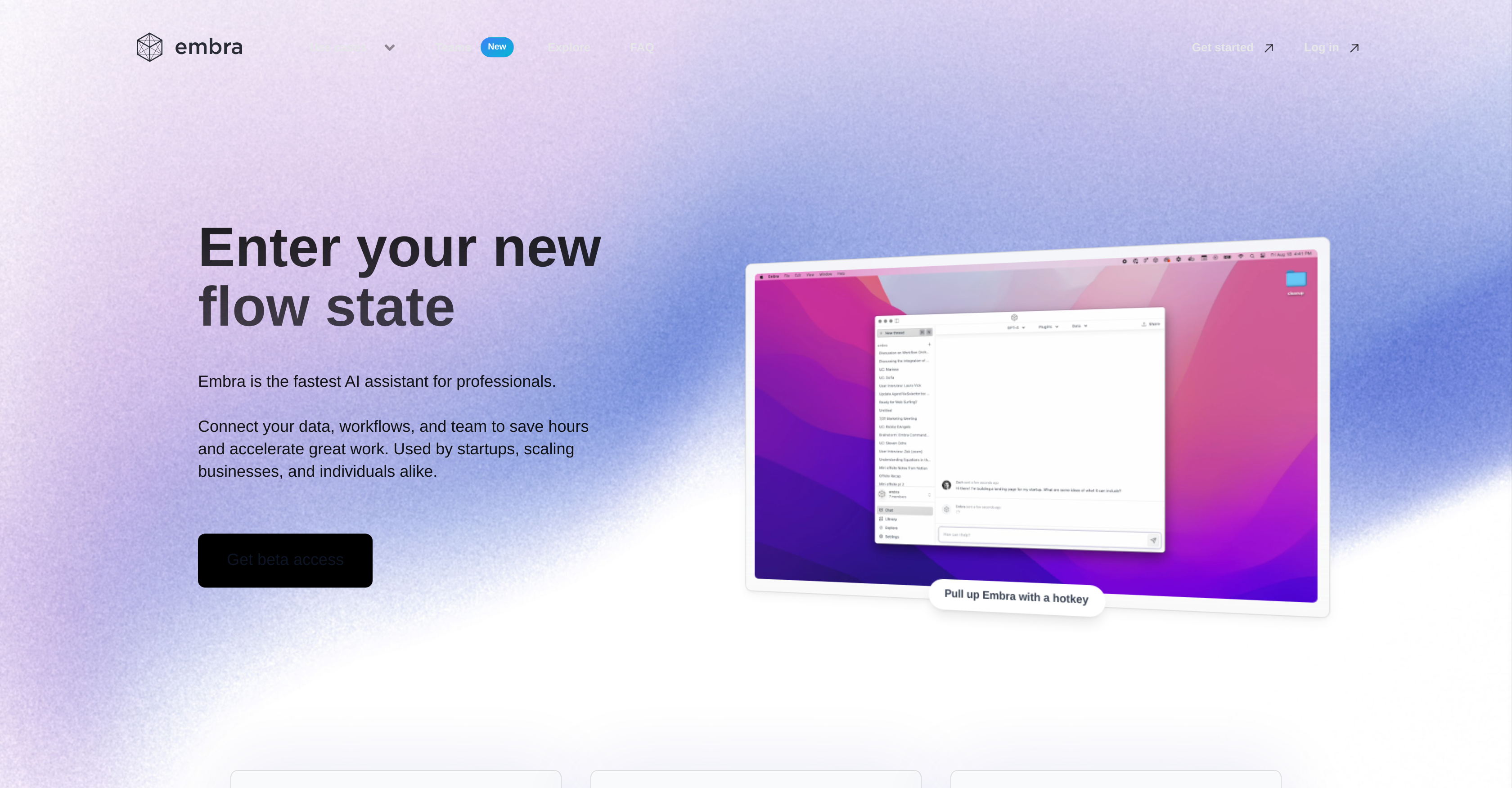 Generated by ChatGPT
Embra is a fast, chatbot-like assistant for Mac users. It provides personalized AI services and is designed to work with Chrome and other applications to unlock creativity and productivity.
Embra can help with questions and answers, brainstorming, writing, reading, and coding. It is designed to be one second away from users and can pull in contextual data from Chrome and other apps to help speed up the user's process.
Embra is still in beta, but users can sign up for access. It is developed by Civilized Labs, LLC and is subject to their Terms and Privacy Policy.
Featured
Embra was manually vetted by our editorial team and was first featured on February 9th 2023.

Would you recommend Embra?
Help other people by letting them know if this AI was useful.
20 alternatives to Embra for ChatGPT on Mac
Pros and Cons
Pros
Fast response times
Compatible with Chrome
Contextual data pull from apps
Boosts productivity
Facilitates creativity
Supports Q&A, writing, coding
Still improving (in beta)
Supports brainstorming
Constant availability (one second away)
Can assist with reading
Personalized to user's work
Cons
Mac exclusive
Still in beta
No explicit multi-language support
Dependent on other apps
Limited to certain tasks
No standalone capabilities
Subject to Terms and Privacy Policy
Developer not recognized
No Android or iOS version
No explicit offline support
Q&A
What is Embra?
Embra is a fast and personalized AI assistant designed primarily for Mac users. It offers a chatbot-like interface and is meant to enhance creativity and productivity by providing assistance with tasks such as Q&A, brainstorming, writing, reading, and coding.
How does Embra work?
Embra seamlessly works with applications like Chrome to pull in contextual data and speed up various processes for the user. It's designed to be always at hand, just a second away from users, assisting them across different work functions.
Is Embra free to use or is it a paid tool?
IDK
Can Embra work with any browser or only Chrome?
According to the information from their website, Embra primarily works in conjunction with the Chrome browser. There is no specific mention of compatibility with other browser platforms.
How quickly can Embra pull information from other applications?
Embra is designed to pull information from applications like Chrome swiftly - it's always one second away from users, signaling a near instantaneous data retrieval process.
In which ways can Embra support my writing and reading tasks?
Embra aids in writing tasks by helping with brainstorming and possibly providing quick access to relevant information. For the reading aspect, though the specific functions are not detailed, it can imply that Embra aids in content comprehension or provides handy references.
Can Embra be used for coding? If yes, how?
Embra offers support for coding tasks. While the specifics aren't detailed on their website, features could include assistance in debugging, quick referencing, providing alternative coding solutions or even direct coding aid.
How does Embra help with brainstorming?
Embra aids with brainstorming possibly by providing instant information or suggestions based on the context. However, the specific mechanisms of how Embra interacts during brainstorming aren't clearly outlined on their website.
What specific personalized AI services does Embra offer?
According to data on their website, Embra provides personalized AI services in the areas of Q&A, brainstorming, writing, reading, and coding. The specifics of these personalized services are not detailed.
Does Embra work only with Mac or is there support for other OS too?
Embra is explicitly described as an AI assistant for Mac users. There's no direct indication that it supports other operating systems.
Is Embra a chatbot or it has more features than a traditional chatbot?
Embra is characterized as a chatbot-like AI, but it also offers more advanced features beyond traditional chatbot capabilities. For example, it supports tasks like brainstorming, writing, reading, coding, and offers fast, personalized assistant services.
What kind of questions can Embra help answer?
Embra can assist with a broad range of questions, likely related to the functions it supports such as brainstorming, writing, reading, and coding. The specific details or limitations are not provided.
How can I get access to Embra's beta version?
To have access to Embra's beta version, you'll have to sign up for it. The sign up link for beta access is available on their website.
What do I get upon signing up for Embra's beta access?
IDK
Is the use of Embra subject to any terms and privacy policies?
Yes, the use of Embra is subject to terms and privacy policy as laid out by Civilized Labs, LLC.
Who developed Embra and where can I learn more about Civilized Labs, LLC?
Embra is developed by Civilized Labs, LLC. For more details about this company, additional research would be required as their website does not provide further specifics.
How does Embra enhance productivity?
Embra enhances productivity by providing quick access to context-based data from applications like Chrome. This can expedite processes and tasks in areas like Q&A, brainstorming, writing, reading, and coding.
How can Embra unlock creativity?
Embra unlocks creativity by providing a quick and personalized assistance, aiding with brainstorming, and providing contextual data which can inspire fresh ideas and perspectives.
Where is the sign up and login option in Embra?
The log in and sign up options can be found on their website's login and signup pages, respectively.
Can Embra assist with other tasks apart from Q&A, brainstorming, writing, reading, and coding?
While the explicit mention is about Q&A, brainstorming, writing, reading, and coding, it's plausible that Embra might assist with other tasks related to productivity and creativity. The details, however, are not provided on their website.
If you liked Embra
Help
⌘ + D bookmark this site for future reference
⌘ + ↑/↓ go to top/bottom
⌘ + ←/→ sort chronologically/alphabetically
↑↓←→ navigation
Enter open selected entry in new tab
⇧ + Enter open selected entry in new tab
⇧ + ↑/↓ expand/collapse list
/ focus search
Esc remove focus from search
A-Z go to letter (when A-Z sorting is enabled)
+ submit an entry
? toggle help menu
x
Sign in to continue (100% free)
To prevent spam, some actions require being signed in. It's free and takes a few seconds.
Sign in with Google