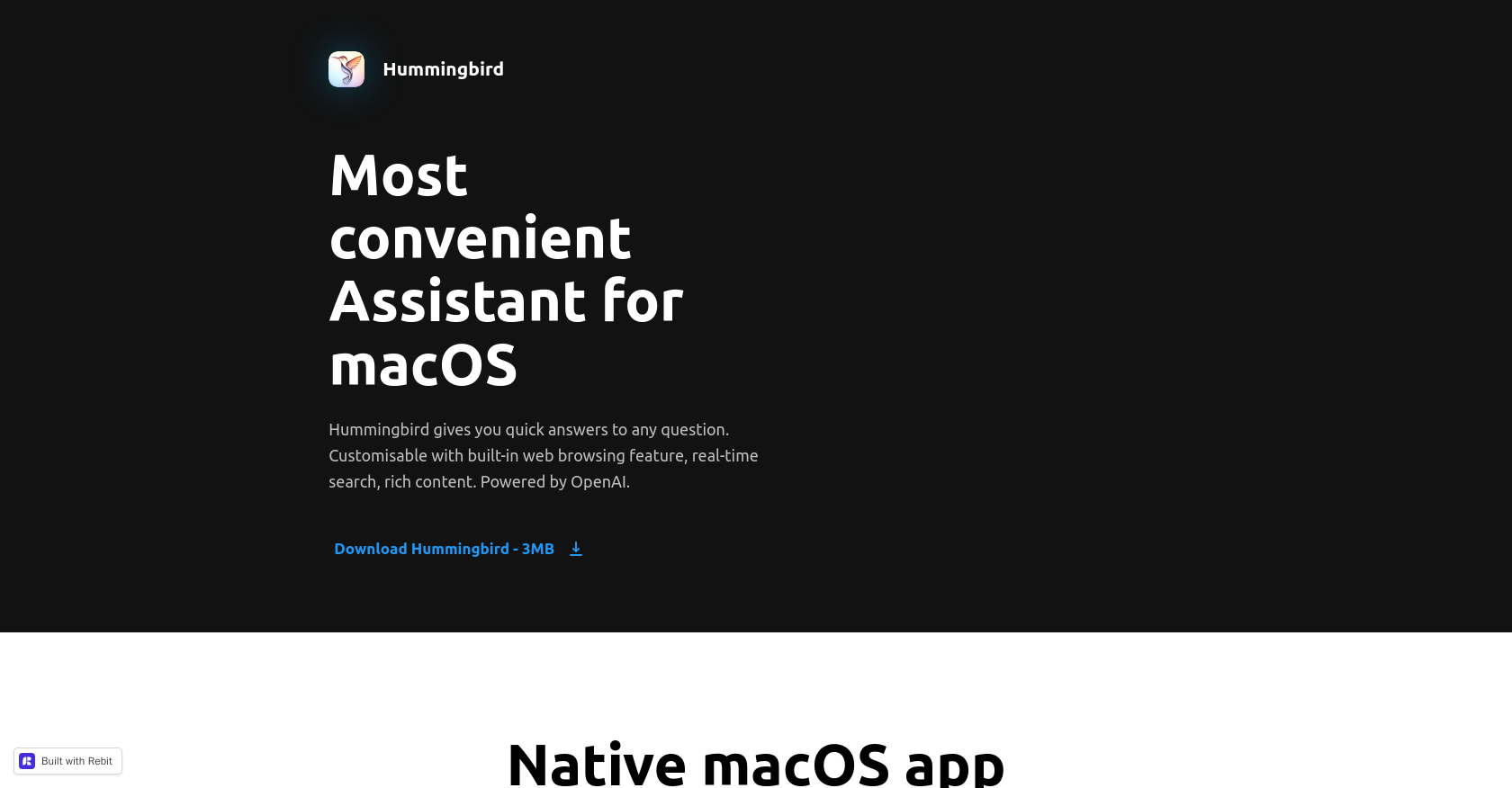 Generated by ChatGPT
Hummingbird is a lightweight native personal assistant for macOS that offers quick answers to any question. This macOS app has a clean and minimal design, providing a convenient user experience.
One of its key features is a built-in web browsing capability, allowing users to read content from URLs and perform various tasks such as summarizing, asking questions, conducting research, or using references.Hummingbird utilizes Google Programmable Search to provide real-time search functionality, ensuring access to the latest information and knowledge sources.
Additionally, this tool can display rich content using markdown, enhancing the presentation of various types of data.Customization is a significant aspect of Hummingbird, as it allows users to tailor their experience.
Users have control over response instructions, language settings, temperature preferences, and other customizable options.Furthermore, Hummingbird is a lightweight and fast macOS application that optimizes performance.
Its small file size (approximately 3MB) ensures efficient installation and operation, reducing resource consumption on the system.Overall, Hummingbird serves as a convenient AI personal assistant specialized for macOS users.
With its lightweight nature, browsing capabilities, real-time search, and customization options, this tool aims to supercharge workflow efficiency on the macOS platform.
Featured
Hummingbird was manually vetted by our editorial team and was first featured on October 6th 2023.

Would you recommend Hummingbird?
Help other people by letting them know if this AI was useful.
24 alternatives to Hummingbird for ChatGPT on Mac
macOS assistant for automated tasks.

361

5.0

PDF document analysis & extraction for professionals

79

4.8

Automated chatbot integration for boosted productivity.

29

MacOS app for seamless Q&A conversations.

26

Writing assistant for Mac users.

24

5.0

Powerful language model for efficient writing.

22

Fast personalized assistant for Mac users.

21

Conversational models on macOS made accessible.

15

Convenient assistant for enjoyable conversations.

14

Chat interface for natural language generation.

12

Enhanced Mac productivity through automation.

8

7

Chat with intelligent agents via messaging.

7

6

Boost productivity with chat assistant for Mac users.

5

5.0

Improved Mac communication via streamlined chatbot.

5

ChatGPT on your menu bar: Access and interact easily.

4

Interacted with chatbots via a MacOS menu bar app.

3

Personalized assistant for private chat experiences.

3

Boosts productivity, enables instant chat on macOS.

2

Engaged experts in multiple fields via instant chat

2

Enhanced productivity and creativity.

2

Productivity app sorts macOS chat logs.

1

Mac chat assistant for topics & assistance.

1
If you liked Hummingbird
People also searched
Help
⌘ + D bookmark this site for future reference
⌘ + ↑/↓ go to top/bottom
⌘ + ←/→ sort chronologically/alphabetically
↑↓←→ navigation
Enter open selected entry in new tab
⇧ + Enter open selected entry in new tab
⇧ + ↑/↓ expand/collapse list
/ focus search
Esc remove focus from search
A-Z go to letter (when A-Z sorting is enabled)
+ submit an entry
? toggle help menu
x
Sign in to continue (100% free)
To prevent spam, some actions require being signed in. It's free and takes a few seconds.
Sign in with Google