Edit AI
Mac chat assistant for topics & assistance.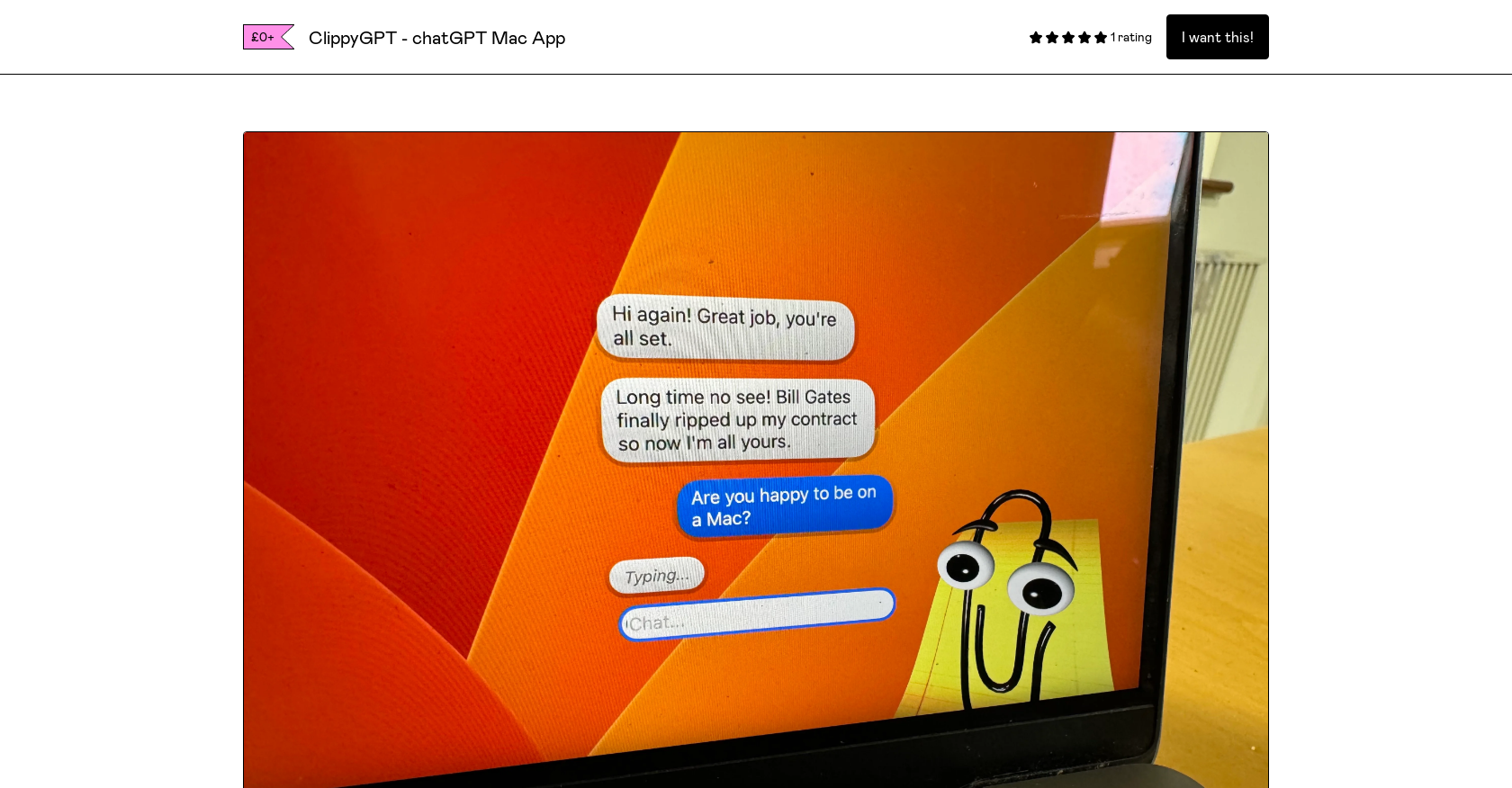 Generated by ChatGPT
ClippyGPT is a ChatGPT Mac app that allows users to access the chatGPT model using the iconic Clippy paperclip character on their macOS desktop. With this tool, users can engage in conversations and seek assistance on various topics.
Clippy resides in the bottom right corner of the screen, and users can simply move their mouse cursor to that area to initiate a chat.It is important to note that ClippyGPT is a macOS application.
However, users should be aware that due to server costs, there may be brief periods where Clippy does not respond. Rest assured, Clippy will become available again during less busy times.The tool is available for purchase, and JavaScript must be enabled in the user's browser settings to complete the transaction.
The exact pricing is not mentioned in the text, as it may vary over time. The app is developed by Lumen Digital and has received a single rating, earning a perfect 5-star rating.Overall, ClippyGPT offers macOS users the opportunity to engage in chat conversations with the chatGPT model through an intuitive and familiar interface, channeling the nostalgia of the Clippy paperclip era.
Featured
ClippyGPT was manually vetted by our editorial team and was first featured on October 29th 2023.

Would you recommend ClippyGPT?
Help other people by letting them know if this AI was useful.
24 alternatives to ClippyGPT for ChatGPT on Mac
macOS assistant for automated tasks.

362

5.0

PDF document analysis & extraction for professionals

79

4.8

Automated chatbot integration for boosted productivity.

29

MacOS app for seamless Q&A conversations.

26

Writing assistant for Mac users.

24

5.0

Powerful language model for efficient writing.

22

Fast personalized assistant for Mac users.

21

Conversational models on macOS made accessible.

15

Convenient assistant for enjoyable conversations.

14

Chat interface for natural language generation.

12

macOS workflow optimizer.

12

5.0

Enhanced Mac productivity through automation.

8

7

Chat with intelligent agents via messaging.

7

6

Boost productivity with chat assistant for Mac users.

5

5.0

Improved Mac communication via streamlined chatbot.

5

ChatGPT on your menu bar: Access and interact easily.

4

Interacted with chatbots via a MacOS menu bar app.

3

Personalized assistant for private chat experiences.

3

Boosts productivity, enables instant chat on macOS.

2

Engaged experts in multiple fields via instant chat

2

Enhanced productivity and creativity.

2

Productivity app sorts macOS chat logs.

1
If you liked ClippyGPT
Help
⌘ + D bookmark this site for future reference
⌘ + ↑/↓ go to top/bottom
⌘ + ←/→ sort chronologically/alphabetically
↑↓←→ navigation
Enter open selected entry in new tab
⇧ + Enter open selected entry in new tab
⇧ + ↑/↓ expand/collapse list
/ focus search
Esc remove focus from search
A-Z go to letter (when A-Z sorting is enabled)
+ submit an entry
? toggle help menu
x
Sign in to continue (100% free)
To prevent spam, some actions require being signed in. It's free and takes a few seconds.
Sign in with Google