Edit AI
Generate full-stack web apps.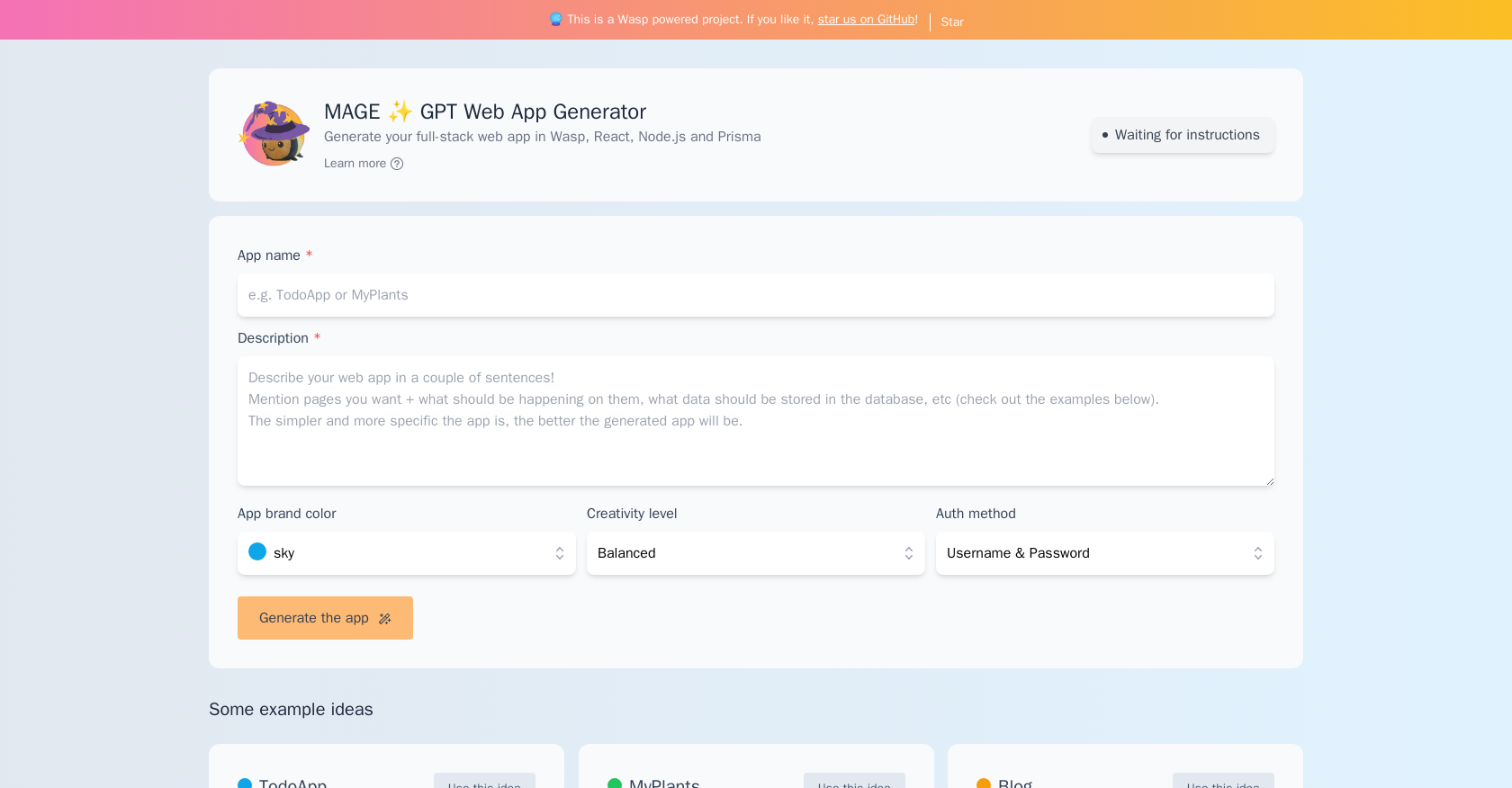 Generated by ChatGPT
MAGE - GPT Web App Generator is a powerful tool that allows users to generate full-stack React, Node.js, and Prisma web applications using the magic of GPT (Generative Pre-trained Transformer) and the Wasp full-stack framework.
With MAGE, users can effortlessly create web apps by following intuitive instructions.The tool offers a user-friendly interface where users can input their desired app name, description, and brand color.
MAGE supports a balanced creativity level, ensuring flexibility for various project types. Users can choose from a selection of example app ideas, such as a simple todo app, a plant tracking app, or a blogging platform.For the todo app, users can create, toggle, and edit tasks, with each user having access only to their own tasks.
The same level of ownership applies to posts and comments in the blogging platform, where everyone can view posts but only the owner can edit or delete them.MAGE generates a web app with multiple pages, including a home page to display tasks, plants, or posts.
Additional pages allow users to create new tasks, plants, or posts, as well as edit existing ones. Users can also view the details of individual tasks, plants, or posts, and leave comments if applicable.This tool's functionality is further enhanced by the integration of Wasp, an experimental project by Wasp-lang.
MAGE is an open-source tool, with the code available on GitHub, and users can seek support or discuss any concerns in the provided Discord community.
Featured
MageGPT was manually vetted by our editorial team and was first featured on October 9th 2023.

Would you recommend MageGPT?
Help other people by letting them know if this AI was useful.
7 alternatives to MageGPT for Web apps
If you liked MageGPT
Help
⌘ + D bookmark this site for future reference
⌘ + ↑/↓ go to top/bottom
⌘ + ←/→ sort chronologically/alphabetically
↑↓←→ navigation
Enter open selected entry in new tab
⇧ + Enter open selected entry in new tab
⇧ + ↑/↓ expand/collapse list
/ focus search
Esc remove focus from search
A-Z go to letter (when A-Z sorting is enabled)
+ submit an entry
? toggle help menu
x
Sign in to continue (100% free)
To prevent spam, some actions require being signed in. It's free and takes a few seconds.
Sign in with Google