Edit AI
Customizable life tracker diary.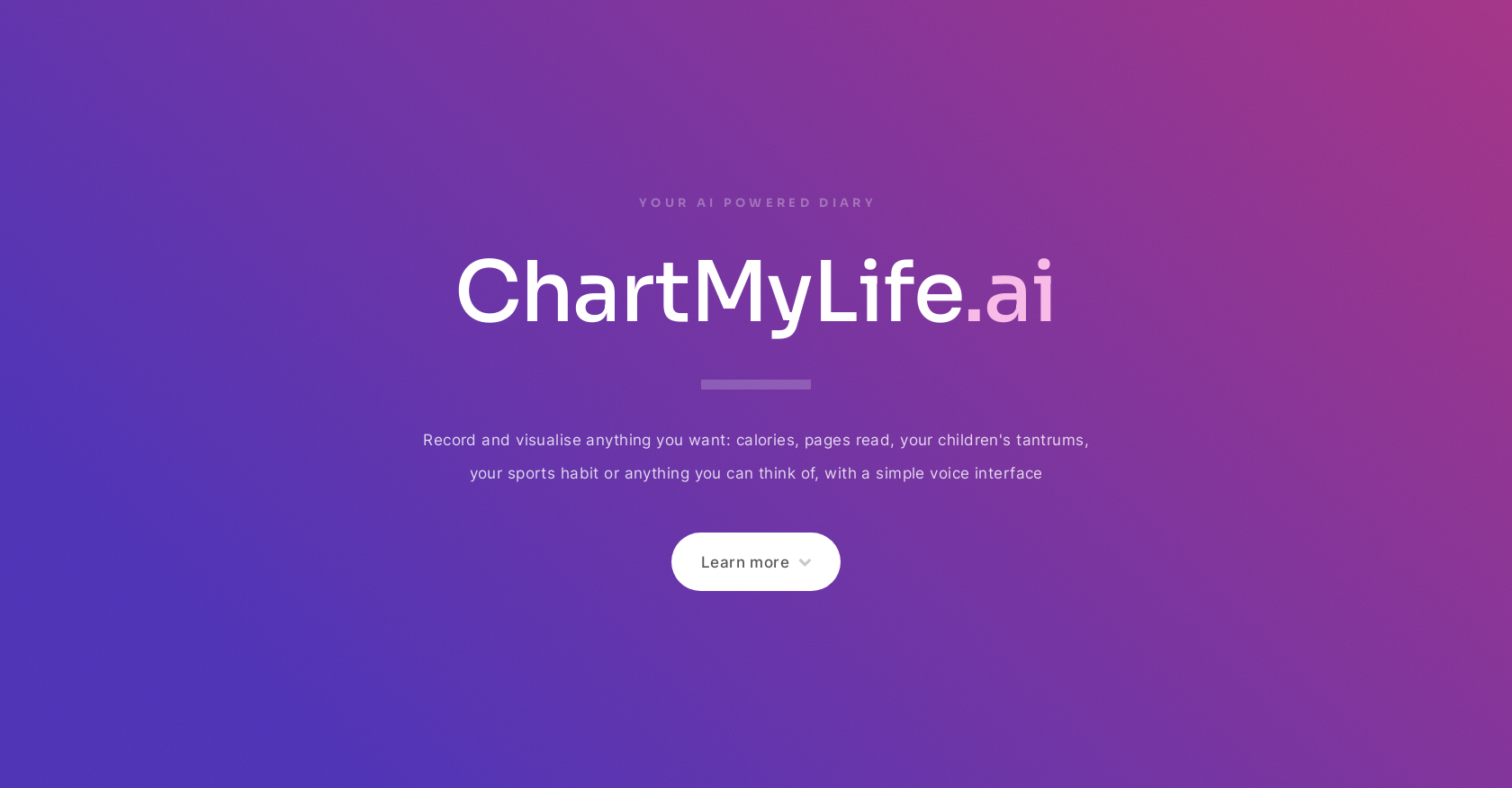 Generated by ChatGPT
Chart My Life is an AI-powered tool that serves as a flexible and customizable diary for tracking a wide range of habits and daily activities. With a simple voice interface, users can easily record and visualize various aspects of their lives, such as calorie intake, reading progress, physical activities, and even personal moments like children's tantrums.
Unlike other tracking apps, Chart My Life does not impose rigid standards but allows users to define their own tracking criteria.Powered by OpenAI's GPT-4 model, the tool offers unrestricted freedom, enabling users to track activities in unique and diverse scenarios.
It uses the advanced Whisper voice recognition model, surpassing the capabilities of popular voice assistants like Siri and Google, allowing users to speak naturally and combine languages without any limitations.Chart My Life provides a desktop and mobile interface where users can access and customize their data.
Through the voice interface, users can request specific graphs that combine different metrics, providing real insights into their habits and overall lifestyle.
The tool emphasizes the value of approximation rather than exact numbers, as it believes that broad and approximate data can still yield actionable insights.
With Chart My Life, users can gain a holistic understanding of their lives, even without precise labels and measurements.Currently, access to Chart My Life is invite-only due to the cost of running GPT-4 APIs and Whisper.
Users are encouraged to join the waitlist to secure their spot and be among the first to start graphing their own lives with this comprehensive AI-powered diary tool.
Featured
Chart My Life was manually vetted by our editorial team and was first featured on October 6th 2023.

Would you recommend Chart My Life?
Help other people by letting them know if this AI was useful.
13 alternatives to Chart My Life for Journaling
Self-care app detects patterns & insights in journaling.

160

Promotes growth via journaling and trigger detection.

96

1.0

Track, analyze and optimize workflows through a journal.

85

Customized mental health journaling for coaching.

58

5.0

Generated personal journal prompts via GPT-3 model.

44

5.0

Get personal feedback on your journal.

34

3.0

Personalized digital diary with growth tracking.

20

Access product info on mobile.

10

Self-reflect for personal growth.

10

Personal growth journal with insightful recommendations.

5

Wellness journal with generated insights and feedback.

2

Streamlined thought organization & journaling.

2
If you liked Chart My Life
Help
⌘ + D bookmark this site for future reference
⌘ + ↑/↓ go to top/bottom
⌘ + ←/→ sort chronologically/alphabetically
↑↓←→ navigation
Enter open selected entry in new tab
⇧ + Enter open selected entry in new tab
⇧ + ↑/↓ expand/collapse list
/ focus search
Esc remove focus from search
A-Z go to letter (when A-Z sorting is enabled)
+ submit an entry
? toggle help menu
x
Sign in to continue (100% free)
To prevent spam, some actions require being signed in. It's free and takes a few seconds.
Sign in with Google