Edit AI
Automated email management and smart inbox organization.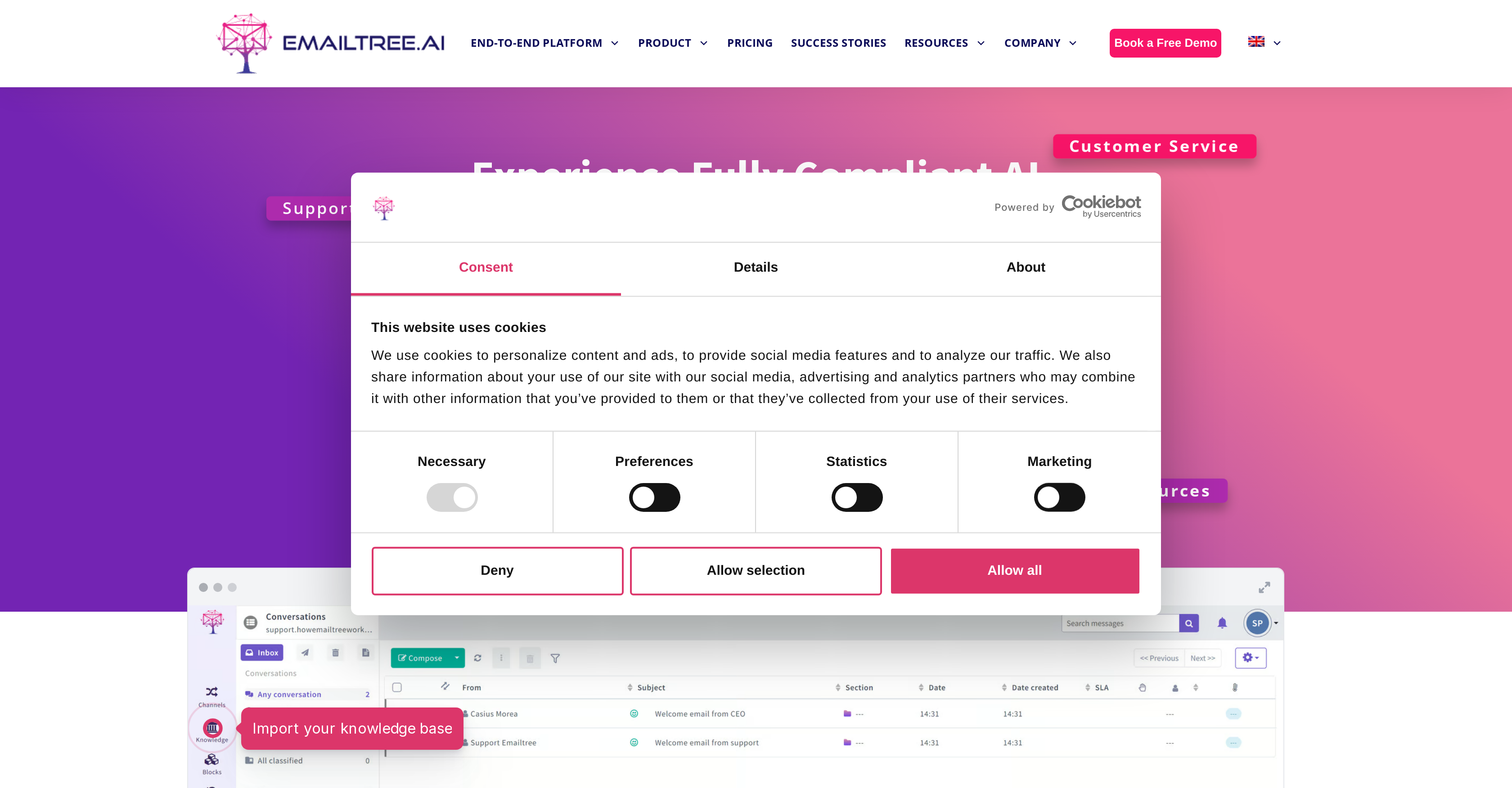 Generated by ChatGPT
EmailTree.ai is an AI customer service automation software that provides AI email management and smart inbox automation with end-to-end workflows. It uses cookies to personalize content and ads, to provide social media features and to analyze traffic.
It also uses cookies to distinguish between humans and bots, to detect if the visitor has accepted the cookie consent box and to check if the user's browser supports cookies.
It also allows the website to format accordingly to the device used to access the website. Additionally, it stores visitor credentials in an encrypted cookie in order to allow the visitor to stay logged in.
Preference cookies enable the website to remember information that changes the way the website behaves or looks, like the visitor's preferred language or the region they are in.
It also allows the website to add events into the visitor's calendar if consent is given. Statistic cookies help website owners to understand how visitors interact with the website by collecting and reporting information anonymously.
It uses Google Analytics to generate statistical data on how the visitor uses the website, and it uses data-synchronization with third-party analysis services.
It also uses split-tests on the website to optimize the website's relevance towards the visitor.
Featured
Emailtree was manually vetted by our editorial team and was first featured on February 17th 2023.

Would you recommend Emailtree?
Help other people by letting them know if this AI was useful.
64 alternatives to Emailtree for Email writing
Generation of personalized email and message content.

68

5.0

Fast, professional email composition assistance.

46

Productivity suite that boosts email productivity.

40

Generated personalized email campaigns using data.

37

5.0

Improved email communication & response generation.

36

Automated email management boosting productivity.

31

Automated task optimization for workflows.

24

Writing polished, workplace-appropriate emails.

23

Hyper-personalized email outreach icebreakers.

22

Automatically personalizes and improves business emails.

20

5.0

Boost sales with insights, leads and outreach.

20

Optimizing email content for greater effectiveness.

20

5.0

Streamlined email writing with an assistant.

19

5.0

Email writing assistant extension for Chrome.

18

Email generation assistance software.

18

Autogenerated email and message replies.

16

Assisted email writing with tone & autocomplete.

17

Automated email copy generator for marketing.

16

Real-time email writing efficiency advisor.

15

Automated email writing and summarization.

15

Productivity aid for composing emails.

15

Improved multilingual email professionalism.

14

Assistance for writing emails.

14

Managed emails with quick replies.

14

Tailored response messaging assistant.

13

Personalized opening lines for cold email outreach.

13

Automated personalized email generation.

13

Efficient email writing with personalized content.

12

5.0

Customized cold emails for businesses.

12

Assisting with email communication to improve outcomes.

11

Automated email writing assistance.

11

Tailored email responses generated.

11

Solution for creating witty responses to spam emails.

10

VoiceType: verbal email composition w/ context analysis.

10

Email drafting on iPhone.

10

Effortless email design and creation

10

5.0

Email response generation with one click.

10

Personalized cold email first lines.

10

Automated email communication improvement assistant.

9

Communication aid with smart templates & tone selector.

9

Email writing acceleration.

9

5.0

Gmail email writing assistant.

9

8

Customized email marketing with CRM intelligence.

8

Automation of email composition and management.

8

Email writing assistance.

8

Automated email composition for busy professionals.

8

Simplified business text generation.

7

Enhanced email management and composition platform.

7

Simplified email management, time-saving solution.

7

Quickly compose emails in any language.

7

1.0

Automated multi-channel team engagement platform.

7

Email writing assistance.

6

Efficiently crafted communications

6

5.0

Generate personalized emails easily.

5

Generated copy and templates for email campaigns.

4

Email response generation with personalized messages.

4

Personalized outbound sales emails optimized.

3

Personalized email response generation made efficient.

3

3

Email composing assistant

2

Email composition and proofreading assistant.

1

Improved email productivity, streamlined communication.

17

5.0
Pros and Cons
Pros
Automated email management
Smart inbox organization
End-to-end workflows
Distinguishes humans and bots
Checks browser cookie support
Formats website to device
Encrypted cookie for visitor credentials
Remembers visitor preferences
Adds events to visitor's calendar
Google Analytics integration
Third-party analysis services synchronization
Website split-testing for optimization
Personalized content
Social media features
Quickly integrates customer data
Solutions tailored for BPOs, Insurance, Enterprises
Customer service automation for Outlook
Smart Reply app for Zendesk
ROI Calculator
30-days free trial
Request prioritization
Employees and customer-centric
Instant responses to customers
Automated emails sorting and dispatching
Elimination of repetitive tasks
Employee development focus
Personalized, consistent and timely communication
Cons
Requires Cookie Consent
Multiple cookies for various functions
Shared information with third parties
Heavy reliance on Google Services
Extensive data-synchronization
Uses Google Analytics extensively
Various encrypted cookies stored
Not GDPR-compliant in default setup
Distinguishing humans and bots might affect traffic evaluation
If you liked Emailtree
Help
⌘ + D bookmark this site for future reference
⌘ + ↑/↓ go to top/bottom
⌘ + ←/→ sort chronologically/alphabetically
↑↓←→ navigation
Enter open selected entry in new tab
⇧ + Enter open selected entry in new tab
⇧ + ↑/↓ expand/collapse list
/ focus search
Esc remove focus from search
A-Z go to letter (when A-Z sorting is enabled)
+ submit an entry
? toggle help menu
x
Sign in to continue (100% free)
To prevent spam, some actions require being signed in. It's free and takes a few seconds.
Sign in with Google