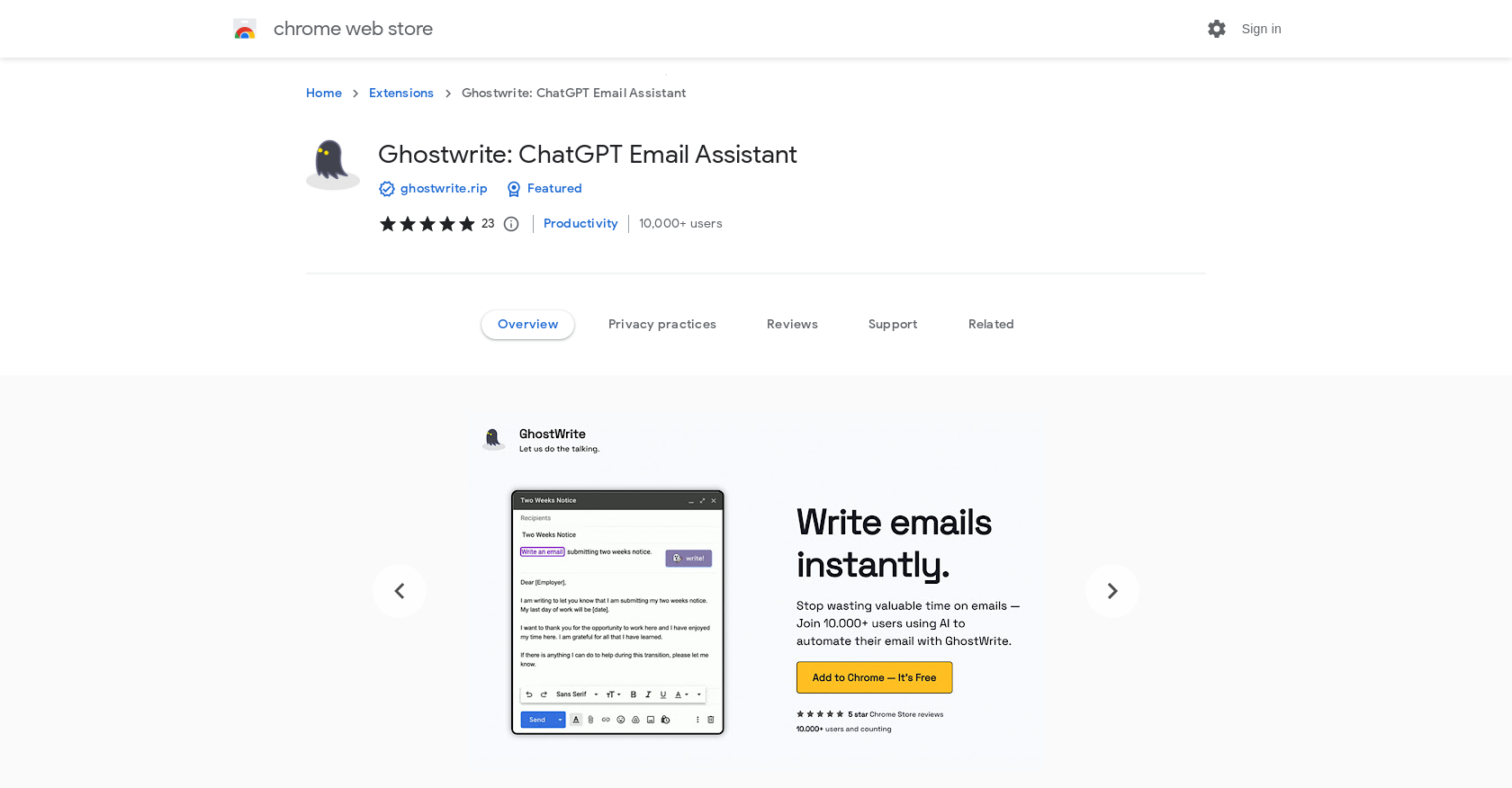 Generated by GPT-3
GhostWrite is an AI-driven email writing assistant extension for Chrome. Powered by ChatGPT, it can help you write, compose, and reply to emails with just a few words.
GhostWrite AI uses artificial intelligence to automate the writing process, allowing you to spend more time on the important things. It can generate full-length emails from short phrases and bullets, write professional sounding emails in your own tone, automatically correct grammar and spelling, save and reuse email templates generated by AI, and automatically draft a full-length reply in one click.
GhostWrite is a full suite of AI email tools that makes email writing easier and more efficient.
Featured
?
72 alternatives to Ghostwrite for Email writing
01 Mar 2023

02 Mar 2023

04 Mar 2023

04 Mar 2023

04 Mar 2023

06 Mar 2023

07 Mar 2023

07 Mar 2023

10 Mar 2023

16 Mar 2023

09 Feb 2023

15 Feb 2023

17 Feb 2023

23 Feb 2023

24 Feb 2023

28 Feb 2023

28 Feb 2023

01 Jan 2023

03 Jan 2023

03 Jan 2023

04 Jan 2023

04 Jan 2023

09 Jan 2023

16 Jan 2023

19 Jan 2023

19 Jan 2023

20 Jan 2023

20 Jan 2023

20 Jan 2023

22 Jan 2023

22 Jan 2023

23 Jan 2023

23 Jan 2023

23 Jan 2023

25 Jan 2023

29 Jan 2023

05 Dec 2022

07 Dec 2022

10 Dec 2022

11 Dec 2022

12 Dec 2022

20 Dec 2022

21 Dec 2022

21 Dec 2022

22 Dec 2022

22 Dec 2022

26 Dec 2022

26 Dec 2022

28 Dec 2022

29 Dec 2022

30 Dec 2022

22 Nov 2022

26 Nov 2022

28 Nov 2022

03 Oct 2022

15 Sep 2022

19 Sep 2022

30 Sep 2022

26 Aug 2022

02 Jun 2022

14 Jun 2022

12 Apr 2022

13 Apr 2022

14 Apr 2022

29 Jan 2022

16 Mar 2022

24 Mar 2022

28 Jan 2021

25 Nov 2021

06 Dec 2021

17 Dec 2021

01 Nov 2020