Edit AI
Tailored response messaging assistant.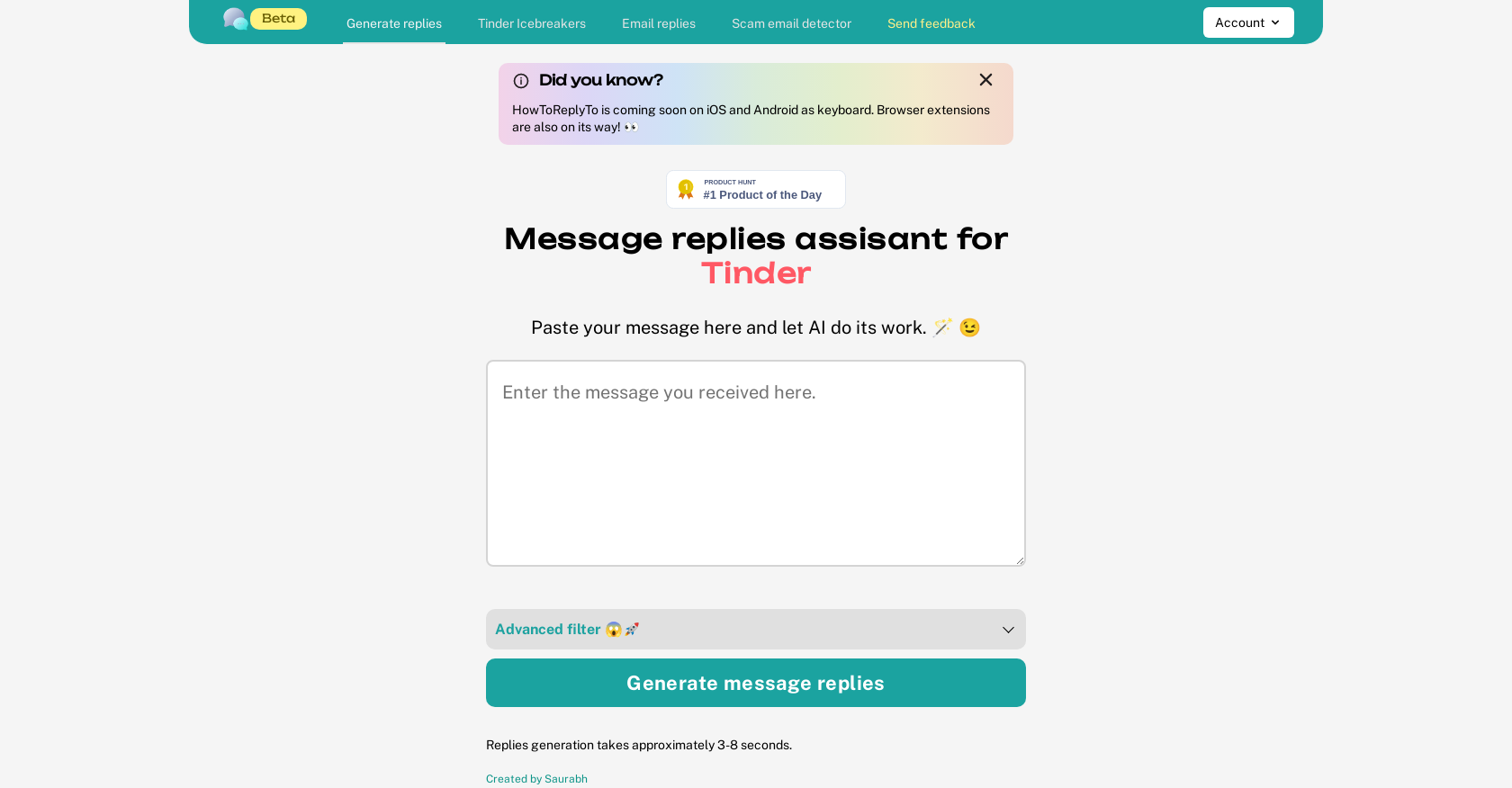 Generated by ChatGPT
How To Reply To is an AI-powered messaging assistant designed to help you find the perfect response to any message. Whether you're sending a message to a friend, family member, professional contact, or a potential love interest, How To Reply To can generate a response that fits the situation.
The tool uses advanced filters to generate a response tailored to the recipient's personality, the context of the message, and the response you want to evoke.
You can customize the response by selecting the recipient's country, the type of response you'd like, and any additional filters such as including emojis, slang, and abbreviations.
How To Reply To is available on iOS and Android as a keyboard, and browser extensions are coming soon.
Featured
HowToReplyTo was manually vetted by our editorial team and was first featured on January 23rd 2023.

Would you recommend HowToReplyTo?
Help other people by letting them know if this AI was useful.
64 alternatives to HowToReplyTo for Email writing
Generation of personalized email and message content.

68

5.0

Fast, professional email composition assistance.

46

Productivity suite that boosts email productivity.

40

Generated personalized email campaigns using data.

37

5.0

Improved email communication & response generation.

36

Automated email management boosting productivity.

31

Automated task optimization for workflows.

24

Writing polished, workplace-appropriate emails.

23

Hyper-personalized email outreach icebreakers.

22

Automatically personalizes and improves business emails.

20

5.0

Boost sales with insights, leads and outreach.

20

Optimizing email content for greater effectiveness.

20

5.0

Streamlined email writing with an assistant.

19

5.0

Email writing assistant extension for Chrome.

18

Email generation assistance software.

18

Autogenerated email and message replies.

16

Assisted email writing with tone & autocomplete.

17

Automated email management and smart inbox organization.

17

Automated email copy generator for marketing.

16

Real-time email writing efficiency advisor.

15

Automated email writing and summarization.

15

Productivity aid for composing emails.

15

Improved multilingual email professionalism.

14

Assistance for writing emails.

14

Managed emails with quick replies.

14

Personalized opening lines for cold email outreach.

13

Automated personalized email generation.

13

Efficient email writing with personalized content.

12

5.0

Customized cold emails for businesses.

12

Assisting with email communication to improve outcomes.

11

Automated email writing assistance.

11

Tailored email responses generated.

11

Solution for creating witty responses to spam emails.

10

VoiceType: verbal email composition w/ context analysis.

10

Email drafting on iPhone.

10

Effortless email design and creation

10

5.0

Email response generation with one click.

10

Personalized cold email first lines.

10

Automated email communication improvement assistant.

9

Communication aid with smart templates & tone selector.

9

Email writing acceleration.

9

5.0

Gmail email writing assistant.

9

8

Customized email marketing with CRM intelligence.

8

Automation of email composition and management.

8

Email writing assistance.

8

Automated email composition for busy professionals.

8

Simplified business text generation.

7

Enhanced email management and composition platform.

7

Simplified email management, time-saving solution.

7

Quickly compose emails in any language.

7

1.0

Automated multi-channel team engagement platform.

7

Email writing assistance.

6

Efficiently crafted communications

6

5.0

Generate personalized emails easily.

5

Generated copy and templates for email campaigns.

4

Email response generation with personalized messages.

4

Personalized outbound sales emails optimized.

3

Personalized email response generation made efficient.

3

3

Email composing assistant

2

Email composition and proofreading assistant.

1

Improved email productivity, streamlined communication.

17

5.0
Pros and Cons
Pros
Tailored response generation
Recipient's personality consideration
Context senstive responses
Customizable responses
Emoji inclusion in response
Slang inclusion in response
Abbreviation inclusion
iOS and Android compatible
Browser extension availability (upcoming)
Multilingual support
Predefined categories
Emotion based responses
Available on Android and iOS
Culture context consideration
Scam email detection (upcoming)
Professional email replies feature
Customization by recipient's country
Response type selection
Personality traits filters
Geolocation-based filter
Inclusion of incomplete sentences
Replies with slangs
Contextual responses
Cons
No browser extensions yet
Subscription required for high-quality replies
Takes 3-8 seconds to generate replies
Email and Tinder replies not available yet
Limited options for recipient's personality
Not fully accessible on all platforms
No support for custom messages
Q&A
What is HowToReplyTo?
HowToReplyTo is an AI-powered messaging assistant designed to facilitate the generation of tailored responses to any kind of message. It customizes responses according to the recipient's personality, the context of the message, and the desired output effect.
How does HowToReplyTo generate responses?
HowToReplyTo generates responses using advanced filters that consider the recipient's personality, message context, and desired response type. Additionally, users can customize the generation process by selecting the recipient's country and choosing options such as allowing emojis, slang, or abbreviations in the response.
Can I customize the responses generated by HowToReplyTo?
Yes, responses generated by HowToReplyTo can be customized through a variety of options. Users can choose the recipient's country, the kind of response they want, and additional filters such as emojis, slang, and abbreviations. HowToReplyTo also accommodates personality inputs for better-tailored responses.
What platforms is HowToReplyTo available on?
Currently, HowToReplyTo is available on iOS and Android devices and plans to roll out browser extensions in the near future.
Is HowToReplyTo available as a mobile app?
Yes, HowToReplyTo is indeed available as a mobile app for both iOS and Android platforms.
Can HowToReplyTo generate responses in different languages or country contexts?
Yes, HowToReplyTo can generate responses that are culturally appropriate. It accommodates cultural nuances by allowing users to select the recipient's country, thereby contextually aligning the responses. However, the current offerings are all in English with no explicit mention of multiple language support.
What personality traits can I select in HowToReplyTo?
HowToReplyTo provides an array of personality traits to select from which includes: Always complains, Work-obsessed, Always stressed, Self boaster, Aggressive, Easily angered, Always mean, Likes to judge, and Loves everyone etc.
Is HowToReplyTo free to use?
HowToReplyTo offers a free tier, yielding average to low-quality replies. But for higher quality responses, subscription plans are available.
Are there subscription plans available for HowToReplyTo?
Yes, HowToReplyTo offers two subscription plans: The 'Pro' plan for $1.99 per month providing good quality replies, and 'Ultimate' for $2.99 per month, offering the highest quality replies.
How can I register for a HowToReplyTo account?
Registration for a HowToReplyTo account could be done via their website at howtoreplyto.com/register.
What's coming soon on HowToReplyTo?
Upcoming features on HowToReplyTo include Tinder Icebreakers, Professional email replies, Fun questions to ask and Scam email detector.
How are the responses categorized in HowToReplyTo?
In HowToReplyTo, responses can be categorized based on the recipient: Tinder/Dating, Friends, Family, or Professional. Additionally, the kind of response can also be selected: Funny, Rude & Angry, Emotional, Sad, etc.
Can HowToReplyTo help me reply to professional emails?
Yes, generating professional email responses is one of the upcoming features to be added to HowToReplyTo.
Does HowToReplyTo support the use of emojis and slang?
Yes, HowToReplyTo does support the use of emojis and slang. It has an option to allow emojis in the replies, and slang can be incorporated based on the user's preference from different countries like the US, UK, Australia, Scotland, Canada, and Nigeria.
Does HowToReplyTo provide Tinder icebreakers?
Yes, Tinder Icebreakers is one of the upcoming features announced by HowToReplyTo.
Can HowToReplyTo suggest creative and fun questions to keep the conversation going?
Adding 'Fun Questions' to keep the conversation going is one of the features that HowToReplyTo plans to integrate into their platform soon.
Where can I send feedback for HowToReplyTo?
Feedback for HowToReplyTo can be sent directly through their website using the 'Send feedback' option.
How long does it take for HowToReplyTo to generate a reply?
Generation of reply messages on HowToReplyTo takes approximately between 3 to 8 seconds.
Can HowToReplyTo generate casual replies?
Yes, HowToReplyTo gives an option to form casual replies which may include abbreviations, slang, and incomplete sentences.
Will HowToReplyTo be available as a browser extension?
Yes, HowToReplyTo has announced plans to roll out its service as a browser extension. However, the exact timeline for this has not been specified yet.
If you liked HowToReplyTo
Help
⌘ + D bookmark this site for future reference
⌘ + ↑/↓ go to top/bottom
⌘ + ←/→ sort chronologically/alphabetically
↑↓←→ navigation
Enter open selected entry in new tab
⇧ + Enter open selected entry in new tab
⇧ + ↑/↓ expand/collapse list
/ focus search
Esc remove focus from search
A-Z go to letter (when A-Z sorting is enabled)
+ submit an entry
? toggle help menu
x
Sign in to continue (100% free)
To prevent spam, some actions require being signed in. It's free and takes a few seconds.
Sign in with Google