Edit AI
Interdisciplinary coaching for growth.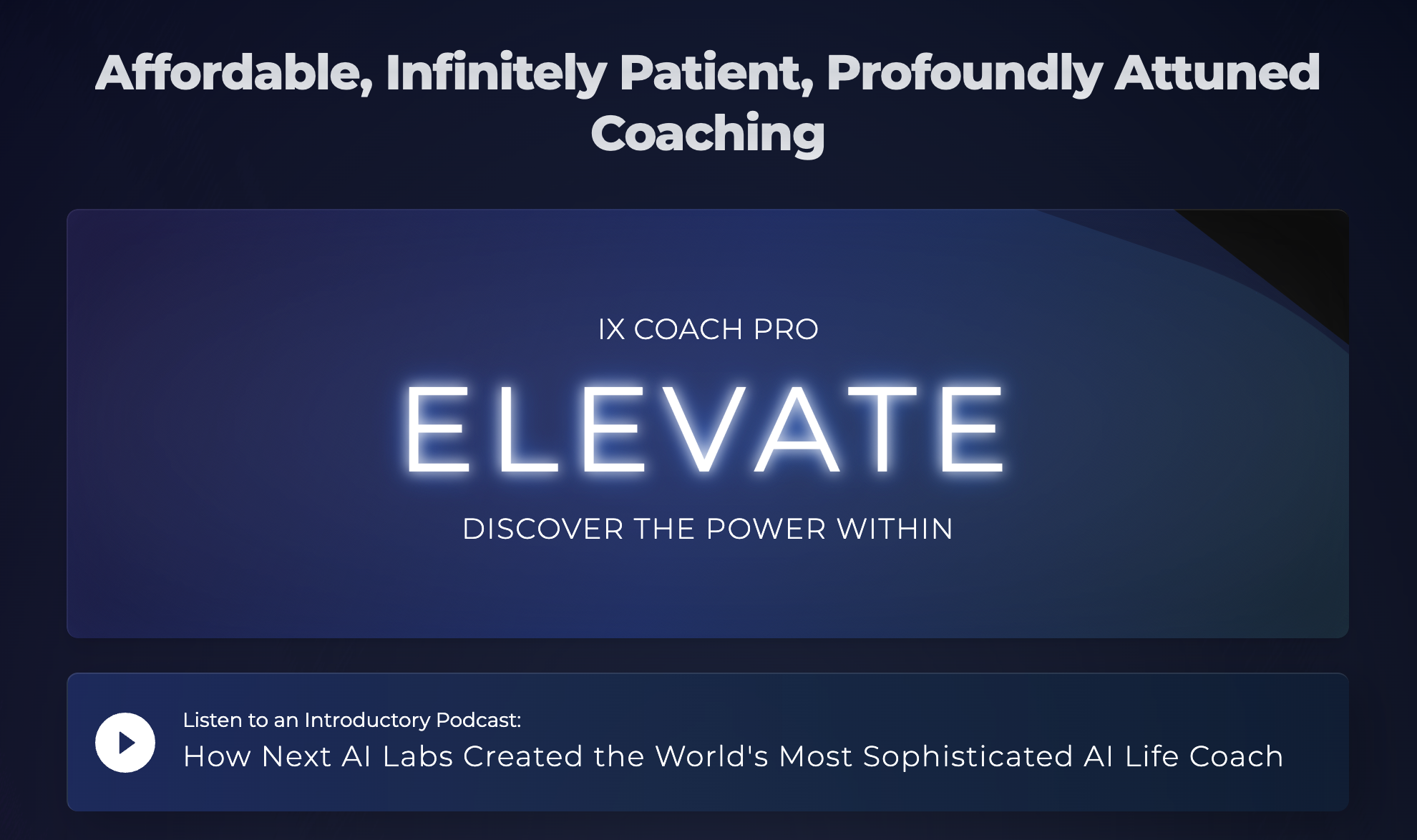 Generated by ChatGPT
🔥 Listen up, Trailblazers and Game-Changers: This is the AI Revolution You've Been Waiting For. 🔥
You scour the landscape for the most advanced AI solutions that can transform your life, right?
But let's be real. You're not just looking for some gimmicky tool that only scratches the surface.
You want something that understands the multi-faceted genius that you are. Meet IXCoach by Next AI Labs—the coaching solution that's as complex and ambitious as your goals.
🎯 Why Settle for One-Dimensional Coaching When You Can Have It All?
The Roadmap Tool:
Stop wandering in the dark. Our AI generates a personalized roadmap to your goals. It's like Google Maps for your life, only smarter.
https://www.ixcoach.com/intro
Interdisciplinary Coaching:
What's better than a coach specialized in one field? How about a tool that integrates psychology, business, spirituality, and yes, cutting-edge AI? Comprehensive coaching like you've never seen before.
https://www.ixcoach.com/dashboard
Goals Pages:
Your goals aren't generic, so why should your coaching be? One-click access to coaching sessions tailored to your specific goals. Yes, we made it that easy.
https://www.ixcoach.com/goals
Choose Your Own Adventure:
Tired of one-size-fits-all solutions? Customize your coaching session by choosing from 25 different coaching methods.
https://www.ixcoach.com/reasoning
🚀 Be a Pioneer, Not Just a Customer
Referral Program:
Share the revolution and earn AI credits for advanced features. We're not just building a product; we're building a community of forward-thinkers.
https://www.ixcoach.com/share
🌟 What Sets Us Apart
Upcoming Features:
From accelerated learning tools to learning-to-coach-others tools, we're constantly innovating.
For Coaches:
Imagine scaling your impact while lowering your rates and boosting your ROI. We're not just redefining coaching; we're redefining the coaching business.
We're Not Newbies:
Our team is a powerhouse of visionaries, backed by solid private funding from Canada, and we've been featured right here on TheresAnAIForThat.
So, are you just going to sit on the sidelines, or are you ready to play in the big leagues? This isn't just a pitch; it's your future knocking on the door.
Become a part of the IXCoach revolution. Because the future doesn't just happen; you create it.
Featured
IX Coach was manually vetted by our editorial team and was first featured on August 3rd 2023.

Would you recommend IX Coach?
Help other people by letting them know if this AI was useful.
5 alternatives to IX Coach for Coaching
Pros and Cons
Pros
Interdisciplinary coaching approach
Clarifies user's goals
Identifies and manages obstacles
Emphasizes self-awareness and exploration
Challenges perceived limitations
Adaptive support
No need to justify desires
Encourages thinking big
Personal coach named Io
Option for custom sessions
Cognitive, emotional, behavioral exploration
Clarifies deeply held values
Allows dreaming without restrictions
Defines roadmap to desired outcome
Personalized coaching styles
Interactive and responsive
Promotes self-coaching
Automated goal setting
Milestone achievement tracking
Develops conscious choice-making
Identifies learned but false limits
Transformative user experience
Explores innate and potential capabilities
Supports human flourishing
Promotes inner world exploration
Cons
No multi-language support
Lacks offline functionality
Limited custom coaching styles
Heavy reliance on user input
Lack of user interface customization
Potentially overwhelming options
No explicit data privacy measures
No desktop version
Single mode of communication (chat)
No group coaching functionality
Q&A
What is IX Coach?
IX Coach is an Artificial Intelligence (AI)-powered interdisciplinary coaching tool. Its primary objective is to aid users in achieving their goals by identifying the gap between their current state and their desired outcome, defining a roadmap for this journey, and assisting in navigating any obstacles encountered. Its features emphasize self-awareness, self-coaching, and the exploration of the inner self, including sensations, emotions, beliefs, intentions, actions, and more.
How does IX Coach work?
IX Coach operates by utilizing AI to customize a coaching approach to individual users. It encourages users to identify the gap between their current state and their desired outcome, and then assists in defining a roadmap to bridge this gap. The process involves identifying obstacles, enabling users to navigate them effectively. The tool also pushes users to explore their inner world, promoting self-awareness and enabling conscious choices instead of automatic responses.
What are the key features of IX Coach?
The key features of the IX Coach encompass pattern-identification, an interactive AI coaching process, and personalized roadmapping. It offers adaptive, non-hesitating support alongside a range of coaching styles. It also includes Io, a personal interdisciplinary coach. Users have the freedom to design custom coaching sessions, while IX Coach handles most of the task of goal setting and achieving milestones.
How can IX Coach help me with my personal growth?
IX Coach will aid your personal growth by providing accessible and personalized coaching experiences. It encourages introspection and self-awareness, which can lead to personal development and growth. The tool guides you to identify your goals, plan a strategy, identify challenges, and navigate through them, and all this will indeed drive personal growth.
What does it mean that IX Coach is AI-powered?
When we say IX Coach is AI-powered, we mean that the tool uses artificial intelligence technologies to operate. This enables the tool to adapt and cater to individual needs automatically, streamline and personalize the coaching experience, and handle cumbersome tasks like goal-setting and heavy lifting in roadmap creation.
What role does self-awareness play in IX Coach?
In IX Coach, self-awareness plays a substantial role as it forms the foundation of the coaching process. It encourages users to explore sensations, feelings, thoughts, beliefs, intentions, and actions, which in turn promotes a deeper understanding of oneself. This encourages conscious choices, reduces automatic responses, and nurtures growth.
Who developed IX Coach?
IX Coach was developed by Next AI Labs. Their goal is to create AI tools that support human flourishing and search for ways to integrate AI into the world for humanity's benefit.
Can IX Coach help me set and achieve my goals?
Absolutely, IX Coach helps you to set, strategize, and achieve your goals. It clarifies the gap between your present situation and your aspirations, helping to define a pathway and identify potential obstacles. It then provides guidance on effectively navigating through these obstacles to reach your desired outcome.
Is IX Coach offering some sort of adaptive support?
Yes, IX Coach provides adaptive and non-hesitating support, meaning the tool can adjust its ways to suit individual users. This eliminates the need for convincing someone about the feasibility of your desires, hence encouraging users to dream big.
What is the 'quick start' option on IX Coach?
The 'quick start' option on IX Coach allows you to immediately start interacting with your personal interdisciplinary coach, Io. Io will conceptualize a coaching method and style based on what you share.
Can IX Coach help me recognize and test my perceived limitations?
Indeed, IX Coach assists you in recognizing and testing perceived or imaginary limitations that might hinder your desired quality of life. The tool promotes understanding of these limitations, which are often learned but not inherently factual, and helps redefine your capabilities through experiential learning.
Can I design customized coaching sessions with IX Coach?
Yes, IX Coach provides the functionality to design customized coaching sessions. Users can create one of 45 custom coaching styles with only two distinctions, thus allowing a personalized approach to growth and learning.
What is Io, the personal interdisciplinary coach in IX Coach?
Io is the personal interdisciplinary coach you engage with on IX Coach. Io uses the data you provide to determine the most effective method and style of coaching to support you.
How can I start using IX Coach?
There are several ways to start using IX Coach. You can opt for a quick start by meeting Io, your personal interdisciplinary coach, or you can create a custom coaching session. There is also an automated AI roadmap creation for goal setting and achieving milestones.
What was the idea behind creating IX Coach?
The motivation behind creating IX Coach was to develop an AI tool that supports human flourishing and fulfilment. The idea was to explore how AI could serve humanity in today's context. By creating a tool catering to personal growth and self-improvement, IX Coach embodies this vision.
How does IX Coach support the self-coaching process?
IX Coach supports the self-coaching process by encouraging self-awareness and introspection. By promoting awareness of thoughts, feelings, and intentions, IX Coach helps users build their capacity to self-coach. It enables users to process their experience, surface resistance to change, and address barriers.
What does it mean that IX Coach encourages users to 'shoot for the stars'?
Encouraging users to 'shoot for the stars' means that IX Coach motivated users to dream big and not be limited by supposed realism. It acts as a platform for users to connect to their deepest desires and values, explore them, and start taking action towards their achievement.
How does the automated AI roadmap creation in IX Coach work?
The automated AI roadmap creation in IX Coach allows users to determine a goal and a path to reach that goal. The AI handles the heavy lifting of the process while users can curate and receive coaching on any step, thus creating a tailored action plan.
Can IX Coach help me overcome any obstacles in reaching my goals?
Absolutely, IX Coach is designed to assist you in overcoming obstacles during your journey towards reaching your goals. It helps identify these obstacles and guides users on navigating them effectively.
What are the user reviews of IX Coach like?
The user reviews for IX Coach suggest a strong positive response. Users have found IX Coach helpful and effective in plenty of contexts, including settling disagreements and providing insights and support.
If you liked IX Coach
Help
⌘ + D bookmark this site for future reference
⌘ + ↑/↓ go to top/bottom
⌘ + ←/→ sort chronologically/alphabetically
↑↓←→ navigation
Enter open selected entry in new tab
⇧ + Enter open selected entry in new tab
⇧ + ↑/↓ expand/collapse list
/ focus search
Esc remove focus from search
A-Z go to letter (when A-Z sorting is enabled)
+ submit an entry
? toggle help menu
x
Sign in to continue (100% free)
To prevent spam, some actions require being signed in. It's free and takes a few seconds.
Sign in with Google