Edit AI
Tailored workout plans and coaching support.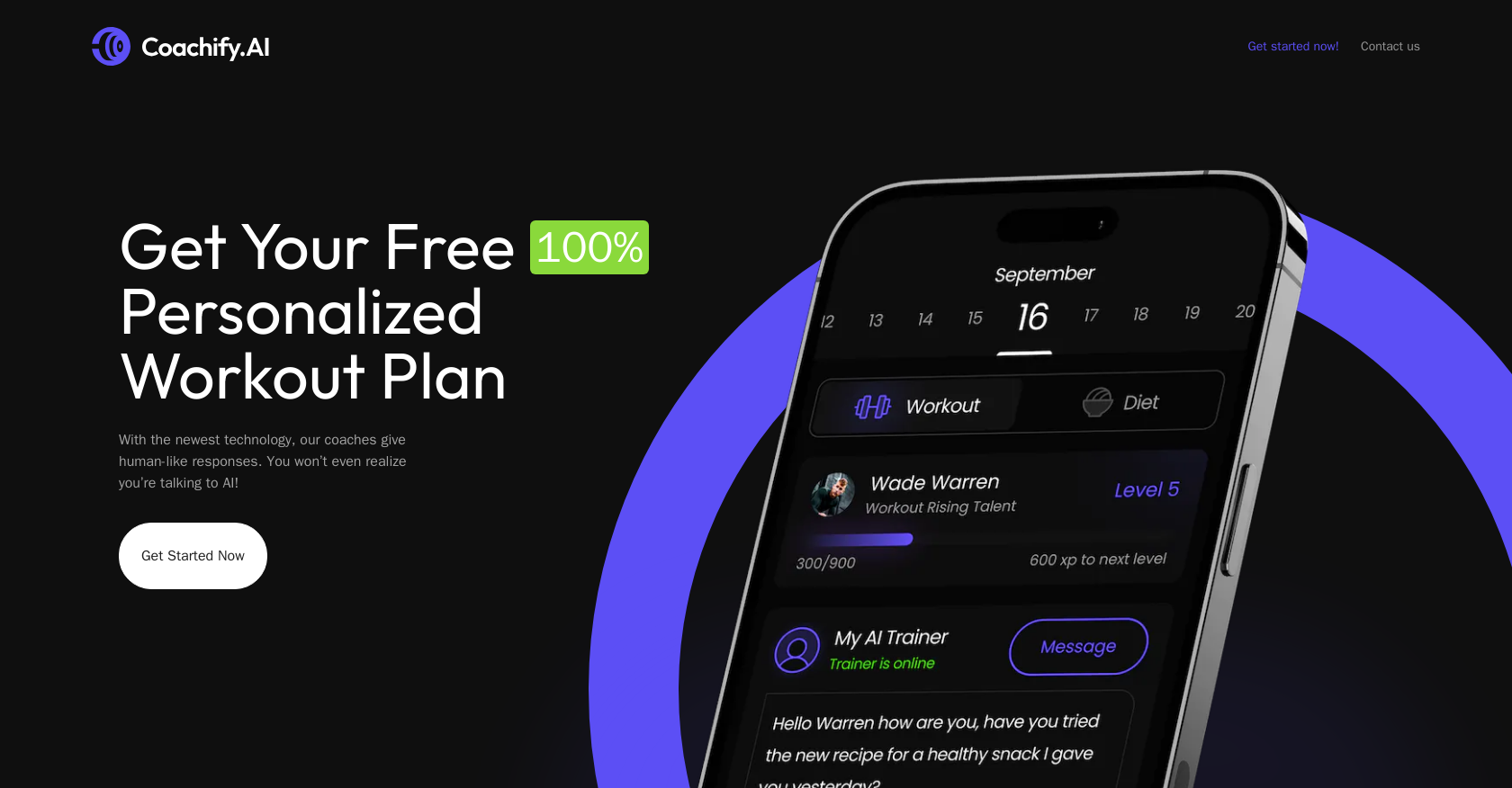 Generated by ChatGPT
Coachify is an AI tool that offers personalized workout plans and coaching assistance. Powered by the newest technology, Coachify's coaches are designed to provide human-like responses, ensuring a seamless user experience.
With its diverse team of more than 20 coaches, the tool covers a wide range of coaching needs relating to exercise and fitness. Users can easily download the app to access their personalized workout plans and track their progress effortlessly.
Coachify aims to create a comprehensive coaching solution by offering deep knowledge and expertise across various aspects of fitness training. The tool allows users to message their AI Trainer, enabling direct communication and support.
Coachify emphasizes user convenience and ease of use, ensuring that individuals can achieve their fitness goals effectively. By utilizing AI technology and providing a level of interaction that mimics human coaching, Coachify creates an immersive coaching experience without compromising on quality.
With a focus on personalized workout plans, progress tracking, and holistic coaching assistance, Coachify is a valuable tool for individuals looking to optimize their fitness regimens.
Featured
Coachify was manually vetted by our editorial team and was first featured on August 17th 2023.

Would you recommend Coachify?
Help other people by letting them know if this AI was useful.
41 alternatives to Coachify for Fitness
Personalized fitness planning with personalization.

118

1.1

Analysis and coaching for pushup form.

50

Optimized workout routines for maximizing muscle gain.

39

5.0

Global fitness community with personalized insights.

14

Personalized fitness training with progress tracking.

10

5.0

Custom workout planning for iOS devices.

7

Generate personalized workout plans from user input.

7

Tracked fitness program planning.

6

Fitness progress tracking and counting of workouts.

4

Custom fitness coaching with tracking and gamification.

3

Personalized fitness coaching for workouts

2

Generated personalized fitness and meal plans.

1

Custom fitness plans and meal suggestions.

1
Pros and Cons
Pros
Personalized workout plans
Human-like coaching responses
Over 20 coaches available
Wide range of fitness expertise
Mobile app availability
Progress tracking feature
Emphasizes user convenience
Efficient fitness goal achievement
Immersive coaching experience
Quality workout planning
Holistic coaching support
Cons
No multi-platform support
Limited coach expertise
No real-time interaction
Requires app download
No offline capabilities
Lack of workout variety
Overemphasis on user convenience
Personalization might be ineffective
Q&A
What is Coachify and what does it do?
Coachify is an artificial intelligence tool specializing in fitness. It offers personalized workout plans and coaching assistance to users. Its main function is to create workout plans tailored to individuals and provide coaching support.
How does Coachify personalize workout plans?
Coachify personalizes workout plans using advanced AI technology. It analyzes user data to create a workout plan that matches their needs, goals, ability, and preferences
What kind of workout plans can Coachify provide?
Coachify provides a wide variety of workout plans which are personalized based on user data. The specifics of these plans can vary widely based on the user's individual fitness goals and capabilities.
How can Coachify be downloaded?
Coachify can be downloaded through app stores. The exact method would depend on the device's operating system.
How does the messaging feature with the AI Trainer work on Coachify?
The messaging feature with the AI Trainer on Coachify works by allowing direct communication between the user and their AI Trainer. Users can message their queries or concerns to the AI Trainer, which responds in real-time.
In what ways does Coachify mimic human coaching?
Coachify mimics human coaching by providing human-like responses and direct interactive communication. It incorporates AI technology to provide real-time responses and personalized coaching, similar to interactions with a human coach.
What does it mean when Coachify says it provides 'human-like responses'?
When Coachify refers to 'human-like responses', it means that the AI Trainer can understand and respond to user queries in a manner that resembles how a real human would react. This aims to make the user experience as seamless and interactive as possible.
Can Coachify be used for different types of fitness goals?
Yes, Coachify can be used for different types of fitness goals. Its AI-powered personalization allows it to cater to diverse fitness requirements, whether it be weight loss, muscle gain, endurance training, or general conditioning.
How does Coachify track user progress?
Coachify tracks user progress through the app. Users can track their progress on different exercises, reps, and goals to see how far they've come and what they need to work on.
What is the range of coaching needs that Coachify covers?
The range of coaching needs that Coachify covers extends to all aspects of exercise and fitness. Its team of over 20 AI coaches has deep knowledge across a wide range of fitness aspects.
How many coaches does Coachify have?
Coachify has more than 20 coaches. These coaches utilize AI technology to interact with users and provide fitness coaching.
How easy is it to navigate Coachify?
Coachify is designed to be easy to navigate. Its user-centric design ensures a seamless experience for users who can access personalized workout plans, track their progress, and interact with the AI Trainer effortlessly.
Can I contact my Coachify coach directly?
Yes. Users can contact their Coachify coach directly through the messaging feature in the app.
How does Coachify ensure each user gets a unique workout plan?
Coachify ensures each user gets a unique workout plan by analyzing the user's individual data such as fitness goals, abilities, and preferences. This AI-powered personalization results in a tailored workout plan for each user.
Why do I need the AI technology found in Coachify?
The AI technology in Coachify is integral to its functioning. It ensures personalized workout plans, tracks progress, and mimics human-like interaction, providing a comprehensive and seamless fitness coaching experience to each user.
What makes Coachify's coaching holistic?
Coachify's coaching is holistic as it covers all aspects of a user's fitness journey. This includes creating personalized workout plans, tracking toward fitness goals, providing real-time responses, and enabling direct communication with AI trainers.
Do I have to pay to use Coachify?
IDK
What do I need to start using Coachify?
To start using Coachify, you need to download the Coachify app and sign up for an account. It's convenient and easy to get started with your personalized fitness journey.
Is there a mobile application I can use for Coachify?
Yes, there is a mobile application for Coachify. Users can download it from app stores to gain access to their personalized workout plans and fitness coaching.
What kind of expertise do the Coachify coaches have?
The coaches in Coachify, powered by advanced AI, have a deep understanding and expertise about all aspects of fitness. They provide personalized workout plans and coaching assistance to users, mirroring a human-like interaction experience.
If you liked Coachify
Help
⌘ + D bookmark this site for future reference
⌘ + ↑/↓ go to top/bottom
⌘ + ←/→ sort chronologically/alphabetically
↑↓←→ navigation
Enter open selected entry in new tab
⇧ + Enter open selected entry in new tab
⇧ + ↑/↓ expand/collapse list
/ focus search
Esc remove focus from search
A-Z go to letter (when A-Z sorting is enabled)
+ submit an entry
? toggle help menu
x
Sign in to continue (100% free)
To prevent spam, some actions require being signed in. It's free and takes a few seconds.
Sign in with Google